South Dakota with kids
By James Holland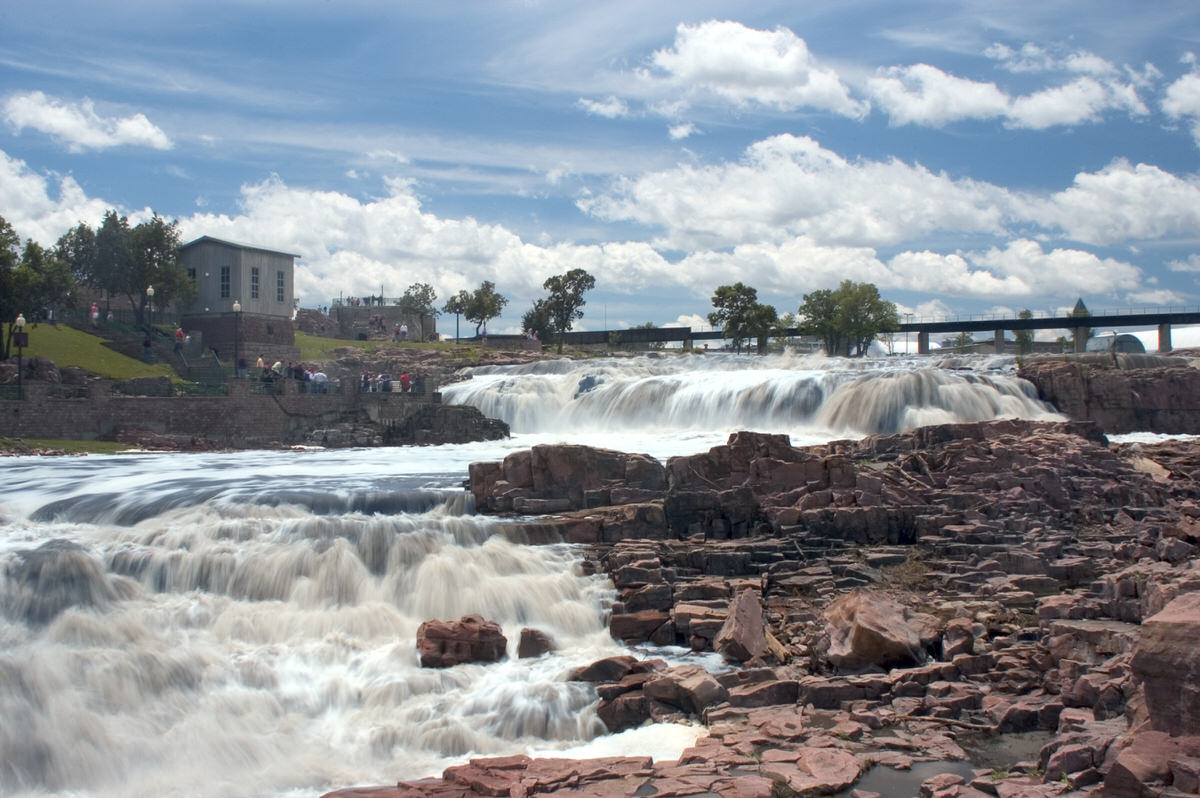 Stop by Sioux Falls when on family road trip down I-90 in South Dakota. (Courtesy South Dakota Department of Tourism)
People sometimes forget how large America is. Mountains give way to wide expanses. Highways course through the landscape for hundreds of miles. Towns and cities all with their own character line dot the map. There's so much to see. And there may be no better way to see it than a family road trip.
One of the most rewarding road trips is taking the I-90, especially through South Dakota. Some of the best attractions in South Dakota are on or within a short distance of the highway. Take a mountain coaster through the badlands, or wander one of the most unique drugstores in the world. There's so much more to South Dakota than you might expect.
(MORE: Mount Rushmore to Falls Park: South Dakota's Great Outdoors)
Pan for Gold at Big Thunder Gold Mine
I-90 enters South Dakota through the Black Hills. Take a detour south from the highway to get to Mount Rushmore and the equally impressive Crazy Horse. Five minutes down the road from Rushmore, you'll be able to pan for gold at Big Thunder Gold Mine.
Theme Park fun at Rush Mountain
Just a little further, you'll also come across Rush Mountain Adventure Park. This multi-faceted destination is not only one of the best attractions in South Dakota. It's also a perfect addition to any family road trip. Take a guided tour through the caverns. Check out the mountain coaster where you control the speed as you fly through canopies. And ride the seated Soaring Eagle Zip Ride. Older, more adventurous kids can go spelunking with experienced guides for a unique experience.
Stop by the Reptile Gardens
On your way back to Rapid City and I-90 sits one of the most unusual in South Dakota. Reptile Gardens is one of the largest reptile zoos in the world, a perfect stop for a family road trip. If seeing a collection of the deadliest snakes in the world doesn't entice you, the large tortoises and turtles will. There's quite a collection of alligators and crocodiles. However, you'll also find plenty of creatures native to South Dakota.
See Surreal Landscape at Badlands National Park
After exploring Rapid City and the Black Hills area, it's time to go East. About maybe 30 minutes out, you'll want to take a detour travel through the Badlands National Park and its otherwordly vistas.
Do Some Shopping at Wall Drug Store
Head North and you'll come across one of the kitschiest and most glorious American road stops in existence. Wall Drug Store is a must on any family road trip. This drugstore has grown into such a place that. If you're looking for cowboy boots, taffy, or actual apothecary needs, you can find them here. If you don't want to shop, check out the giant Jackalope out back or the animatronic T-Rex in the back building.
This isn't just one of the best attractions in South Dakota, but one of the tastiest as well. They still offer 5-cent coffee and free ice water. But make sure to get an open-faced hot beef sandwich, their homemade donuts, or the fudge. Also, grab some homemade ice cream from their soda fountain before getting back on the road.
Urban Stop: Sioux Falls
Leaving Wall Drug, you'll be hitting the open road for about four hours, passing prairies, Indian reservations and the one and only corn palace, before hitting Sioux Falls. There's a lot to do in Sioux Falls, terminus of South Dakota. Definitely check out the eponymous falls downtown.
Seek Out the Black Rhinos at the Great Plains Zoo
Make sure to stop at Great Plains Zoo. Home to a variety of animals, from the koalas lounging around for the summer to the very animated snow monkeys. Red pandas, giraffes, bears, and tigers are all here. Make sure to seek out the baby black rhino and her mother as well! One of the best draws for families is the very sizable petting zoo. The Hy-Vee Face-To-Face Farm is where your family can feed rare breed goats, alpacas, and cows.
(MORE: 10 Magical Places to Visit with Kids in Hawaii)
Sample the Buffalo Burger at Phillips Avenue Diner
Before taking a little detour north, stop at Phillips Avenue Diner for a buffalo burger or the Tater Tot Hot Dish. Treat yourself to some of the most original and decadent milkshakes this side of the Mississippi.
If ice cream is more your speed, stop in Stensland Family Farms Ice Cream for a dairy delight. They also sell cheese curds!
Visit the Children's Museum of South Dakota
An hour north of Sioux Falls sits one of the absolute best attractions in South Dakota for a family road trip. In Brookings, you'll find a world-class children's museum housed in a former high school. The museum focuses on interactive exhibits that are so intuitive that most don't come with instructions.
Kids will get absorbed in this museum for hours just fixing a car or going grocery shopping. There are more cultural exhibits too showing off the Native American and mining cultures of South Dakota. The museum also offers plenty of classes and workshops. Lastly, make sure to check out the newly installed Tangle Town. The new free-standing structure is made entirely of branches built by world renowned artist Patrick Dougherty.
James Holland of Another Spur on the Road contributed this to MiniTime.