Traveling with teens
By James Holland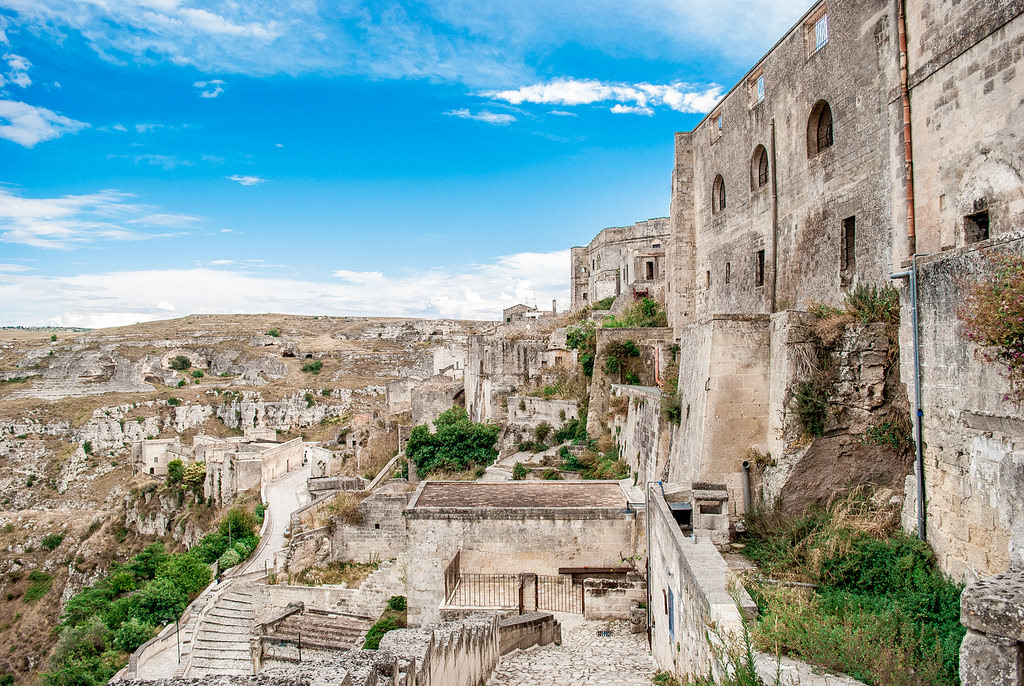 The beautiful ancient city of Matera is one of the best filming locations to visit with teens. (Flickr: Piervincenzo Madeo)
The magic of movies can transform a couple hours into a great escape. That sense of adventure doesn't have to stay confined to the big screen, however. A lot of that magic can be found in some fantastic filming locations. And these are places you can visit.
Some of the best things to do with teens are visiting these filming locations. Breathe the same air as Katniss Everdeen in the forests of North Carolina. Visit the real life Hogwarts in the north of England. Hum Abba on the beaches of Skopelos where Mamma Mia was filmed. Or visit Matera in historic Southern Italy to find Wonder Woman's Amazon come to life.
Travel the world to see the backdrops to some of your teens' favorite movies.
(MORE: 8 Unusual Hotels for Fun, Family-Friendly Unique Stays)
Triple Falls in Dupont State Forest, North Carolina – Hunger Games
One of the best things to do with teens in the Asheville area is to visit the Triple Falls in Dupont State Forest. This beautiful waterfall flanked by wide rock ledges is one of three Dupont State Forest filming locations in Hunger Games. Katniss tracks an injured Peeta here in the dystopian story of teenagers forced to fight in fatal gladiator games. The waterfall is an easy seven minute walk from the nearest parking lot.
Take advantage of the park while you're here and bring your hiking shoes. Corn Mill Shoals trail across Little River is of interest. Also check out Bridal Veil Falls, another Hunger Games spot. Here, the water drops from an overhanging ledge so you can actually walk underneath.
Pembroke Castle, Pembroke, West Wales – Me Before You
When Jojo Moyes' novel was adapted, it was Pembroke castle that gave the Traynor estate its exterior look. Recently paralyzed Will (Sam Claflin) and his exuberant new caregiver Lou Clark (Emilia Clarke) start a bittersweet romance here. Pembroke offers more than being one of the movie's filming locations.
You can also find many activities including re-enactments of medieval life or dragon related attractions. Check their calendar as the activities are day specific. Also take a guided tour or visit the brass rubbing centre to take home a personalized memento.
Skopelos, Greece – Mamma Mia!
There's a cute story to Mamma Mia! but what's most important is the music and the setting. Watching Meryl Streep or Pierce Brosnan belt out Abba tunes is only topped by the beautiful setting. The island of Skopelos in Greece provided most of filming locations for the movie. Kastani Beach, surrounded by rock cliffs and forest, will be instantly recognizable for the song "Does Your Mother Know".
Relaxing on the white sand or splashing about in the water might be one of the best things to do with teens. Don't forget to gorge on traditional Skopelos cheese pie while on the island. Visit Agios Ioannis Chapel in town where the wedding procession was filmed. Or take the one Mama Mia tour that's run on the island.
Sassi, Matera, Italy – Wonder Woman
The Sassi, in the town of Matera, may be one of the first settlements in Italy. And it shows. The sand colored houses were built out of the limestone rock almost on top of each other. It's become one of those go-to filming locations for medieval or ancient looking towns.
Case in point: Wonder Woman. The recent smash hit, following Diana Prince's super-heroics during WWI, starts on her fictional home island of Themyscira. And Sassi provided the town setting for Themyscira. One of the best things to do with teens is to take a local tour here and experience the history. There is thousands of years (and several movies) to explore.
Alnwick Castle, England – Harry Potter
The seminal Harry Potter, a coming of age story set in an English magical boarding school, utilized some great filming locations. Alnwick Castle in Northumberland served as the exterior of Hogwarts in the first two movies.
The estate is still occupied and has been in the Percy family for 700 years. So while you can indulge in its filmic tradition (also including Downton Abbey), also explore its heritage. There are several different tours, activities like Knight's Quest and Dragon Quest, workshops and more. And don't forget to take broomstick training to learn to fly like Harry Potter, definitely on of the best things to do with teens and Harry Potter fans.
Fort Bard, Italy – Avengers: Age of Ultron
In Avengers: Age of Ultron, Iron Man, Captain America & co. face off against the murderous AI Ultron. One of the first filming locations to show up is Fort Bard (aka Sokovia) where the Avengers raid a Hydra facility.
While its current state is about 200 years old, Fort Bard has been a fortification since the 5th century. Not only is the fort well kept but it houses some fantastic museum exhibits. Check out The Children's Alps, an interactive children's museum. And if you're not afraid of high places, take an external glass lift to get a wonderful view of the village below.
Al Khazneh, Petra, Jordan – Indiana Jones and The Last Crusade
In Indiana Jones and The Last Crusade, Indiana (Harrison Ford) and his father (Sean Connery) track down the Holy Grail. The movie may make you feel that the final resting place of the Holy Grail is a hidden temple. In fact, it is Al Khazneh, the most well known landmark of the prehistoric city of Petra. And Petra, Jordan is one of the new Seven Wonders of the World.
While you'll want to go at your leisure to follow in the two Doctor Jones' footsteps, make sure to take a tour. You can take tours from one to three days. Get hotel pickup and have a guide to fill you in on this 1st century architectural wonder. See royal tombs, the theatre and the rest of the Greek influenced site carved out of rock faces.
Navy Pier, Chicago – Divergent
Chicago serves as ground zero for Divergent. In the dystopian movie, teenagers are sorted into factions according to virtues (courage, selflessness…). While you might expect green screen, actual locations in Chicago were put to great use. The prominent appearance of Navy Pier's Ferris Wheel is one of the sci-fi movie's most notable filming locations.
And while you might not be able to scramble up the Ferris Wheel to capture the flag, it is still one of the best things to do with teens. Take one of its 40 red gondolas to get a bird's eye view of downtown Chicago. Of course, the Pier is huge and also includes fifty acres of shopping, eating and other family attractions. Be sure to check out the Crystal Gardens, a one-acre, six-story atrium. Or check out the 4,000 square feet long Funhouse Maze.
Jane's Carousel, Brooklyn – Nerve
Nerve is the cautionary tale about social media where "players" do increasingly risky dares to get money from "watchers". This Emma Roberts vehicle presents New York as an always-neon lit excursion. While its music video aesthetics might be hard to find in real life, some of its filming locations are very accessible.
Times Square might already be on an NYC itinerary. Take a detour out to Brooklyn and visit Jane's Carousel, situated in the shadow of Brooklyn Bridge. This historic ride is a visual wonder and the surroundings will offer quite a bit. Grab a burger at a nearby Shake Shack, dessert from the Brooklyn Ice Cream Factory on the other side of the bridge and walk down to the outdoor Pier 2 Roller Rink.
(MORE: Autumn in Brooklyn with the Kids)
Wallilabou Bay, St. Vincent – Pirates of the Caribbean
The first Pirates of the Caribbean movie, a romp through a slightly supernatural 18th century Caribbean, is more than just a Disney ride adaptation. It's an escape into a laid back Caribbean filled with fanciful and fantastic pirates. The movie begins with Jack Sparrow stepping off a sinking ship onto a jetty. This is Wallilabou Bay, on the leeward side of St. Vincent. Not only can you visit this exact spot but much of the set still remains.
St. Vincent offers much more than Pirates filming locations though. Take advantage of the fantastic snorkeling, one of the best things to do with teens. Or rent a Hobie Cat, go windsurfing, or just grab some sunscreen and a towel and enjoy the island life.
James Holland of Another Spur on the Road contributed this to MiniTime.