Great things to do indoors with kids in Vegas.
By Sarah Vernetti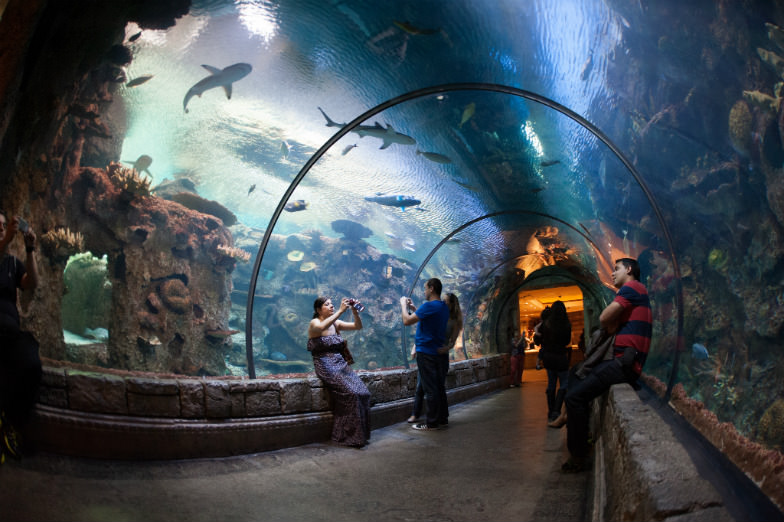 Mandalay Bay Shark Reef Aquarium (Flickr: Steven Gitter)
Las Vegas offers a variety of outdoors activities, but sometimes the intense heat of the desert summer is enough to convince families to find indoor fun. For those particularly hot Las Vegas afternoons, try these air-conditioned activities that are perfect for families who are exploring Las Vegas with kids.
(MORE: Find kid-friendly hotels in Vegas to stay in during your visit.)
High Roller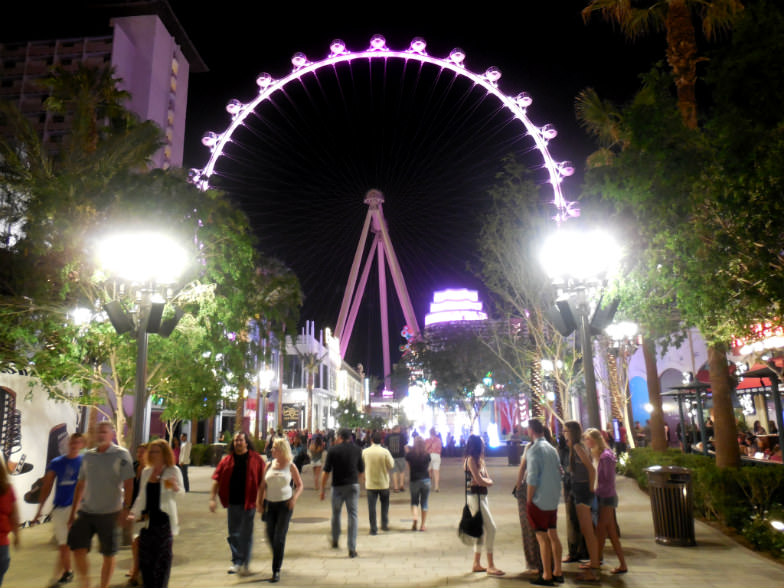 The High Roller Observation Wheel on the Vegas Strip (Flickr: J.R. Ramos)
This isn't a typical ferris wheel. The High Roller, located at the LINQ shopping and dining complex on the Strip, is currently the world's tallest observation wheel. Step into an air-conditioned pod and enjoy the beautiful views. Get ready to celebrate when the wheel reaches its highest point at 550 feet. Children age 12 and under receive free admission, and special youth pricing is available for teens ages 13-17. After your 30-minute trip around the wheel, visit Sprinkles at the LINQ for cupcakes and ice cream. The coconut cupcake is particularly delicious.
Shark Reef Aquarium
From piranhas to sharks, this aquarium's inhabitants will make visitors feel thankful for the safety of dry land. As a predator-based aquarium, the Shark Reef features some pretty fierce creatures including a Komodo Dragon and a Burmese Python. The highlight is stepping into the shipwreck room, which offers fantastic views of the sharks. Also, kids won't want to miss the touchpool for a chance to meet several stingrays and horseshoe crabs. If you tend to forget the hand sanitizer, never fear! Sanitizing stations are provided near the touch tank exhibit.
Pinball Hall of Fame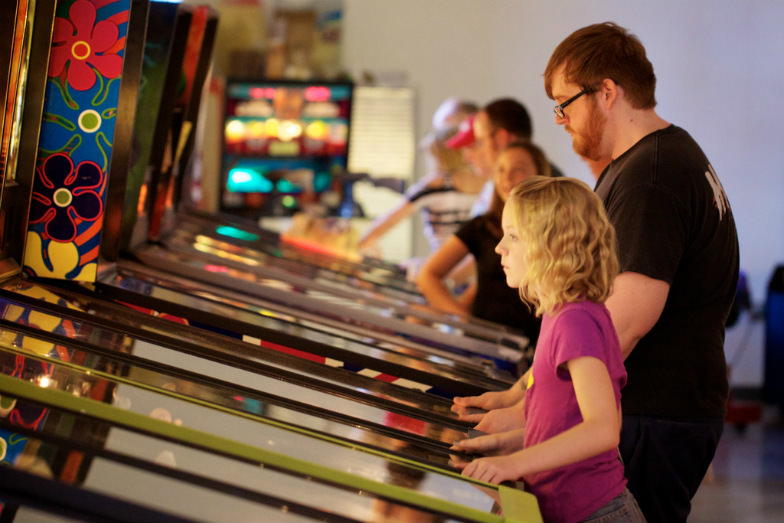 Las Vegas Pinball Hall of Fame (Flickr: Marcin Wichary)
Gather up your quarters and venture off the Strip to this fantastic attraction. Part museum and part arcade, the Pinball Hall of Fame gives visitors the chance to play vintage pinball machines. Parents will enjoy the walk down memory lane and beyond. Some of the older machines date back to the 1950s. This arcade doesn't offer prize tickets, however. The reward is in the unique, vintage-style fun that these games provide.
Discovery Children's Museum
Solve puzzles at the Discovery Children's Museum (Discover Children's Museum)
Located adjacent to the beautiful Smith Center, the Discovery Children's Museum was a welcome addition to Las Vegas when it opened in 2013. This kid-friendly attraction features three levels of interactive fun. One of the highlights is The Summit, which allows kids to climb through three stories of science-themed, hands-on learning. Imaginative kids will want to explore the Fantasy Festival, which includes a pirate ship and a small stage that is perfect for impromptu performances. The museum also offers a special toddler area, designed especially for youngsters under age five. Toddler Town includes the "crawl zone" for kids who aren't walking yet and a "nursing nook" for nursing moms.
(MORE: Find more kid-friendly attractions in Las Vegas.)
Las Vegas Natural History Museum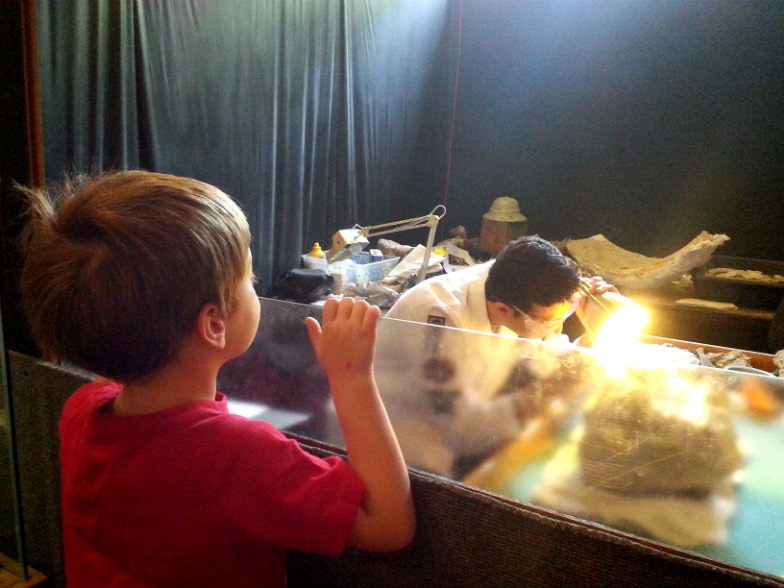 Future scientist at the Natural History Museum (Las Vegas Natural History Museum)
The Las Vegas Natural History Museum might not be the largest, newest museum, but it offers more than enough to keep kids entertained for an afternoon. Families can learn about King Tutankhamun, watch the stingrays and small sharks being fed by museum staff, and say hello to the large, animatronic dinosaurs. In addition to these tried and true favorites, the museum recently welcomed a new traveling exhibit, Hatching the Past. Here, families will find out about dinosaur family groups and dinosaur eggs through interactive displays, including the chance to play dress-up.
Sarah Vernetti contributed this to www.MiniTime.com.