New York City with kids
By Holly Rosen Fink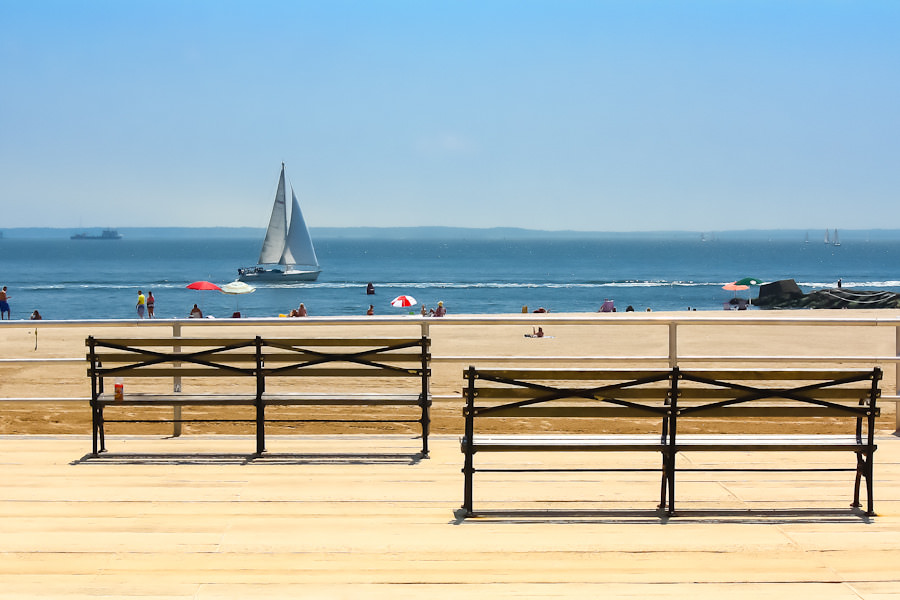 Coney Island is one of the best kid-friendly beaches in New York City for families. (Flickr: drpavloff)
There is nothing like summertime at the beach in New York City. NYC's kid-friendly beaches are full of innocent, carefree fun. Whether you live in or outside the boroughs, it's always a treat to escape the heat with a dip in the ocean or an ice-cream cone on the boardwalk.
The beauty of the beaches in New York City is that they're centrally located. Like every place in and around the city, you can literally hop on the subway, bus or commuter train to get to most kid-friendly beaches. Alternatively, hop in the car and go for a day… or even a few days. Since taking kids anywhere requires planning, it's best to research the beaches before you go. Make sure that there are offerings that best meet your family's need – from food to attractions to bathrooms to affordability.
To make this research easier, here is a list of some of our favorite, self-tested, most beloved beaches in New York City for families.
(MORE: Five of NYC's Gems Come Alive in the Summertime)
Coney Island, Brooklyn
From a boardwalk to amusement parks and arcades, Coney Island has so much to offer families. It's one of the most popular and nostalgic beaches in New York City for families. The beach is accessible by subway, and there is free parking on the streets. The beach is clean, definitely good for a wade in the sea. But beware: the beach gets very, very crowded on the weekends. Despite that fact, the Atlantic Ocean is vast, leaving room for everyone. Definitely plan to also check out the amusement parks. Luna Park has over 20 rides for all ages, as well as numerous games, eateries and retail kiosks. Deno's Wonder Wheel, also on the boardwalk, features a wide variety of rides. There's also a historic B&B Carousel and the famous NY Aquarium. Grab a cheap lunch at Nathan's Hot Dogs, right off the kid-friendly beach's boardwalk. Moms and dads can enjoy a cold one outdoors at the Coney Island Brewing Company. The microbrewery not only boasts excellent craft beer, but also celebrates Coney Island history and traditions. If the kids can keep going, head to Brighton Beach, which offers other great summer-esque opportunities. There's volleyball, soccer, plain old people-watching, reading and sunbathing. Eat at Tatiana Grill, a Russian restaurant, and introduce your kids to herring, borscht and Russian stew.
Rockaway Beach, Queens
Rockaway Beach is another one of the more accessible beaches in New York City for families. You can take the subway to get there, or take the NYC Ferry from Sunset Park, Brooklyn. It is also having a rebirth. Its boardwalk was recently renovated, after getting partially destroyed in Hurricane Sandy a few years ago. The kid-friendly beach goes on for over five miles. There are concession stands and several taco trucks from Rockaway Taco. Plus, you will find new restaurants popping up such as Rockaway Beach Bakery. During the summer, there are concerts on the boardwalk. Surfing is also a major activity. Both adults and kids can take lessons or simply rent a board to ride the waves. There are also opportunities at Rockaway Beach for stand-up paddle-boarding, sandcastle building, volleyball, and skating along the boardwalk.
Orchard Beach, Bronx
If you're looking at beaches in New York City for families, look no further than Orchard Beach in the Bronx. It's another one of NYC's most nostalgic and accessible beaches. Parking is available, or you can take the subway to get there. The beach is 115-acres and 1.1-mile-long, and it's a fun day out with the kids. All your kid-friendly bases are covered here. There are snack bars, food and souvenir carts, two playgrounds, a few picnic areas, changing areas, and showers. There are also 26 courts for basketball, volleyball, and handball nearby in Pelham Bay Park. Picnic areas and nature trails are on hand as well. For dinner, head to nearby City Island for fresh seafood or the Bronx's Little Italy.
Jones Beach, Long Island
For those that can leave the boroughs, head to Penn Station to get the Long Island Railroad to Freeport, where you can get a bus to Jones Beach, one of the best beaches in New York City for families. It's a 6 and ½ mile beach on the Atlantic Ocean, with a stroll-worthy boardwalk that stretches for several miles. The beach is great for sunbathing and sandcastle building, and kids can spend hours in the ocean riding the waves. There are several concessions stands and restaurants near the entrance to the park. For playful kids, there are a few playgrounds, as well as nearby Theodore Roosevelt Nature Center. The beach also offers a miniature golf course, boating, basketball, volleyball, softball, tennis and more. Families can catch summer concerts at Jones Beach all season long so check the listings before you go.
(MORE: Best-Kept Secrets of New York City for Families)
Cape May, New Jersey
Cape May is a beautiful town on the Jersey Shore with one the most dazzling beaches near New York City for families. It's a few hours by bus or car on the Garden State Parkway from New York City. The town has a distinct Victorian charm about it. It's filled with shops, restaurants and hotels, and the beaches themselves are inviting, quiet, and clean. There is plenty for kids to do on the beaches, from sandcastle building to swimming in the sea. For non-beachy kids, there are miniature golf courses, boat rides, trolley, a local lighthouse to explore, the Cape May County Zoo, and shopping, eating, playing in arcades. Ride lovers should head to the local amusement park in nearby Wildwoods. Congress Hall is a great kid-friendly hotel near the beaches if you want to make it a weekend getaway.
Holly Rosen Fink of The Culture Mom contributed this to MiniTime. She is a full-time marketer living in Larchmont, NY with her husband and two children.