Kid-friendly underwater activities
By Jan Ross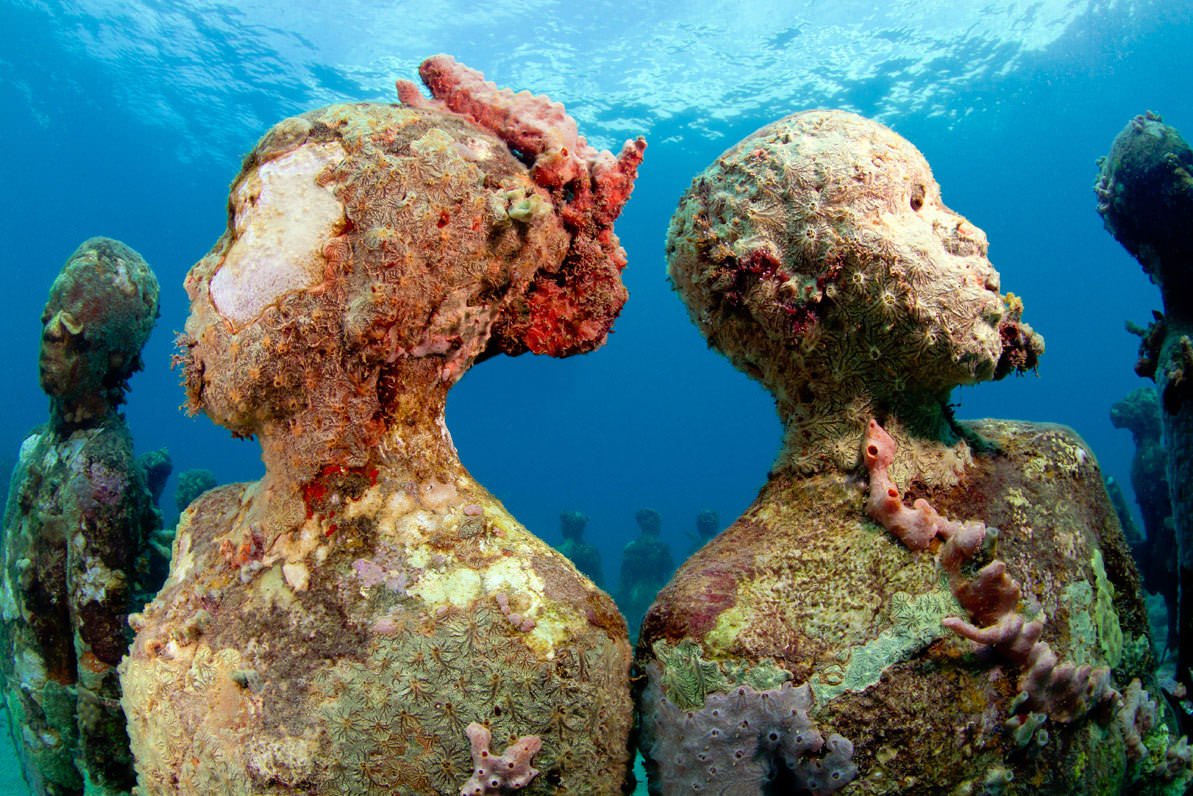 Underwater Sculpture Park in Grenada (Courtesy Grenada Underwater Sculpture)
Many favorite family vacations include water in all its many forms – pools, beaches, lakes, and every other body of water you can imagine. Splashing, swimming, diving, snorkeling, sailing, canoeing, kayaking, fishing – every adventure involving water can be fun for all ages and all interests.
Going under the water provides a unique and amazing experience so try one of these adventures on your next family vacation.
(MORE: Splash and Slide: 10 Best Waterparks in the US)
Snorkeling at the Underwater Sculpture Park in the Molinere Beausejour Marine Protected Area – Grenada
The perfect place for a kid-friendly snorkeling experience as the park is located in a protected bay area with very calm water, the underwater sculptures are interesting to see for everyone in the family. Snorkeling is great for even timid swimmers as you have a life jacket on along with a mask, snorkel, and flippers, and it's very easy to just float along and enjoy the underwater view. Made from concrete and rebar, the various sculptures including a man at a desk and a group of people holding hands, were designed to be fixed and permanent to allow marine life to develop on and near them. They have been influenced by the ocean wave action, currents, and development of marine life so the sculptures have changed over the years.
BOSS Underwater Scooters – Roatan
For a truly unique underwater adventure for ten years old and up, check out the Roatan Breathing Observation Submersible Scooter. Wearing a helmet which allows you to breathe, and riding on a specially designed underwater scooter, it's an experience that will really add to your family vacation. Certified dive masters dive with the scooters, to guide them and point out the many varieties of sea life and coral you will see. One of the best family-friendly resorts on the island is Anthony's Key Resort. Large wooden bungalows are perfect for families, it's an all-inclusive resort so meals are included, and they offer a beautiful, white sand beach, snorkeling, kayaking, stand-up paddle boarding, horseback riding and a swimming pool.
Helmet Diving – Bermuda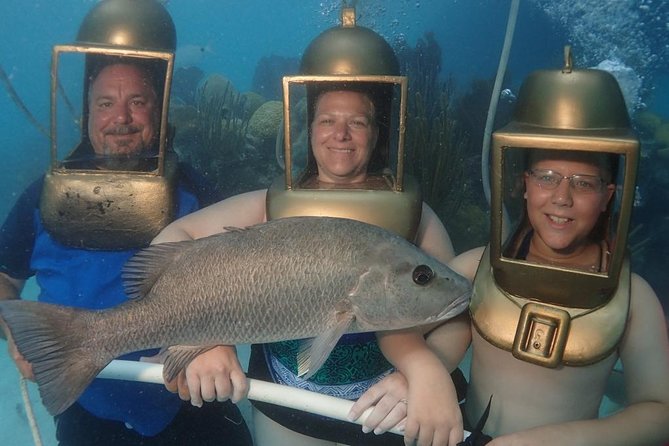 Helmet Diving in Bermuda (Courtesy Hartley's Helmet Diving)
If you prefer your underwater adventures to be more like walking around than swimming around, you are in luck because the whole family will enjoy helmet diving. It's also one of the most kid-friendly attractions you can attempt as it's great fun and easy for all ages, including children from ages 5 and up. You wear a helmet with glass that you can see through and you can breathe easily as fresh air is pumped in through a hose. That heavy helmet becomes weightless under water and you can even wear your glasses! Just walk out from the shore for your amazing underwater adventure. Bermuda is a truly unique place for this experience with its gorgeous, pink sand beaches.
Sea Trek Reef Encounter – Miami Seaquarium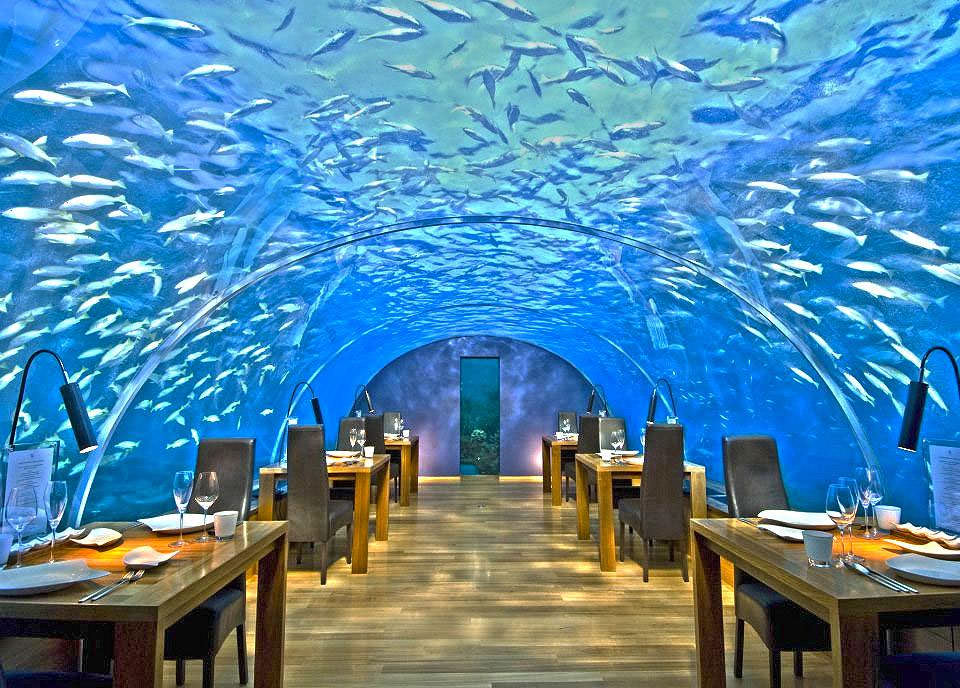 Ithaa Restaurant in Maldives (Courtesy Conrad Maldives Rangali Island)
Visiting an aquarium is fun for every member of the family, but actually walking underwater through one of those aquariums is an awesome experience for a family vacation. Wearing a state-of-the art dive helmet that will allow you to breathe freely, this 20 minute stroll around the 300,000 gallon tropical reef will allow you to interact with tropical fish, sting rays, and a variety of other sea life as divers feed the amazing creatures all around you. This experience is for everyone in the family, including kids who are least 10 years old. The Trump International Resort, where the kids club is free, is one of the most family-friendly hotels in Miami with rooms complete with kitchenettes and even washers and dryers in some rooms. The beachfront pool has a shallow area for kids and there is an on-site restaurant and 24 hour room service.
(MORE: 6 Cool (but a Little Weird) Thanksgiving Getaways)
Lunch at Ithaa Restaurant – Maldives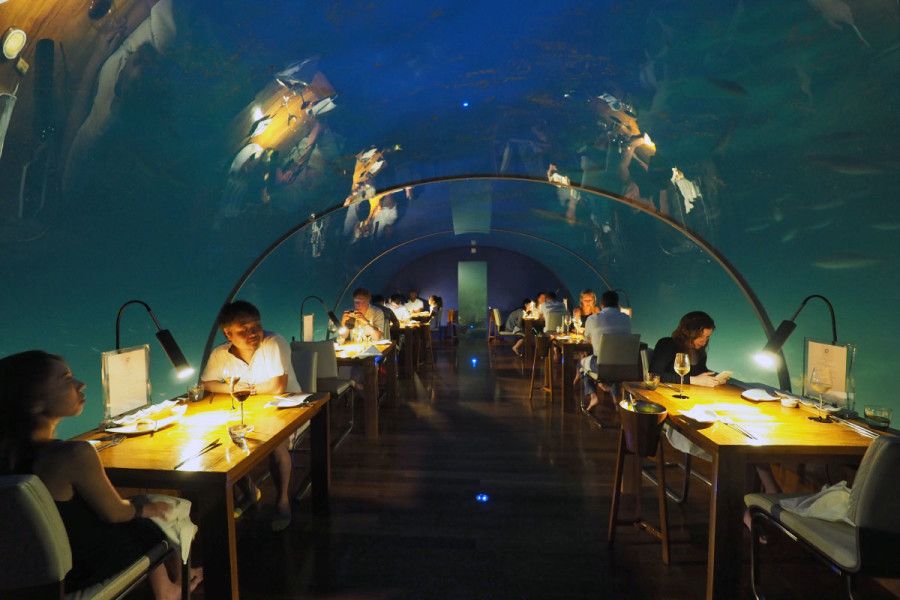 Ithaa Restaurant in Maldives (Courtesy Conrad Maldives Rangali Island)
For a truly unique experience under the sea, try lunch at the Ithaa Restaurant which is the first all-glass undersea restaurant in the world. This lovely location was rated "the most beautiful restaurant in the world" by the New York Daily News in 2014. Located completely underwater at 16 feet below sea level, the small restaurant offers a four-course lunch which is available for the whole family, including children. The amazing view of the sea life swimming past the windows as you eat your lunch is an experience not to be missed on your next family vacation.
Jan Ross contributed this to MiniTime. She writes for a variety of venues, both print and online, and often travels with her photographer husband.