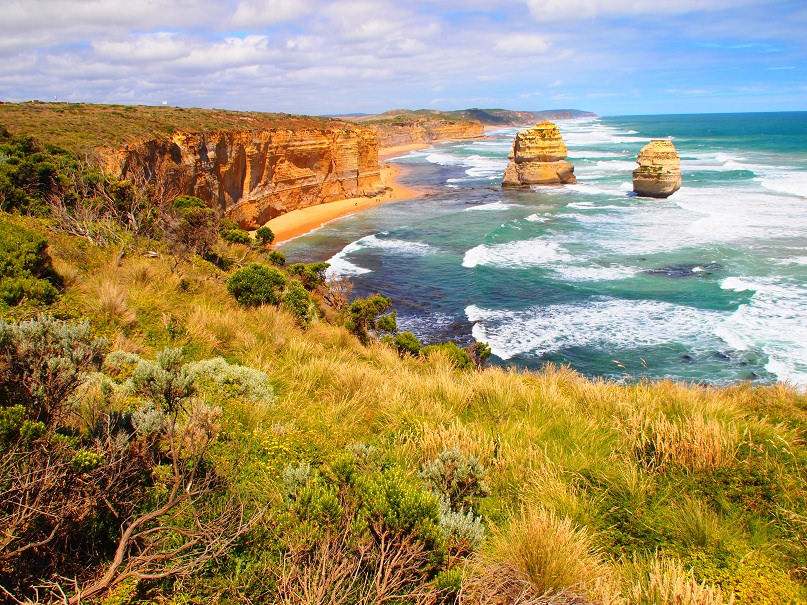 Twelve Apostles from the Great Ocean Road (Flickr: Paul Arps)
The deep, ocean-blue Pacific waters meet the ruggedly beautiful forests of the Great Otway National Park along the country's southeastern corner. Here, an engineering feat stretches some 243 km of Australia's most famous drive. The Great Ocean Road officially starts in the small town of Torque and winds its way through the beaches and rainforest to Port Campbell. There, eight magnificent pillars of limestone stem vertically up from underneath the ocean waters in a spectacular show of nature's power.
Australia's southern coastline, family-friendly and beautiful, will keep you entertained on each and every kilometer. Whether you decide to drive fast or meander slow, follow along below to make sure you don't miss a thing!
(MORE: 5 Tips for Planning a Kid-Friendly Vacation in Sydney)
The Beaches: Start in Geelong, and Ride the Waves to Apollo Bay!
The first portion of The Great Ocean Road is kilometer after kilometer of bright, sandy beaches. Where should you stop? Though any place is a good place, based on safety, ease and notoriety, these are the five you can't miss!
Geelong. Located just an hour south of Melbourne, it's not technically on the Great Ocean Road. However, this town will be your first major beach sighting if you're heading from that direction. It has a permanent Ferris wheel as well as a netted beach with multiple diving platforms and lifeguards on duty. If you're new to the Ocean or have some nervous swimmers, this is a great introductory place for all ages.
Bells Beach. It's one of Australia's most renowned surf beaches. This area has everything you need: waves, sand, sea cliffs and parking. In terms of sand, the "beach" itself is quite small. The rocky cliffside coastline creeps up to this water access point and becomes part of the show itself. Being best for surfer's means the waters are not as kid-friendly, but make a stop at this beach anyway. Park in the ample parking directly above the sea cliffs and make your way down. Dip your feet in as you watch the plentiful surfers trying to catch a wave.
Anglesea. What Bells Beach leaves you longing for, the town of Anglesea has by the buckets full—sand! This shallow, low tide beach is surrounded by a natural protection area. It definitely makes for a great stop for families wanting to let the kids run free.
Apollo Bay. The most southern town on the Great Ocean Road comes with its own 3 kilometer stretch of sandy water access. Like Anglesea Beach, this beach's orientation gives for some natural protection. Therefore, it's an easy and kid-friendly place to go for a swim.
Bonus Bears: Kennett River Koala Walk. Getting a little water logged? On your way down to Apollo Bay, stop at the Kennett River Koala Walk. Soak up the sun on dry land and try and spot some of Australia's furriest friends. Don't be fooled, this will be no easy task! The Koalas spend most of the daylight hours sleeping or slowly hanging around high up in the gum trees surrounding this 3-kilometer forest walk. Look high, and walk slowly for your best chance to spot one. Once you do, start counting! The first is the hardest to find. Stop in at the Kafe Koala for a post-search snack or before for a bit of local advice on how to best see these sleepy creatures.
The Otways: From Apollo Bay to Port Campbell
The Great Ocean Road is where the rainforest meets the beach. And there is no more proof of that than Australia's National Park, The Great Otway. Ever present as the inland side opposite the beach, this National Park becomes the main attraction in the stretch of road between Apollo Bay and Port Campbell.
The Redwoods & Hopetoun Falls. It's a two for one as these majestic trees are located just down the road from incredible Hopetoun Falls. Signs and directions are difficult to go by in this part of the family-friendly drive. Make sure you grab an extra map of the location and keep your eyes peeled during the drive. Once you find one, the other won't be far away. Work up an appetite by walking down the many steps to the base of the falls. Then enjoy a snack while strolling through the spectacular forest of Giant Sequoia trees.
Tree Top Canopies. No visit to the Otways would be complete without the Treetop Canopy Walk! It's located farther down the Turton's Track Road from the Redwoods and falls. The kid-friendly, one-hour walk takes you to tree top level, giving you a bird's eye view of the many layers of flora and fauna. Feeling adventurous? Make it a full tour, and add the 2.5 hour zip line course to your day. The kids will be talking about it for years!
The Sea Shore: Port Campbell and the 12 Apostles
As the thick forest clears, the sea shines again. This time instead of beaches galore, you get rocks and rocks and more rocks!
The 12 Apostles. These are a limestone rock formation created by millions and millions of years of erosion. It's originally named for its twelve limestone pillars, layered with color and stacked with shapes. Today, there are now only eight remaining, as the persistently strong ocean they rise from continues to crumble them one by one. The best time to view these beautiful formations is at dusk or dawn. The pillars themselves and the jagged sea cliffs behind them light up with the colors of the day.
Loch Ard Gorge & London Bridge. The 12 Apostles might be the main show. However, take a drive about 4 kilometers farther down the coast for the Lord Ard Gorge and 16 km for the London Bridge. Make sure to catch these beautiful formations. Enjoy the beachfront views of Loch Ard Gorge and reminisce what the London Bridge must have looked like before it fell!
(MORE: 10 Things to Do with the Kids in South America)
Where to Stay: A Perfectly Timed 3-Night Stay Includes Lorne, Apollo Bay and Port Campbell.
Though previously unmentioned, Lorne is a perfect little, family-friendly beach town between Anglesea and Apollo Bay. This is the first point where the ocean really intertwines with the rainforest. The Great Otways creep in, surrounding Lorne with easy rainforest walks and waterfalls seemingly around every corner. Arrive in Lorne late, and grab some authentically Australian pizza at Pizza Pizza. For a little introduction to Australian cuisine, try the Prawn Pizza, topped with garlic, fresh chili, rocket and prawns. For a truly Australian wonder, try the Roast Pumpkin Pizza with pine nuts, bacon and roasted pumpkin. Catch a few waterfall hikes before leaving town. Be sure to take a drive up to Teddy's Lookout, a postcard, picture-perfect view of the Great Ocean Road.
Apollo Bay is not only a great kid-friendly beach location. It's also perfectly situated as a base point for a good night's sleep before leaving the beach zone. Pretend to be Australian, and head to The Harbour Fish shop for some fried Flank or Barramundi. Take it to go, and eat on the beach before one last pre-sunset dip in the ocean. Before leaving, fill up your tank with gas, and make sure you grab any extra maps. You may need both before heading into the rainforest where gas stations and people are limited.
Port Campbell is a logistical heaven when it comes to seeing the 12 Apostles and ending your trip down the Great Ocean Road. Stay here for easy access to the Princess Highway and your return, straight shot, to Melbourne. Hungry after your day of treetop climbing and rock hunting? Stop in at 12 Rocks Café for a beautiful water view and a relaxed atmosphere serving fresh local options.
Julie McNamara contributed this to MiniTime.