10 kid-friendly Pennsylvania farmstays
By Stacy Lu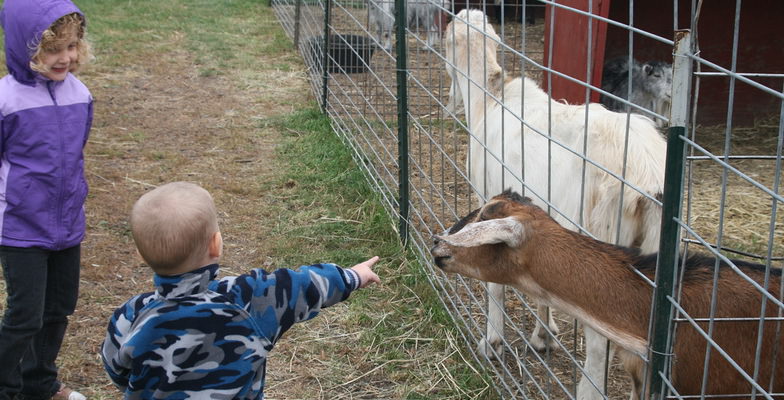 Get the kids out of fast-action theme parks and into a barn. (Flickr: anjanettew)
Ask a 6-year-old where eggs come from and you might get a lively description of the local Safeway. If that sounds anything like your kids, it may be time to think about a farm vacation. Getting the kids out of fast-action theme parks and into a barn has many benefits: fresh air, beautiful settings, and contact with animals that heretofore they may have seen only on TV. As a bonus, farmstays present a welcome opportunity for a peaceful (and blessedly economical) vacation for the entire family.
Plenty of American farmers have made hay, as it were, on city-dwellers' desire to reconnect with the countryside. According to the Travel Industry Association, between 20 and 40 percent of American farms engage in "agritourism" during the year. Pennsylvania is a great example of a place where dairy and grain farms still thrive, and Amish communities make visitors feel that they have arrived in another century. While most farmstay inns don't require their guests to pitch in, they almost always welcome kids (and grown-ups too) to help gather eggs for breakfast, feed baby animals from bottles, or take part in other fun barnyard activities.
We found 10 working farms scattered around Pennsylvania that are especially family-friendly. Before you book, make sure you know what's included. Many farms provide a hearty breakfast, and some offer the option of more extensive meal plans. Others set you up with a kitchen and some pantry basics so you can dine as a family. Some farms provide trundles, cots, or even pack-n-plays for little ones (you can often view each room on the farm inn's web site). And perhaps best of all, this is all but guaranteed to be an unplugged getaway, since the vast majority don't even offer TV.
Weatherbury Farm Vacation Avella, Washington County Less than an hour from Pittsburgh, this grass-fed cattle and sheep farm has a children's program that makes little ones the right-hand helpers of Farmer Dale. Kids can help with morning chores such as hand-pumping water, bottle-feeding baby animals and searching for tucked-away guinea-hen eggs (apparently, guinea hens make hapless mothers, and their eggs fare better when taken and incubated). Kids who stay two or more nights can fill out a Junior Farmer workbook to log their activities, after which Farmer Dale presents them with a certificate. The six different rooms and suites can accommodate a variety of family sizes, and even the smallest comes with a day bed or sleeper sofa; the three suites (in the tastefully converted Carriage House, Mews and Stable) can each sleep up to seven (and can run as little as $217 a night for that many people). Rooms come with refrigerators, claw-foot tubs and, sometimes, kid curiosities such as old-fashioned sewing machines and pull-chain toilets. There's one TV for the whole place located in the common living room. (Rates start at about $109 a night for a family of 3; 1061 Sugar Run Rd., Avella, PA; 724/587-3763)
Rocky Acre Farm Bed and Breakfast Mount Joy, Lancaster County Kids and their parents will also get an instant history lesson here: This 200-year-old farm was once a stop on Harriet Tubman's famed Underground Railroad during the Civil War. Today, the family can share in chores such as milking cows and gathering eggs, but the kids can also ride miniature horses, play in the Victorian playhouse or ride on the farmer-driven tractor train. There are nine lodging options, all done up in Victorian style, but not so fussy as to be kid-unfriendly. They range from rooms to suites to apartments, some with full kitchens and some with at least a refrigerator and microwave. If the morning chores leave you wanting more, you can even request a room situated close to the barn, so you'll be the first to know if a calf is born. (Rates for a family of three start at $125, and include a classic farm breakfast; the innkeepers will also accommodate special dietary needs. 1020 Pinkerton Rd., Mount Joy PA; 717/653-4449)
Olde Fogie Farm Bed & Breakfast Marietta, Lancaster County If you're hoping for a storybook vacation, this is it: Tom and Biz Fogie so embrace the idyllic nature of farm life that they even have their pets "pen" newsletters on the happenings at this organic cattle and sheep farm. (Tigger the barn cat says he prefers his morning goat milk with a foamy top.) Rooms such as the Hayloft Suite and the Pig Pen Room are colorfully decorated with a quirky but homey feel, and feature trundles or sofabeds to accommodate little ones. The two suites have full kitchens. A morning bell announces chore time, during which Farmer Tom Fogie tells stories while the kids help gather eggs and feed animals. Later on, his wife Biz sings cabaret-style at breakfast. The Fogies can also act as country concierges, and can bring in a masseuse upon request or set up a meal with a local Amish family. (Room rates for a family start at $95 per couple; add $15 per child over the age of 1. 106 Stackstown Rd., Marietta, PA; 877/653-3644)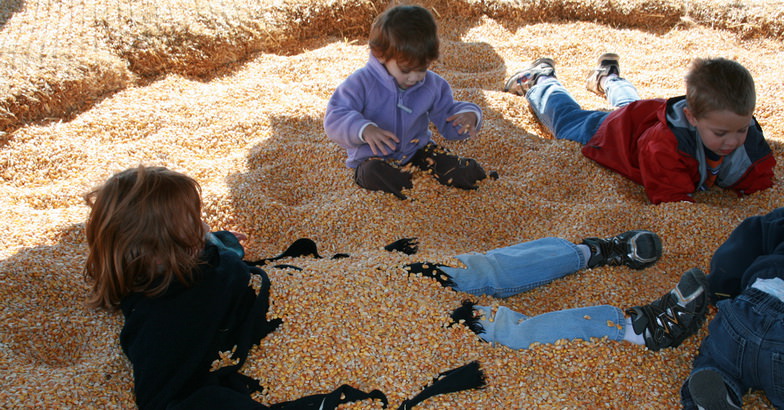 Fall festivals feature farm experience for kids. (Flickr: surrfred)
The Green Acres Farm Bed & Breakfast Mount Joy, Lancaster County Located halfway between Amish country and the new-world temptations of Hershey, this 150-acre farm has hungry donkeys, sheep and goats who like to be fed by the kids. But there's more for them here than just caring for animals. A large playhouse offers Amish dress-up clothes for the kids and the grounds also offer a sandlot, a trampoline, swings, bicycles and a basketball hoop. Each of the seven rooms is done in country Victorian décor, and can sleep anywhere from 3 to 6 with a combination of queen, twin, trundle or bunk beds. (The $110 room rate includes a full farm breakfast. 1382 Pinkerton Rd., Mount Joy, PA; 717/653-4028)
Hummerhaven Farmstead Millerstown, Perry County The word "exotic" doesn't usually spring to mind when visiting Pennsylvania, but this 127-acre farm 40 minutes outside Harrisburg (and just two hours from Philly) comes pretty darn near, at least in terms of livestock. Kids can help feed and pet the miniature horses and donkeys, Nigerian dwarf goats, Babydoll sheep, potbelly pigs and French Angora bunnies. You can also fish in the pond or use the indoor pool year-round. Accommodations in the farmhouse or cottage are quaint and down-home rustic, but each houses up to 8 and comes with a full kitchen. If the kids need a shot of the modern age, Hershey Park is about an hour away. Note: Even your dog can stay, as long as you book ahead. (Rates start at $85 a night; two- or three-night minimums may apply, depending on season. RR #2 Box 343C, Millerstown, PA; 717/589-7748)
Landis Farm Guest House Manheim, Lancaster County The 200-year-old stone guest house at this former dairy farm has two bedrooms and reflects the clean, simple lines of early architecture—no fussy doilies here. To keep a modern family comfortable, the guest house also offers a pack-n-play, satellite TV and a DVD player, as well as a supply of breakfast foods in the full kitchen. This second-generation farm now grows corn, soybeans and wheat—but there are still cows in the pasture and goats, rabbits and chickens that need attention. Farmer Earl can also take the kids on a tractor-train ride or they can play on the tire swing and Big Wheels. You're close to hiking and biking trails, and can drive a short distance to farmers' markets and the rest of Amish country. (Rates start at $125 for a family of three; $5 for each additional child, $15 for each additional adult. 2048 Gochlan Rd., Manheim, PA; 717/898-7028)
Tuscarora Bison Farm Millerstown, Perry County Nobody's going to be milking, riding or petting any bison on this woodsy Raccoon Valley ranch—and that's probably a good thing, given that bison are wild and, at best, ornery. But they're still fascinating to watch, especially if you come during spring or early summer, when the calves are born. Happily, this three-century-old farm does offer affable and ride-able llamas, as well as friendly dogs and a bounty of activities on its 240 acres, such as trout fishing, hiking, and stream wading. The main house is a Georgian Plantation-style home that Scarlett O'Hara surely would have liked, and you can stay in the two-story newly-renovated guest house that used to be the house's old summer kitchen; it sleeps up to six and comes with both a full kitchen and a starter basket of food. (Rates for a family of three start at $133 and go up depending on age and number of kids. 2183 Raccoon Valley Rd., Millerstown, PA; 717/589-7997)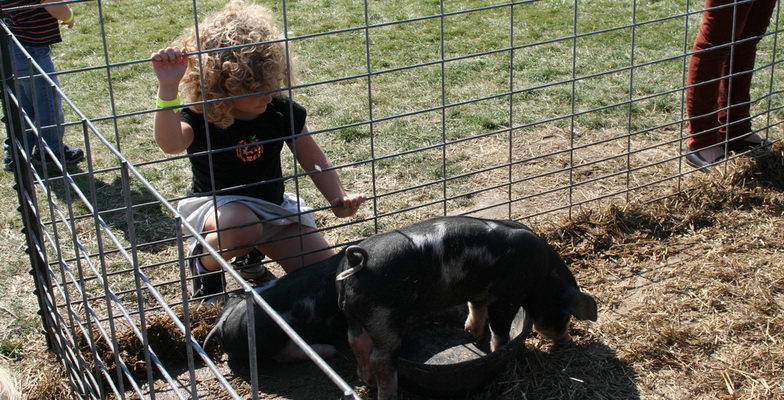 Let them take part in many fun barnyard activities. (Flickr: anjanettew)
Mountain Dale Farm McClure, Snyder County Smack dab in the center of the Keystone State and yet in the proverbial middle of nowhere, this corn and hay farm is so removed that it may make Amish Country seem like the big city. Kids can help feed the cattle, horses, turkeys and peacocks, as well as keep an eye out for visiting foxes, deer or even bears. Depending on the season, you can also fish, canoe, pick berries, search for fossils or even cross-country ski. Not far from the farm you can go horseback riding, check out a giant exotic cat shelter or play a round of golf. As further evidence that farm folks are a resourceful bunch, many of the guest cottages have been derived from local pre-existing houses and barns, reconstructed and given new life here. Some have kitchens, and most have private bathrooms. For soft camping you can also rent the Forest Cabins—with electricity but no running water—which start at $65 for a family of three. You can book some meals at great prices ahead of time (breakfast for four would run about $20). (A cottage with kitchen starts at $110 a night for a family of three; prices vary depending on number and age of guests. 330 Hassinger Way, McClure, PA; 570/658-3536)
Buck Valley Ranch Warfordsburg, Fulton County This 95-acre horse farm is the Mid-Atlantic answer to the western dude ranch. Set in south-central Pennsylvania's Appalachian Mountains, about two hours from Baltimore, the farm offers horseback trail rides for every skill level; kids must be at least 7 to go on the trail rides and helmets are provided, while younger kids can get a pony ride back at the yard. A four-bedroom guest house sleeps up to eight comfortably and is decorated with antique and cowboy memorabilia. Health-conscious meals are often included in your rate. (Rates start at $225 for a family of three, including some meals; kids $45 a day; 1344 Negro Mountain Rd., Warfordsburg, PA; 800/294-3759)
Neffdale Farm of Paradise Paradise, Lancaster County Despite being located in Paradise, there are no outlandish claims at this 165-acre dairy farm; the web site just promises that guests will see farm life "like it is." Luckily, "like it is" can be a lot of fun: Kids can watch the cows get milked, help feed the calves, or play on the farm's wooden playground. Country-Victorian-style rooms in the 200-year-old farmhouse feature period furniture and quilts, and a cot can be provided if necessary. As if being in the middle of Amish Country weren't enough, Neffdale is also close to several other family attractions, such as little-kid-friendly theme park Dutch Wonderland and the Strasburg Railroad, where you can ride restored steam engines or even a Thomas the Tank Engine train. Finally, no visit to Lancaster County is complete without a trip to the nostalgia-laced Strasburg Country Store & Creamery, for what locals insist is the most delectable ice cream in this dairy-rich state. (Rates start at $80 a night, including continental breakfast. 604 Strasburg Rd., Paradise, PA; 717/687-7837)