Where guests and ghosts can meet
By Katrina Brown Hunt on Oct 15, 2013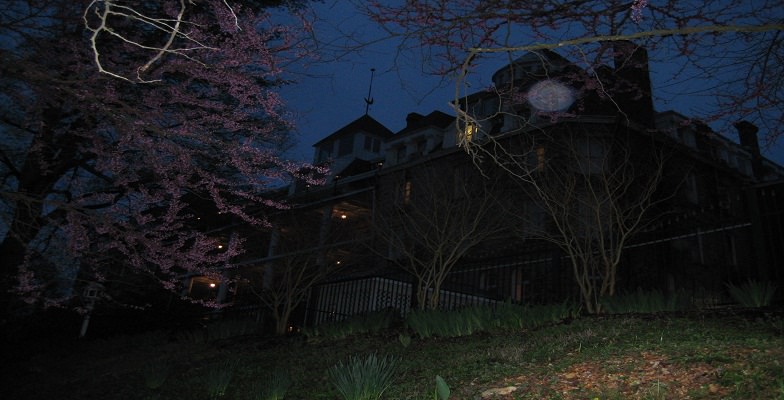 1886 Crescent Hotel
Hotels may have ghosts lurking their halls year-round, but those spirits seem to get awfully busy in October.
Indeed, this time of year, hotels around the nation seem much more inclined to thrill guests with tales of their in-house spirits, mysteries and tragic back stories—such as the famous Kate Morgan, a late guest from San Diego's Hotel del Coronado who reportedly plays tricks on guests and is known for tossing commemorative plates off the lobby's gift shop shelves. Other hotels, meanwhile, actually offer chances to "meet" their ghosts on after-dark tours, sometimes using paranormal-activity gear such as EMF (electromagnetic field) meters and dowsing rods.
Granted, such hotel tours book up fast this time of year. But here are some hotels where you can try your hand at ghost-hunting beyond Oct. 31—and perhaps even into the beyond:
1886 Crescent Hotel: Eureka Springs, AR
Nicknamed the "Grand Ol' Lady of The Ozarks," this hotel was built in 1886, but then had a rather dark chapter as a hospital during the 1930s. The on-site morgue from the hospital days is now a prime spot on the hotel's ghost tour, where you'll learn about resident spirits ranging from hotel guests to nurses and patients. Pricing: Regular tour costs $21.95 for ages 12 and up; $8 for under 12. This year, on Halloween, the hotel will also present a séance ($29.95 per person).
The Copper Queen Hotel: Bisbee, AZ
This 52-room hotel, about 100 miles from Tucson, first opened in 1902 when mining was Bisbee's main industry, and over the years has boasted larger-than-life guests such as Teddy Roosevelt and John Wayne. The current "after-life" residents, however, include a gentleman with a cigar, a lady of the evening and a kid who likes to move stuff around. Hotel guests can take Thursday evening tours, where you learn the basics of an EMF meter and dowsing rods (similar to divining rods). The tour's site suggests you bring along a camera, pendulum, notepads or '"bait" such as shiny toys or coins. Pricing: Hotel room plus tour costs $257, based on double occupancy, plus $36 per extra hotel guest taking the tour.
(MORE: Browse kid-friendly hotels in Tucson.)
The Stanley Hotel: Estes Park, CO
Flickr: Nomadic Lass
This huge hotel in Estes Park is only about 90 minutes from Denver, but feels isolated enough to have inspired Stephen King to write The Shining—with some help from the resident ghosts in the lobby and room 217. The hotel also has an in-house psychic, as well as a variety of haunted activities, such as a family-friendly story time about the hotel's spirits and the Night Ghost Tour, which visits the hotel's paranormal hot spots after dark (not for kids 10 and under). Pricing: The storytelling session costs $5 for hotel guests, $7 for non-guests, and free for kids five and under. The Night Ghost Tour costs $20 per person for hotel guests and $25 for non-guests.
The Lemp Mansion: St. Louis, MO
This six-suite, St. Louis hotel was once the home of a local beer baron, until various family members met tragic ends inside the house. The hotel's Hunt for Paranormal Activity Tour includes use of an infrared camera as you explore the three floors of the hotel in the dark. If you don't want to get spooked, the hotel also offers a lighthearted murder-mystery dinner theater and, during Halloween season, pumpkin carvings and Edgar Allen Poe readings. Pricing: Tour costs $30 per person. Year-round dinner theater costs $49 per person.
(MORE: View a family trip itinerary: 3 days in St. Louis with kids.)
Jerome Grand Hotel: Jerome, AZ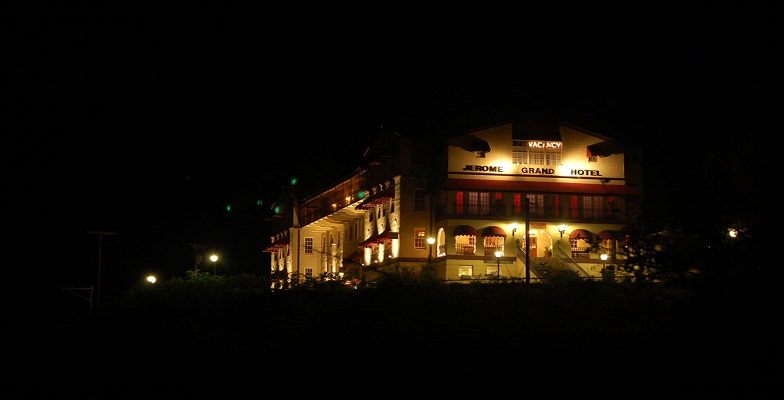 Flickr: Jason Shultz
This National Historic Landmark Hotel in Arizona—about 30 miles from Sedona—started out as a hospital in 1927 and then stood vacant for years, presumably giving the ghosts time to settle in. These days, the hotel's ghost hunting tour, on select weeknights, includes use of an EMF meter (to detect changes in electrical currents), an infrared thermometer (for cold spots) and a digital camera to help you document the "spirits, orbs, ghost sightings, and haunted happenings." Pricing: Tour costs $20 for hotel guests only; participants also get a 10-percent discount on their room rate, as well as use of the gear for the rest of the night).
Katrina Brown Hunt contributed this to www.MiniTime.com.