Top 10 cities worldwide to spend Christmas with kids
By Mimi Slawoff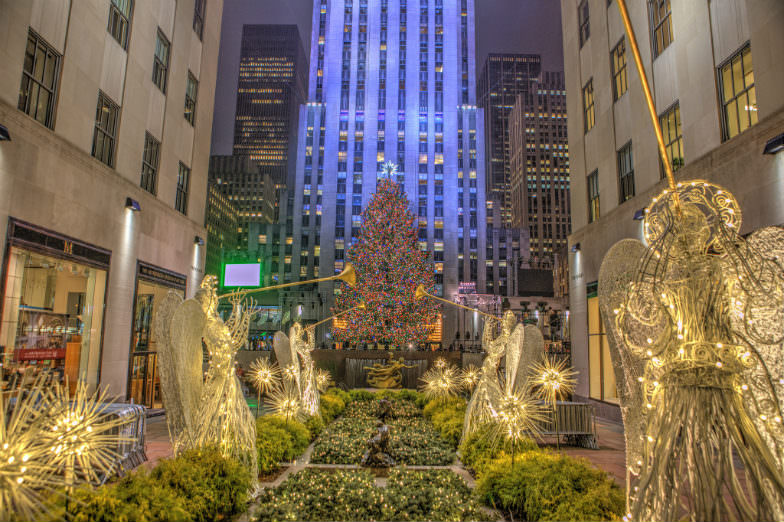 Christmas tree and angels at the Rockefeller Center (Flickr: Anthony Quintano)
Well before Christmas Day, cities around the world get dressed up for the holidays, transforming streets and buildings into a twinkling winter wonderland bustling with festivities, parades, live music and holiday food.
Holiday traditions vary from one country to the next, but whether you say "Prettige Kerstfeest", "Frohe Weihnachten" or "Merry Christmas", the warm yuletide sentiments are the same. Here's a sampling of 10 cities around the world sure to get your family in the holiday spirit.
New York City, New York
From elaborate holiday window displays at Macy's, Barney's, Bloomingdale's and Saks Fifth Avenue to outdoor ice skating and holiday shows, the Big Apple is at the core of festivities in the U.S. The fun begins with the annual lighting of Rockefeller Center's giant Christmas tree (this year, Dec. 3, 2014.). More fun awaits at Bryant Park's Winter Wonderland, featuring ice skating and more than 125 holiday shops. Christmas Spectacular starring the famous Radio City Rockettes is a popular tradition for many, so get your tickets early.
Nashville, Tennessee
Visit the North Pole Music City-style with A Country Christmas at the Gaylord Opryland Resort and Convention Center, which dazzles with more than two million lights and lavish holiday decorations. Kids (and parents!) will love ICE, an interactive winter wonderland carved from more than two million pounds of ice. This year's theme, 'Twas the Night Before Christmas, features colorful three-dimensional, larger-than-life holiday sculptures from the classic holiday story as well as a nativity scene. Heavy jackets are provided (but bring mittens and hats) to enjoy this frozen world, which includes a two-story ice slide. See the world famous Radio City Rockettes perform a holiday show at the Grand Ole Opry House.
Los Angeles, California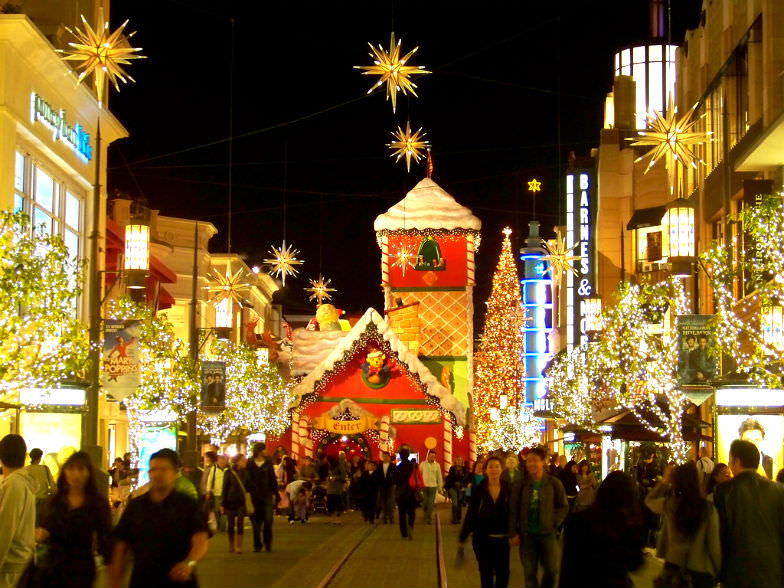 Holiday-decorated shopping street in The Grove in Los Angeles (Flickr: Loren Javier)
Bring your cameras for lights and holiday action in theaters, malls and outdoor ice skating rinks (yes, even in 80-degree weather!) throughout LA. See the city's largest Christmas tree (usually at least 100 feet tall) at The Grove shopping complex by the original Farmers Market, ride a miniature train through a holiday-themed village in Griffith Park and see a Nutcracker performance. Catch the classic Hollywood Christmas Parade (celebrating its 82nd year) live or on TV Dec. 1. Universal Studios Hollywood, Knott's Berry Farm and the Disneyland Resort roll out the welcome mat with twinkling lights, festive parades, Santa visits and holiday sweets.
(MORE: Book your Christmas family trip soon. Find great kid-friendly hotels in Los Angeles.)
Santa Claus, Indiana
You can visit Santa Claus year-round. The city has many Santa-themed shops and attractions, including Santa's Candy Castle, the Santa Claus Museum, and the Holiday World and Splashin' Safari. No wonder the US Post Office has been sending letters addressed to the Santa Claus Post Office for more than a century. Since 1914, volunteers — called Santa's Elves – have made it their mission to answer each child's letter.
Valkenburg, The Netherlands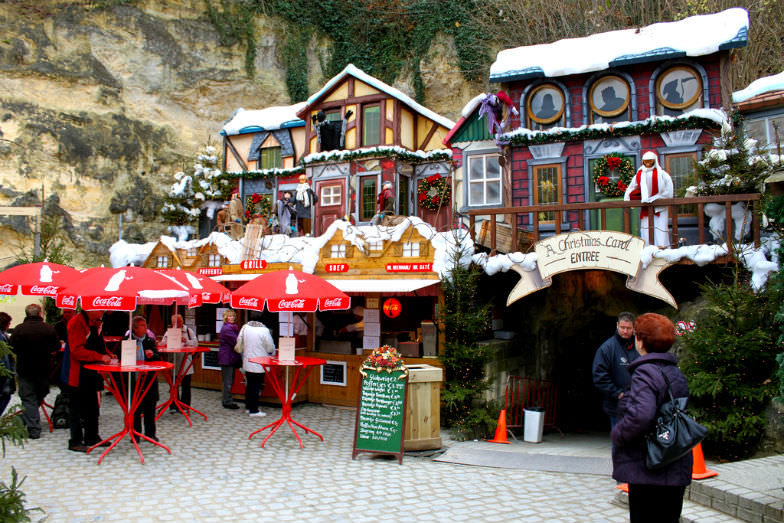 The Valkenburg Christmas market in The Netherlands (Flickr: C.M.FRIESE photography)
In this Christmas city of the Netherlands, families can see parades and explore the Velvet Cave, which morphs into a Christmas market and Santa's residence. See his roomful of presents and pet the reindeer. The cavern houses sculptures and an 18th-century chapel, as well as preserved mural drawings that date to Roman times. Thrill the kids with a train ride aboard the Christmas Express that runs regularly between Simpelveld and Valkenburg.
Lapland, Finland
European families flock to the region's Santa Claus Village to cross the magical Arctic Circle and meet Santa. Spend the night and enjoy cozy accommodations, dining, shopping and activities. Find more family fun in Santa Park, an amusement park designed to emulate Santa's cavern residence on the Arctic Circle. See an elf show, visit Santa's workshop and hop on a sleigh ride.
Nuremberg, Germany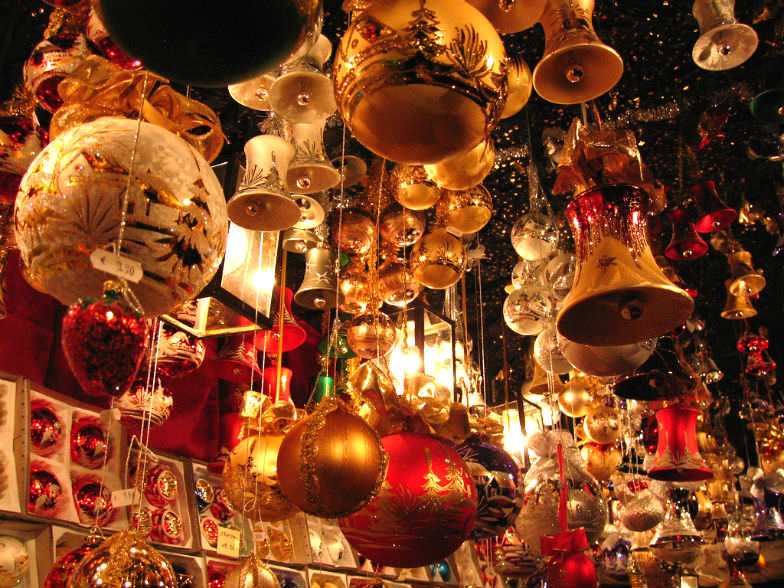 Christmas ornaments at a Christmas market in Nuremberg. Germany (Flickr: charley1965)
With views of the majestic Alps to the south and the medieval Imperial Castle atop the Old Town hill, Nuremberg is an idyllic spot for one of Germany's oldest Christmas markets. Find traditional hand-crafted wares and food (including spicy gingerbread, sweets and sausages) at more than 180 stalls. The Kinderweihnacht — or Children's Market — features an old-fashioned carousel, wooden Ferris wheel, steam train and Nativity scene trail.
Rome, Italy
The holidays are a festive time to visit Rome, when main streets are decorated with lights, roving musicians entertain passersby, vendors sell roasted chestnuts and an outdoor ice skating rink is set up. Piazza Navona is a hub for holiday activities, including a Christmas market, a merry-go-round and visits with Babbo Natale (Father Christmas). Religious or not, the midnight mass in Rome's Parthenon is a moving experience. There's a huge Christmas tree in Saint Peter's Square, where the Pope says midnight mass on Christmas Eve inside Saint Peter's Basilica (in the square it's shown on big screen TVs).
London, United Kingdom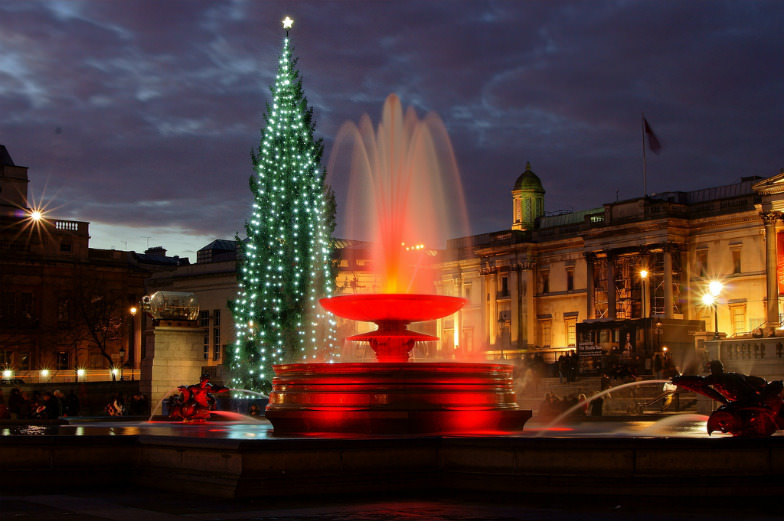 Trafalgar Square's famous Christmas tree and fountain in London (Flickr: Peter Trimming)
Treat your family to jolly good fun at numerous holiday attractions, including ice skating in the 1,000-year-old Tower Moat (at the Tower of London), an iconic London landmark. Bring Harry Potter fans on a Hogwarts at Christmas tour at Warner Bros. Studio, then head over to Hyde Park's Winter Wonderland. The park features ice skating, gentle rides, a huge Christmas market and big top shows from Nov. 2014 – Jan. 2015. Sing traditional Christmas carols at Trafalgar Square and watch the New Year's Even Fireworks Display in Central London.
(MORE: See the Old Town during the holidays. Find great kid-friendly hotels to stay in London.)
San Miguel de Allende, Mexico
Church bells, fireworks and children swinging at piñatas kick off Las Posadas beginning on Dec. 16. Festivities include locals dressing up in traditional costumes and re-enacting Mary and Joseph's difficult journey from Nazareth to Bethlehem. Although Las Posadas ends on Dec. 24, festivities continue with the seasonal Blessing of the Animals in January.
Mimi Slawoff, a Los Angeles-based journalist, contributed this to MiniTime.