Colorado's top ski resorts for families
By Camille Miller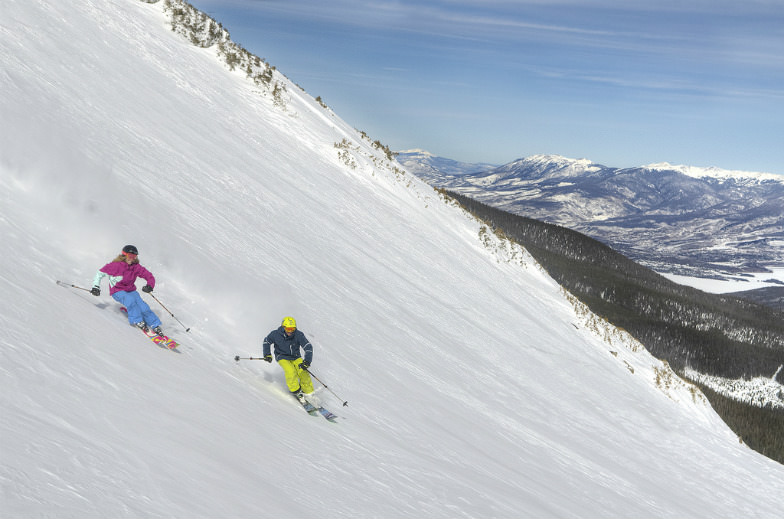 Top ski resorts for families in Colorado (Flickr: Snow Snow)
Winter snowflakes in Colorado's high country turn the Rocky Mountains into a much-loved playground for ski-loving families. More families visit during this time of year than any other to take advantage of the festive resort towns and the wide variety of ski slopes and backcountry terrain. Whether you are new to the sport, or skiing has been a part of your family winter activities for generations, you'll find lots of great choices to indulge your family's appetite for winter fun.
(TRIP PLANS: Find out what kid-friendly attractions other families visited in Colorado.)
Best Places to Go with Beginners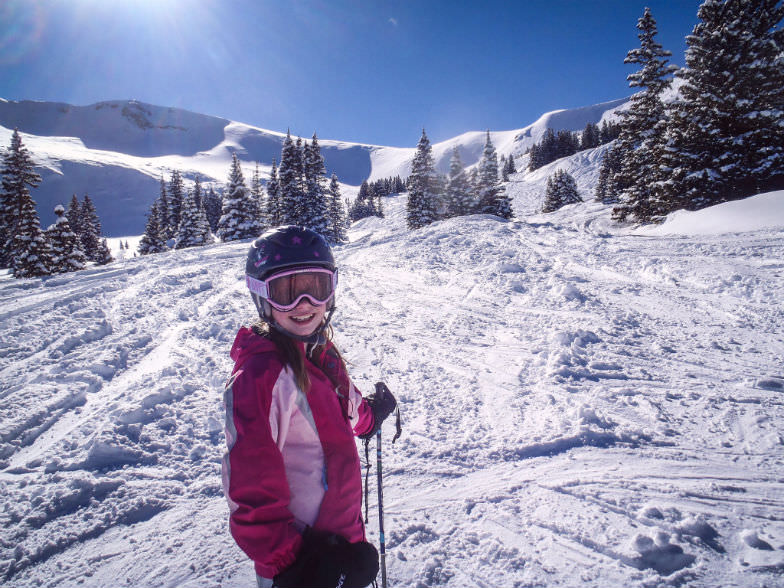 Breckenridge Ski Resort (Flickr: Mia & Steve mestdagh)
Whether you are eager for your kids to gain some confidence on the slopes, or you'd like to learn for yourself, these Ski Schools provide the best instruction in the state. Knowledgable teachers guide students through the basics in group lessons, and can offer more and more challenging techniques through private lessons as your skill improves. Programs typically include lessons, ski rental, lift tickets, and lunch (verify the details with your program coordinator before arrival).
Ski & Snowboard School at Beaver Creek – Vail (Beaver Creek Resort, 40 Village Rd, 970-476-9090)
Telluride Ski School – Telluride (Telluride Ski Resort, 565 Mountain Village Blvd, 800-854-3062)
Breck Ski & Ride School – Breckenridge (Breckenridge Ski Resort, 1599 Summit County Road #3, 970-453-3272)
(MORE: Find kid-friendly hotels to stay in or near Breckenridge, Colorado.)
Best Places to Go with Advanced Skiers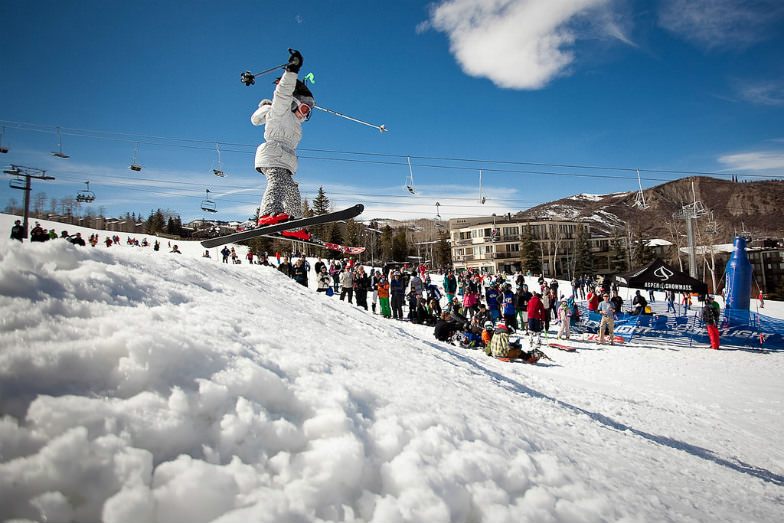 Snowmass, Colorado (Flickr: Aspen Snowmass)
Once you've mastered the bunny-hill it's inevitable that you'll want to try more and more challenging slopes. Since the Sixties, slopes have been marked with signs designating their difficulty level compared to other slopes in the area. Pick up a trail map at the ticket window and locate an easy trail to try first. Work your way up to the challenging trails as your skill improves. For the biggest adrenaline rush, try the terrain of one of these three well-known resorts.
Winter Park Resort – Winter Park (100 Winter Park Dr, 970-726-1564)
Snowmass Village – Snowmass (40 Carriage Way, 800-923-8920)
Aspen Meadows Resort – Aspen (845 Meadows Rd, 970-925-4240)
Best Places to Find Child-Care Services
Sometimes you just need a piece of mountain all to yourself. For those days when you want to leave children to their adventures while you pursue yours, there are child care services available in nearly every resort area in the mountains. Some of the most popular programs include:
Ski Nanny at the Ritz-Carlton – Bachelor Gulch (800-241-3333) Take a day off to enjoy the mountain, and leave your children to the Ski Nanny. This program arranges transportation to and from Group Ski Lessons in nearby Beaver Creek for children ages 5- to 12-years-old. Ski lessons are followed by "Munchies and Movie," where parents are invited to pick up their children by 6:00 pm.
Breckenridge Child Care – Breckenridge (866-576-2055) If your ski vacation includes little ones, take advantage of the Children's Care Centers near the ski runs in Breckenridge. Three centers, located at the Peak 8 base area, the Village Plaza, and the Beaver Run area, entertain children ages 8-weeks to 3-years-old with games and activities while you take advantage of the nearby slopes.
Keystone Children's Center – Keystone (800-255-3715) With separate programs for each age group, the Children's Center in Keystone is equipped to handle a wide range of your family's needs while you explore the terrain. Infants (2 to 15 months), toddlers (16 to 35 months) and Play School (3 to 6 years) will enjoy age-appropriate toys and projects, with snow play in the mornings for toddlers and play school participants. A one-on-one nanny is also available if you prefer that your child/children receive more individual attention.
Best Places for More Winter Activities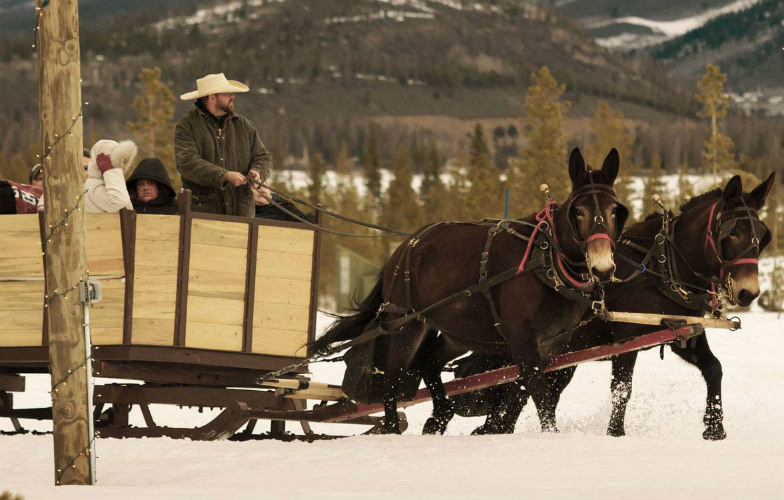 Two-Below Sleigh Ride (Two-Below Sleigh Ride & Dinner)
12 Snowboard Runs – Vail. If you're looking for snowboard-friendly terrain, you can't do better than Vail. Over 5,000 acres of varied terrain are open, so that even if the popular resort town seems crowded, you can still find little pockets of unridden powder. Vail also has three halfpipes to try, if you're daring.
Two-Below Sleigh Ride & Dinner – Frisco, CO. 20 Minutes outside of Breckenridge lies the quaint town of Frisco, CO, where several sleigh ride options are available if you'd enjoy taking the family out for a wintery expedition. The best of these is Two-Below, which includes not just a sleigh ride and a mug of hot chocolate, but a steak dinner and a live performance next to the picturesque Lake Dillon.
Treehouse Kids' Adventure Center – Aspen/Snowmass. Located at the intersection of three lifts on Fanny Hill, this two-story, 25,000-square-foot treehouse is the perfect place to turn the kids loose. Activities for teens, a full kitchen and cafeteria, a family-friendly climbing gym, and several themed rooms for kids ages eight weeks and older provide enough opportunity to keep everyone busy for hours.
(MORE: Find more kid-friendly hotels to stay in Colorado.)
Best Places for Apres-Ski Activities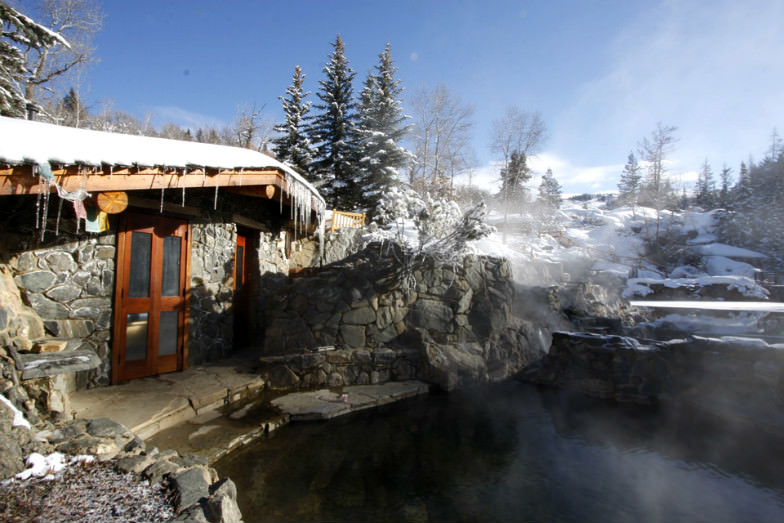 Hot Springs at Strawberry Park (Strawberry Hot Springs)
Strawberry Park Hot Springs – Steamboat (44200 County Road 36, 970-879-0342) Say what you will about shopping, concerts, and nightlife in a resort town, there is nothing that feels so luxurious after a day on the ski slopes as a soak in natural hot springs. Taking advantage of the area's all natural, spring-fed pools to relax and restore the inevitable ski-weary muscles is so very ahhhhh……
Vail Square Ice Rink in Lionshead Village – Vail. This outdoor rink in the middle of the village is open every afternoon from 1:00 to 9:00pm for ice skating with the family. This quaint rink is surrounded by shops, restaurants and lodging, and strings of lights overhead provide a festive atmosphere in the evening. Teach the little ones to skate, and then huddle together near the open fireplace at one end to get warm before taking them for another spin around the rink.
Historic Main Street – Breckenridge. Take the kids shopping for a memorable souvenir at one of over 200 shops in the village. Helpful sales clerks will help you find the best winter gear, clothing, and toys for your mountain vacation. Stroll and shop for a bit and then head to Crepes a la Carte to order a gourmet savory or dessert crepe out of a cunning little wagon on Main Street.
Camille Miller contributed this to MiniTime.
More family-friendly ski resorts: