Caribbean with the kids
By Rowena Carr-Allinson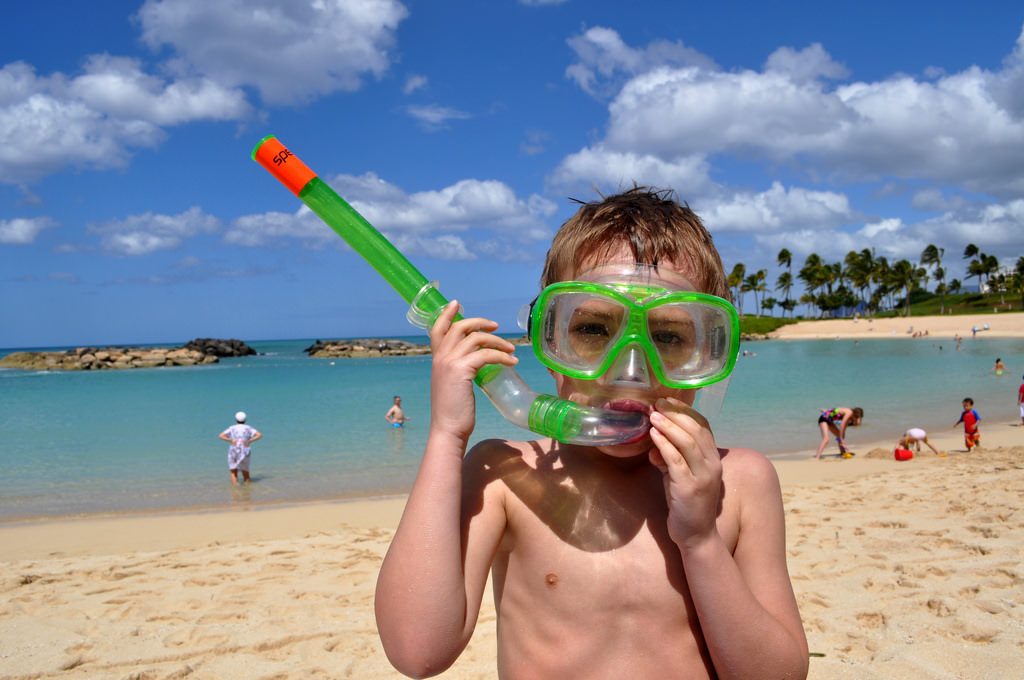 Looking for kid-friendly snorkeling spots? This is the list for you. (Flickr: Carissa Rogers)
Thinking of setting out to the sunny Caribbean for a vacation? Why not combine perfect beaches, great atmosphere and fun foods with the perfect snorkeling experience too? Explore the underwater world, and get up close and personal with the local marine life in the Caribbean.
Here are some of the Caribbean's great kid-friendly snorkeling spots that are not just amazing, but also kid-friendly.
(MORE: 5 Unique Underwater Adventures Kids Will Love)
Bloody Bay Marine Park, Little Cayman
Tiny Little Cayman Island (ten miles long and a mile wide) is set in stunning clear waters that make for some of the finest snorkeling and diving in the Caribbean. Surrounded by wrecks, reefs and dive sites, family-friendly Little Cayman is where those who are serious about their marine life spotting. Almost untouched, the island's reefs are teeming with underwater life, and the marine park status means more protection. Bloody Bay may sound scary but it's a beautiful underwater paradise featuring stunning coral cliffs, the Three Fathom Wall, and creatures like the hawksbill turtle, rope sponges, gigantic barrel sponges and the odd Lionfish! Also in the Caymans, though busier, Stingray City is a favorite with families to visit the tame gentle giants.
Glover's Reef Marine Reserve, Belize
About 30 miles off the coast of Belize, Glover's Reef is part of the Meso-American Barrier Reef. A World Heritage Site and marine reserve, it's home to an entire atoll and a 80-square-mile lagoon where you can see rays, sharks and turtles aplenty. Don't miss the whale sharks in March, April, May and June. Glover's Atoll has its own resort for the ultimate 'Robinson Crusoe' Experience. Camp or book one of its thatch cabins over the water, giving you the quickest route to perfect snorkeling (or diving), pristine white sandy beaches and innumerable coconut trees on your doorstep. Paradise found!
Underwater Marine Park, Curaçao
Curaçao is blessed with a rich and spectacular marine life. Head to the family-friendly Curaçao Underwater Marine Park that runs along Curaçao's southern coastline for 12 miles to find one of the Caribbean's top snorkeling spots. You'll be spoilt for choice with everything from sunken ships and coral gardens to a dazzling array of fish everywhere you look. Popular flat water snorkeling sites in the clamer western side of the island include the following beaches: Daibooi, Porto Marie, Cas Abou, Lagun, Jeremi, Grote Knip and Playa Abou or Knip.
Bird Island, Antigua
Since Antigua's claim to fame is as the home of 360 beaches, one for (almost) every day of the year, the waters are also something to write home about. Clear, calm waters are packed with colourful tropical fish, anemones, elk and brain coral. For everything from tuna to whale sharks and a rainbow of smaller fish, take a trip to Bird Island or Cades Reef where the Atlantic meets the Caribbean. Mind the currents, though – they can be treacherous in certain types of weather so make sure the kids well accompanied.
Canouan, The Grenadines
It seems like most of the islands in the family-friendly Grenadines offer perfect snorkeling conditions, whether you go for Canouan, with its mile long reef full of brain coral and vibrant fish, or Palm Island and Petit St. Vincent. Another option are the kid-friendly Tobago Cays where you'll see soft corals, fans and whips, turtles, nurse sharks, and eagle rays in lovely calm, warm waters. Try Horseshoe Reef, protecting four of the five uninhabited islands part of Tobago Cays Marine Park. The protected coral-reef system is just 12-feet deep and full of color. For turtles, try the beach of Baradel!
Buck Island, US Virgin Islands
Buck Island has a reputation as a great, family-friendly snorkeling spot in the Caribbean. With over 250 species of fish, sponges, corals and crustaceans, this 840-acre island and reef system two miles off St. Croix's north shore is a must! A US National Park, it's protected but open to divers and snorkelers. Also in the USVI, the famous St Thomas island's beautiful beaches are home to a giant reef you can visit just by wading along. Perfect for beginners or families. The local Ritz resort provides easy access to the corals and creatures, and you might even come across a snapper or a barracuda!
(MORE: Overrated Caribbean Destinations Worth Going With the Kids)
Cayo Diablo National Park, Fajardo, Puerto Rico
Set on the Atlantic and the Caribbean 20 minutes by boat off Fajardo, Puerto Rico, Cayo Diablo is reputed for its hawksbill and green turtles who thrive in the shallow waters. The waters are also home to elkhorn and staghorn corals, as well as many colorful tropical fish. Stay in style at El Conquistador Resort, A Waldorf Astoria Resort that is perfectly located to explore land and sea, between the El Yunque National Forest, Seven Seas Beach and the marine national park.
Champagne Reef, Dominica
Rated the #1 snorkeling site among the 25 Caribbean snorkeling sites picked by Caribbean Travel & Life Magazine, this is one of Dominica's finest natural attractions. Here, subterranean geothermals push up teeny tiny bubbles through the ground, earning the reef its glamorous name. Swim through the bubbles, like in a giant jacuzzi, and get up close to seahorses, frogfish, parrotfish and lobsters as well as a parade of beautiful corals and Hawksbill turtles. Quite the cocktail.
Rowena Carr-Allinson contributed this to MiniTime. Since the arrival of her son in 2011, she has taken him everywhere from Bangkok to NYC, writing family friendly articles en route.