Camping with kids
By Ashley Burnett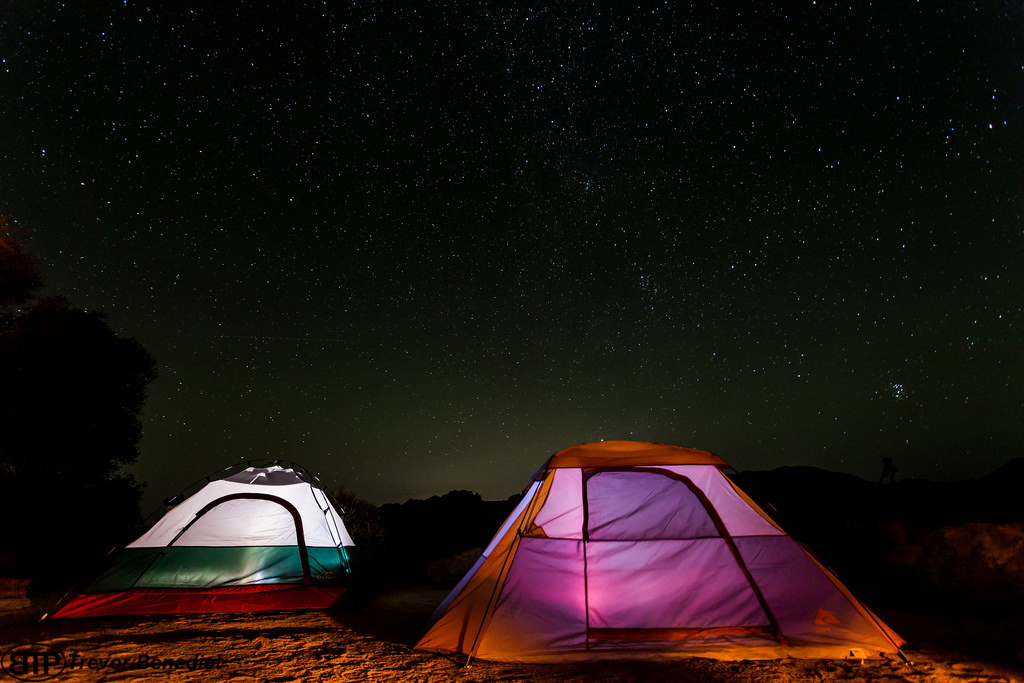 Joshua Tree is home to some of the best campground for families with kids. (Flickr: Trevor Benedict)
Camping with kids in tow can make for the perfect family vacation. Setting up a tent and starting up a fire make for the perfect way to truly experience a location. And for kids who are usually cooped up in the house or at school, getting outdoors is a memorable experience.
No place is that truer than Southern California. SoCal offers a plethora of great, family-friendly campgrounds. Many offer all of the typical camping amenities, are extremely safe and within walking distance of great trailheads. They're also just a short drive from SoCal's many landmarks and interesting small towns. Below, we've highlighted five of the most kid-friendly campgrounds in SoCal.
(MORE: 10 Tips for a Stress-Free Road Trip with Kids)
Black Rock Campground near Joshua Tree Tree National Park
Camping with kids is easy at the Black Rock Campground. Right on the edge of Joshua Tree National Park, Black Rock Campground attracts families from all over California. With full amenities, this site is the perfect gateway to camping for families who have yet to go. It's a short drive away from the park proper and close to town in case you forget any essentials. There's also plenty of beautiful rock formations to explore directly around the campsite. And, of course, you can't beat the sunsets or sunrises of the desert. All in all, this is a great choice for a family vacation and one of SoCal's most kid-friendly campgrounds.
Crystal Cove State Park's Moro Campground
Crystal Cove State Park is one of SoCal's most kid-friendly campgrounds. It's in close proximity to Newport Beach and Laguna Beach make it a great choice for a staycation adventure. This specific campground is perfect for camping with kids because of its seaside location. It'll feel like another beach adventure—but this time, you get to enjoy the sand all night. Kids will love getting to roast some s'mores as the weather turns cooler. Overall, for a simple family vacation, this spot is one of the best. Afterward, you can head to Newport or Laguna for some shopping or dining once you're through with the outdoors.
Mount Laguna in Cleveland National Forest
Located about an hour from San Diego, Cleveland National Forest is perfect for a mountain-oriented family vacation. This park boasts several kid-friendly campgrounds. The Mount Laguna campsite, however, gives you a taste of scenery unlike elsewhere in SoCal. When camping with kids, you'll relish the site's open meadow spaces for fun games and activities. It's also a 30-minute ride to the town of Julian, where you can split the town's renowned apple pies. Be sure to check out its small shops and boutiques.
Borrego Palm Canyon Campground in Anza-Borrego Desert State Park
SoCal has plenty of kid-friendly campgrounds surrounded by desert sands. Head to this spot in Anza-Borrego for a family vacation full of quality bonding. Kids will absolutely love spotting the flowers during the spring season. Like Mount Laguna, the campsite also provides plenty of space to run around. Bring a few lawn games—think badminton or frisbee—and let the kids run free. Many families go camping with kids when they head here, so the tykes can also have fun mingling with peers.
(MORE: A Family's Travel Guide To Australia with Kids)
Stone Creek in Idyllwild
When the weather turns warm (which it almost always is in SoCal), head to Idyllwild. Within short distance to town—which boasts cute shops and cafes—this campsite is perfect for a family vacation. It's also one of SoCal's most kid-friendly campgrounds. It's easily accessible and located right off the freeway, so no need to worry about getting lost. It's also close to several short, 1.5-mile hikes nearby.
Ashley Burnett contributed this to MiniTime.