Halloween with kids
By James Holland
Go trick-or-treating with GWL Howl-O-Ween Characters. (Courtesy Great Wolf Lodge)
Great Wolf Lodge in Garden Grove, CA, is bringing you something special this fall. A relative newcomer to the family-friendly must-see destinations in Southern California, this indoor water-park and hotel (with many more activities) is already raising the stakes less than a year since its opening.
Unveiled on October First, Great Wolf Lodge SoCal's inaugural Howl-o-Ween offerings are perfect for families with kids. Everything from the giant balloon spider greeting visitors as they enter the hotel to the wildly creative Pumpkin Judging and the Trick-or-Treat Trail will delight and enchant guests. It's the perfect, family-friendly place to be this month of October.
Here are some of the new Howl-o-Ween attractions to check out at the Great Wolf Lodge.
(MORE: Hotel Review: Great Wolf Lodge SoCal)
Trick-or-Treat Trail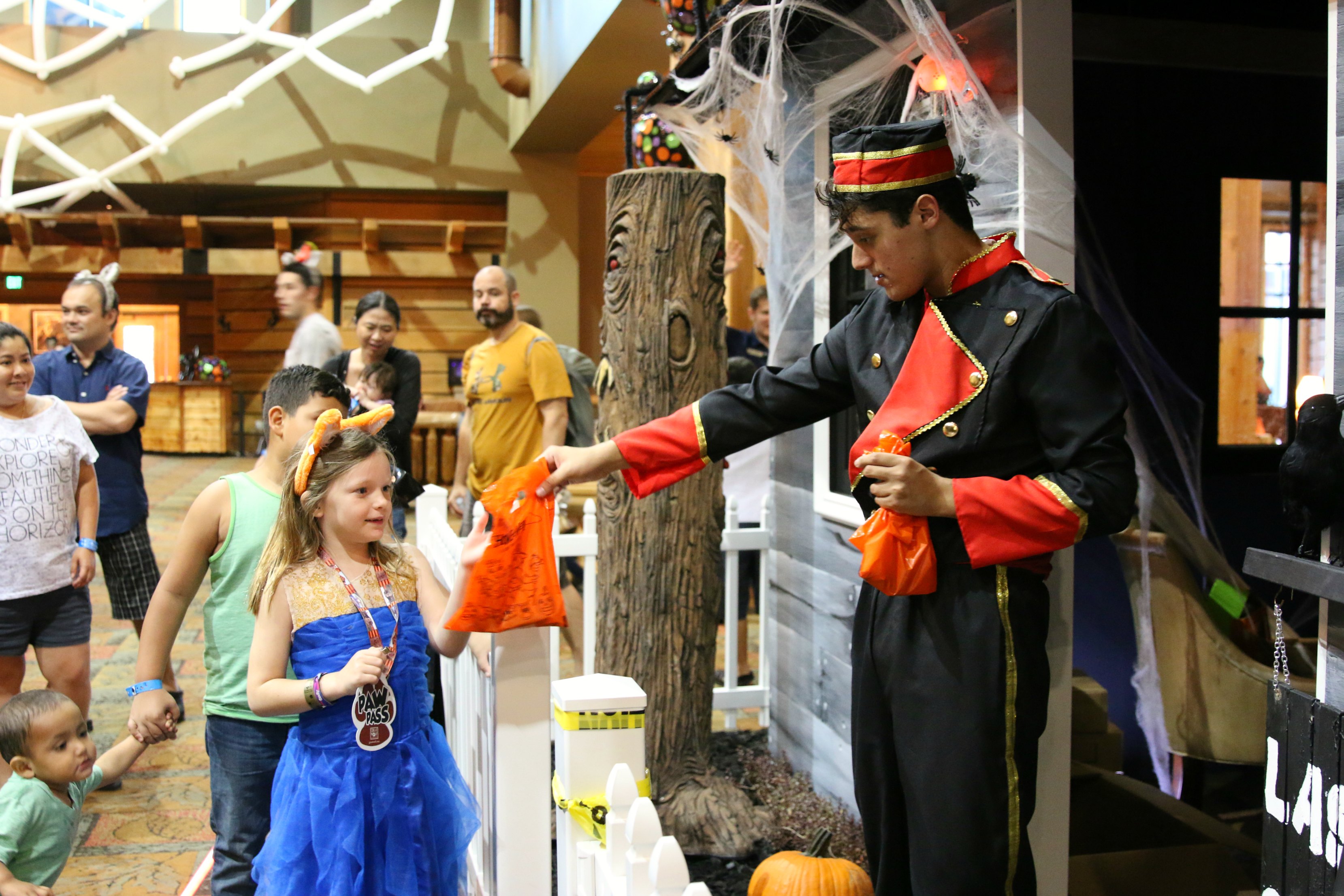 Happy kids at the Trick or Treat Trail. (Courtesy Great Wolf Lodge)
One of the first and most visible Howl-o-Ween treats on offer at the kid-friendly resort is the themed Trick-or-Treat Trail, which starts at 5 pm everyday and runs until 7:30 (8 on Fridays and Saturdays). Young ones are encouraged to bring their costumes and will be greeted at the beginning of the trail at the Witches' House in the Lobby. There are seven stops winding through the lobby and the lower level, where trick-or-treaters will encounter mummies, witches, vampires and more. The last stop even includes goodies for those with allergies.
Peeps Scavenger Hunt
One of the best and most underrated features of Great Wolf Lodge are their scavenger hunts. If you've been to a Lodge before, you're probably already familiar with the engulfing MagiQuest, which can take 6 to 8 hours of wandering the hotel grounds to complete. Or you might remember the Clubhouse Crew, an adorable interactive adventure that brings your kids' Great Wolf Lodge plush toys to life. Hidden throughout the main common areas of the hotel this Halloween are plush Peeps. Find enough of them (you'll write them down on a card you can get at the front desk) to enter a contest at Spooktacular Story Time.
Spooktacular Story Time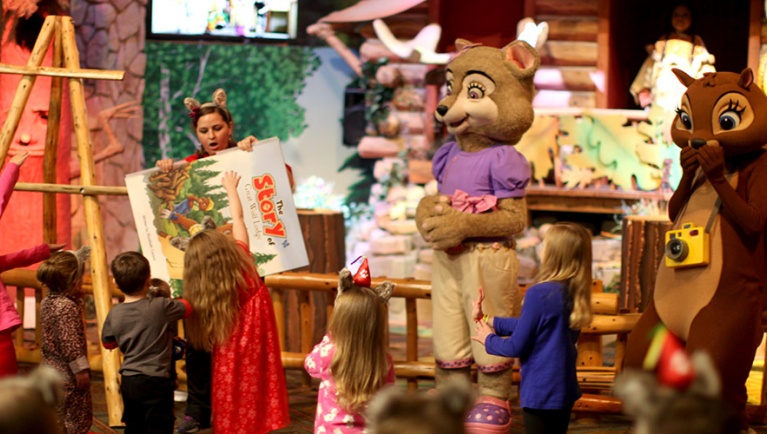 Enjoy a story before bedtime at Spooktacular Story Time. (Courtesy Great Wolf Lodge)
After a day at the adjoining water park, the Trick-or-Treat Trail, and Peep hunting, kids will be ready to join Wiley and some Ambassadors of Fun for a Great Wolf Lodge themed Halloween story in the lobby. Kids are encouraged to come in their costumes and adults might want to come too if only to watch a bunch of enthralled kids lean forward as they're led through the world of Wiley and friends.
Costume Parade and Monster Bash Party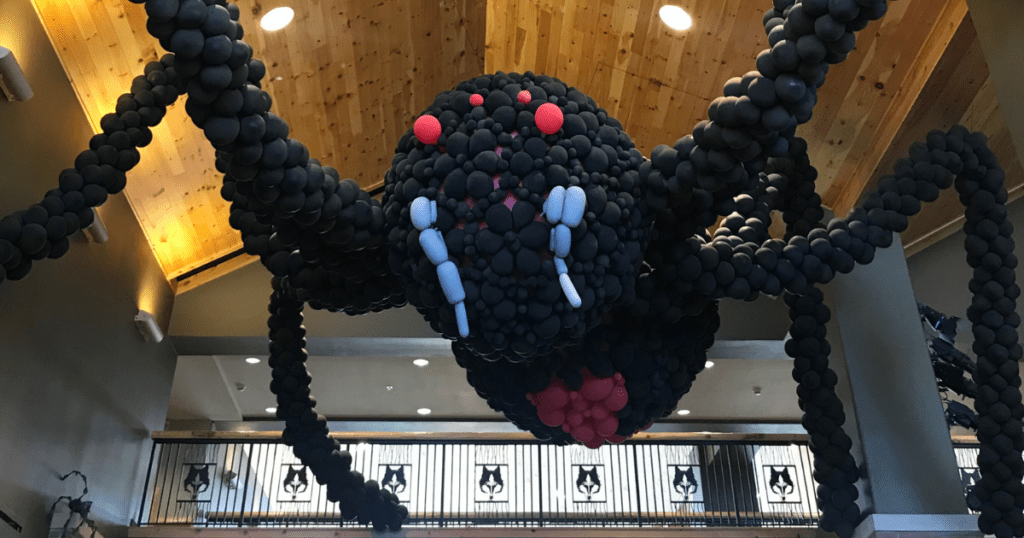 Howl-O-Ween (Courtesy Great Wolf Lodge)
One of the prizes for the Peep Scavenger Hunt contest is to lead the Costume Parade with Wiley. Following the Spooktacular Story Time, with the contest winner at the front of the line, everyone will line up to take pictures with Wiley and then do a fun conga line type dance through the lobby. The Monster Bash Parties happen Friday, Saturday and Sunday nights.
(MORE: 5 Halloween Cruises Your Kids Will Love)
Loose Moose
Great Wolf Lodge is chock full of dining options and they're all fantastic. During our visit, we spent quite a bit of time at the buffet restaurant Loose Moose where they had some Halloween and fall-themed options. These include turkey as well as four different pumpkin desserts, one of which, needless to say, is the perennial favorite pumpkin pie. Eating at the Loose Moose also put us right in front of the Halloween festivities where we could start the Trick-or-Treat Trail right after chowing down.
Of course, make sure you make some time for some of what makes Great Wolf Lodge a great family destination year-round. The indoor water park is a godsend even in Southern California. Visit the Wolf Rider Wipeout surfing and bodyboarding simulator, or the various water slides including the massive Howlin' Tornado. Also check out the Howl at the Moon Glow Golf and the Northern Lights Arcade, or while away at a MagiQuest game (make sure to purchase a wand at the MagiQuest marketplace before starting).
James Holland of Another Spur on the Road contributed this to MiniTime.