Bali with kids
By Camille Miller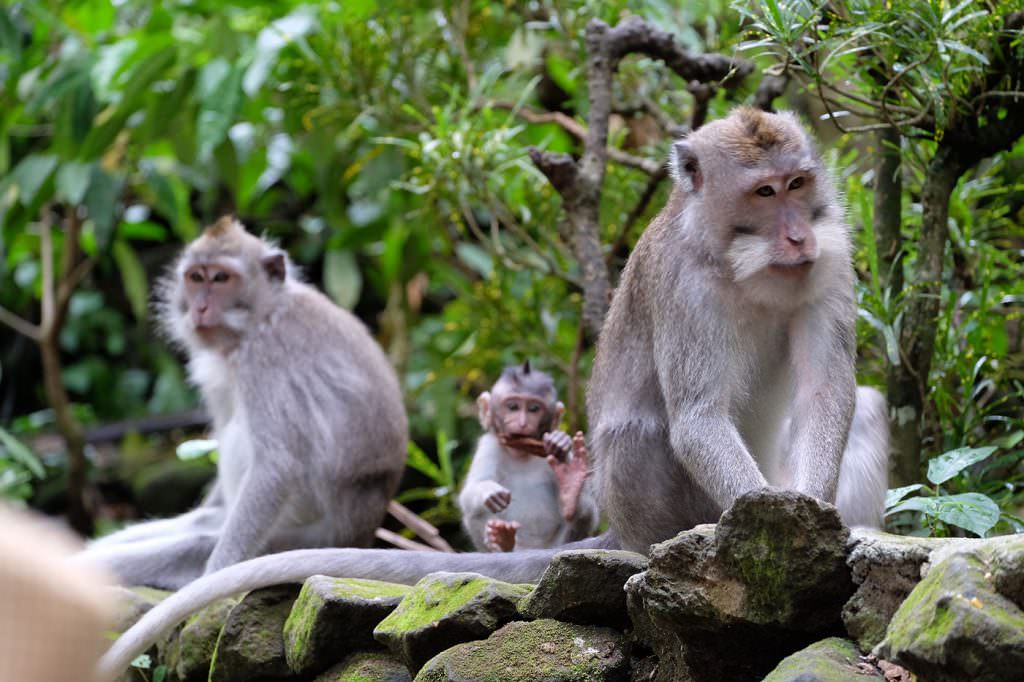 For wildlife attractions for families in Bali, cruelty-free is definitely the way to go. (Courtesy Ubud Monkey Forest)
Children are natural animal lovers, so there's no better way to spend an afternoon than at one of Bali's many wildlife attractions for families. Enjoy the company of monkeys, admire the majesty of monitors, or ooh and ahh over newly-hatched baby turtles.
However, some animal attractions are more interested in your money than in the animals. So we've put together a few cruelty-free activities we know your family will love. These parks and activities have been approved by the Bali Animal Welfare Association. You can, therefore, rest easy knowing that your money is going toward the compassionate care of these magnificent creatures.
(MORE: Cruelty-Free Animal Interactions to Visit with the Kids)
The Sacred Monkey Forest of Padangtegal, Ubud
The Ubud Monkey Forest, as it is often called, is a gorgeous natural site and home to over 300 gray-haired macaques. It is one of the most popular wildlife attractions for families in Bali. The local village maintains three holy temples on the site, as well as a forest of over 115 species of trees, stone pathways, and dense tangles of tropical vines. (Monkey Forest Street – Padangtegal Ubud, Gianyar – Bali | (+62) 361 971304 | www.monkeyforestubud.com | 8:30 AM – 6 PM Daily | $)
If you go: Plan to visit early in the day while the temperatures are cool and the monkeys are active. Make sure you empty your pockets, as curious monkeys may be tempted to explore them. And do not bring food or drink of any kind into the forest as it invites them to steal from you. Please note that while they are accustomed to humans, they are still wild creatures and should not be petted or handled.
The Bird Village of Petulu – Ubud
Located only 3 kms from Ubud is the charming village of Petulu. In the center town, off of the main road (indicated by many multi-colored flags), is a building with a large raised lookout platform. There, viewers can watch the spectacular sight of hundreds of herons returning home to roost at sunset. Enjoy a snack bar and some ping pong while you wait for the magical moment, but have your camera or binoculars at the ready! (Jl. Petulu, Petulu, Ubud | Visit Bali Hello Travel, or In Bali for more info. | $)
If you go: The Bird Village is best visited in the late afternoon, when the herons return "home" at sunset. Be sure to take an umbrella with you, as they may leave droppings unexpectedly. This great wildlife attraction for families is best paired with an early afternoon visit to the nearby Ceking rice fields.
The Turtle Conservation And Education Centre – Denpasar
There are many places in Bali to interact with turtles, but this one is the most reputable. You'll see and learn about many variety of turtles on your 45-60 minute guided tour. For a longer experience, ask about their volunteer program. No matter the ages of your children, they'll be talking about visiting the sea turtles for years. (Jl. Tukad Punggawa, Serangan, Denpasar Sel., Kota Denpasar, Bali | https://tcecserangan.jimdo.com/ | (+62) 813-3849-0357 | 8AM – 5PM Daily | Free – Donations Welcome)
If you go: Get personally involved by adopting a baby turtle. For a small donation fee ($10), you can adopt your own baby turtle and give it back to nature with your own hands. Of all the wildlife attractions for families on Bali, this is one that comes with the warm feeling of knowing that your family is actively participating in preservation efforts for these amazing creatures.
Bali Barat National Park
The West Bali National Park is over 73 square miles of wild lands on the northwest point of Bali. A great diversity of animals live among mangroves, coral islands, savanna, and the remnants of four volcanic mountains. Over 160 different species such as monitor lizards, rusa deer, wild boar, large flying foxes, leopard cats, and many varieties of birds both delight and inspire. The Park can be reached by difficult, rough roads from Gilimanuk and Singaraja, or by using ferries (recommended). (Buleleng Regency, Bali | +62 365 61060 | $$)
If you go: For a fully immersive wildlife experience, book a beachfront room on Menjangan Island and watch the deer and monkeys from your room as they search for breakfast. The resort provides access to all kinds of wildlife attractions for families. We recommend an afternoon of snorkeling or renting a kayak to explore the mangroves.
(MORE: Fun Water Activities for Kids in Bali)
Rimba Reptile Park – Ubud
Located adjacent to the Bali Bird Park, the Rimba Reptile Park is another favorite wildlife attraction for families visiting Bali. There's so much to see: snakes, frogs, lizards and even the komodo dragon! You can tell that the staff love the birds and animals and are passionate about their welfare. (lSerma Cok Ngurah Gambir, Singapadu, Batubulan, Bali | http://www.balibirdpark.com/ or visit Sorga Bali Tours for tours | +62 361 299352 | $$)
If you go: Plan to spend 4-6 hours admiring both parks and enjoying a delicious meal at the restaurant. You'll definitely want your camera, and good pair of walking shoes. Several kid-friendly tours in Bali include these parks in their itineraries. If you want your visit to be fuss-free, consider making tour arrangements in advance.
DO NOT VISIT the Elephant Safari Park or the Bali Safari and Marine Park. Do to the inhumane conditions and cruel treatment of animals we recommend you spend your money elsewhere.
Camille Miller contributed this to MiniTime. She enjoys discovering new places and sharing unique stories. She loves her family, her garden, and the Rocky Mountains, in that order.