Disney cruise with kids
By Michelle Rae Uy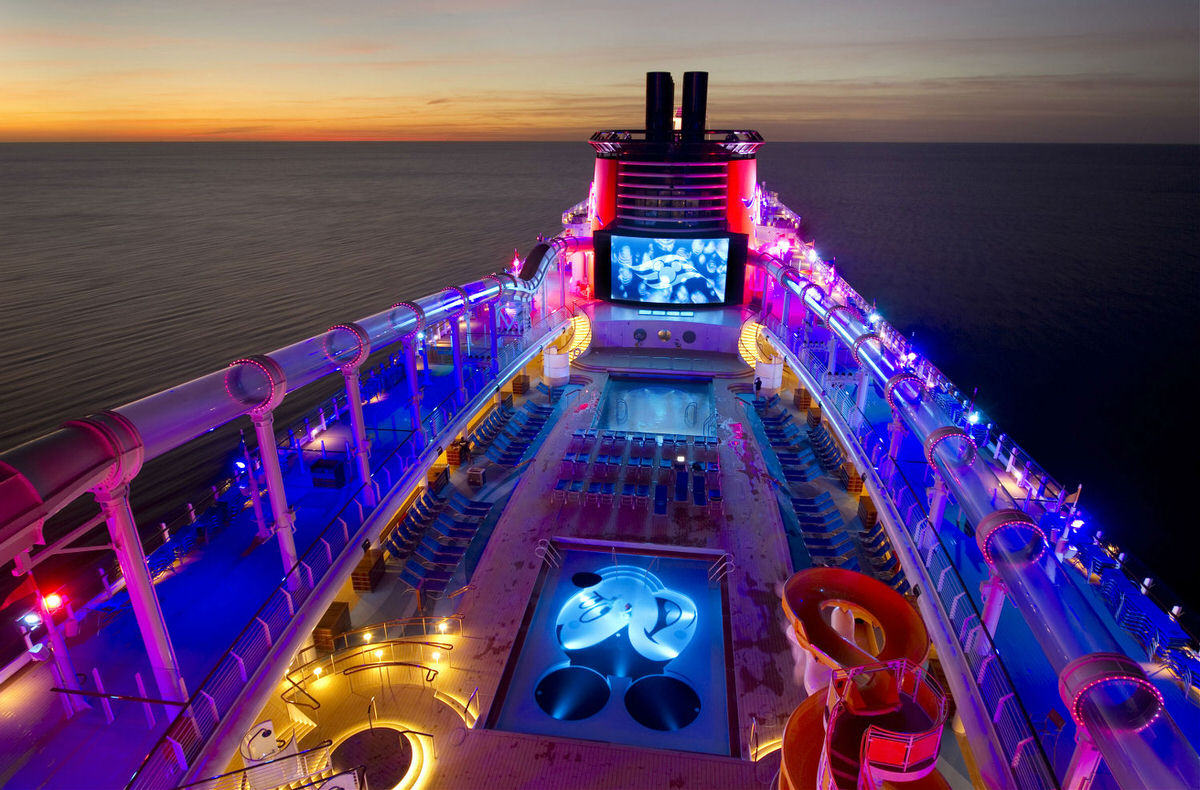 Disney Dream at night (Courtesy Disney Cruise Line)
Why Cruise with Disney? Where to even begin? It doesn't hurt that if you put any one of these Disney ships side by side with ships from other major cruise lines, that Disney ship will always come out the grandest and the most beautiful, no contest. And that's just the exterior.
Onboard is an entirely different fairytale. Kids look like they've just flown into Neverland while adults come out of the whole experience feeling like they've just relived their childhood. The price tag on these Disney babies may be a little high on the cruising spectrum, but it's truly every cent well spent. Disney cruises are not just the most family-friendly, they are also the crème de la crème of cruises, and this is evident from the moment you board the ship – from the simply dazzling nightly entertainment and the fun-for-all activities to the delicious spreads the friendly crew serve you for breakfast, lunch and dinner, down to the welcome reception.
(MORE: 10 Things Kids (and Parents) Love to Do Aboard the Disney Dream)
The Ship. As the Disney fleet's third ship, Disney Dream is not only bigger than its predecessors; it also boasts a few enhancements exclusive only to its decks, including futuristic Disney Infinity game space and the new Vanellope's Sweets and Treats.
The 14-deck magnificence boasts 1,250 luxurious staterooms, several pools to cool down or splash around in, depending on your mood or age, and a number of family-friendly as well as age-exclusive spaces and areas – teen-only Vibe, kids-only Disney's Oceaneer Club and adults-only Quiet Cove, to name a few – so even the pickiest and moodiest teens in the family won't have time to get bored. There's so much to do, see and explore, in fact, that if you factor in the time you'll be spending at ports of call Nassau and Castaway Cay, three nights aren't enough to experience the whole ship and everything it has to offer!
The Itinerary. Disney Dream's three-night Bahamian sailing includes three nights spent at sea, one full day spent in Nassau and one full day spent on Disney's private island, Castaway Cay.
If you choose to come ashore in Nassau with the clan, you probably won't have enough time to see the whole city, but you'll have ample time to (1) visit many of its key attractions and still have extra to sample the local cuisine and do some quick shopping, (2) spend the whole day at Paradise Beach, or (3) splashing your day away at the Aquaventure Waterpark at Atlantis Paradise Island.
On Castaway Cay, on the other hand, you're more likely to squeeze in more activities – from relaxing at the beach and biking to the observation tower to snorkeling and swimming with the stingrays – since only a fraction of the island is available for exploration and guest use, which means less time spent walking from one activity to another.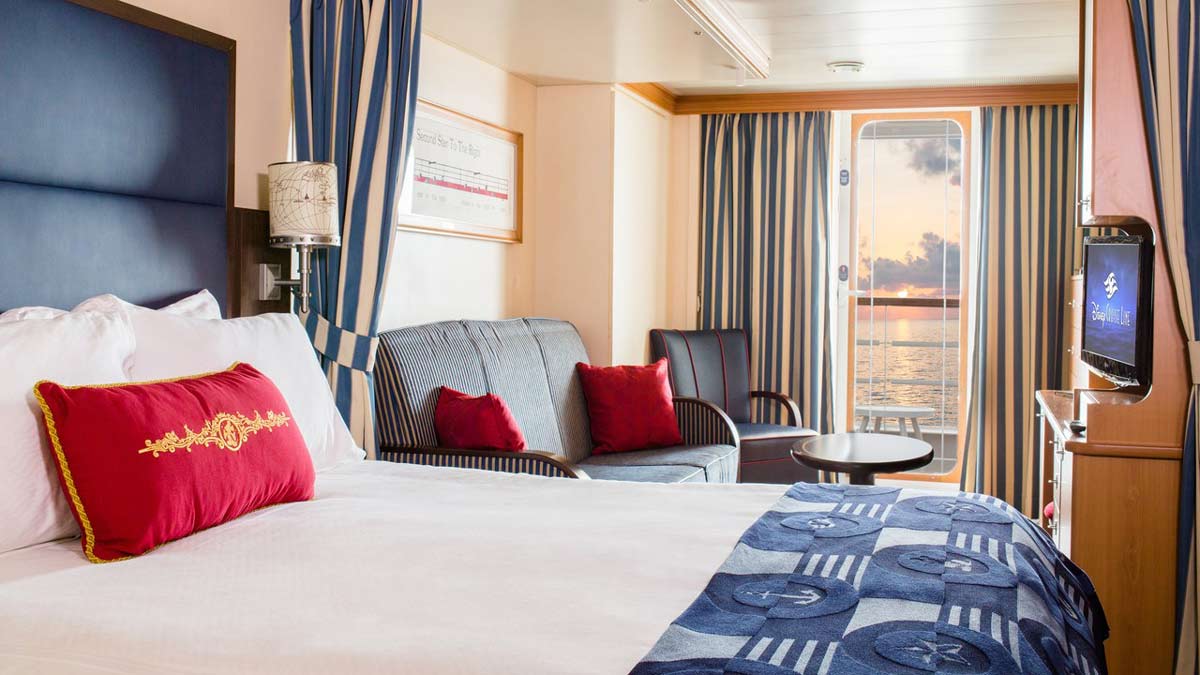 Deluxe Family Oceanview Stateroom with Verandah (Courtesy Disney Cruise Line)
The Staterooms. With 1,250 staterooms and suites, Disney Dream offers families a number of accommodation options depending on their budget and preferences – from the Standard Inside that features a Magical Porthole to the beautiful Deluxe Oceanview Verandah stateroom that boasts a furnished private verandah to the Concierge Royal Suite with its own outdoor whirlpool tub, for families who really want to splurge. Every stateroom and suite has the Disney stamp, comfortable and luxurious with plush beddings and cozy beds to ensure that everyone in the family gets a good night's sleep, whimsical accents, and a surprisingly spacious bathroom with modern amenities and lovely toiletries.
The Deluxe Family Oceanview Stateroom with Verandah is spacious enough for a family of 4 or 5, thanks to the single sleeper sofa and wall/ceiling pull-down beds that supplement the queen bed in the stateroom. The mattresses are Sealy Posturepedic® Premium and the linens are 100% Egyptian cotton, so you're definitely in for a luxurious sleep.
While the LCD flat-screen TV is small and mounted on a swivel arm, you won't have time to watch TV on the cruise anyway. But there is a heavy curtain to split the stateroom in half, making it easy for parents to get some shut eye in case the kids do stay up to watch a late night Disney movie. The split bath feature separates the toilet from the shower, which is a huge time saver for families, and a couple of soft, adult-size bathrobes are available in the closet for you to use.
The verandah is spacious enough for three adults to fit in comfortably, but no more than that. One fantastic feature, however, is that most verandahs on the ship are separated by collapsible partitions that can be unlocked to provide easy, private access between staterooms and essentially create a bigger balcony. This is extremely useful when your group is occupying two or more adjoining staterooms.
(MORE: 5 Fabulous Disney Cruises for Families)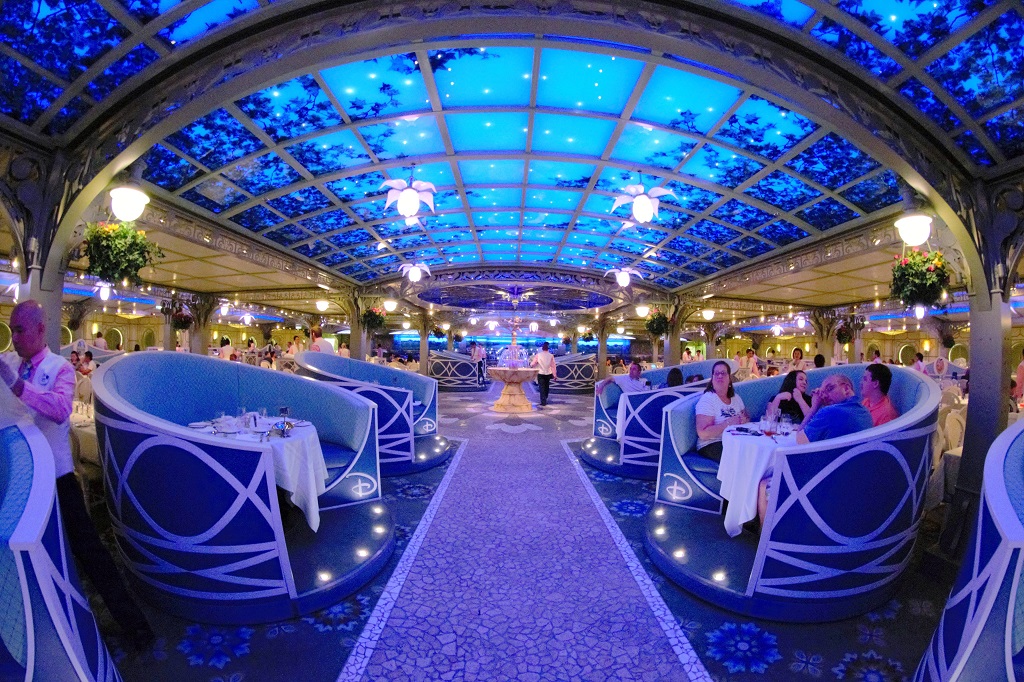 Enchanted Garden (Courtesy Disney Cruise Line)
Onboard Dining. Dining aboard a Disney cruise ship is not to be taken lightly. Even buffet offerings are made with picky eaters in mind. Breakfast and lunch options are plentiful and diverse (from Mickey Mouse waffles and corn beef hash to smoked salmon, cured meats and cheeses for breakfast) while dinners are usually a fancier affair with even more delicious choices.
There are four main dining options onboard: the fun and interactive Animator's Palate, the fairytale-inspired Royal Palace, the Enchanted Garden, which certainly lives up to its name, and the casual Cabanas. Fast food dining is also available at Flo's Cafe, especially if the kids want the usual chicken fingers and fries. Additionally, in-room dining is also available thanks to the onboard complimentary, 24-hour room service.
For a creamy mid-afternoon snack, Eye Scream Treats usually have three to four flavors of soft-serve ice cream as well as several toppings. And if that isn't enough to satiate the kids, there's always Vanellope's Sweets and Treats, the new Wreck-It Ralph-themed sweet tooth's paradise filled with 14 flavors of handmade gelato, a few flavors of ice cream, old-fashioned candy, Mickey Mouse cookies and caramel apples, and other pastries. Share a racecar sundae with the kids or get every person their own; either way, everyone will definitely get their sweet fill and then some.
For some adult-exclusive dining, parents have a couple of options for a romantic, kid-free night out. Classy Palo specializes is authentic Northern Italian cuisine and boasts lovely views of the sea. Their seafood and meat dishes are cooked to perfection and their chocolate soufflé is to die for. Come hungry and start your meal off traditional with the antipasti platter, which includes bresaola, parma prosciutto, marinated olives and parmegiano reggiano. Remy, on the other hand, boasts a French-inspired menu and uses seasonal ingredients.
The Golden Mickeys (Courtesy Disney Cruise Line)
Family-Friendly Activities. Perhaps the best thing about any Disney cruise is that most of its onboard activities and spaces (and there are A LOT), save for the adults-only ones, are completely family-friendly and will be appreciated by kids and grown-ups alike. Even spaces that are for teens or for kids and tweens only are able to accommodate adults during open house so that parents can enjoy areas like Vibe, Edge and Disney's Oceaneer Club, which is home to the new Disney Infinity and Star Wars: Millennium Falcon areas, with their kids.
Onboard family-friendly attractions include the spectacular nightly productions (The Golden Mickeys, Villains Tonight, and Disney's Believe) that feature beloved Disney characters, the all-ages pool and hot tub area on Deck 11, the ever-popular AquaDuck water coaster, the movie theater showing Disney's classics as well as latest movies, mini-golf, Disney character meets-and-greets, themed dance parties, merchandise shopping, pin trading with the ship's officers, "Buccaneer Blast!" Fireworks at Sea, and many more.
One particularly underrated activity that is must not be missed by families is the Midship Detective Agency, which features three different mysteries – including the new Muppets Adventure – that young detectives must solve by finding the interactive clues hidden all over the ship.
For Kids Only. Sure, all Disney cruise ships feature peaceful adults-only areas where parents can sneak in some actual R&R while the kids are off somewhere enjoying themselves. But let's face it, these ships are built with kids (and kids at heart) in mind, and Disney Dream is no exception.
Except during open house, adults are not allowed in Oceaneer Lab (for ages 3 through 12) and in Oceaneer Club (for ages 3 through 12), which allow kids to just be themselves, spend time with other kids their age and make new friends, parents-free but still under the watchful eyes of their counselors.
Dedicated to exploration, Oceaneer Lab often hosts themed activities, games and meets-and-greets as well as boasts its own state-of-the-art Magic PlayFloor for interactive play, a media room, an animator's studio to encourage the kids' creativity, the Wheelhouse for a Pirates of the Caribbean multiplayer game, a craft studio, and the Disney Dream exclusive Playmation where kids can train to become superheroes and work with The Avengers to save the world.
The connecting Oceaneer Club focuses on imaginative play, featuring spaces like Andy's Room, where a toy box comes to life, Pixie Hollow for dress-ups, crafting and story-telling, and the new Disney Dream exclusive spaces, Star Wars: Millennium Falcon and Disney Infinity Game Room.
In Millennium Falcon, the kids not only get to relive moments in the iconic movies, they also get a piece of the action as they travel in hyperspace to galaxies far, far away, use the Force to narrowly escape Stormtroopers, and even have a chat with R2-D2. On top of having access to the Disney Infinity video game (there are 10 game stations) and many Disney Infinity characters not yet available in stores, the Disney Infinity Game Room also allows your kids to become Disney Infinity character themselves and play games atop a life-size, interactive base. It's a fantastic way to keep the kids physically active and interacting with other kids while playing a video game!
Technically, anyone can visit the new Bibbidi Bobbidi Boutique, but the transformation shop usually has a young clientele. Thanks to the wonderful fairy godmothers running this magical boutique, girls and boys can have their very own Cinderella transformation, minus the pumpkin carriage. Packages start at $15.95 for girls and $18.95 for boys. Book a package online ahead of time to secure a spot during the cruise.
(MORE: Things to Do for Christmas with Kids at Disney World)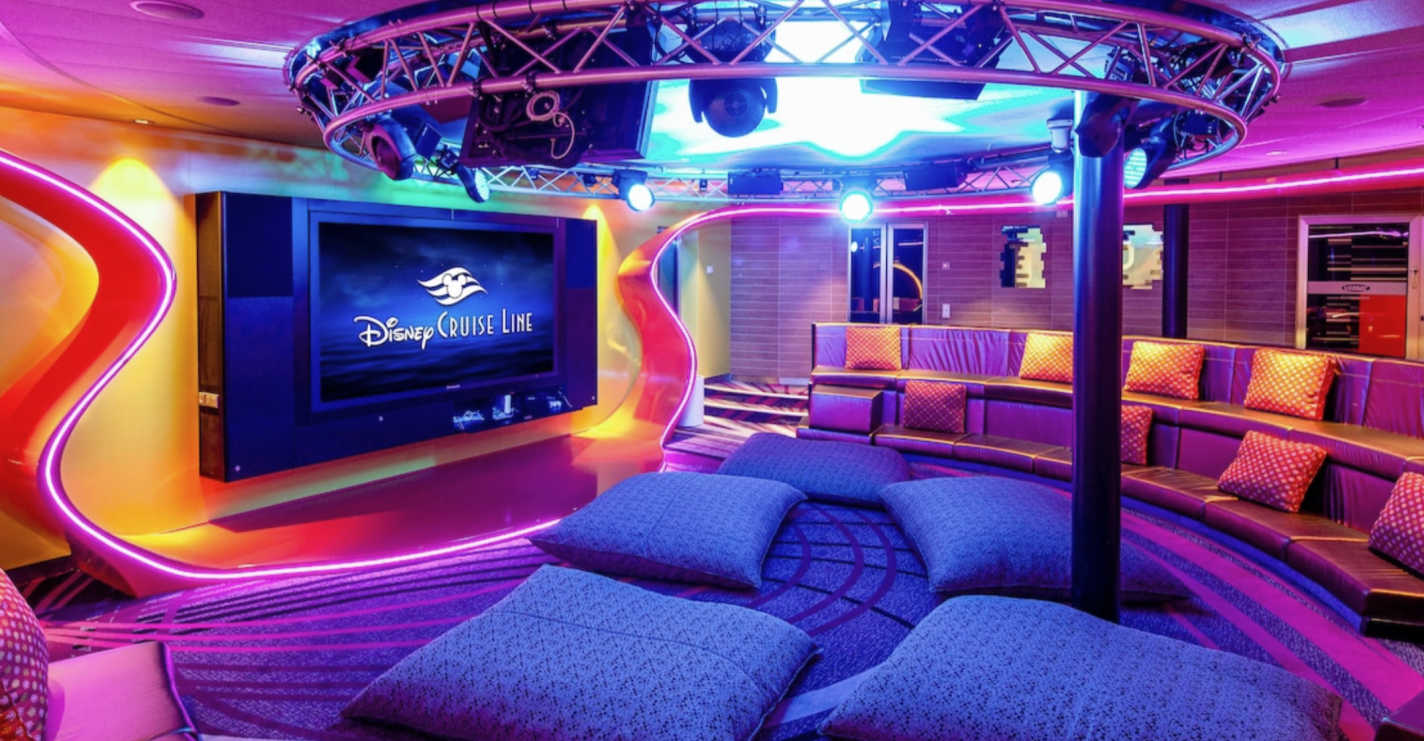 Vibe (Courtesy Disney Cruise Line)
For Teens Only. It's definitely one of the many things that Disney did right, creating hip spaces that offer a plethora of activities and top of the line techs and gadgets made available for teens and teens only. Disney Dream's teens-only Vibe and tweens-and-teens-only Edge not only provide cool hangouts for teens to play games, interact with other teens on the ship, have a party, and distract themselves with video games, they also provide the perfect spaces for teens to get away from their rambunctious young siblings and doting parents. Thanks to the awesome counselors, parents know that their young adults are safe even if they stay out until 2 am.
Teens can relax and take a breather, too, thanks to the blissful spa treatments being offered at Chill Spa exclusively for teens (ages 13 through 17). Among the many pampering treatments on the menu are Acne Attack Facial, Hot Chocolate Wrap, Tantastic Body Bronzer and Me! Bath Ice Cream Manicure. And if you think the treatments are only for teen girls, think again! After all, boys need pampering too.
For Adults Only. Let the trained staff at It's a Small World take care of the little ones (6 months through 3 years old) for only $6 an hour as you enjoy some much needed R&R, kids-free. Thanks to Disney Dreams' adults-only areas and experiences, parents can have their share of fun as well, only without all the running and squealing kids.
At the new Senses Spa and Salon, which is unique to Disney Dream, adults can get relaxing massages, facials or their hair and nails done. Dads can even get a straight-razor shave and their teeth whitened. The spa's signature Rainforest experience showers are simply blissful – there are four different grottos, each offering different rainfall showers options, plus a sauna and a steam room to round up the ultimate shower experience. End your spa day with a refreshing and healthy drink at the connecting Senses Juice Bar, another brand new addition to Disney Dream.
Other adults-only havens include Quiet Cove, which has its own bar and pool, The District, home to clubs Pink and Evolution, sports bar 687 Pub (a shout out to Disney Dream's vessel number during construction) and sky bar Skyline, and the new Satellite Sundeck and Falls, which boasts a plunge pool with a water curtain and oscillating water and shaded decks.
Insider's Tips:
If you haven't been on a cruise before or if the kids tend to get carsick, make sure to pack some non-drowsy Dramamine.
If the kids do get seasick during sailing, the middle of the boat is the best place to take refuge in since there's less movement in that area.
Irons and ironing boards are not available in the staterooms so pack a light, portable steamer for your evening shirts and dresses.
Pack a day bag with your basic necessities and everyone's bathing suits and swim trunks the night before sailing, since your luggage won't arrive in your stateroom until later in day.
The daily Personal Navigator, which will be made available in your stateroom the night before, is a very useful resource to make the most out of your cruising experience.
Make sure to visit the Millennium Falcon during an open house, especially if you're a big Star Wars fan. And keep an eye out for those hidden Easter eggs, including Luke Skywalker's blast shield.
Caffeine addicts can get their fix at the coffee bar on Deck 4, where there's ample booth seating if you need to squeeze in some work-related tasks.
Michelle Rae Uy contributed this to MiniTime. She is a travel writer based in Los Angeles and MiniTime's Head of Content, who spends her free time on adventures and film photography.