Nassau, the Bahamas | Castaway Cay
By Suzanne Rowan Kelleher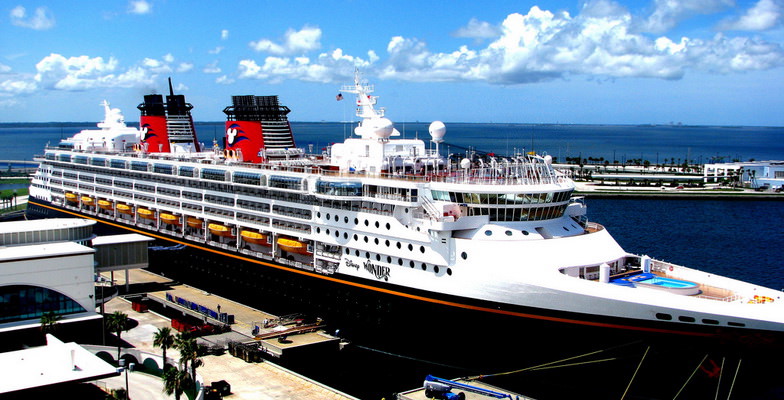 Disney Wonder, a Disney cruise ship (Flickr: Rennett Stowe)
Why Choose Disney: Dozens of cruise lines claim to be kid-friendly, but only a handful are truly making it a priority to woo families. Disney is the only cruise line that was conceived especially with families in mind. That's not the same thing as being all about children. "You're dead if you aim only for kids," Walt Disney once quipped. "Adults are only kids grown up, anyway." He was right, of course. And that's where Disney Cruise Line gets it right, too.
Parents can find plenty to appreciate about Disney Cruise Line, as our correspondent, Suzanne Kelleher, discovered on a three-night sailing. ("It didn't surprise me that Disney delivered a wonderful array of family activities and super kids' programs. But the experience was quite a bit more upscale and sophisticated than I was expecting. We saw the attention to detail and creative touches for which Disney is known, without the keyed-up vibe and big crowds you encounter in the theme parks. Service was always extremely attentive and friendly. And then there's the Wonder itself—a gorgeous ship, with elegant vintage details like intricate marquetry woodwork and art nouveau decor.")
Disney's fleet consists of four ships: the Magic and the Wonder, with two larger ships that were introduced in 2011 and 2012, respectively. The signature look harkens back to the majestic transatlantic ocean liners of a bygone era, with a return to round portholes, multiple funnels, and horizontal rails. The black hulls, white superstructure, and twin red funnels recall the colors not only of luxury ships from yesteryear but also the apparel of a certain cartoon mouse. Disney had to obtain special permission to paint its lifeboats bright yellow—to match Mickey's bow tie—instead of bright orange, the maritime standard. Another Disney difference: Its ships announce their arrival with a horn that plays the first seven notes of "When You Wish Upon a Star."
This is a premium cruise with a premium pricetag. Bear in mind that Disney's pricing comes closer to all-inclusive than you find at most other cruise lines. As you would expect, meals, kids' programs, and most activities and entertainment are included in the price. But the Kellehers appreciated that Disney prices generally include roundtrip ground transportation and baggage handling, government fees and taxes, all non-alcoholic beverages, and quite a few unique, value-added opportunities. ("We never felt like we were being nickel and dimed with add-ons during the cruise, which is such a typical complaint about cruising. This definitely made our cruise feel more relaxed. Our kids could help themselves to soda, milk, and juice at the self-serve fountains without our having to buy a beverage card for them. There were so many free activities and special events going on all the time, like screenings of first-run Disney films—some in 3-D. We attended a premiere of "Bolt 3-D" aboard the Wonder, which was a lot of fun. There were quite a few reasonably-priced shore excursions available, too. You could very conceivably not spend a penny during the whole day on Castaway Cay.")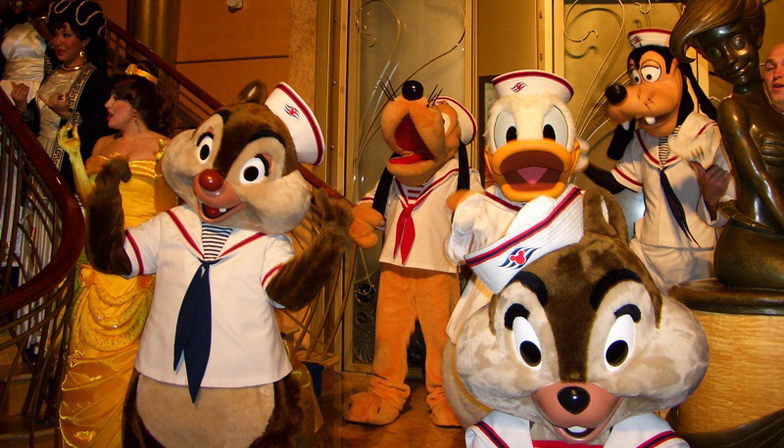 Disney characters (Flickr: mhowry)
The biggest downside to the three-night cruise? With so many options and no full day at sea, you may not find ample time to fully enjoy the ship. ("It was amazing what a huge variety of family, kid, and adult activities were available in a few short days. With such a jam-packed schedule and so many choices, there were obviously a lot of fun things we just didn't have time for. This was a great sampler cruise, and a nice entry into cruising for first-timers. But, if we were to do a short Disney cruise again, we'd definitely book the four-day option.")
The itinerary: The three-night Bahamian cruise is the shortest Disney itinerary available. It sets sail from Port Canaveral, on Florida's east coast, less than an hour's drive from Orlando and Disney World.
Passengers spend three nights at sea and their two full days in ports of call—Nassau, the Bahamas, and Castaway Cay, Disney's private island. For the Kellehers, boarding early meant getting a jump on the fun. ("We arrived several hours before setting sail, and were able to board, have a welcome lunch, and start enjoying the ship immediately.")
Port Canaveral has come to be a busy departure point for shorter cruises, with dozens of ships from various cruise lines leaving for the Bahamas each week. Disney Cruise Line has its own terminal, which helps smooth the pre-cruise boarding experience, often cited by cruisers as one of the least favorite parts of a typical cruise. ("We took the Disney shuttle from Orlando airport to the Disney terminal, then waited less than 30 minutes in the security line. At the check-in desk, we received our stateroom key quickly and were able to board. It all went like clockwork.") If you're flying home at the end of your cruise, you can check your luggage and get your airline boarding pass even before you leave the ship.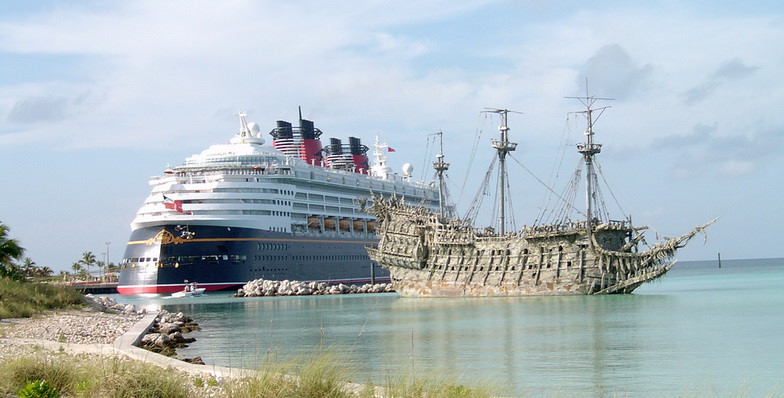 Disney Wonder and Flying Dutchman, Castaway Cay, Bahamas (Flickr: scmikeburton)
The ship: Constructed in the famous Fincantieri Shipyards in Italy, and introduced in 1999, the Disney Wonder is nearly identical to its sister, the Magic. It has 10 decks and 875 staterooms, with a maximum capacity of 2,700 passengers.
When it comes to cruise ships, size matters—but bigger doesn't always mean better. The Wonder is half the size of the megaships that Royal Caribbean has introduced recently, but it's still a big ship. ("I was expecting to encounter the moo factor—that feeling you get when there are too many people in too small a place, like cattle being herded. But, truly, we did not experience that at all. We knew there were around 2,700 passengers on the ship, but we never saw them in the same place at the same time. We were never boxed out of an event or activity, and we never waited in any line for more than a few minutes when disembarking and embarking. There was no standing around waiting for our dinner table, because Disney uses rotational dining.")
The Personal Navigator is a daily newsletter of scheduled onboard activities, special events, entertainment, and shore excursions. There is a ton of activities going on all the time in multiple places on the ship—and, on the last day, on Castaway Cay. ("The Navigator is your onboard Bible to what's happening. It tells you which activities will happen when and where. We tried to look at it the night before, so we could roughly map out the next day.")
There are supervised children's programs onboard for kids 3 to 17, broken into three age-appropriate clubs. Parents choose a password to use throughout the cruise each time they check their 12-and-under child out of the club. ("We filled out registration forms on the first day, and each of our kids got an ID wristband to wear for the rest of the cruise. We were also given a pager each time we checked in our kids, which I thought was terrific.") When you check your child in, Kelleher advises asking whether the group will remain in the clubhouse. ("Otherwise you could come back to get your child and find out that her group is on the top deck playing basketball or in having a karaoke contest in Studio Sea, a lounge that resembles a TV soundstage. You can always request to have your child stay in the clubhouse, or you can simply find out where she'll be so you can pick her up there.")
Oceaneer Club is for kids 3 to 7, with separate, supervised activities for 3- to 4-year-olds and 5- to 7-year-olds. The space is huge, with a giant mock pirate ship in the middle of the floor that kids could climb up on ladders and cargo netting and come down a slide. There is a little stage where storytime and little performances take place, with a large movie screen for showing Disney films. A small lounge area features small furniture and beanbags, and little kid-size chairs shaped like shells in front of a TV showing classic Disney cartoons. Typical activities include crafts, putting on plays, hula-hoop contests, and playing group games. ("My 5-year-old son had a ball here and was always asking to go back. The counselors were really friendly and warm, and created a nice environment. Another thing I liked: As soon as a kid was checked in, he or she had to wash his or her hands.")
Oceaneer Lab is for kids 8 to 12, with separate activities for 8- to 9-year-olds and 10- to 12-year-olds. This is a supercool, high-tech room, with banks of computer screens and video games, plus a huge screen covering one wall where kids can play Wii games. Activities included crafts, cooking classes, science experiments, trivia games, sports contests, and even animation classes. ("My two oldest kids both thought this was a really cool place. They liked it best the time they went one morning, since it was less crowded and there was no wait for the Wii and other popular games.")
Aloft, the teen hangout, is a hip space with plenty of music, movies, video games, and big-screen plasma TVs. There's a lounge area, dance floor, Internet café and supervised teen-only parties and other activities. ("This looked like a very cool space, with music and videos playing all the time. There also seemed to always be a lot of teens hanging out in the hot tubs and playing basketball up on the top deck.")
For infants as young as 3 months to toddlers up to 36 months, there is a fee-based babysitting service in Flounder's Reef Nursery, a soft play area with an under-the-sea theme, decorated with illustrations of characters from "The Little Mermaid." Kids can sleep in the "quiet room" or play in the "activity room." Both rooms are constantly supervised. Parents receive pagers so that they can be reached if necessary. The number of children admitted at any one time is extremely limited to maintain low child-to-counselor ratios (4:1 for infants and 6:1 for toddlers), so each child is limited to a maximum of 10 hours in the nursery during the three-night cruise. Parents are encouraged to make a reservation online before boarding or to sign-up on the first day of the cruise. Specific times are allotted on a first-come, first-served basis ($6/hour for first child; $5/hour for each additional child. Minimum charge: one hour). There is no in-room babysitting service.
While there are no character breakfasts on the ship, there are plenty of opportunites for autographs and photos. Scheduled meeting times are listed in the Personal Navigator and posted in the ship's lobby. ("We saw plenty of characters during the cruise, but it was very low-key, not hyped up. We also ran into a few on Castaway Cay.")
There are four pools on Deck 9 of the Wonder. None have lifeguards on duty, so kids 12 and under must be supervised by their parents. The Mickey pool, shaped like the famous mouse's head, is for children (open from 8am to 10pm). It is shallow, ranging in depth from 6 inches to about 2.5 feet, with entry via wide, easy steps. Two shallow wading pools make Mickey's round, black ears. There's also a long yellow curved waterslide, with an attendant at the top making sure children meet the minimum height requirement of 38 inches. The slide is closed when an attendant is not on duty. ("My 5-year-old loved this slide. My two older kids went down a few times and were done—it wasn't exciting enough for them. This pool is great for young kids, though, and even for older kids playing games like Marco Polo.")
Next to the Mickey pool, there's a splash pool with fountains for little ones wearing swim diapers. Disney is the only cruise line that has a splash pool for non-potty trained kids. This is because pools on cruise ships tend to share the same filtering system, so one accident contaminates every pool.
Nearby, you'll find the Goofy pool (open 6am to 11pm). It is a classic rectangle, with a uniform depth of 4 feet and entry via two ladders. ("This pool is quite small. The coolest thing about it is the giant movie screen overhead, on which music videos and short films are shown. In the evenings, the Goofy pool is often covered over to create a stage or party platform.") Adjacent to the Goofy pool, there are two hot tubs (open 6am to 11pm) in which kids are allowed so long as they're potty-trained.
On the top deck of the ship, a.k.a. the Wide World of Sports Deck, there are courts and equipment for basketball, volleyball, soccer and many other sports. There's also a jogging track on Deck 4, and shuffleboard, Ping-Pong, and other games on Deck 9 near the pools.
Kelleher was impressed with how much of the ship was dedicated to adults. On Deck 9, near the bow of the ship, there is an adults-only pool and café. There is also a fitness room and top-notch spa onboard (best to book massages and treatments in advance), along with a "Rainforest Room" with two saunas, steam room, and tiled loungers with radiant heat. ("These were heavenly.") On Castaway Cay, there is an adults-only beach. Finally, the ship offers many scheduled adult activities, from wine tastings to yoga classes.
Wi-fi Internet access is available in staterooms, the Internet café, and in various public hotspots, and on all space on Decks 9 and 10 (predictably pricey at 75 cents per minute; $27.50 for 50 minutes; $40 for 100 minutes).
Onboard Dining: Cruise lovers have come to expect good food, and lots of it. The Kellehers found the food onboard the Wonder to be excellent and, of course, plentiful. What's different about Disney Cruise Line is its system of rotational dining at dinnertime. Instead of joining all your fellow passengers at one huge restaurant every evening, you choose one of two seatings (5:45pm or 8pm) and then rotate through the three main restaurants on consecutive nights, so that you've sampled them all by the end of your cruise. Your tablemates and wait staff remain the same every night. ("Service was excellent and very personal. Our waitresses remembered what everyone liked to drink and how we liked our meat cooked. They took great care of us.") The three main family restaurants all feature kid's menus (hot dogs, pizza, chicken tenders, PB$amp;J sandwiches, and the like, all served with either fries or vegetables or both).
Animator's Palate, a whimsical, black-and-white dining room that reputedly cost $4 million to create. On the walls, Disney animation sketches transform during the course of your meal, starting with pencil and charcoal to watercolor and finally to full-color animation.
Parrot Cay, a laid-back dining room with a Caribbean island theme. Mid-way through the meal, the staff leads the guests through a limbo line.
Triton's, the dressiest of the family dining rooms, has an underwater theme and white linen tablecloths.
One of the main benefits of rotational dining is crowd control. ("We really liked the way rotational dining worked. It let us sample each main restaurant at least once and the dining rooms never felt overcrowded. It's why we never felt like there were 2,700 passengers on the ship with us.")
On the second night, many passengers arrived at dinner dressed up in pirate clothes, in anticipation of a pirate-themed deck party later that evening. Some passengers had brought their own eye patches, scarves, and other pirate accessories from home, while others borrowed pirate gear from the ship.
Other dining options include:
Palo, not listed on your rotational dining itinerary, is for adults only and reservations are required. Located on Deck 10, in the back of the ship, it has a menu featuring refined Italian cuisine (think osso buco, rack of lamb, lobster ravioli), and an open-plan design that allows diners to view the kitchen. ("Dinner here on our last night was one of the highlights of our cruise, with wonderful Italian dishes, from antipasta and gourmet pizzas to delicious meats, fish, chicken, and pasta dishes. On the four-day cruises, during the full day at sea, there is a brunch served at Palo that's supposed to be unmissable.")
Beach Blanket Buffet, on Deck 9, is a good choice for breakfast or lunch, with indoor and outdoor seating. ("We ate here for one breakfast and one lunch. Both times, there was a large buffet with a huge variety of dishes. We grabbed a table outside near the rail, which was a great way to start the day.")
Pluto's Doghouse, at the Mickey pool, serves hot dogs, burgers, fries, and chicken tenders.
Pinocchio's Pizzeria, at the Goofy pool, serves pizza by the slice.
Nightlife: Evenings aboard the Wonder are jam-packed with options, from spectacular deck parties ("Disney is the only cruise line permitted to shoot fireworks from its ships") to Broadway-style musicals ("on our second night, we saw 'Toy Story: The Musical,' which was terrific") to family game show-style get-togethers to dinner at Palo. There are about a dozen different lounges and bars on the ship where adults can get a cocktail if they like.
Staterooms: The Wonder has 875 staterooms, divided into nine pricing categories. The majority are outside staterooms with at least a window, and many rooms have a verandah.
Staterooms on Disney ships are roomier than the industry average, and there are a large number of family staterooms that can accommodate up to five people. Nearly three-quarters of the staterooms have outside views and 60% of those have private verandahs.
The Kellehers stayed in a Deluxe Family Stateroom with Verandah, which is the only category that can accommodate up to five people in one room. (Another option for large families is to book two connecting staterooms.) The room contained a queen bed, plus a seating area with a pullout sofa and armchair. ("It was extremely well laid-out. At bedtime, the sofa pulled out and another bed pulled down from the wall directly above it, creating bunk beds for our boys. The armchair slid out of the way to make room for a Murphy bed, on which my 10-year-old daughter slept.") There was also a desk with a stool that could slide underneath, and an armoire which housed a small TV and a small refrigerator ("another big plus"). A large sliding door opened to a private verandah, which had two chairs and a small café-size table. ("The verandah was a lovely extension of the room. It was nice to have the space and it was exciting for kids to be out there, watching the world go by.") Just inside the balcony railing was a sheet of clear plexiglass, presumably to prevent kids from climb on the railing. ("Parents would still have to supervise small children, however, since they could feasibly try to climb on the furniture to get higher up and have a better look below.")
The stateroom featured another signature Disney difference: a split bathroom—side-by-side rooms, one with a toilet and sink/vanity and another with half-tub/shower and sink. ("It was very convenient to have two rooms instead of one. Though small, they were beautifully done up in a blue-and-white nautical theme with marquetry wood cabinets.")
("I would describe our stateroom as luxurious, especially for a cruise ship. Everything was well-made, using quality materials. The beds were comfortable and the linens were crisp and fresh. The bathroom was always stocked with plush towels and nice toiletries. And our stateroom host, Rosello, took excellent care of us. We always came back to our cabin to find some creation of towel origami, such as a swan, on the bed.")
Price Tag: Disney Cruise Line prices generally include accommodation, onboard meals, non-alcoholic beverages, most activities and entertainment, roundtrip ground transfers and baggage handling, travel insurance, and government taxes and fees. You'll pay extra for tips, shore excursions, alcoholic beverages, spa treatments, Internet access, souvenirs from the gift shops, photos purchased from the ship's photographer, and so on.
The price of a cruise can vary enormously, depending on a multitude of factors, including how far out you book, number and ages of your kids, stateroom category, and sailing dates.
With so many factors impacting price, we highly recommend booking through a travel agent. Better yet, go with a Disney cruise specialist who knows the layout of the ship and all the stateroom floorplans, and is up-to-snuff on current deals that may be on the table.
When choosing a stateroom category, Kelleher recommends keeping it simple. ("The Family Stateroom with Verandah was one of the few options for my family of five. Quite frankly, we didn't spend an awful lot of time there. If we were a family of four, we could have been very comfortable in a less expensive category. The overall feel of luxury would exist in a stateroom of any size, as would the excellent service.")
Tips come to $36 per person for the three-night cruise. (The breakdown is $12 for your stateroom host, $12 for your dining server, $9 for your assistant dining server, and $3 for your head dining server.) So for family of four, tipping comes to $144.
Insider Tips:
Book through a travel agent who is a cruise specialist, and preferably a Disney cruise specialist.
Don't forget that every adult passenger needs a valid passport (or a photo ID plus birth certificate), and every child needs a birth certificate.
Pack a bathing suit and a pair of shorts in your carry-on luggage, so you can enjoy the pool areas even before your bags arrive in your stateroom.
The kids' clubs are less crowded in the morning, so that can be a great time for kids to have the place virtually to themselves.
Bring a few pirate accessories, if you have them, so you don't have to borrow them for the pirate party.
If you want to dine at Palo, make reservations as soon as you board or even prior to your cruise.
Every evening, take time to look over the Personal Navigator for the next day. There's so much going on all the time that it's easy to miss a great activity or event.