Cruising the Galapagos with kids
By Kristi Marcelle
Eclipse cruise ship in the Galapagos (Courtesy Ocean Adventures)
A Galapagos Islands family vacation is a bucket list trip on many levels. The educational value and awe-factor of seeing wildlife only found in this spot will stay with kids for a lifetime and cruising is the best way to see multiple islands in a short period of time.
Ocean Adventures offers family-friendly Galapagos cruises on the Eclipse with itineraries that include a kids' coordinator and special activities tailored for families.
(MORE: 6 Irresistible Reasons to Visit Ecuador with Kids)
Review of Ocean Adventures' Eclipse 7-Night Galapagos Cruise
Why Choose the Eclipse?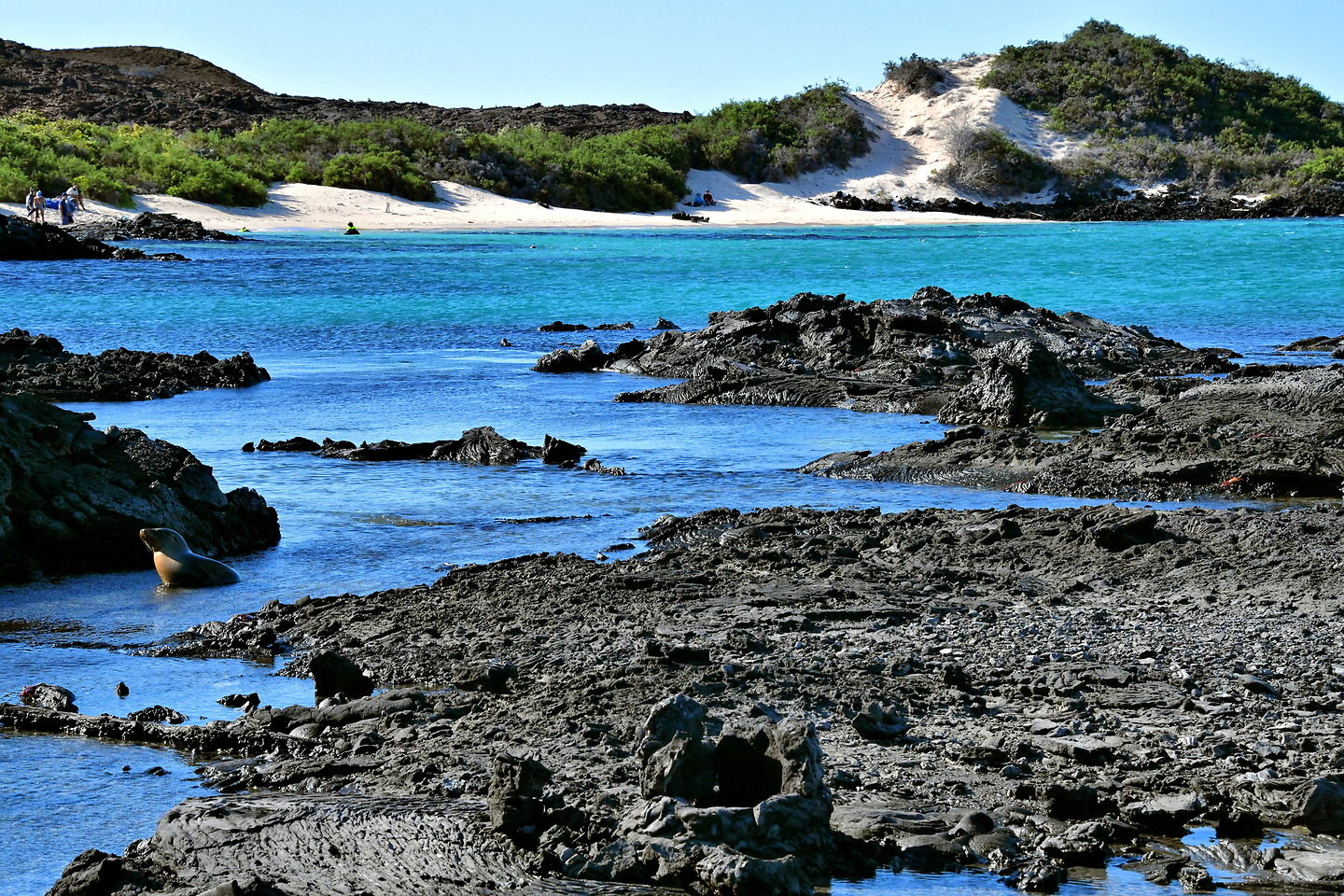 Sullivan Bay, Galapagos (Photo: Richard F. Ebert)
Deciding which Galapagos Islands cruise to take impacts not only the islands and wildlife you'll see but also the shipboard experience. With government regulations in place to protect the environment, all ships follow strict schedules and each island has a set number of visitors allowed per day. Española and Genovesa are considered the two highlight islands for their abundant wildlife and the Eclipse includes one or the other each week in alternating itineraries.
At 210 feet long, the Eclipse is a good size if seasickness is a questionable. Galapagos cruises cross open waters where the seas can be rough and choppy; experiencing seasickness during some part of the cruise is common. A larger ship will feel more stable and lessen the effects of rough waters.
The Staterooms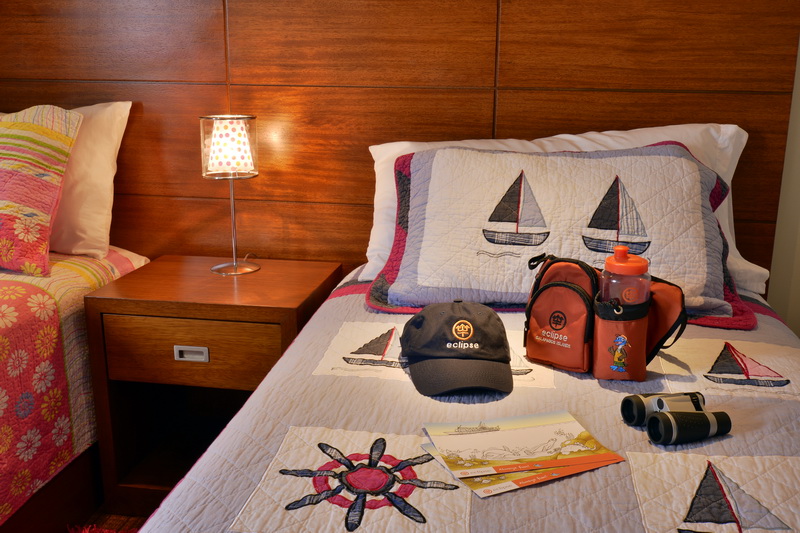 Eclipse superior stateroom, furnished for kids (Courtesy Ocean Adventures)
The Eclipse accommodates 48 passengers in 26 staterooms, half the number of passengers usually on a ship this size. Staterooms are well appointed in natural woods with ample storage space and have at least one porthole window. Upon arrival, kids will be surprised to find themed bedding like Cars or princesses bedspreads in their rooms.
The Social Areas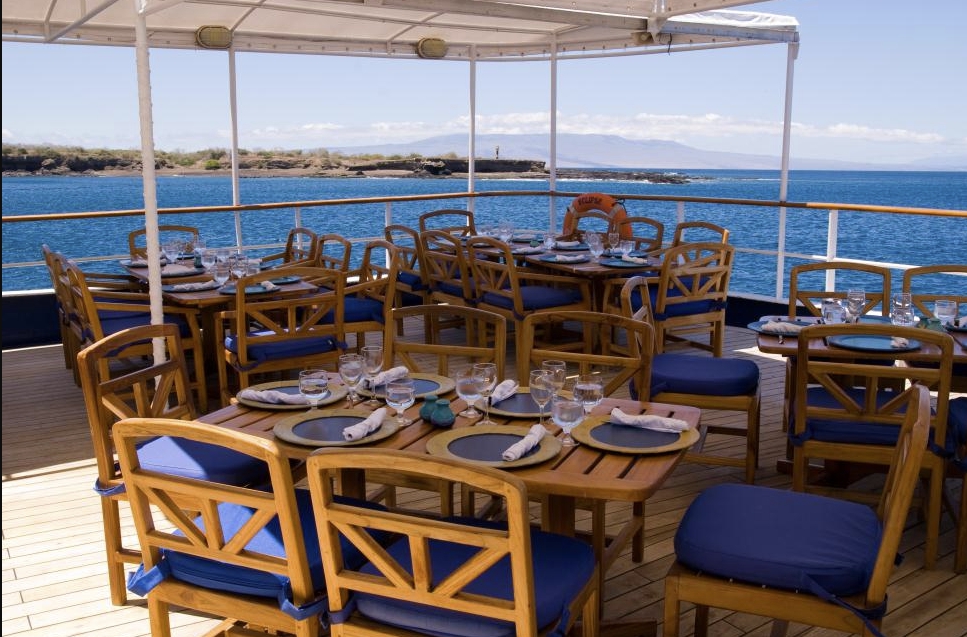 Eclipse lounge (Courtesy Ocean Adventures)
A highlight of the Eclipse is the indoor and outdoor social areas. Surprisingly on a ship this size, there is always somewhere to escape or relax. Outdoor areas are shaded and created for lounging or a dip in the ship's jacuzzi. Throughout the cruise, passengers eat al fresco lunches and dinners at the outdoor dining and bar area. The small number of passengers and comfortable social spaces create an environment where it's easy to get to know fellow cruisers.
For the kids on the ship, the library becomes the hangout during downtime, and a kid-friendly movie with freshly made popcorn, a board game or an organized kids' night out are among the offerings.
Dining Experience
While meals are served buffet style, there is no cliche "buffet food" on the cruise. The food is so fresh and well prepared that even the kids choose the main courses over kid-friendly fare like chicken fingers available for pickier eaters. Meals include typical Ecuadorian foods mixed in with dishes that everyone recognizes. It's cultural immersion the easy way for kids and adults who want to try new foods but have other choices if it's not a favorite. Outdoor barbeque nights, some with Latin dancing, also reinforce the casual, fun environment on-board.
Excursions and Guides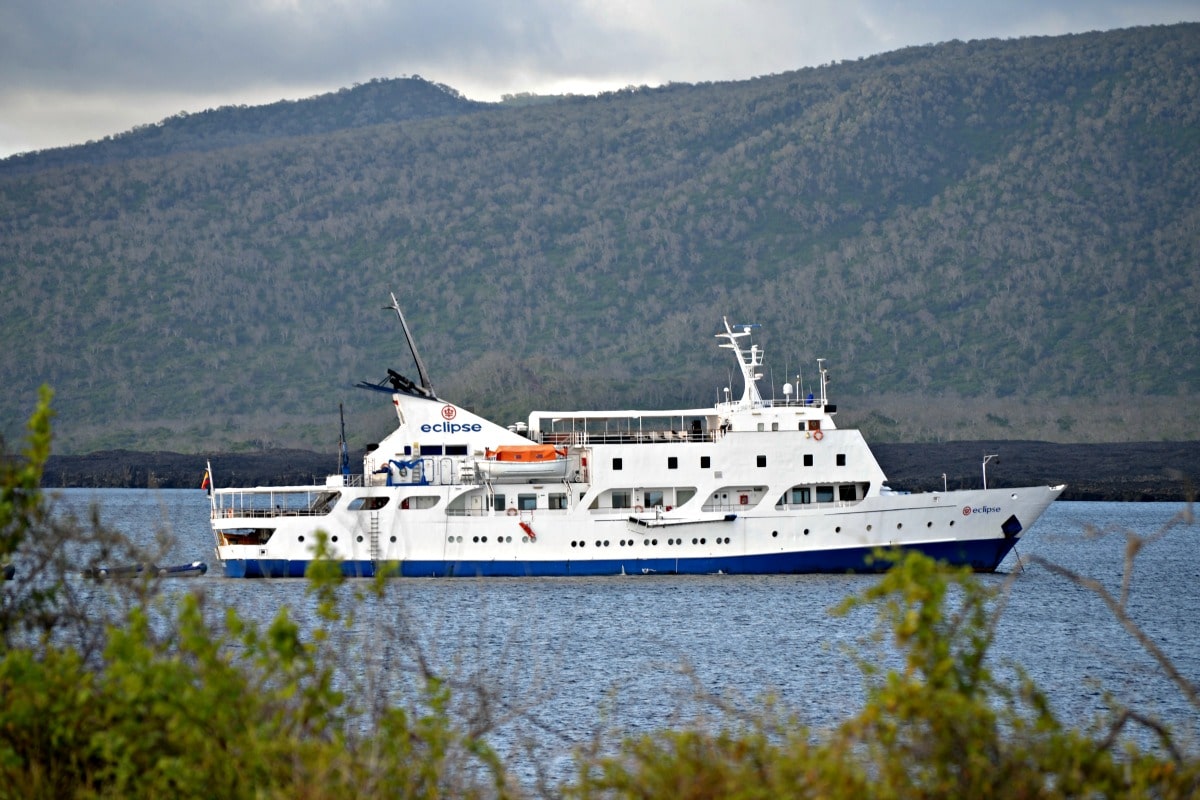 Eclipse excursions (Courtesy Ocean Adventures)
All ships are required to use local, licensed and trained Galapagos Islands guides. Their knowledge and English language skills vary but in general the upscale cruises attract more qualified guides. It's important to note that regardless of the guide's knowledge everyone follows the same visitation guidelines for the islands – off-the-beaten-path is not allowed in the Galapagos. The passenger to guide ratio on most ships is 16:1 though on the Eclipse it's 12:1.
Snorkeling is a daily activity and it's common to swim with penguins, sharks, sea lions, sea turtles and a multitude of tropical fish. Depending on the season, wet suits may or may not be needed and are always optional.
Beyond daily snorkeling, a family Galapagos Islands cruise is full of morning and afternoon activities that include kayaking, island walks and hiking, swimming, water play and on the Eclipse, cooking classes for kids and other kids-only activities. The days are long and sleep comes quickly as everyone is exhausted from early mornings and full days of physical activity.
(MORE: 10 Places You Absolutely Need to Visit While the Kids are Young)
Kids' Coordinator
During the cruise, one of the guides is the designated kids' coordinator and plans special outings like a soccer game on the beach or panga driving, which proved to be very popular, and movie nights. The staff makes an effort to offer kid-friendly activities that entertain and give parents appreciated adult time.
A Galapagos Islands cruise is a science class without the classroom. Kids are immersed in science whether it's seeing the glow of an active volcano or the indigenous wildlife that practically poses for photos they learn without being taught. The best ages for soaking up all this knowledge and being able to participate in the full days is 8 years-old and up.
Rates for a 7-night Galapagos cruise on the Eclipse with Ocean Adventures begin at $5450 with children's discounts available on family sailings.
Kristi Marcelle, a San Francisco Bay Area freelance writer and family travel consultant, contributed this to MiniTime. She is a freelance travel writer and family vacation consultant.