Why it's a boon for larger families
By Suzanne Rowan Kelleher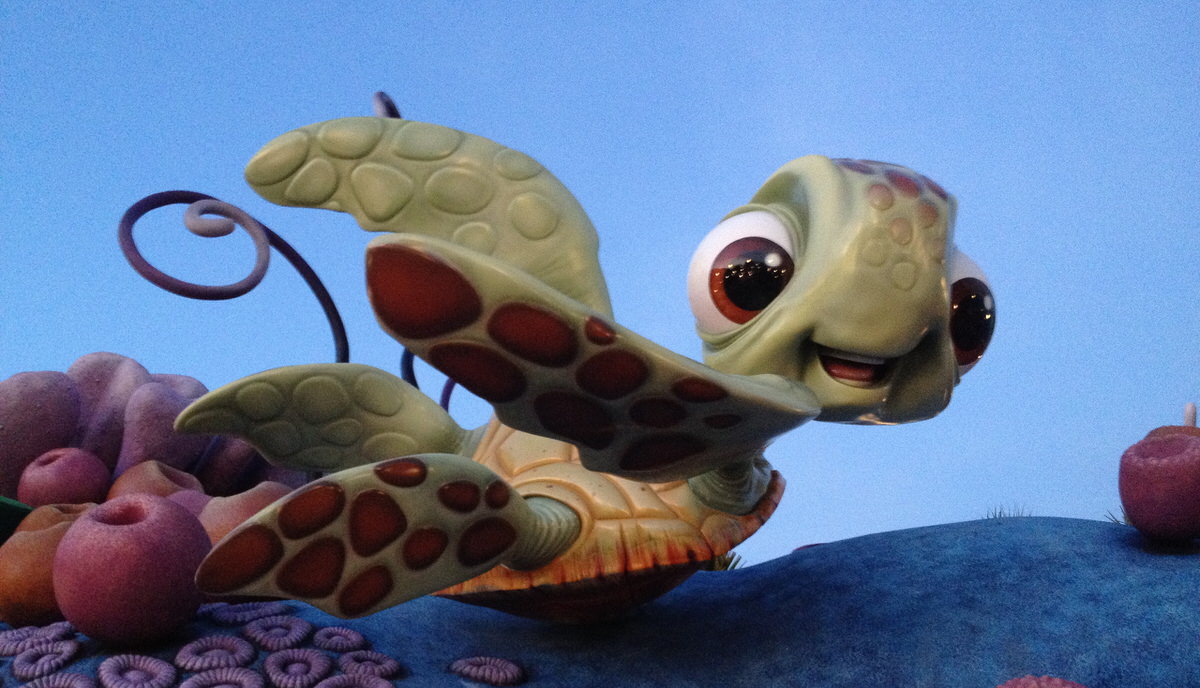 Turtle from Nemo in Disney's Art of Animation Resort (Flickr: zannaland)
Question: My family of six is planning our first trip to Disney World and we're so excited! We're driving from Pennsylvania with our four kids, ages 5 to 9, and we want to stay at a Disney World resort that can accommodate our large family in one room. We would rather stay together and not have to get a second room. We were thinking of staying at Beach Club Villas, but then I read about the new Art of Animation resort. Would that be a better choice for us? I'd really appreciate your advice. – Gloria from West Deer, PA
Answer: As a mother of three, I know where you're coming from. The hotel industry has determined that a standard room should accommodate a maximum of four people, which leaves larger families out in the cold. Luckily, many family-friendly brands are beginning to understand that larger families need options, too. A great example is Disney's new Art of Animation Resort, which was built in response to feedback from guests who wanted more rooms that could accommodate larger families. This captivating resort offers 1,120 family suites that sleep six people and 864 standard rooms for families of four.
(MORE: View a family trip plan: 5 days at Disney World with kids.)
Let's start with the big picture. There are several lodging options for larger families visiting Disney World, at different price points and levels of luxury. The most luxe and priciest are Disney's deluxe villa properties, which offer plush suites with fully-equipped kitchens. The villa floorplans and maximum occupancies differ by property, so it pays to compare properties to find a floorplan and pricetag that works for your family. For example, at the Animal Kingdom Villas at Jambo House, a one-bedroom villa sleeps up to five (from $575 a night); at the Beach Club Villas, a two-bedroom villa sleeps up to eight people (from $800 a night). Comparatively, at the Bay Lake Tower at Contemporary Resort a one-bedroom villa that sleeps five starts at $515 a night, while a two-bedroom villa that sleeps nine starts at $700 a night.
In the moderate category, the Cabins at Fort Wilderness Resort (from $285 a night) can accommodate up to six people, with a double bed and bunkbed in one bedroom and a pull-down double bed in the living area. Each cabin has a fully-equipped kitchen, including a full-size fridge, stove and dishwasher.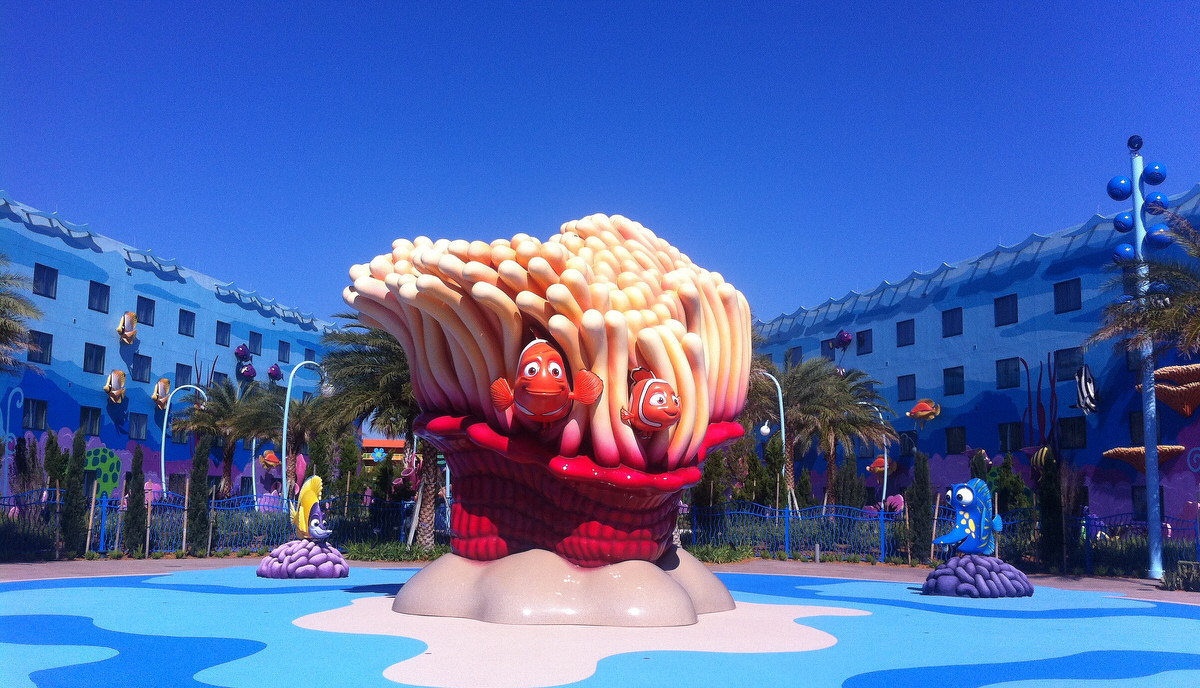 Scupture of Nemo and Marlin in the resort in Lake Buena Vista (Flickr: zannaland)
Recently my family stayed at the brand new Art of Animation Resort, a value-category property which opened in 2012. For moms like me with more than two kids, the most compelling reason to choose this resort is that its suites can accommodate up to six people, with three sleeping areas and two bathrooms, at prices that begin at $249 a night. (Standard rooms for families of four will be available by mid-September, starting around $100 a night.)
For larger families on a budget, the Art of Animation Resort is the new go-to choice at Disney World. While not as luxurious as the deluxe villas, the Art of Animation Resort delivers a more immersive Disney experience, bringing guests right into film storylines without sacrificing attention to detail.
This resort pays hommage to the art of animation by focusing on four beloved Disney and Disney/Pixar films from recent years: Finding Nemo, Cars, The Little Mermaid, and The Lion King. An enormous wall in the lobby is devoted to concept art from the films.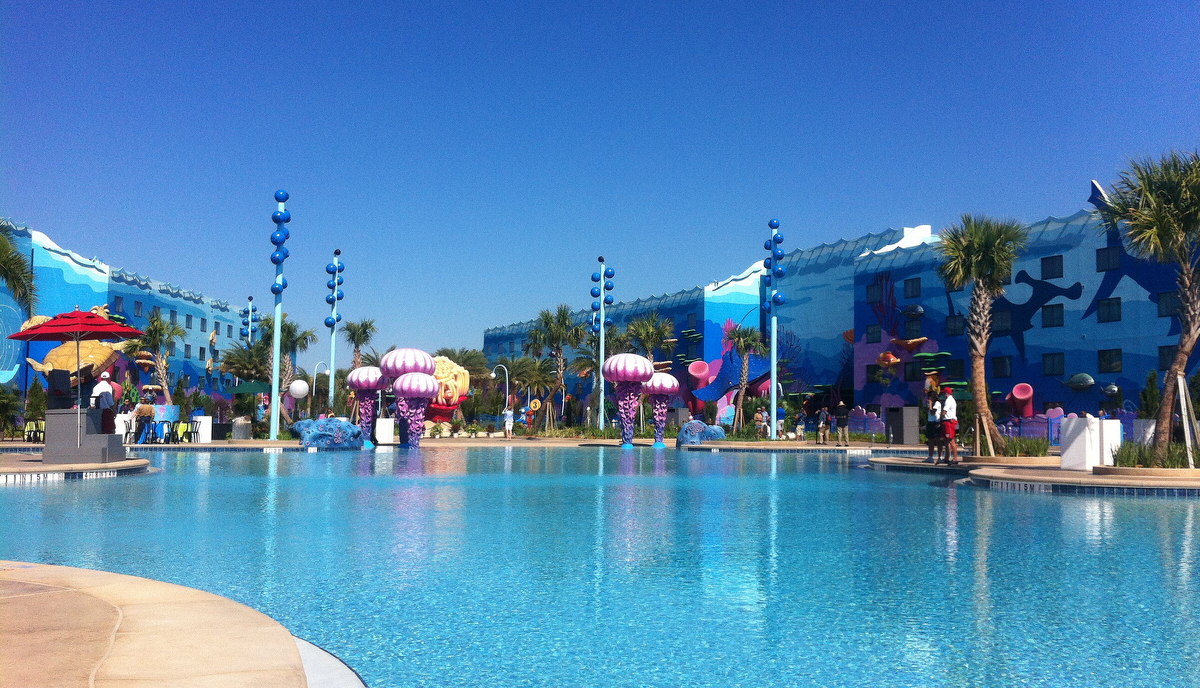 Pool area at Disney's Art of Animation Resort (Flickr: zannaland)
(MORE: Find other family attractions near Disney World.)
Families who love these films will appreciate that the suites are highly themed, but also highly functional, with an incredibly smart use of space. In the Finding Nemo Family Suites, for instance, you'll find custom sea-inspired carpet and fun jellyfish lamps alongside flatscreen TVs, kitchenettes, and dining areas that transform into sleeping quarters with a Murphy bed.
So much of the fun happens in the pool courtyards. Each section of the resort has its own pool area with incredible theming around one of the four films. The Finding Nemo courtyard has the largest pool at any Disney World resort, with oversized characters and sculptures to make guests feel Nemo-sized. The coolest thing about this pool? Swimmers can hear the voices of Dory, Crush, and other characters through the underwater sound system.
If you want the resort that offers large families the most bang for the buck, I can highly recommend the Art of Animation Resort. Please let me know what you decide.
More on Disney World with Kids: