Best and affordable kid-friendly hotels near Disney World.
By Suzanne Rowan Kelleher on Jul 14, 2015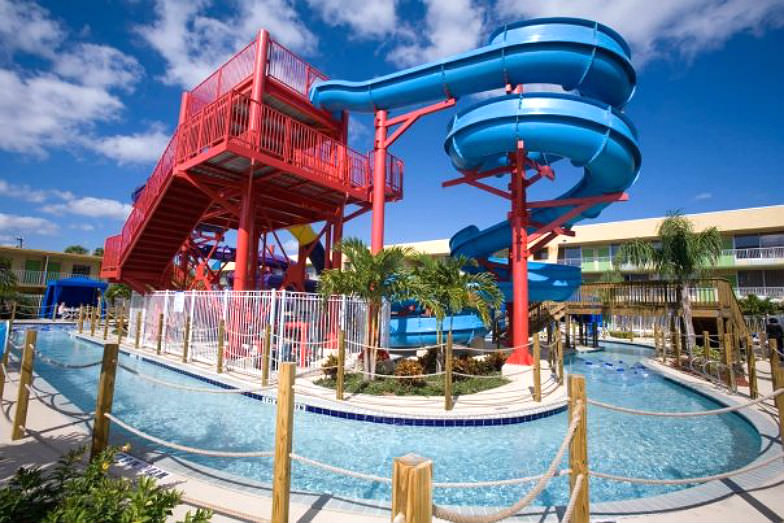 Waterpark at Flamingo Waterpark Resort in Kissimmee, Fla. (Flamingo Waterpark Resort)
If finding a hotel close to Disney World is a big priority, then choosing Kissimmee is a no-brainer. For starters, you have a killer location on the doorstep to Disney World. Many hotels in Kissimmee are so close that guests can view Disney's nightly fireworks. The main hotel strip is US 192, also known as Irlo Bronson Memorial Highway, which makes a quick shot straight to the Disney parks. But Kissimmee is more than just a terrific location. If you're on a budget, then staying here lets you get more fun for your money. Check out how these six Kissimmee hotels really pour on the family-friendly extras, and at a price that's incredibly affordable.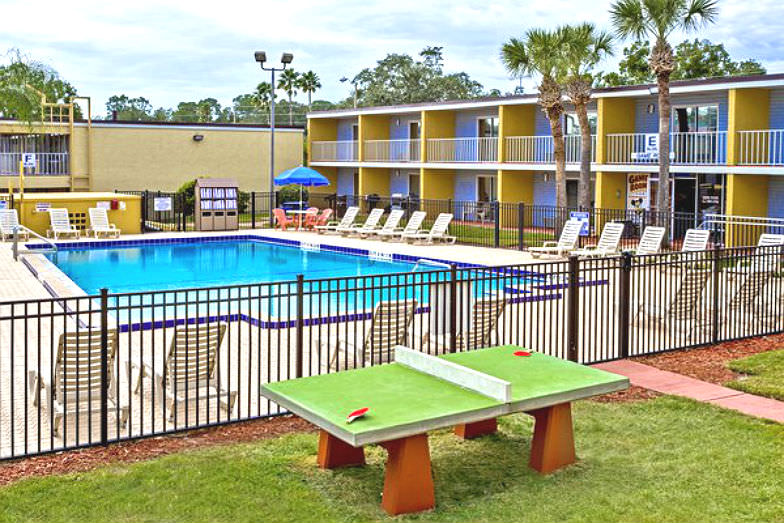 Pool and recreation area at Celebration Suites (Celebration Suites)
Address: 5820 W. Irlo Bronson Hwy.
What we like: Located right next to the Old Town entertainment complex, this property offers suites that sleep up 6 to 8 people with a practical layout that includes one bedroom or two bedrooms plus a separate living room with Murphy bed and two televisions with complimentary HBO. Each kitchen is equipeed with a refrigerator, dishwasher, microwave and coffee maker. One-bedroom suites from $55; Two-bedroom suites from $105.
Address: 2261 E. Irlo Bronson Memorial Hwy.
What we like: Wow! Following a $55-million renovation, this great-value hotel now has a brand new, gigantic (as in 50,000-square-foot) waterpark with a lazy river, multiple three-story waterslides, six kiddie slides, and an interactive splash pad with fountains and jets. All rooms have a refrigerator and microwave, cable TV, and sometimes even a Jacuzzi tub. Mom and Dad can enjoy the free wi-fi and weekday newspaper delivery. Rooms from $45.
(MORE: Create your own trip plan with MiniTime and make planning your Disney World vacation a breeze!)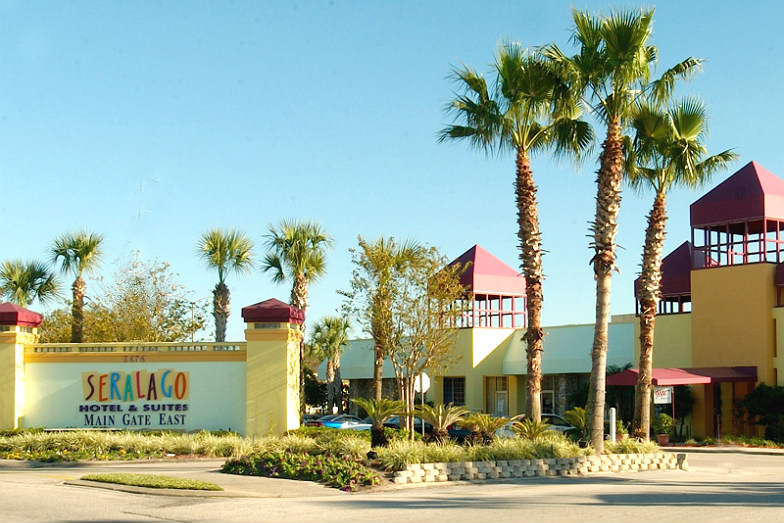 Front exterior at Seralago Hotel & Suites (Seralago Hotel & Suites)
Address: 5678 Irlo Bronson Hwy.
What we like: This erstwhile Holiday Inn was revamped with a bright, colorful new look but still features the popular Kid's Suites, which include a designated kids' sleeping area with bunk beds, plus a TV, VCR, Xbox game system, and CD player. (There are also standard rooms and two-room suites that sleep up to eight.) There's plenty of fun to be had, from swimming (two pools plus a kiddie pool) to tennis, volleyball and basketball. Check out the video arcade, two playgrounds, and even free nightly screenings of family movies in the hotel's movie theater. There's also a convenience store and a food court for meals on the run, and kids 12 and under eat free at breakfast in the hotel's restaurant. Standard doubles from $45; Kid's Suites from $50; Two-room suites from $65.
Howard Johnson Enchanted Land Hotel
Address: 4985 W. Irlo Bronson Hwy.
What we like: Kids have their own check-in at the hotel's signature treehouse, and the hotel also offers free nightly ice cream party for families and a kids' arcade. Choose between the colorful Crayola Kids' Room or the Tree House Room, where kids get their own sleeping quarters with bunk beds and TV. Plus, kids 12 and under get free breakfast with a paying adult. Standard rooms from $40; Tree House Rooms from $72.95.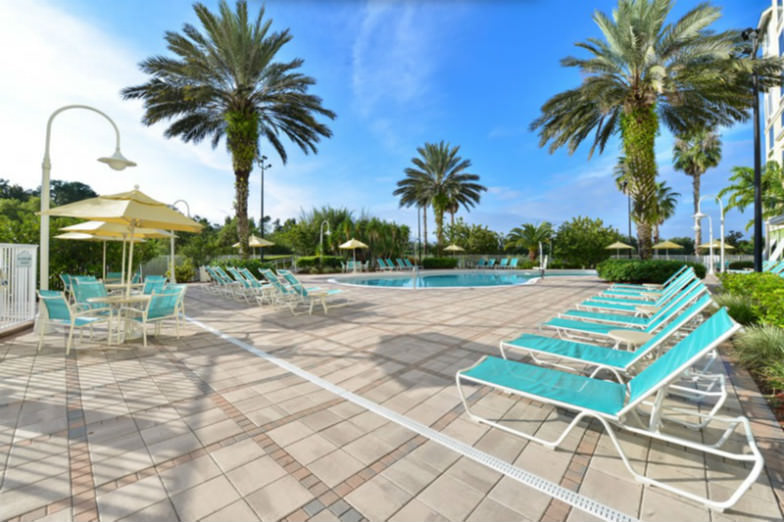 Pool area at Comfort Suites Maingate East (Comfort Suites)
Address: 7888 W. Irlo Bronson Hwy.
What we like: The spacious, well-designed rooms here are a step up in both decor and comfort from what you normally see at this price. Even the standard rooms feel like mini suites, with a small sitting area containing a pullout sofa, cable TV, wireless Internet access, and a handy wet bar featuring a microwave, refrigerator, and coffeemaker. The outdoor pool area features a heated pool and hot tub, plus a nice toddler pool with a mushroom fountain. Each day starts with a free breakfast buffet of waffles, bagels, and cereal, and much more. Rooms from $90.
(MORE: Find more affordable, kid-friendly hotels in Orlando.)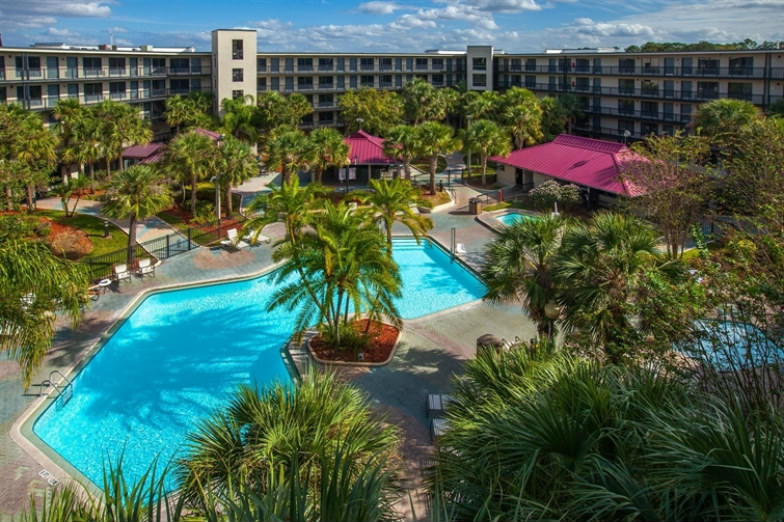 Garden atrium and hotel at Royal Parc Suites (Royal Parc Suites)
Address: 5876 W. Irlo Bronson Hwy.
What we like: Formerly known as Quality Suites Maingate East, this hotel recently underwent an extensive makeover and re-emerged with a new name and a new look evoking the quaint charm of New Orleans' French Quarter. (Don't worry, the redecorated suites still have separate bedroom and living areas and fully-equipped kitchens.) For kids, there's also a swimming pool, game room, and playground. Parents will appreciate the free wi-fi and nightly manager's receptions with free beer, wine, and soft drinks. And finally, consider the killer address just a mile from Disney World. One-bedroom suites from $60, two-bedroom suites from $75.
Suzanne Rowan Kelleher, a family travel expert, contributed this to MiniTime.