Upstate New York's Finger Lakes family-friendly attractions
By Dave Parfitt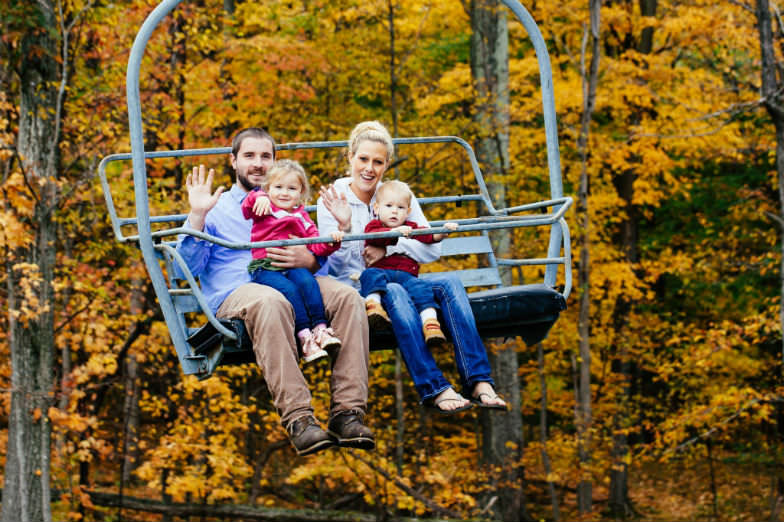 Fall Foliage Rides in Bristol Mountain (Bristol Mountain)
As glaciers carved their way through the future upstate New York countryside, left-behind were 11 deep, narrow lakes – the Finger Lakes. This beautiful region of rolling hills, deep gorges, crystal waters, and bucolic farms never sparkles more brilliantly than in autumn. With colorful leaves, harvest festivals, and family-fun, fall is a perfect time for families to visit the Finger Lakes Region of upstate New York. Continue reading for a round-up of things to do in the Finger Lakes this fall.
(MORE: Explore New York's beauty this Fall. Find kid-friendly things to see and do in the New York state.)
Fall Color
The brilliant gold, red, and orange hues of the changing leaves draw people from miles around to "leaf peep" along the contours of the Finger Lakes hillsides.
Bristol Mountain Fall Foliage Rides – from September 20 – October 26 the Bristol Mountain ski resort whisks families to the mountain peak via their ski lift for panoramic views from the summit.
Letchworth State Park – known as the "Grand Canyon of the East" is where the Genesee River spills over three waterfalls and cuts a deep gorge along its northern route to Lake Ontario. Hot air balloon rides over the park offer a particularly scenic and intimate way to experience the fall colors.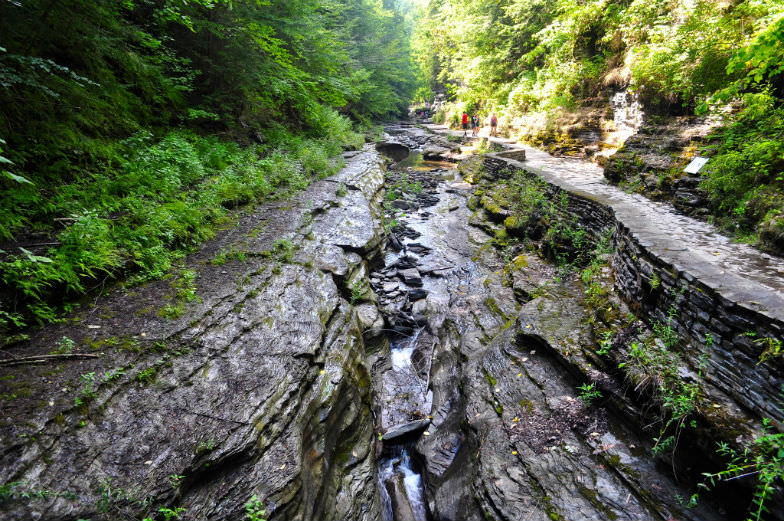 Watkins Glen State Park (Flickr: Madeleine Holland)
Watkins Glen State Park – home to no less than 19 waterfalls and the most visited park in the Finger Lakes region, Watkins Glen mesmerizes guests with its flowing water. Hiking paths transport visitors into the heart of the secluded emerald glen enveloped by towering walls and an arching canopy.
(MORE: Find kid-friendly hotels to stay in Rochester, New York.)
Family Fun
Local attractions celebrate the fall season with harvest time, corn mazes and spooks, and area farms open up the fields for family frivolity and to enjoy the bounty.
Brown's Berry Patch – if cider, jams, jellies, and fresh baked pies sound good to your family, then head to Brown's Berry Patch where you can pick your own apples, berries, and pumpkins all while enjoying carnival rides, games, music, and festival food.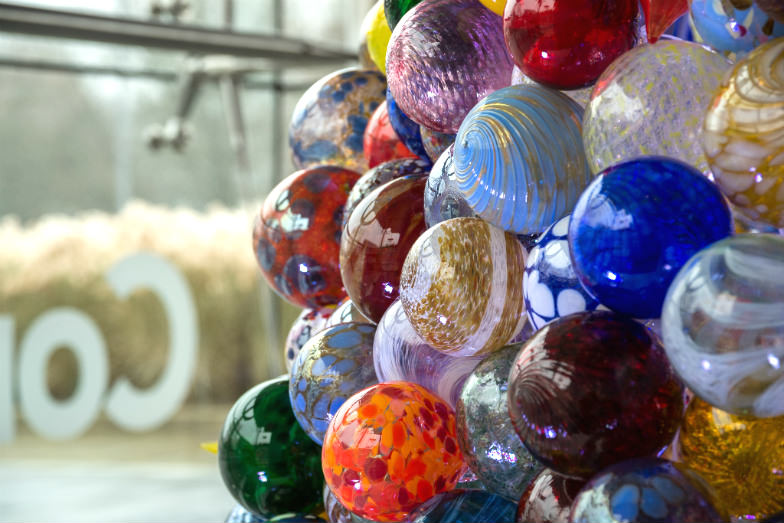 Corning Museum of Glass (Flickr: Brian Holland)
Corning Museum of Glass – a bumper crop of glass is ripe as Corning's Museum of Glass celebrates glass harvest. You can puff into a blowpipe to "grow" your own glass pumpkin with a professional glass blower, or craft a glass pumpkin pendant in one of the museum's many hands-on workshops. Both activities are open to all ages, and kids/teens are ALWAYS free at the museum.
Long Acre Farms – growing season may be over, but that doesn't stop activities in Long Acre Farms' fields. Home to one of the largest corn mazes in the area, each year's annual Maize Maze has a different elaborate theme, from dinosaurs to flying saucers, and all of them will keep your family happily wandering all afternoon.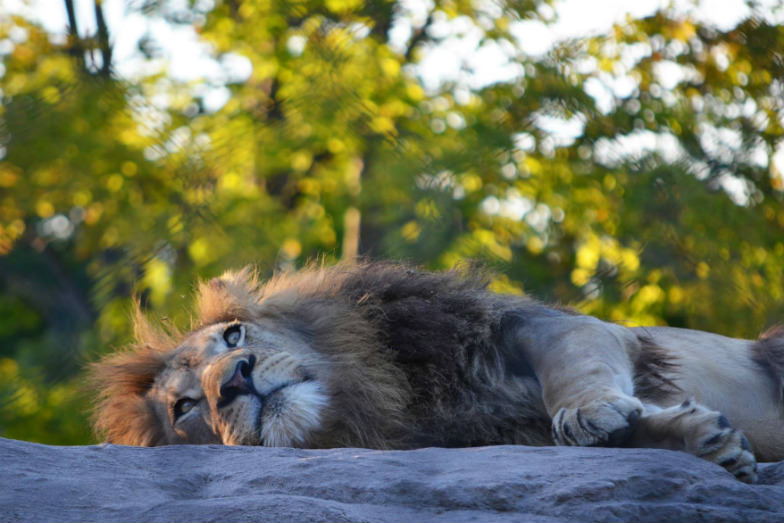 Lion at Seneca Park Zoo (Seneca Park Zoo)
Seneca Park Zoo – for a not so spooky Halloween, dress up in costume and trick-or-treat among the animals through Rochester's Seneca Park Zoo. ZooBoo has crafts, activities, prizes, and, of course, candy, kids will delight at the family-friendly event. Even the critters get into the Halloween spirit and elephants, lions, and tigers smash and dine on pumpkins.
Events
Summer may be the traditional time for carnivals, fairs, and midways, but there are still plenty of signature events happening in fall in the Finger Lakes.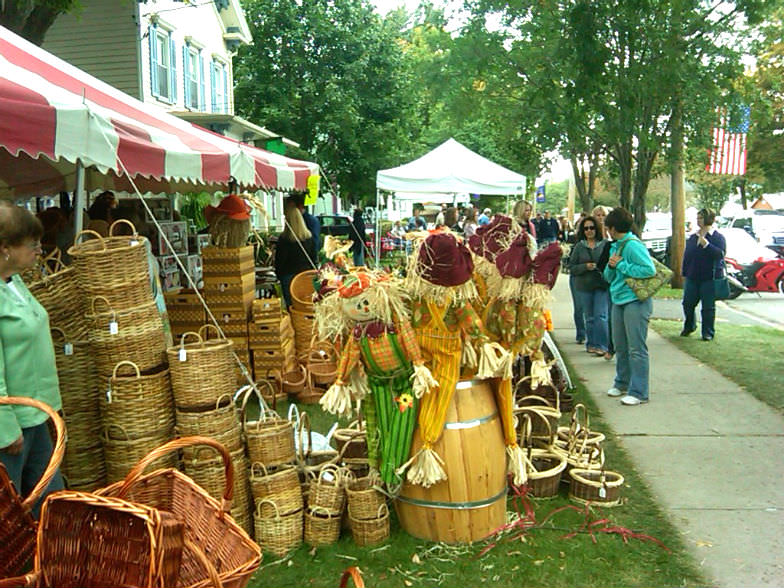 Naples Grape Festival (Visit Finger Lakes)
Naples Grape Festival – Naples celebrates the year's grape growing season with the annual Naples Grape Festival, September 27-28, 2014. If you've never had a grape pie, head to Naples for their signature Grape Pie Competition where plenty of samples abound.
Spirits of the Past – Genesee Country Village & Museum, the 19th century living history museum outside of Rochester embraces their spooky past with nighttime lantern walks of the Village accompanied by theatrical reenactments of historical tales and ghost stories such as the Legend of Sleepy Hollow and Edgar Allan Poe.
Finger Lakes Wine Country Restaurant Week – perhaps you have a family of foodies? You'll find the best deals of the season for restaurants in Finger Lakes Wine Country during restaurant week October 20-26, 2014. Enjoy two or three course prix fixe meals, and seasonal dishes prepared from local ingredients at restaurants on Keuka and Seneca Lakes.
Syracuse Football – maybe you have big-time sports fans in your family? Syracuse University hosts football games under the done through November, and Syracuse is a great family destination with one of the best mid-sized zoos in the country and the Destiny USA Mega Mall if you want to make football season a family affair.
Dave Parfitt, founder and editor of AdventuresbyDaddy.com, contributed this to MiniTime.