All-inclusive resort for families
By Michelle Rae Uy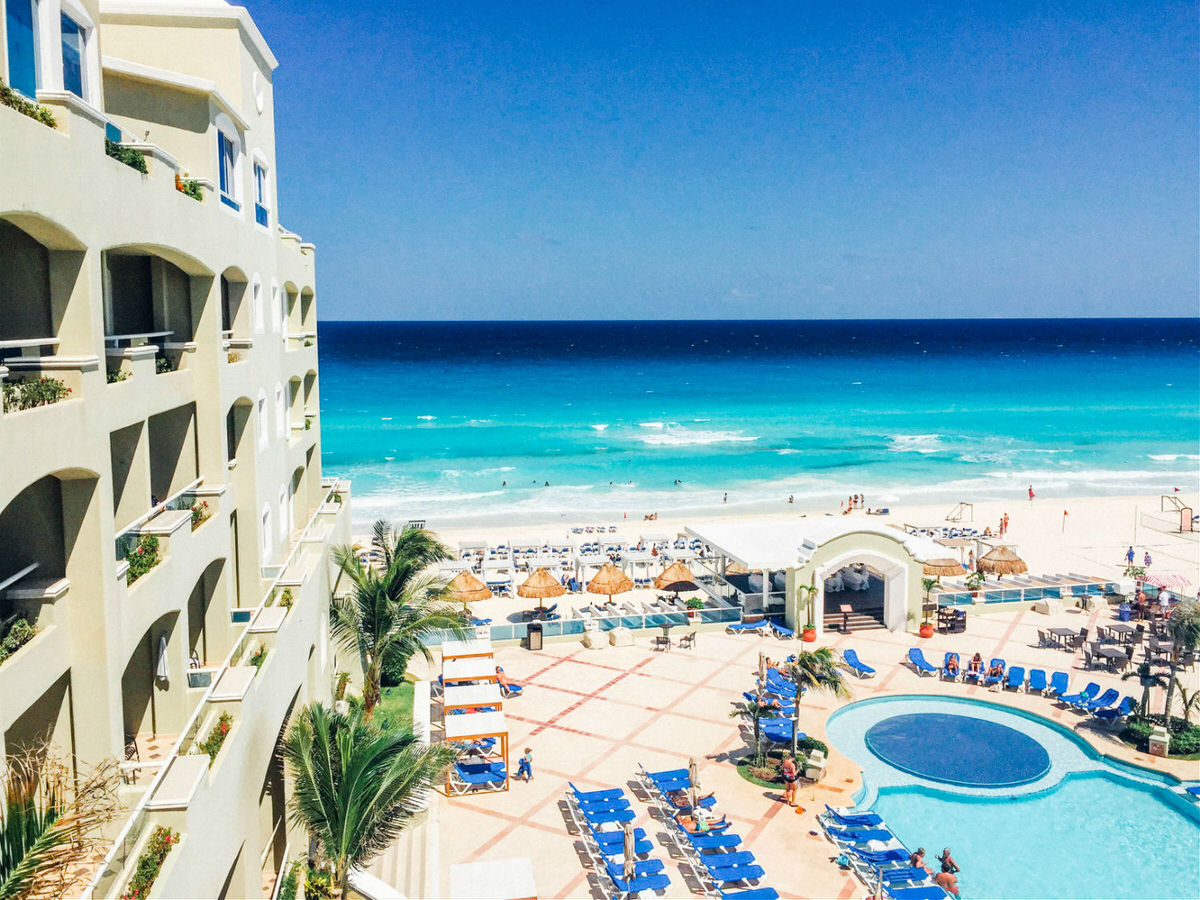 View from a suite balcony at the Gran Caribe Cancun. (Photo: Michelle Rae Uy)
There's something quintessentially Cancun about impossibly blue waters lapping against a sparkling ivory beach. And waking up to that sight is almost a necessity when you're visiting the popular Mexican city.
This is one of the many great things about the Gran Caribe Cancun—you can treat yourself to this amazing scene without ever leaving the resort or even your hotel suite. But the all-inclusive property, mere steps from Cancun's glorious Caribbean coast, offers more than alluring views of the ocean. Family-friendly amenities and other flourishes here, some of which you cannot find at other properties, also help make it a great family base for a Cancun vacation.
(MORE: Tips for Traveling in the Riviera Maya with Kids)
The All-Inclusive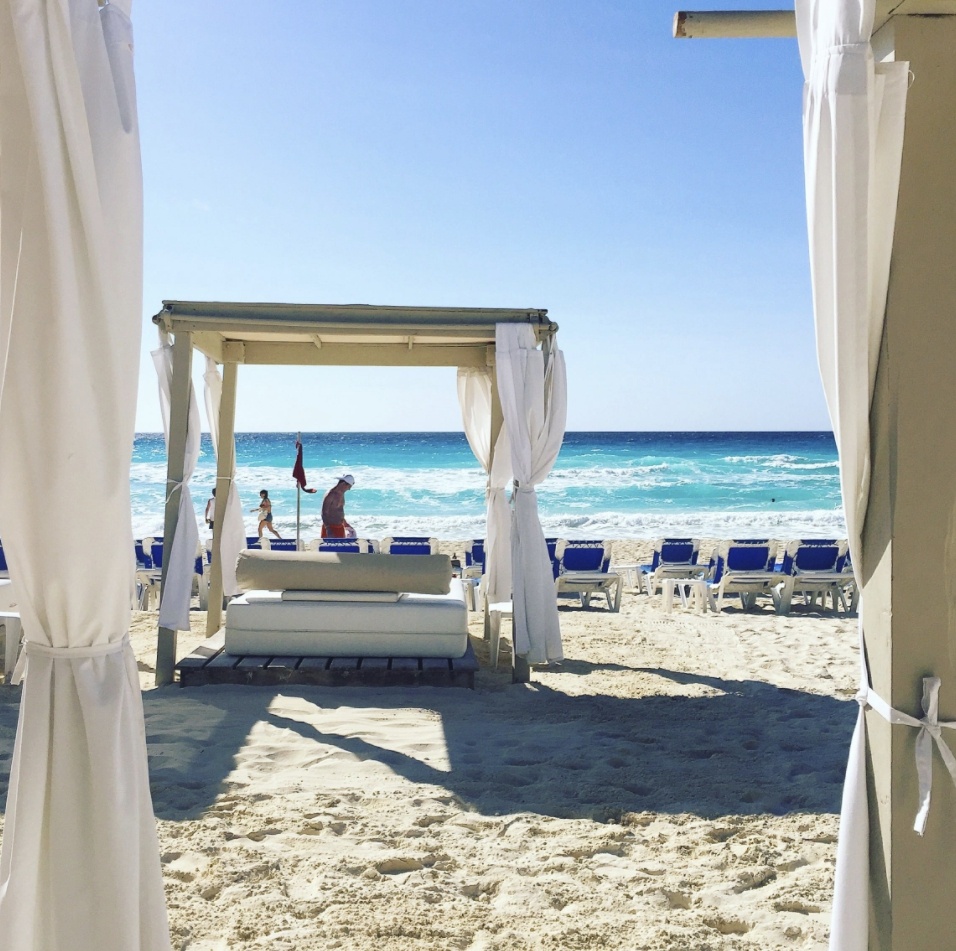 Cabanas at the Gran Caribe Cancun (Photo: Michelle Rae Uy)
Much like with other all-inclusive resorts, Gran Caribe Cancun gives its guests limitless access to food and drinks during their stay. There are also the usual features: complimentary use of cabanas, daily and nightly entertainment, activities, and access to a kids club to name a few. But the family-friendly resort offers much more than this, separating it from the rest.
A few of the things that make Gran Caribe stand out include the 24-hour lounge that carries light snacks, hors d'oeuvres and drinks both alcoholic and non-alcoholic: breakfast pastries and coffee to go as well as afternoon pastries in the lobby; a special 24-hour lounge where VIP guests can check in, play pool or just grab quick bites; a full-scale aqua park for kids; and even a teen and tween activity zone on property.
Rooms and Amenities
Gran Caribe Cancun is an all-suites property. Space, therefore, will never be an issue, every well-appointed suite—from the Junior to the impressive Gran Presidential—affords more than enough room for a family of 4 or 5 to spread out and get comfortable. Each suite is well-stocked with drinks, snacks, and the standard amenities as well as a few features you would be hard-pressed to find in other resorts, including a hammock in the balcony (a nice touch, in our opinion) and a key-accessed liquor cabinet.
A Junior Ocean Front Suite is great for a family of four, with its spacious king bed and a separate sofa pull-out (two Royal double beds are also available). A Family Junior Suite, on the other hand, which features a twin bunk bed with trundle, or a Gran Master One Bedroom Ocean View that boasts its own in-room tub and a balcony with panoramic views of the beach below, is perfect for a family of five.
Dining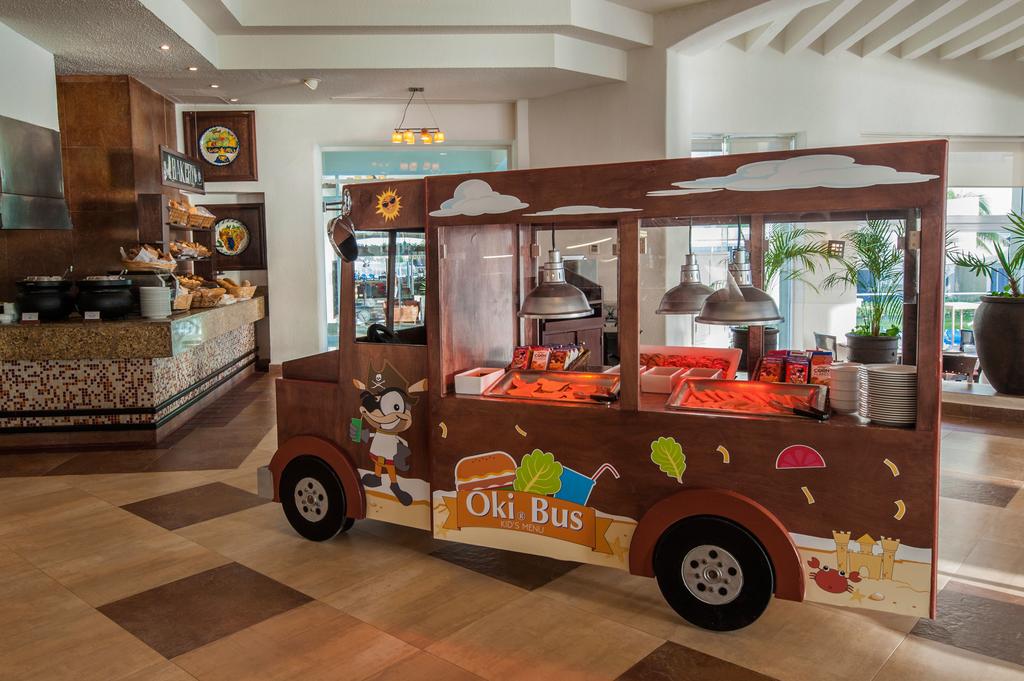 Oki Bus for a kid-friendly buffet (Photo: Michelle Rae Uy)
Two onsite restaurants, Albatros and Gaviotas, are open from breakfast through dinner, which means that guests can have a meal at either of them anytime of the day. Casual yet elegant Albatros serves international cuisine, both an extensive buffet and an a la carte menu, and the Oki Bus that carries a kids only buffet; while the more casual Gaviotas, located right in front of the pool area, only has buffet options.
Open for lunch and dinner is the Sunset Grill that serves classic American and European fares, a kids menu AND a kid-friendly show that happens three times a week.
For more fancy dining, families can have dinner at either Maria's, which serves authentic Mexican cuisine, or Il Pescatore for delicious Italian fares. At Il Pescatore, there are pasta, seafood and meat dishes that will definitely satiate your family's hunger, and you can even indulge in a fantastic full Italian meal.
Family-Friendly Activities
There are many activities on property that whole families can partake in, from sports and wellness activities, beach and poolside games to live performances and nightly entertainment. There are other nice flourishes too: ice cream cart at the pool, guacamole making classes, seasonal turtle release program, outdoor swimming pools and a private beach.
Just for Kids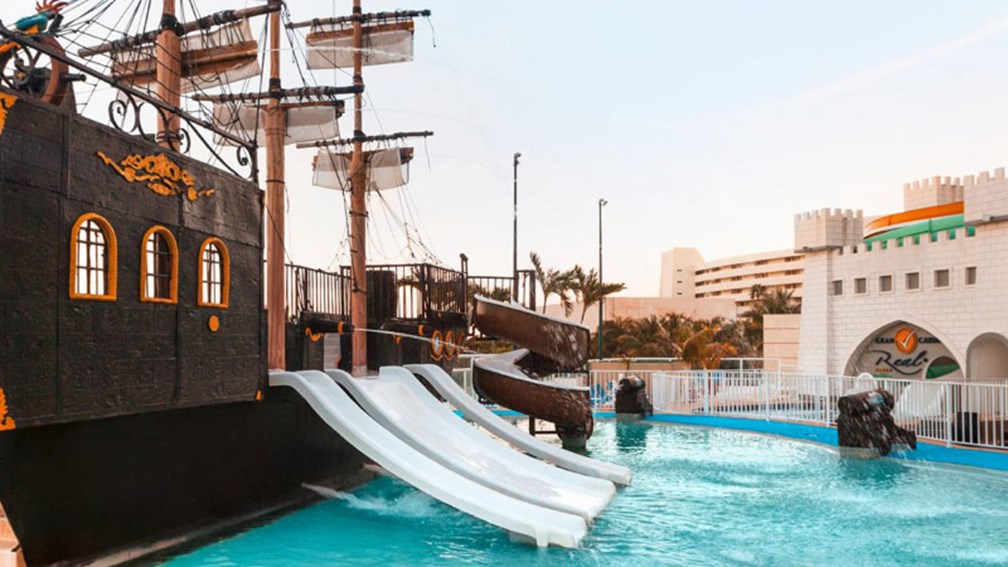 Oki Splash Park pirate ship (Photo: Michelle Rae Uy)
There's a kids club, of course, much like many family-friendly properties. The Oki Kids Club welcomes young guests ages 4 through 12 and treats them to activities, snacks and some fun at the onsite 9-hole mini golf course and the splash park, both of which are located next to the kids club. It also features a small playground and a tiny kids pool.
The Oki Splash Park is a full-scale splash, spray and wade zone with a cool pirate theme so the kids can also get a sense of adventure and pretend play while enjoying refreshing fun. Though not as big as those stand-alone waterparks, it does have all the necessary elements: cannons, fountains, splash pads and even waterslides. Moms and dads are welcome, but the slides on the pirate ship and the castle are best for kids and teens.
Tweens and teens also have their very own fun zone, where the younger kids are not allowed. Called the T-Zone, the indoor space, albeit smaller than many we've seen, boasts two flat screen TVs, video game consoles, a pool table and several bean bags so teens can just hang out and even make friends.
For Moms and Dads
Gran Caribe Cancun may be super kid-friendly, but that doesn't mean that moms and dads can't sneak away for some R&R and pampering without the kids, whether its attending a scheduled zumba or spin class, taking it easy in one of the resort's many cabanas right on the beach whilst enjoying a fruity cocktail or cerveza, or getting a lovely massage treatment at the spa which has an outdoor hydrotherapy area.
(MORE: Riviera Maya's Best Attractions for Families with Kids)
What We Love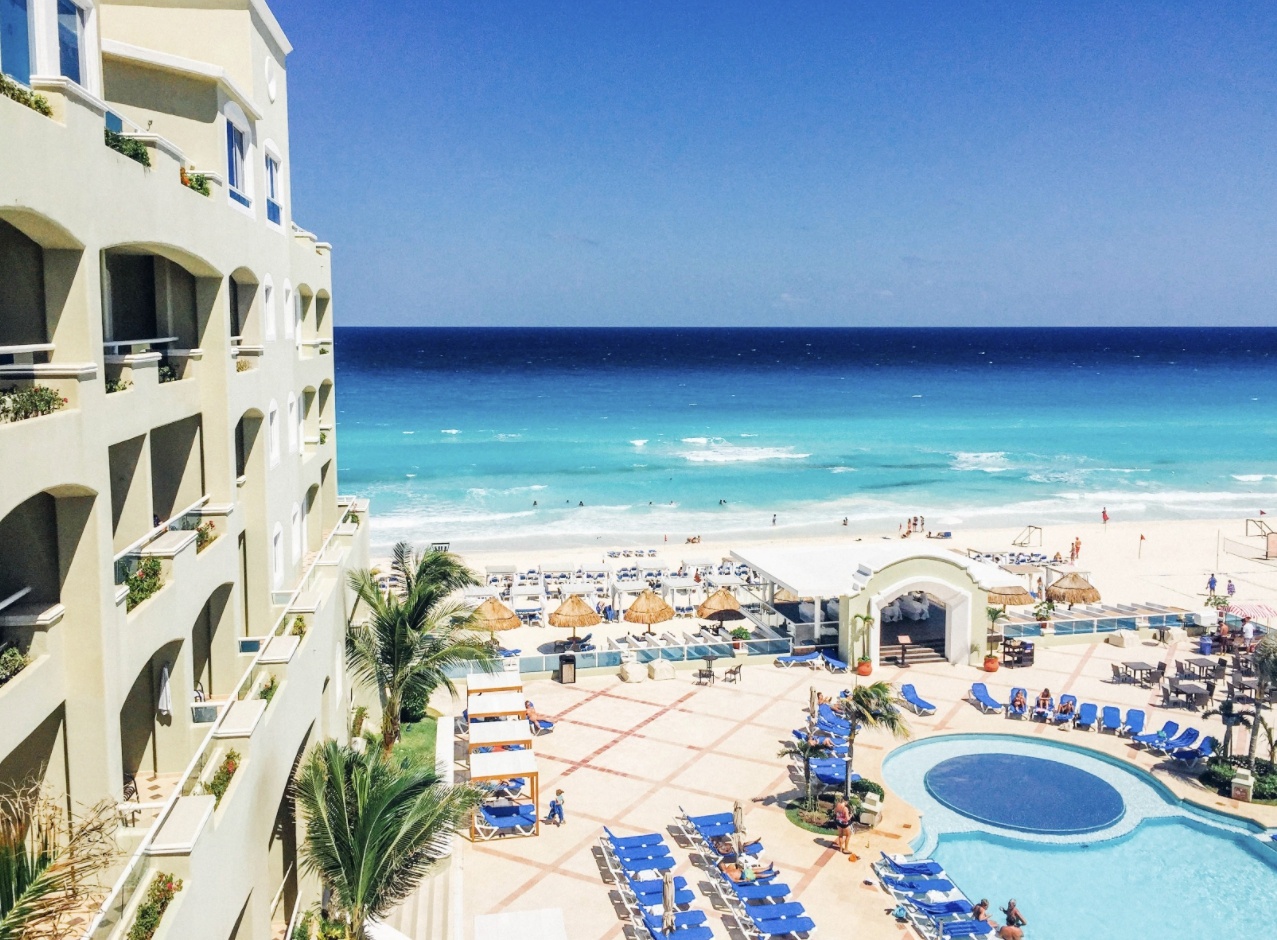 Cancun beach in front of the Gran Caribe Cancun (Photo: Michelle Rae Uy)
Again, the best thing about Gran Caribe, next to its gorgeous view and its beach location, are the extra touches that you won't find in other all-inclusive resorts. These include the hammock in every balcony, the 24-hour snack bar and the separate VIP area. We also love the hand-to-heart greeting done by every single resort employee, from the cleaning staff to the managers and executives, as well as the fact that you can access the facilities and amenities at sister property Gran Porto Resort, when you're visiting Playa del Carmen.
Insider Tips
Cancun's tropical weather can get pretty intense during the hot months, so make sure to take a break and spend some time indoors. Stop at the 24-hour snack bar for some refreshments and hang out in your balcony where a couple of chairs and a hammock await. The hotel's massive lobby is a great place to sit and maybe read a book too, if you're not to bothered with the foot traffic.
Suite service (room service) runs from 7 am to 11 pm daily so if you don't feel like going outside just yet, simply order food. You don't even have to be properly dressed to get your food, thanks to the "magic box," another feature that you won't see in other resorts. This food service cabinet is where they deliver your food to the room so you won't have to open your door to the room service staff.
Like most resorts, you can arrange any excursions without leaving the hotel room. Simply go down to the lobby and talk to the staff in charge of tours and excursions.
The activities staff hold poolside games every day, if you're feeling bored but don't want to leave the resort.
Michelle Rae Uy contributed this to MiniTime. She is a travel writer based in Los Angeles and MiniTime's Head of Content, who spends her free time on adventures and film photography.