Riviera Maya with kids
By James Holland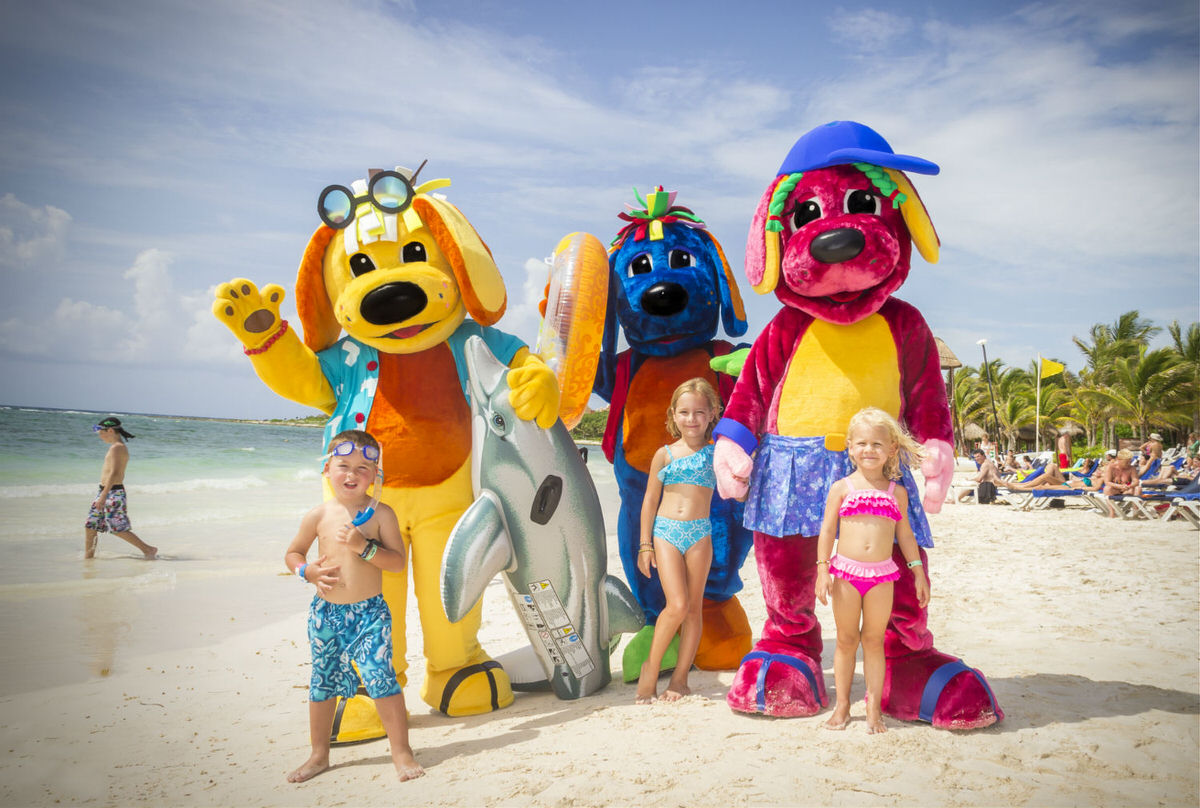 Raggs characters with mini guests at Grand Palladium White Sand & Spa (Courtesy Grand Palladium White Sand & Spa)
Newly minted assistant manager Celia Bonito pointed to the buffet in the middle of Chang Thai's dining room. "That was not there five days ago," she said. The newest addition to family-friendly resort Grand Palladium White Sand & Spa is a perfect example of what makes this resort so special. Between the multitude of buffet options or the a la carte menu, there's something for everyone.
Situated in the heart of the Riviera Maya, Grand Palladium White Sand & Spa is a paradigm of the all-inclusive family-friendly resort that Mexico is known for. It's FIVE different hotels in one resort complex. It's also unique, Spanish influenced, and only 30 minutes away from Tulum and 45 from Playa Del Carmen. Top it off with amazing amenities for kids, White Sand is one of those places that keeps offering surprises at every turn.
(MORE: Family-Friendly Things You Must Do In The Riviera Maya)
Family-Friendly Activities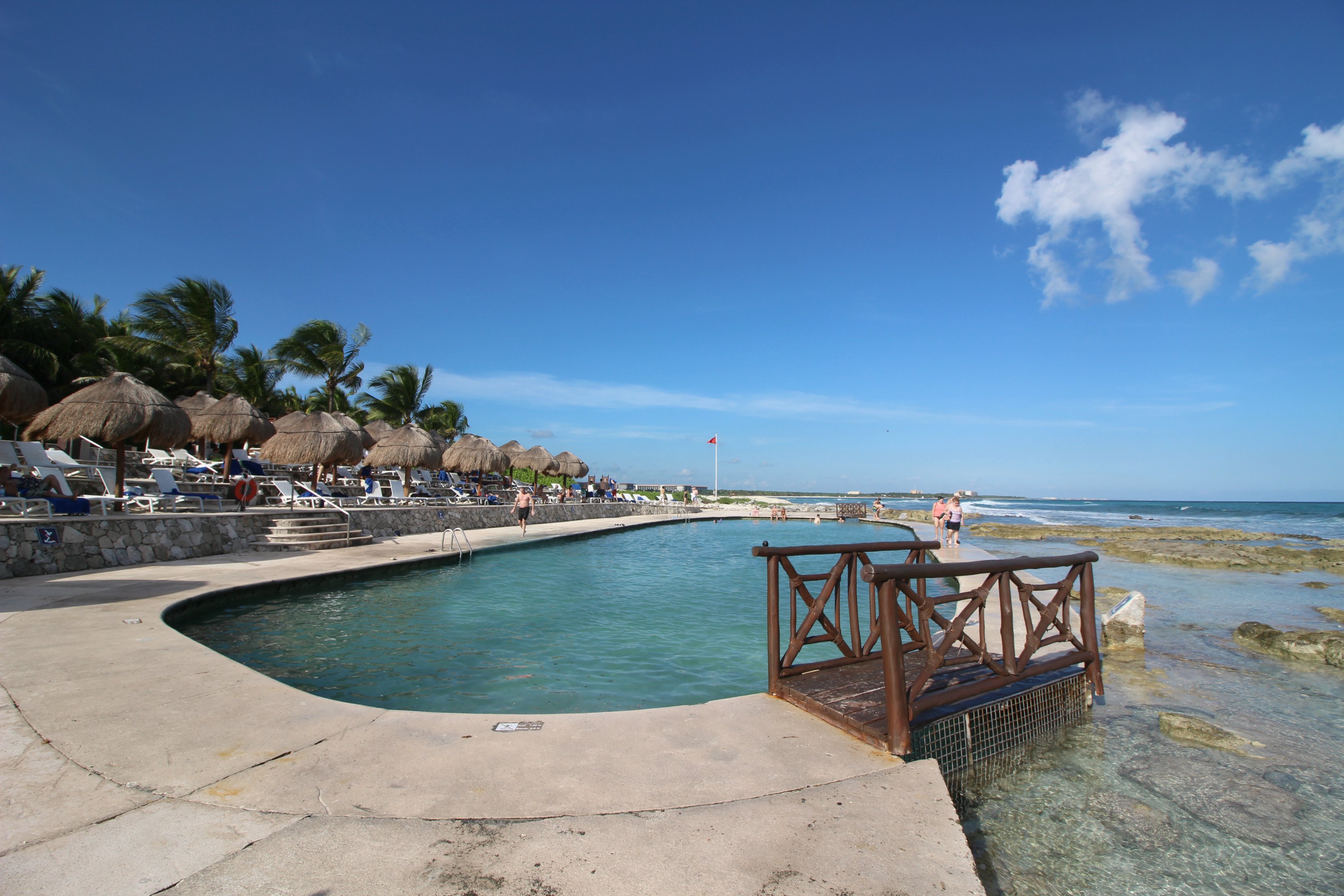 Saltwater pool connected to the ocean at Grand Palladium White Sand & Spa (Courtesy Grand Palladium White Sand & Spa)
Grand Palladium White Sand & Spa is so packed with activities that guests might not even need to leave the resort to keep busy. There are 7 fresh water pools to splash in plus one very special saltwater pool that's connected to the ocean. If the ocean is more your speed, there are several water activities available. Take a ride out on a kayak or hobie cat, go windsurfing, paddle boarding, or snorkeling. For additional charge (and if you're certified), go scuba diving.
For landlubbers, there are a ton of additional kid-friendly activities. They include archery, basketball, badminton, tennis mini golf; and that's just the tip of the iceberg. For parents with free time, attend a tequila tasting. Later, see a late night show where you'll see quite a bit of talent, usually focused on dancing, on display including a pirate show and a showcase of different dances from around the world.
Kids Club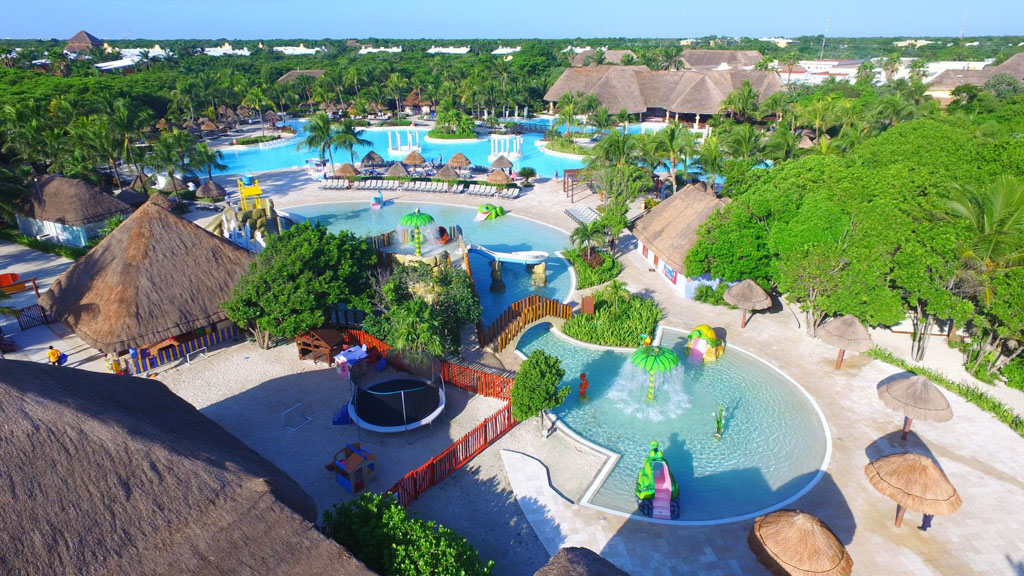 Baby Club at Grand Palladium White Sand & Spa (Photo: Grand Palladium White Sand & Spa)
One of this all-inclusive family-friendly resort's greatest assets is their offerings for families with children of all ages. White Sands does not boast just one kids club but THREE. There's the Baby Club for kids between 1 and 3, the Mini Club for those between 4 and 12, and the Black & White Junior's Club for those 13 and up. Activities there include everything from painting, sports and video games.
Beyond the kid-friendly activities at the respective clubs, the resort also offers such kid-friendly amenities such as an onsite eco-tour, turtle camp and Raggs themed breakfast. The Raggs characters from the Emmy-winning show also feature in a pirate show and the Pido surf party at the disco.
Spa
It would be remiss to mention Zentropia, a special treat for the parents. Splurge on a massage at the resort's family-friendly spa. Choose from a full menu that include a full body Swedish massage, couples massage or reflexology, among others. Don't forget to get here early to take in the sauna, vapor room, hot tub, plunge pools and more. Or stop in for $10 per person per day to relax at the hydro circuit while the kids are at the kids club.
The family-friendly spa even has an option for kids. For $68, give your daughter a princess manicure, pedicure and partial braids.
Food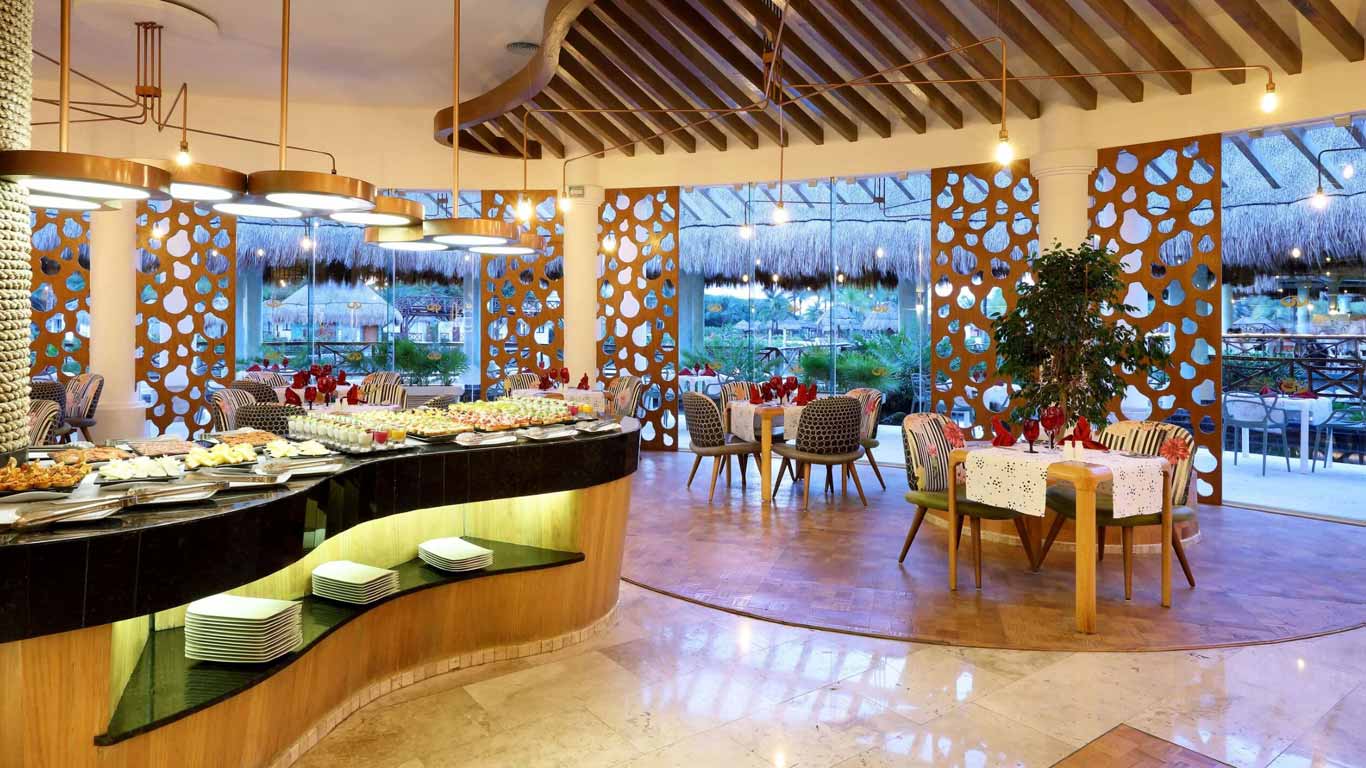 Tapas offerings at Grand Palladium White Sand & Spa (Photo: James Holland)
With 8 a la carte and 5 buffet kid-friendly restaurants, options abound for foodie families. Between Thai, Japanese, Italian, Tapas, Seafood, and of course, Mexican, you might be overwhelmed with choice. If you get a chance and are a seafood lover, make sure to book a reservation in advance for outdoor, family-friendly seafood restaurant Punta Emilia for an overdose of Lobster. Or for easier options, check out Kabah, La Hacienda, or the other buffet restaurants. They come complete with omelet stations for breakfast, pasta stations, sandwich stations and more. Additionally, your kids will find crepe and hot chocolate stations the best things ever.
There are two very important food related details that are unique to Palladium's family-friendly resorts. First, the resort institutes a particular program for allergies. Upon check in, guests are asked if they have any allergies. They will then receive color-coded cards to be presented wherever they dine. That way, even for international guests, they're always safe. The chefs and kitchens across the whole resort is set up to accommodate all allergy types. Whether you have celiac or a nut allergy, you'll be well taken care of.
Secondly, all restaurants are prepared with special children's menus and dishes (most of which come presented as happy faces). This means that if the kids are not prepared to try that special ceviche, there are great options like spaghetti, mac and cheese and chicken nuggets available.
(MORE: Grand Palladium Kantenah Resort & Spa: Activities for All)
Rooms
Grand Palladium White Sand Resort & Spa offers three room types – the junior suite, suite and the Mayan. The Mayan is a great option for honeymoons and allows only space for two. For families, the junior suite and suite are perfect. For larger families, you can get connecting suites. Some offer particular kid-friendly amenities include portable changing tables, baby food room service, and more. In fact, for new parents, just about any product can be requested from the front desk such as cleaning products for feeding bottles.
James Holland of Another Spur on the Road contributed this to MiniTime.
Click to rate this post!
[Total:

0

Average:

0

]