Mexico with kids
By Michelle Rae Uy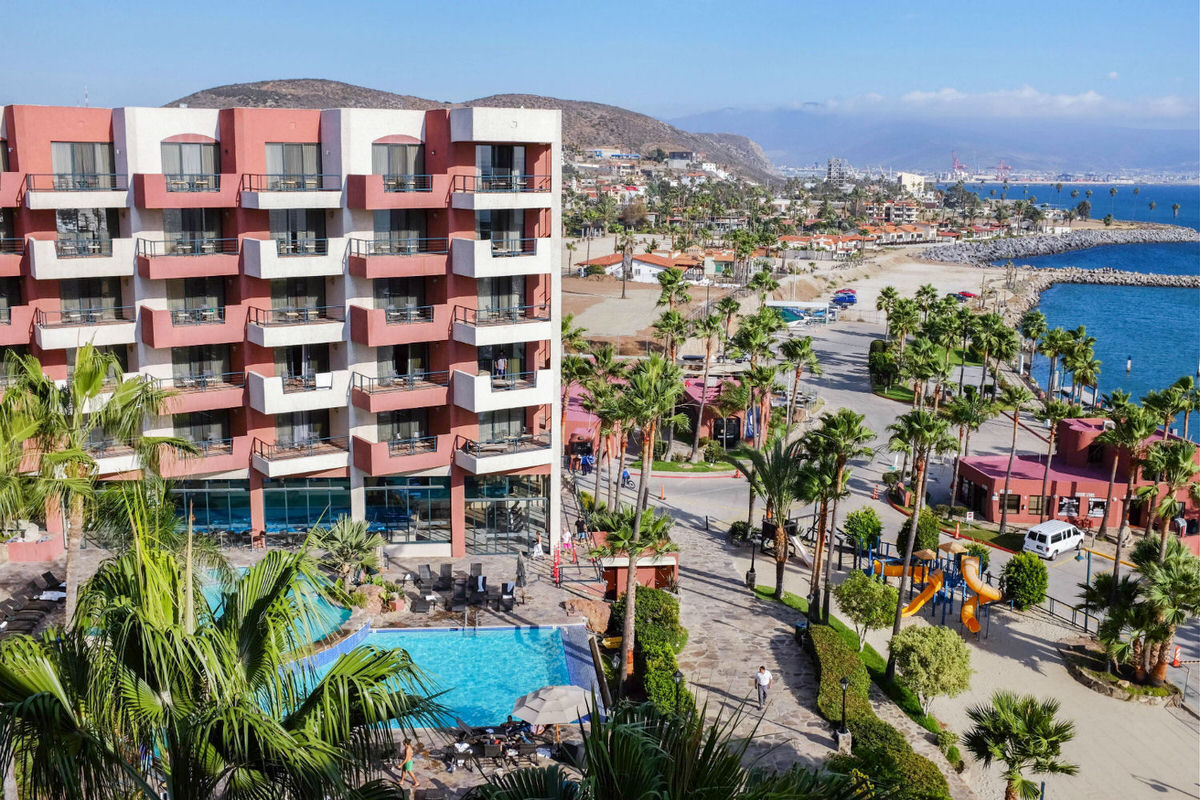 Hotel Coral and Marina (Photo: Michelle Rae Uy)
The soft rays of the sun greet families staying at this beautiful Baja California hotel every morning, especially those who start their day early and enjoy breakfast on their private balcony that offers a shimmering view of the blue sea. It's simply the perfect start to an amazing day in one of Mexico's famous food and wine routes.
At the family-friendly Hotel Coral and Marina, a beautiful resort just north of culinary hotspot Ensenada, Mexico, and about two hours away from San Diego, California, spacious suites, private balconies and refreshing pools are just the beginning. Guests of all ages are also treated to a hearty serving of activities, delicious food and, last but not least, sweeping views of the coast topped with purple and pink sunrises and orange sunsets.
(MORE: 5 Family-Friendly Mexico Hotels)
A Hotel Full of Surprises
Hotel Coral and Marina's modest architecture offers little clue to its many fantastic trimmings. While its modern, white-and-salmon exterior gives visitors the impression that just it's like any other hotel in the area, a closer look proves first impressions wrong. Hotel Coral is much more than just a hotel. Staying here is like opening presents on Christmas Day, thanks to its plethora of family-friendly land and water activities, kid-friendly pools, terrific restaurants, adventurous day excursions and its very own marina where you can dock your boat or simply kayak and paddleboard.
Suites, Slips & Amenities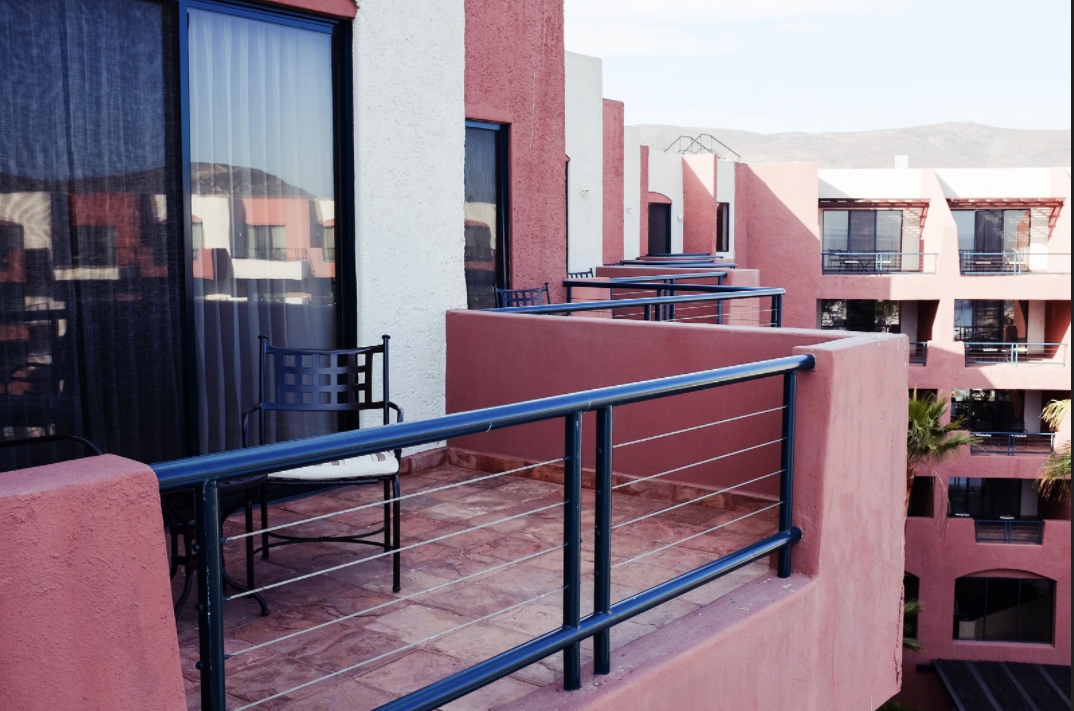 Suites with balconies at Hotel Coral (Photo: Michelle Rae Uy)
Spacious suites, all 147 of them, flank Hotel Coral's Pacific side, giving every family a beautiful ocean vista as well as plenty of room in which to make a comfortable, albeit temporary, home.
Ten different suites types – from standard suites and junior suites with living areas to 3-bedroom presidential suites – are available to families of all sizes at very affordable rates (starting at $112/night). Each suite includes wireless Internet, safe boxes, pay-per-view channels, plush beddings, a work desk, flat screen TVs, a small fridge, and free bottled water and drinks; the bigger suites include a kitchenette, perfect for preparing home-cooked meals for the kids. Many suites are renovated to feature brighter and more modern look, and all will completely remodeled in 2016.
Additionally, Hotel Coral is the only hotel in Baja California that has its own private marina, boasting 353 slips or docking spaces of various sizes. This allows for families on sailing adventures to dock their boats safely while having easy access to the property's restaurants, pools, activities, spa and other services, or to simply have a steady roof over their heads for a night or so.
Dining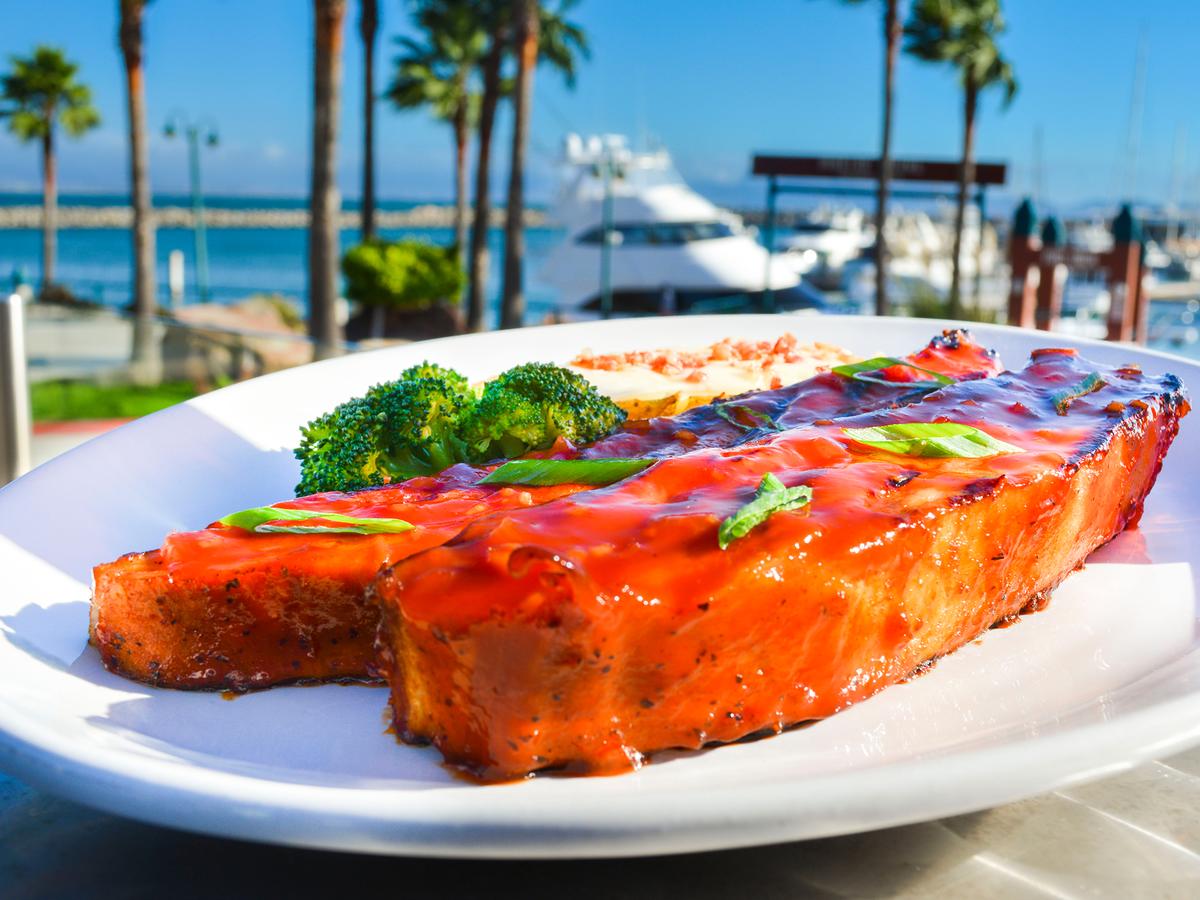 BC Bistro and Cava (Courtesy Hotel Coral and Marina)
With three fantastic dining options on site: BC Bistro & Cava, Marina Grill, and the Pool Bar, families need not go far for that delicious Baja cuisine.
BC Bistro & Cava is the most family-friendly of the three, serving delicious, Baja-Med breakfast buffets as well as lunch and dinner options and a great wine selection from local wineries – from delectable ceviche to hearty meat dishes – in a sunny restaurant with outdoor seating and a lovely view of the pool and gardens. Try the Guadalajara Molcajete dish for dinner, and don't miss the Sunday breakfast buffet to feast on open-fire roasted borrego, ceviche and carnitas.
Marina Grill opens at 2 pm and allows kids until 8 pm, making it a great lunch alternative for families staying at the resort. The outdoor restaurant serves fresh seafood, the foundation of Baja cuisine, but it's famous for its burgers and ribs. Parents can enjoy refreshing drinks – the Pina Colada and the Tamarind Margarita are particularly good. At night, fire grills are available to keep patrons warm.
Poolside casual dining is easy when hanging out at the outdoor pools with the kids; the pool bar not only serves tasty alcoholic and non-alcoholic drinks, including fruit smoothies for the kids, it also serves fish tacos, ceviche and cheese sticks.
Vinotherapy at the Spa
While modest-looking, C Spa at Hotel Coral and Marina has a unique spa treatment you cannot find in most resorts. Its Vinotherapy treatment, an amazing package where you will be exfoliated, slathered and "cooked" in an oil-based wine product, moisturized with an amazing grape cream, and given a light massage, gives guests a special experience that leaves their skin feeling fresh and young again.
The spa also offers massages, facials and other body treatments, as well as boasts a full service salon, sauna and steam room, gym, indoor pool and Jacuzzi.
Family-Friendly Activities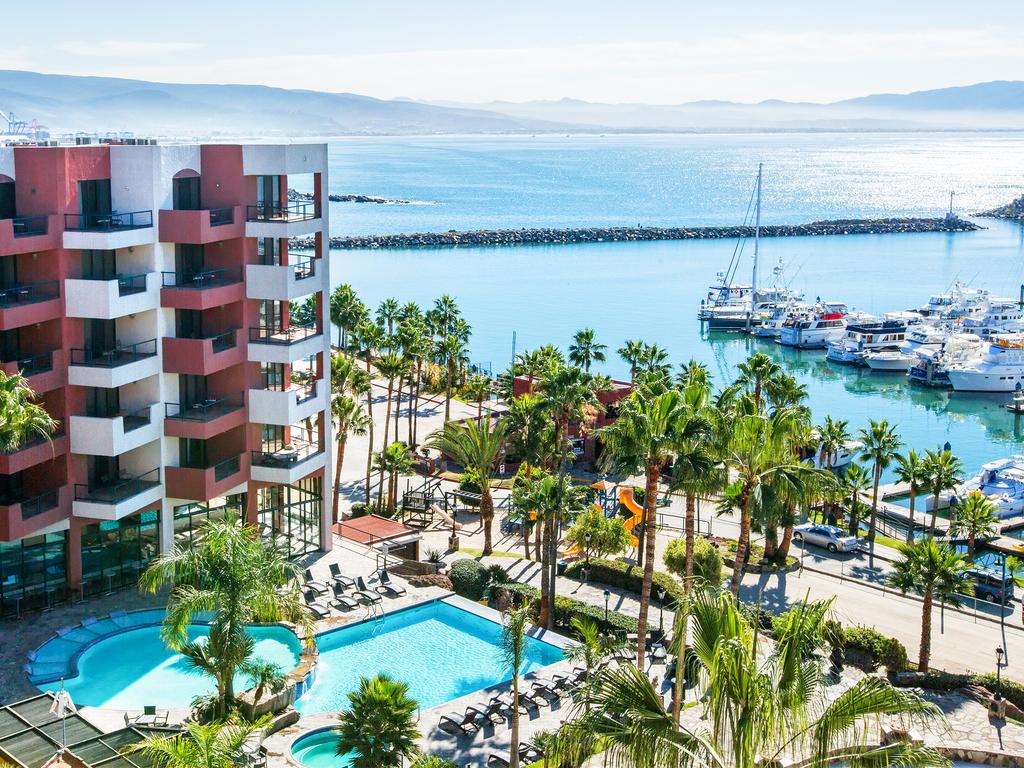 Two outdoor pools (Courtesy Hotel Coral and Marina)
Aside from its three lovely (two outdoor and one heated indoor) pools and three jacuzzis, the hotel also features many family-friendly activities to keep parents active and kids happy. From vineyard tours that welcome teens and culinary experiences to aquatic activities and water excursions, families will have access to a number of various activities that satisfy every taste and need.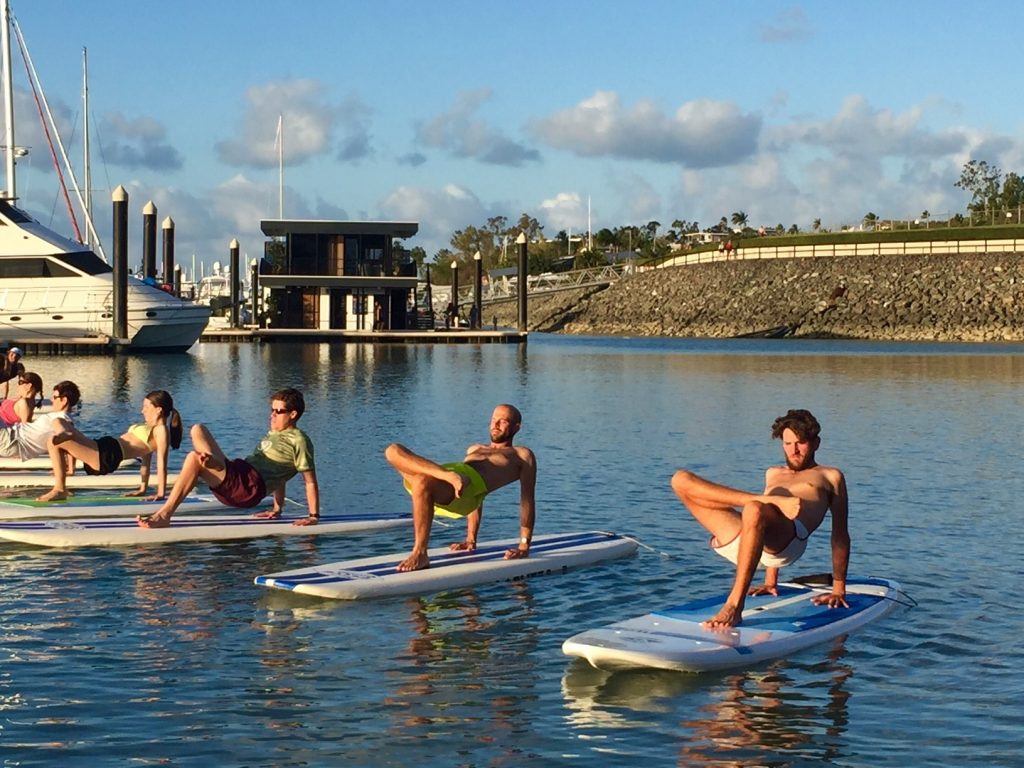 Paddleboarding at the Marina (Courtesy Hotel Coral and Marina)
Foodie families will enjoy the Guadalupe Valley vineyard tour to explore Baja's ruta del vino (wine route), located about 20 minutes from downtown Ensenada (best for July or August visits during harvest), or a self-guided tour of Baja's culinary route, where families get to sample some of the best taco de pescado, taco de camaron, and fish ceviche they'll ever have (Fenix on Calle Sexta and Espinoza and La Guerrerense are among the must stops). Active and adventurous families will enjoy kayaking or paddle boarding at the marina, witnessing the power of the waves at La Bufadora, spending a day at Todos Santos Island 12-miles off the coast or even just playing volleyball at the resort.
For health conscious families, Hotel Coral also boasts a long list of wellness activities that include morning mediation, power walks, yoga, morning hikes and more.
Just for Kids
An onsite playground and the hotel's kids' club, where kids ages 2 through 11 can participate in arts and crafts, swimming, dancing and other activities under the supervision of a friendly staff. The kids' club is available Thursdays through Sundays from June to December.
(MORE: Underrated Mexico Destinations for Families with Kids)
What We Love
The spacious, furnished balconies are perfect for in-room family breakfast and spending some quiet time in the afternoons.
While the hotel's outdoor event space La Isla across the marina is used for weddings and other special events, it's a lovely spot to walk to and just wander about (assuming there's no event going on).
The marina is simply perfect for beginner stand up paddleboarders because of its calm and quiet waters.
The food at BC Bistro and Cava is to die for, especially its very affordable (around $15 per person) Sunday breakfast buffet. The Sunday specials are available after 9am.
The wine therapy at the spa is a must experience, especially for moms and teen girls.
Insider Tips
The hotel provides fast passes, allowing guests returning to the US to bypass the long lines at the border for a quicker return. Request a fast pass upon check out.
The shuttle service not only takes guests to the wineries and downtown Ensenada, it's also available for picking up guests at the US-Mexico border for convenience.
Mornings are best for paddleboarding. While not affiliated with the hotel, sailing lessons are also available at the marina.
August is harvest month for the vineyards, but when the weather is especially warm in Guadalupe Valley, the wineries may harvest as early as July. The summer events and concerts at the vineyards run from July to September.
Before going on excursions, make sure you either set a definite pickup time and location at the front desk or have cellular access so you can call the hotel to request for one. Cabs are, however, easily available.
Stick to the most popular food stands in downtown Ensenada, and make sure to bring cash with you.
Michelle Rae Uy contributed this to MiniTime. She is a travel writer based in Los Angeles and MiniTime's Head of Content, who spends her free time on adventures and film photography.