Family-friendly things to do in Rome
By Travelove
Family-Friendly Destinations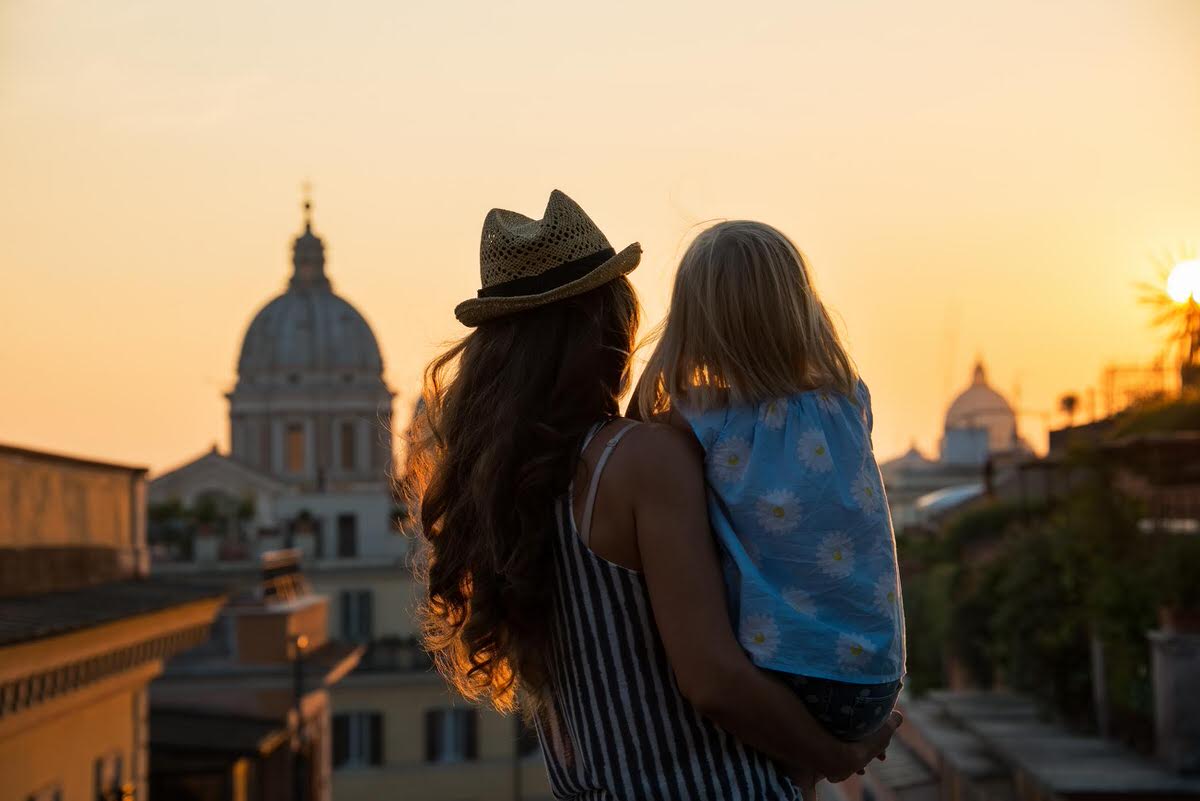 In Rome with kids (Courtesy Travelove)
At times, stress can never be fully eliminated from family travel. But there are ways to approach traveling with young children that lets kids stay engaged and curious without parents feeling too much pressure.
Everybody flocks to Rome, Italy, eager to see the majestic Colosseum and other sights. This means extreme tourist crowds to deal with, especially in the summer – not a very family-friendly environment. But it's possible to get around the hurdles and enjoy Rome with kids, despite summer heat and the tourists.
It's not a good idea to try to see everything. That applies to Rome and actually any other place you want to travel to with your young ones. It doesn't feel as rewarding, and if your kids don't enjoy it, they might start connecting travel with negative emotions. Instead, keep it simple. Don't pack too much into every day; and always try to keep a balance between walking and playing, exploring and eating, running around and relaxing.
I've put together an itinerary that you can follow with your kids. I've been to Rome a few times already with my boys and have further insider knowledge thanks to a kid-friendly designed trip by Travelove, a travel startup I founded with my sister.
(MORE: 5 Luxury Rome Hotels Perfect for Families)
Day 1: Exploring the main sights & ice cream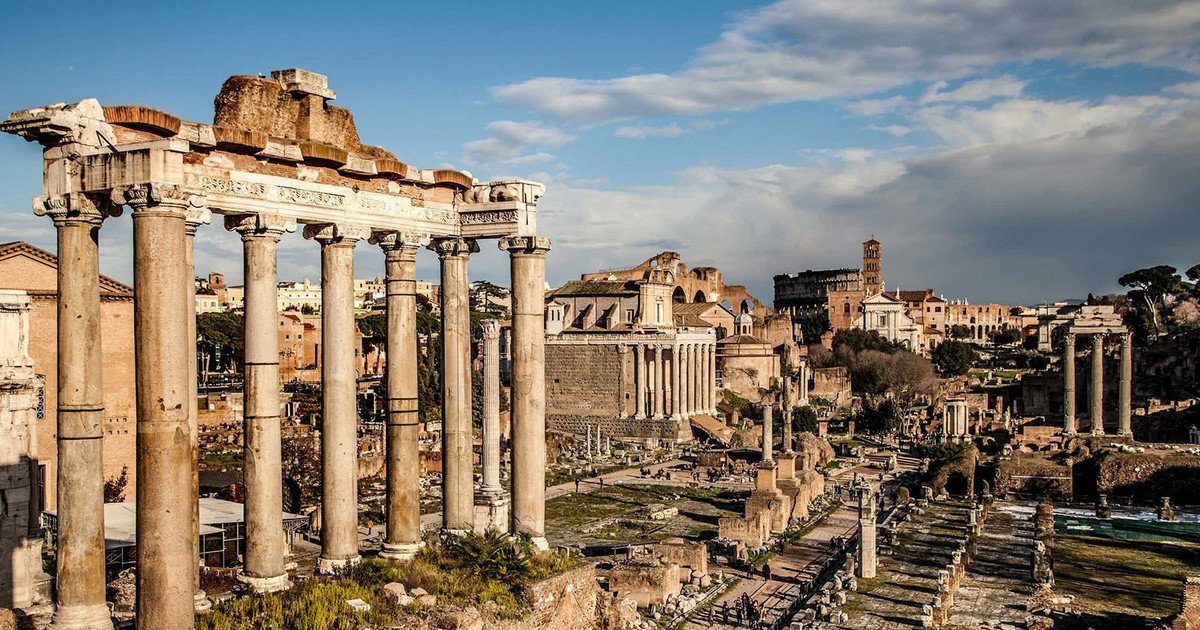 Visit the Roman Forum (Courtesy Travelove)
On the first day, no matter if you have kids or not, you should get a feel for the city. One way to do it without stressing, planning and too much researching is by going on a tour with a local, ideally one who specializes in families and is able to deliver interesting and fun facts that even kids can enjoy. Our favorite is a Roman named Alessandro, who usually takes people around explaining the layout of the city and giving a basic history to the adults, while the kids solve little tasks and look up basic info that they've perhaps already learned at school. There's no better way to solidify academic knowledge than to see it with their own eyes! You should definitely check out the Colosseum, walk past the nearby Forum Romanum, as well as see the Spanish steps and the Fontana di Trevi. Those are the main sights and must-sees, plus it feels good to tick them off right on the first day!
I suppose your kids will need some kind of a reward after withstanding a guided tour. So take them for a treat to the oldest ice cream palace in Rome, named after its founder's son Giovanni Fassi. You can easily get there by metro, a few stops away from the city center. The palace is run by the fifth generation of ice cream makers. Rest assured they know what they're doing! There's only one risk – you and your children might become addicted and require this ice cream every day! The reality is harsh – you'll never taste all 30 flavors (for example, rice ice cream!) in 3 days. The Ice Cream Palace is open every day except Monday, from noon to midnight.
Day 2: Picnic in a park & visit to a Zoo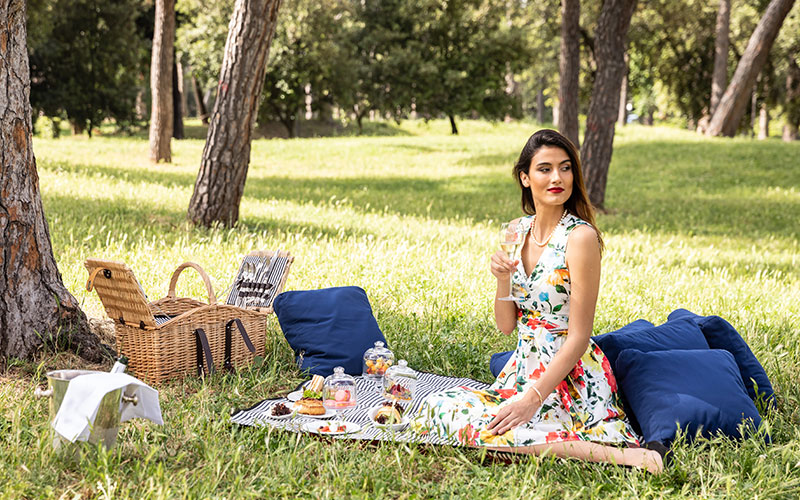 Have a picnic at Villa Borghese (Photo: Diego De Pol)
Start your second day slowly with a light breakfast and then head off to one of Rome's most beautiful parks – Villa Borghese. It's the real green heart of Rome. In order to enjoy the beautiful scenery, have Travelove arrange a picnic for you. One of their students in Rome will prepare a picnic basket for you full of local specialties from the market and deliver it straight to the park together with a blanket.
There's a beautiful small lake on one side of the park around the romantic Temple of Asclepius, where you can rent a rowboat. A 20-minute ride costs €3 per person. Kids go half price.
Once you've filled up of Italian delicacies, take your kids to the Zoo! It's a perfect way to let them release any excess energy they have left over from the picnic. But Bioparco di Roma is no ordinary zoo, it's actually considered one of the most beautiful in Europe. And since it's conveniently located in the park, Villa Borghese, you won't have to walk too far. What animals will you see? There are around 1000 animals of 200 species, so you're not likely to miss the tigers, lions, monkeys and giraffes. The zoo features a children's play area and the kids can pet some domesticated animals within a special enclosure. The zoo is open every day from 9:30 a.m. to 5 or 7 p.m. depending on the season. The entrance fee is €15 for adults, €12 for children under 12, and children shorter than 100 cm get in free. In order to get around, you can hop on a small train – one ride costs €1.50.
In case you didn't see the Spanish Steps or the Fontana di Trevi on your first day, find them now only a short walk away from the Zoo, preferably with an ice cream in hand to handle the tourist crowds better.
(MORE: 5 Best Things To Do in Rome Age by Age)
Day 3: Trastevere, Tastevere & Cooking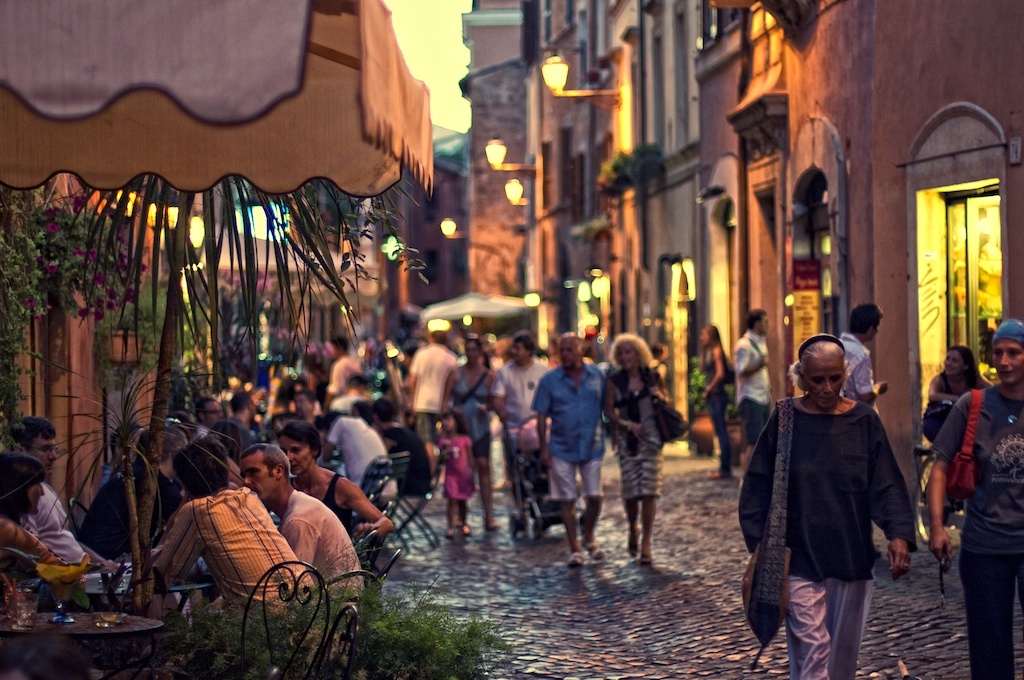 Trastevere (Flickr: Michiel Jelijs)
Let's make your last day in Rome fully local. Go for a stroll on the right side of the Tibera River, enjoy the riverside and plan on going up Gianicolo Hill for noon to witness cannon fire on Piazzale Garibaldi. Your kids will be awestruck as they watch soldiers in uniform performing their duty according to tradition. Long ago, in 1847, the pope ordered the cannons to be fired exactly at noon so that everybody could set their clocks and watches to the exact time. This tradition has carried on until today, even though it's more of a fun scene for locals rather than serving any practical purpose. The hill also provides breathtaking views of Rome, so even adults will be thrilled.
Nearby is the beautiful quarter of Trastevere. Let your kids roam freely through the narrow streets and make sure to stop in at a little local shop called Tastevere to taste the local delicacies. A friendly Italian couple runs the shop and they'll be happy to chat with you, if they're not too busy. The shop is open every day from 11 a.m. to midnight.
In late afternoon, cooking is always a good idea. There are many locals in Rome that you can make pasta and/or tiramisu with, but only a few of them know how to make it really fun for kids too. Travelove's Chiara learned the art of preparing delicious homemade pasta from her grandmother. With her by your side, she'll show you how to prepare the dough, make pasta and cook it, not to mention savor the taste of her mouthwatering Tiramisu.
As is always the case, everybody has a slightly different idea of what an ideal trip should look like. One thing is, however, sure – nobody wants to drag tired and uninterested children to sights and experience travel stress. Contact Travelove and plan your perfect tailor-made vacation with them. They'll take care of all the arrangements and deliver a customized guidebook straight to your door. Even the children get their own – full of pictures, games and riddles, making traveling both fun and smart!
Travelove contributed this to MiniTime.