10 signs of a family-friendly golf resort
By Suzanne Rowan Kelleher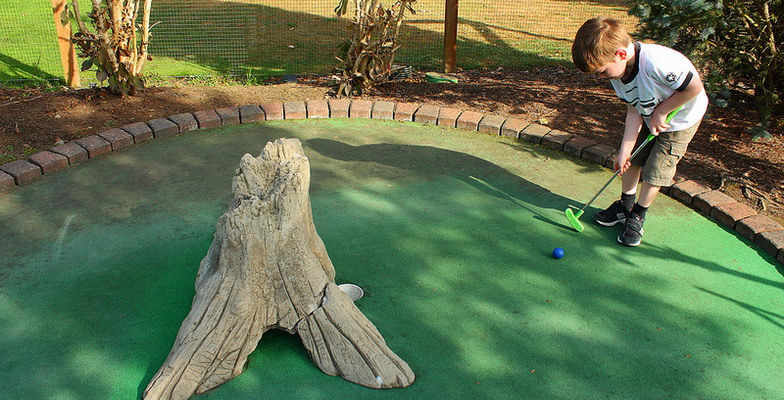 flickr:quiltsalad
Love family vacations? Love golf? Bringing the two together has never been easier, as more hotels and resorts are wooing parents with excellent golf schools and family-minded packages. Whether your aim is to introduce your kids to the sport, improve your swing, or bring everyone's game to the next level, there's a program out there to meet your needs. But how will you know if a resort's family golf program is really as kid-friendly as promised?
You can tell a lot simply by reading the property's brochure or web site, says Jerramy Hainline, director of instruction at the Hilton Golf Academy, whose four resorts welcome over 450 kids each year. Compare how the resort describes its junior golf instruction with how it portrays its adult offerings. "If there's very little difference in how the classes are described, it's more than likely that the resort hasn't tailored anything for kids," says Hainline. "If a resort or school truly wants kids there, it will have made accommodations to offer junior golfers a quality experience."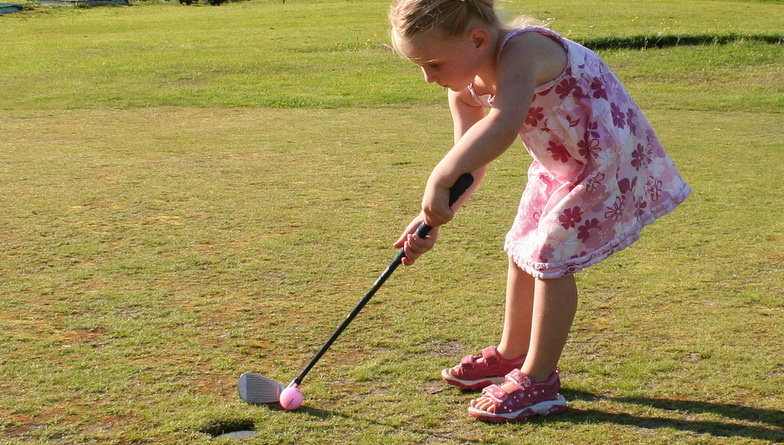 flickr:fairyheart
What else should you look for? Here are 10 more clues that a resort will deliver a golf vacation that's truly a family affair:
1. On-course instruction. A no-brainer, right? Far from it. You'd be surprised at how often a kids' golf "program" turns out to be a 90-minute etiquette lesson in a windowless conference room or an hour on a driving range plus a soda break. It's critical that a program teaches kids how to play the game, not just how to drive a ball or putt. "Kids need to experience being on the course to bring it all together," stresses Hainline. "The best place to teach etiquette is out on the course, not at the driving range." So if a resort's junior program doesn't feature any on-course time, it's a deal breaker.
2. Reduced green fees. Discounts for junior golfers or deals where "kids play free" with a paying adult demonstrate that a resort is serious about encouraging kids to play.
3. Low student-instructor ratio. Class size for kids ages 6 to 17 should never exceed six kids per instructor, says Hainline. "And for 4- to 5-year-olds, the ratio should be closer to 2 to 1."
4. Inclusive instruction. Even preschoolers can learn the fundamentals of golf, including the basic rules of etiquette—whose turn it is to putt, where to stand, and that old bugaboo, when to be quiet. A family-friendly resort will have come up with ways for kids as young as 5 or 6 to participate in the game.
5. Child-savvy pros. "You want instructors who have experience with the programs and a history of working with junior golfers," says Eric Alpenfels, director of instruction at the Pinehurst Golf Academy at Pinehurst Resort in North Carolina. "I think five years of experience is a good start. Junior-golf certification programs vary from facility to facility. At Pinehurst, we have winter training programs to certify our instructors." If you can't find this information on the resort's web site, call and ask.
6. Family-friendly tees. Most youngsters don't have the skill and strength required to play a long course. To get kids in the game, many resorts now offer forward tees set at shorter distances. Having a variety of tees allows the family to play together, with Mom and Dad playing the long course and kids hitting from the forward tees. Some resorts even have special scorecards with more realistic pars for kids. All of these elements combine to build confidence.
7. Kid-size clubs. "Cut-offs" are adult clubs that have simply been shortened, resulting in a heavy head relative to shaft length. They're better than nothing, says Hainline. But it's preferable that a resort provide kids with junior clubs, which are scaled down appropriately from top to bottom.
8. Big balls, little balls. Young kids are still working on eye-hand coordination. At the Hilton Golf Academy, junior golfers start off hitting beach balls. Once they've mastered those, it's on to rubber balls, then tennis balls, and finally golf balls.
9. Designated family time. Many resorts now offer special tee times reserved just for families. Pinehurst's "Family Fairways" program goes one better, giving parents and their kids one course all to themselves for several hours each afternoon. "Pinehurst is committed to growing the game, and there's no better way than to have families learn and play together," says Alpenfels. "Family Fairways takes the intimidation factor out of play—you don't need to worry about who's behind you, or hitting in the middle of the fairway, or going straight to the putting green. The focus is on fun, feeling success by using family-friendly tees, and spending time together. Kids just love hitting the ball, and parents feel that they can allow it to fly wherever it goes, risk-free."
10. Non-golf kids' activities. If family members have varying levels of skill and interest, it's simply unrealistic to expect your whole clan to golf 24/7. Look for a swimming pool and other recreational activities to keep everyone happy. An on-site kids' camp or babysitting service will add flexibility to your schedule.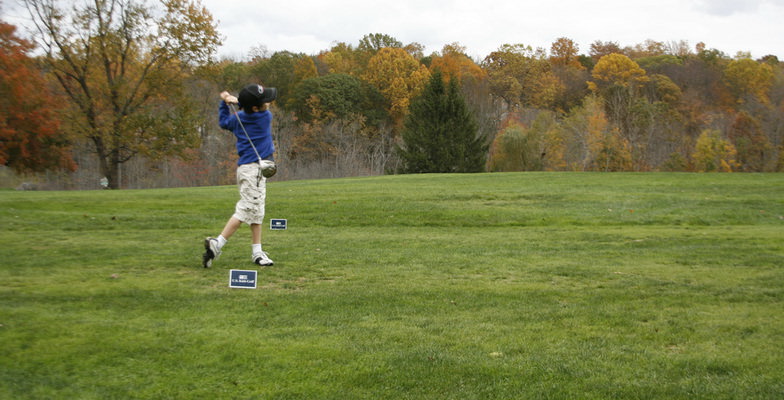 flickr:williamholmes
More ideas for family vacations: