Dude Ranch in the Catskills, New York
By Suzanne Rowan Kelleher
We Just Checked Out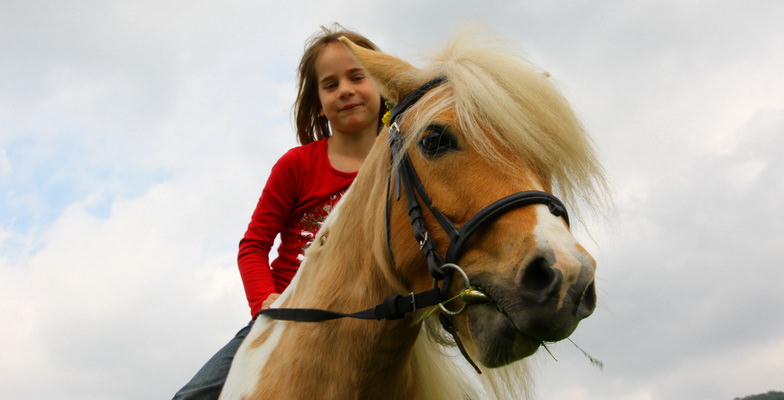 (Coursery: Flickr [email protected])
Dude, where's my horse?
Best For: Ages 6 and up
Why Go: There are nearly as many variations of dude ranches as there are breeds of horses. At the high end, ranches can extremely luxurious—when you're not riding the range, you're getting a four-hand hot stone massage or dining on gourmet meals. Other ranches strive to deliver an authentic cowboy experience, with horseback riding taking center stage and guests digging in with stable chores and cattle round-ups. Pinegrove Ranch & Family Resort isn't that kind of dude ranch.
Why Go: There are nearly as many variations of dude ranches as there are breeds of horses. At the high end, ranches can extremely luxurious—when you're not riding the range, you're getting a four-hand hot stone massage or dining on gourmet meals. Other ranches strive to deliver an authentic cowboy experience, with horseback riding taking center stage and guests digging in with stable chores and cattle round-ups. Pinegrove Ranch & Family Resort isn't that kind of dude ranch.
At Pinegrove, the Wild West theme is poured on as thick as gravy on grits. Take it with a grain of salt. Pinegrove's big strength is the myriad family-fun activities that have nothing to do with horses. During a three-night stay, our correspondent, Suzanne Kelleher, and her family not only went horseback riding, they went fishing and swimming. They went for hay rides and paddleboat rides. They played laser tag, bingo, joined in water balloon contests, tried archery and scaled the rock climbing wall. ("The all-inclusive pricing encourages you to try as many activities as possible, and there was more than enough to keep us busy every day, all day long.")
Getting Oriented: Pinegrove Ranch is located in Kerhonkson, a hamlet of 1,800 residents in Upstate New York located just south of the Catskills Mountains and west of the Hudson River. By car, it is about a 90-minute drive from Albany and just over two hours from New York City.
The ranch comprises 600 acres, but most guests see only a fraction of that. The action centers on the lodge, whose timbered lobby is adorned with a wagonload of cowboy gear, wooden horses, horse tack, totem poles, and other Native American paraphernalia—just in case you needed a reminder that this was a dude ranch. Most activities take place within several hundred yards of the lodge. Along with the riding stables, there is a huge array of facilities, including outdoor and indoor pools, basketball and tennis courts, a rock climbing wall, playground, mini golf course, baseball field, archery house, teepee and campfire pit, horseshoes, and shuffleboard. You can also take out paddleboats or fishing gear at the nearby lake, which is just a short hay ride away.
Getting Around: You need a car to get to the ranch, but then you'll likely stay put once you arrive. There is free parking in the resort's parking lot.
We Are Family: Kelleher and her family visited on Memorial Day weekend, and estimated that families made up about 90% of the clientele. ("Aside from a few groups of couples who were traveling together, the vast majority of guests were families with kids of all ages.")
The resort has a social director—much like a ship's cruise director—whose job is to keep the fun happening. Every day, guests consult a printed activity schedule to find out what activities are happening when. Some activities are available during long stretches of time every day, like laser tag, swimming, fishing, paddle boats, archery, and rock climbing. Plus, every hour on the hour there are organized group activities going on, including balloon tosses, trivia contests, bingo competitions ("Instead of shouting 'Bingo!,' the winner yells 'Yee-haw!'"), horseshoe tournaments, pudding-eating contests, volleyball, dodgeball, swim races, hula hoop contests, kickball, softball, and tug-of-war. ("The activites go on all day, non-stop, which creates a fun, party atmosphere. We had a lot of fun just figuring out how to fit everything in.")
On the afternoon of your arrival, you sign up for horseback rides for your entire stay. Adults and kids 8 and up who are beginner or intermediate riders can sign up for one hour-long trail ride per day. At Pinegrove, everyone rides Western style. It's up to the guest to join the group that reflects his experience. Beginners—guests with little or no riding experience—will walk only during their ride. Intermediates—folks who have ridden at least 10 times before—will walk and trot. Advanced riders should have had at least 20 hours in the saddle and be comfortable walking and trotting. The advanced group will walk, trot, and canter. For an additional $50, experienced riders may also participate in a 90-minute cattle drive, and help round up the resort's herd of Whiteface, Hereford, Jersey, and Black Angus cattle.
If you want to take additional rides, you can wait in the standby line at designated ride times. Any available horses will be assigned on a first come, first served basis. (Note: Riders are required to wear long pants and covered footwear, such as boots or sneakers.) After the wranglers get each group of riders matched to their horses and mounted with their stirrups adjusted, the actual riding time is about 35 minutes. Each group of riders is accompanied by several wranglers.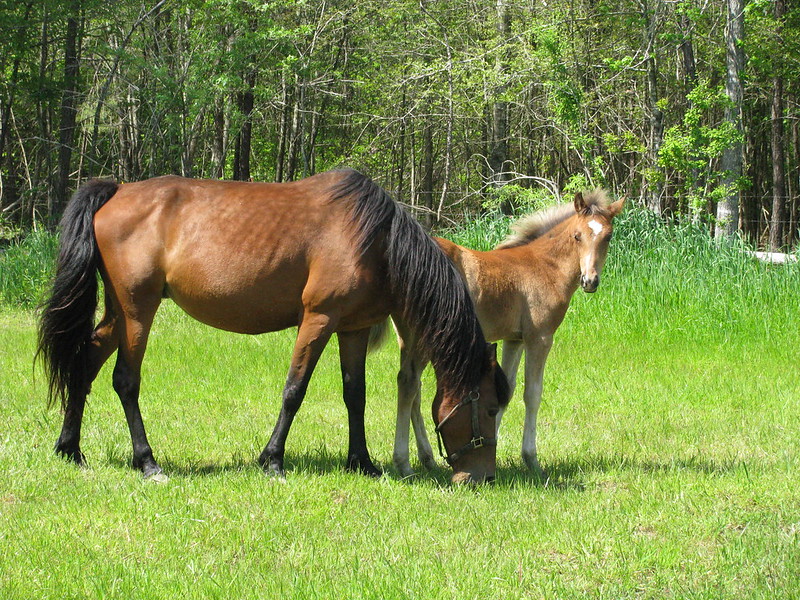 (Coursery: Flickr nataliemaynor)
Emmet and 8-year-old Aisling signed up for the beginner ride, which makes a nice, leisurely loop through slightly hilly, wooded trails. Except for a rushed, one-minute speech about how to steer with reins, the beginner group gets virtually no instruction. The wranglers' commentary was limited to telling riders to keep space between the horses, who can't see behind them and don't like to be crowded. (After three beginner rides, Emmet commented that "since the horses follow the same route several times a day, they know the way and basically just head back to the barn. All you need to do is keep some distance between your horse and one in front of you. In a way, the horses took care of us more than the wranglers did.") Pinegrove's web site mentions a saddle instruction program: "We recommend that riders participate in this program prior to riding on the intermediate and advanced rides." Yet, inexplicably, there is no such program for beginners who would presumably need it the most.
Kelleher had owned a horse when she was a teenager, but she hadn't ridden in years. She joined the intermediate group, which followed a similar loop trail in the woods with the horses alternating between walking and trotting. ("It was fun to be on a horse again, but it would have been better if riders received pointers and feedback during the ride. There wasn't a whole lot of discussion between the wranglers and guests.")
For kids 5 to 8, Pinegrove offers a "junior wrangler instructional program," that is touted on the web site as "personal riding instruction in the Buckaroo Corral. Here junior wranglers can begin to learn basic horsemanship to help them transition from hand-led pony rides to self-guided trail riding." Sounds great. Unfortunately, the reality is a bit more ordinary. ("The junior wrangler program turned out to be nothing more than a 5-minute pony ride. The Buckaroo Corral is a small circular pen. Each kid puts on a helmet then waits his turn to be helped into the saddle. Then a staff member leads the horse around the ring two or three times. Calling it 'personal riding instruction' is a joke. The stirrups weren't even adjusted for each kid, so they just dangled loose. I think the only instruction my kids got was to hold on to the saddle's horn.") Pony rides are available daily from 9am to 3pm, except during lunchtime, to kids ranging from babies to preteens.
Next to the Buckaroo Corral, there is a small petting zoo with a few sheep, goats, chickens, and a pig. ("It feels kind of run down. For 50 cents, you can buy a tiny ice cream cone filled with feed, which will be completely eaten two minutes after your kids go into the pen. It's worth only a few minutes of your time as you're waiting for a pony ride.")
Kids 12 to 16 with prior experience around horses can attend the "barn brats" program and help out as stable hands, assisting in the feeding, grooming, and tacking of the horses before the first morning trail rides.
Pinegrove has two swimming pools. The heated outdoor pool is open daily from 9am to 10pm, except during the dinner hour. It was a huge hit with the Kellehers. ("My kids had a blast on the two twisting flume slides, and could have stayed in the pool all day.") Several wide steps provide entry into the shallow end of the pool, which is three feet deep. The slides empty into the middle of the pool, where the water is about five feet deep and the section is a roped off. The deepest end of the pool is nine feet deep. There was a lifeguard on duty every time the Kellehers visited the pool. There were many lounge chairs set up around the pool, with a big supply of free towels available to guests. No swim noodles, life vests, or floatation aids are available for guests' use, but the gift shop sells water wings and kids' goggles for a reasonable price. There is also a kiddie pool directly behind the slides, but it was empty and not cleaned during the Kellehers' visit. ("I assume that the kiddie pool would open later in the season. We visited in late May.")
The indoor pool is located in the Wyoming wing, near the arcade and snack bar. Its depth ranges from three to seven feet, with two curvy waterslides that empty into the deep end. The indoor pool is open only when there is a lifeguard on duty.
The Kellehers spent one afternoon down at the resort's lake, which you can get to on a tractor-pulled hay ride in about three minutes. The tractor rides run from 9:30am until 5pm, leaving from the Buckaroo Corral area. They go to the lake and back. ("It really is more of a small pond—much too tiny for motorboats, but perfect for short outings in a paddleboat. We also took out some fishing poles and tried our luck one morning. My 7-year-old caught a sunfish, which we threw back after much wrestling with the hook—yuck! Of course, he was thrilled with himself.")
Every day from 9am to 12:45pm and from 2pm to 4:45pm, children from newborn up to age 10 can attend the resort's daycamp. You sign up your kids for camp in the lobby from 4pm to 5pm on the day you arrive. The camp is located in a large, cheerful room accessed from the parking lot level. ("The daycamp was well-staffed with plenty of counselors. On both mornings we used the camp, I counted about six counselors for a group of 15 kids. You had to sign your kids in and out, which is a good clue that safety is a priority.") You can opt for either the morning or afternoon session. ("It's inconvenient to drop off your child for just an hour because the counselors bring the kids out for a big chunk of the morning for a pony ride and a hay ride.") In the afternoon, counselors usually take the kids swimming. The remainder of time is spent with free play, crafts, snack time and storytime. Rather than break the children into groups of smaller age ranges, the entire group sticks together. Though the maximum age for daycamp is 10, the scene is aimed primarily at toddlers and preschoolers. Kelleher saw many stuffed toys, a plastic 4-foot toddler slide, and ride-on cars for little ones. There were plenty of arts and craft supplies, and plastic tubs filled with Legos and Stickle Bricks. There was a small library with many storybooks for young children. Some toys and games were showing their age, and a few appeared to be missing key parts. ("The camp is fine for little ones, but kids over 5 would be bored silly. The selection of toys and play equipment kept my 4-year-old son happy enough for the short time he was there. But my 7- and 8-year-old said the camp was for babies didn't want to go back. I wouldn't have signed up my older kids had I known that the camp was not at all geared to their age group.")
Pinegrove aims to be a kid-friendly place, but Kelleher found the service surprisingly cold and impersonal. ("The staff was polite but I wouldn't say welcoming. During check in and on the many occasions I approached the reception area during our visit, I never once saw a front desk clerk smile at a guest. Nobody seemed particularly interested in children, except for the servers in the dining room and the women who work in the daycare. Everyone was politely competent, but there was absolutely no extra effort, no above-and-beyond.")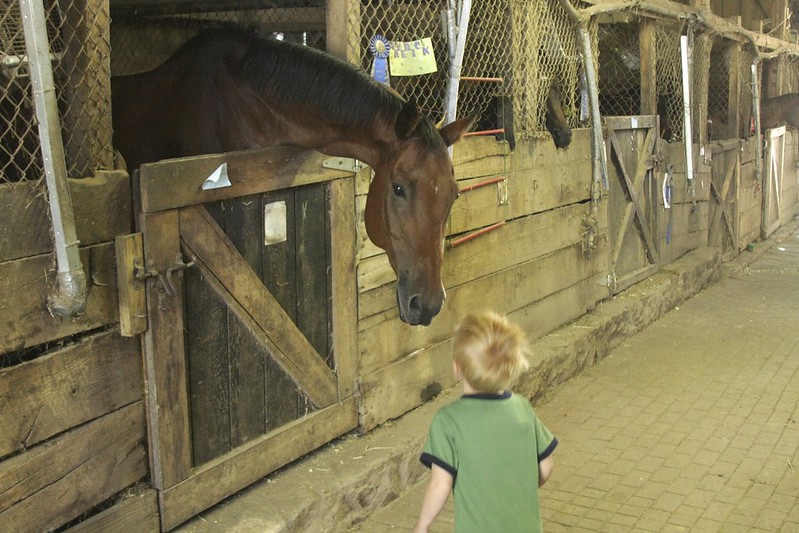 (Coursery: Flickr crimfants)
Where to Eat: The resort's all-inclusive pricing features three meals a day, served in the dining room on a set schedule. ("Your family sits at the same table and is served by the same server for each meal. The service is quite attentive and the food arrives quickly, like at a banquet. The servers wear cowboy hats, the walls are paneled, and the vinyl tablecloths have a Pinto-pony print, but there is very little atmosphere. The room's huge picture windows overlook hills in the background and the parking lot below. The food is fairly good, nothing fancy but well-prepared. The kid's menu offers enough choices for finicky kids, which is great.")
Breakfast (8am to 9:30am) features a choice of pancakes, omelets, eggs, French toast, fruit, cereal, oatmeal, and side dishes such as sausages and bacon.
Lunch (1pm to 2pm) typically begins with a salad. There is a choice of four entrées, which might include options such as chicken parmigiana, fresh fruit platter, turkey-and-bacon wrap, burgers, and corn dogs. The kids' menu, which remains the same for lunch and dinner, features favorites like hamburgers, chicken fingers, pizza, macaroni and cheese, breaded fish tenders, mozzarella sticks, and spaghetti.
Dinner (6:30-7:30pm) typically begins with a choice of soup, salad, or fresh fruit. The selection of four to six entrées changes every evening, and might include roast prime rib of beef, sirloin steak, shrimp scampi, sea scallops, roast chicken breast, quesadillas, burgers, and pasta dishes such as cheese tortellini marinara or penne in tomato cream sauce. Desserts run along the lines of tried-and-true favorites like apple bake, cheesecake, chocolate layer cake, and a selection of ice creams and sherbets.
If you want a snack, head to the free "Chuck Wagon" snack bar, open from 10am until 11pm, except during meal times. The Chuck Wagon serves up burgers, hot dogs, French fries, and vanilla soft ice cream from a small counter window located in a recessed area off the lobby. There's also a free beverage dispenser with lemonade, iced tea, apple juice, and punch. ("It would have been more appetizing if it wasn't located smack in the high-traffic path between the lobby and the Wyoming wing, directly across from the arcade and near the entrance to the indoor pool and laser tag space. There was a lot of through-traffic and since there are no windows, it's a bit dark and gloomy.") Note: Since the Kellehers visited, Pinegrove has expanded the area into a small food court, featuring Angelo's Pizza and Dusty's Deli and Sub Shop.
("Of all the meals we had at Pinegrove, the best by far was the BBQ lunch served buffet-style, outside on the patio, which we ate on picnic tables scattered on the lawn and under trees. There was a huge selection of delicious BBQ fare—burgers, hot dogs, chicken wings, ribs, tacos, baked beans, potato salad, macaroni salad, cake, lemonade, and beer. The meal was very well executed and the atmosphere was a lot of fun.")
Nightlife: Every evening follows roughly the same schedule. Before dinner, from 5:30-6:30pm, guests gather in the lobby for a free cocktail hour, when plastic cups containing beer, melon balls, and Kahlua and milk are laid out on a buffet table, next to a self-serve station of hot hors d'oeuvres. Meanwhile, downstairs in the Bull Lounge, there is a nightly "coketail hour" for kids. Kids can sidle up to the bar—whose stools are topped with child-sized saddles—and order soda, water, or juice. ("During the weekend we visited, the kids' pre-dinner hour always featured a DJ who led the crowd in line dancing, which was a lot of fun.")
Immediately after dinner, there is always an organized family activity, such as a scavenger hunt or karaoke competition. ("For us, the best evening activity was the campfire with marshmallow roasting and a guitar-playing cowboy leading the crowd in a sing-a-long of popular country tunes. A clown was offering free face painting for all the kids, which was a bit hit.")
Every night at 9:30pm, a family-oriented show of one kind or another is performed for guests in the Bull Lounge. ("The first night we were there, a magician performed. There was a trick roper on the second night and a juggler on the third. All three acts blended stand-up comedy and plenty of crowd interaction into their acts, much to the delight of the kids sitting cross-legged on the floor.")
Babysitting can be arranged through the front desk staff ($10/hr for the first child; $1/hr for each additional child).
Where to Stay: The main lodge has six wings of guestrooms, all with easy access to the lobby, public areas, and key outdoor activity areas. The smallest rooms, in the Nevada wing, have two double beds and can accommodate a maximum of four people. The largest rooms, in the Dakota wing, feature one king bed, one double bed, and a set of bunkbeds and can accommodate a maximum of seven people (a rollaway cot is also available).
All the rooms, regardless of size, share the same rather generic decor. The Kellehers' room in the Dakota wing featured beige wallpaper, Western-motif patterned bedspreads, and dark green carpeting. Bland prints of flowers and abstract landscapes hung on the wall. The bunkbeds were wrapped with clean white sheets and topped with very heavy, dark green wool blankets, like you find at camp in the mountains. The room contained no closet, just an exposed coat rod and a half dozen hangers. The furnishings were a blend of mismatched pieces—a desk that was missing a drawer knob, a TV armoire with nicks and chips. ("The comfort level was that of a very cheap motel. It was obvious that the room had been cleaned and the bedding was freshly laundered, but the place felt dingy and old. Our room needed a major makeover. The beige wallpaper was puckering in some spots and peeling back from the wall in others. The ceiling had visible holes, dents, and dark spots. The air conditioning unit worked, but it looked very old and was dented. In the bathroom, the light fixtures and metal ceiling trim were rusty. There were rust stains in the sink and tub.")
There was no mini fridge in the Kellehers' room, but the resort will provide one for free to families with children under 2.
Price Tag: The all-inclusive rates at Pinegrove Ranch include lodging, meals, and most activities. Prices remain level year-round, though discounted specials are sometimes offered in low season. Rates range from $99/night per person to $149/night per person, depending on the room category. Kids 7 and up are billed as adults. Kids 2 to 6 are charged $69/night regardless of room category, and kids under 2 are charged $25/night. So a family of four with kids old enough for horseback riding would pay between $396 and $596 per night.
This price point is below what you would typically pay for a traditional (and more authentic) dude ranch vacation. Yet families who simply want to expose their kids to horses could likely find a less expensive farmhouse B&B that offered riding to guests. The best reason to choose Pinegrove is for the extensive list of activities, which virtually guarantees that families will stay busy for several days. Still, any resort charging $400 a night should deliver a level of comfort considerably above what we saw here, even if the trade-off means that meals are served buffet-style or fewer activities are offered. In other words: Do less, but do it better.
Your final bill will reflect the resort's 15% service charge and the 8.8% New York State occupancy tax
Insider Tips:
Teaching horsemanship is not a big priority at Pinegrove. If your kids have never ridden before, borrow videos or library books on horseback riding for beginners before your visit. If your kids are not strong swimmers, consider bringing water wings, noodles, or other swim aids to use in the pool. Like to pack light? Bring a Ziploc bag filled with powdered laundry soap. There are coin-operated laundry machines located near the indoor pool ($1.50/wash or dry). Let your kids earn some souvenir money before the trip. The gift shop in the lobby has reasonably-priced kids's cowboy hats and other Western must-haves.