Naples, Florida
By Jinny VanDeusen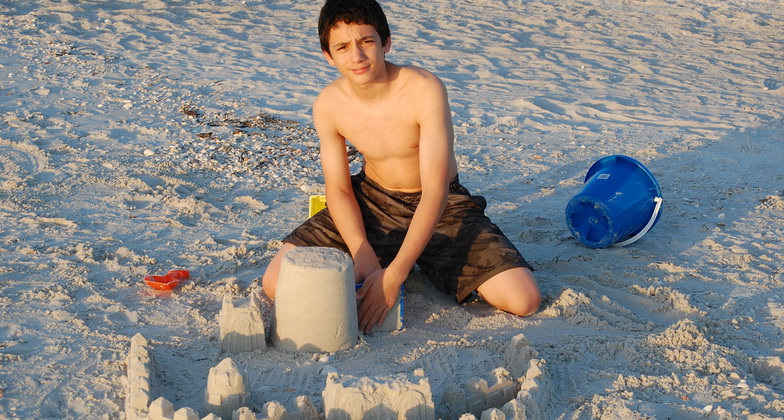 flickr:barrison
Why Go: If you're looking for a beautiful slice of Florida that's blessedly free from overdevelopment, set your GPS for Southwest Florida's so-called "Paradise Coast." Naples, Marco Island and the western portion of the Everglades make up Southwest Florida's Collier County. The largest county in the Sunshine State is fiercely protected from the kind of crowding and building that has overtaken so much of Florida, with more than 80% of its vast expanse designated as parks and nature preserves. That makes the area a magnet for vacationers who crave sunshine, stunning white beaches, and a chance to get acquainted with Mother Nature.
For decades, one of the most exclusive places to stay in this neck of the woods has been the Ritz-Carlton Naples, the area's only Mobil Five-Star and AAA Five-Diamond hotel. Inspired by its namesake city in Italy, the Ritz-Carlton Naples is swathed in an earthy Mediterranean palette and features architectural elements like terracotta-colored rooftops, balustraded loggias, elegant archways, lush gardens, and fountains that adorn beautiful courtyards.
Recently, the Ritz-Carlton Naples has become even more attractive to luxury-seekers. On the heels of a $22 million renovation, the hotel has been celebrating its 21st anniversary in 2007 with a brand new beach house. Guestrooms and suites have been freshly furnished with hardwood floor entries, new carpeting, designer Frette bedding, twin-size sleeper chairs, and flat panel TVs.
This hotel has become a standout for families because of its admirably ambitious eco-educational Nature's Wonders program, which provides kids and their parents with many fun opportunities for hands-on, interactive learning through daily nature-themed activities. Some of these have been integrated into the kids' camp and others are available for the whole family, including nature walks, boat rides, and field trips that teach about sea turtle nesting, alligators, and dolphins.
Our correspondent, Jinny Mansfield, was duly impressed with the hotel's famous nothing-is-a-problem service. ("It definitely lived up to the Ritz reputation.") Special touches include complimentary bowls of oranges in the lobby and orchids placed on the pillows at turndown. Attendants at the beach and pool are on hand to set up lounge chairs, distribute citrus-chilled towels, and bring refreshments such as fresh lemonade, cocktails, and light fare.
This hotel is ideal for a family that wants a luxurious, service-oriented vacation that centers around the pool and beach. It helps if kids are comfortable in a sophisticated ambience. ("The staff go out of their way to make kids feel welcome, from their own little 'registration desk' in the lobby to greetings in the hallway. Still, this is not a super laid-back, let-kids-be-kids kind of place. And it's definitely not for families looking for a vacation on the cheap.")
Getting Oriented: The Ritz-Carlton Naples owns three miles of pristine white beaches along Southwest Florida's Gulf Coast, about seven miles north of downtown Naples. The nearest major airport is Southwest Florida International Airport, in Fort Myers, about half an hour away by car. (The next closest airports, Fort Lauderdale and Miami, are both a two-hour drive from Naples.)
The hotel does not operate an airport shuttle, but the concierge can arrange for a town car to pick you up for about $75 one-way. A taxi from the airport will cost considerably less, or you can rent a car at the airport. ("The entrance to the hotel is, believe it or not, a little tricky to find, via an understated left turn before the road dead ends at the entrance to public Vanderbilt Beach.")
The main section of the hotel is horseshoe-shaped, with the open end facing the beach. The beautifully landscaped pool area is nestled inside the large U-shaped center courtyard. The hotel has two swimming pools, four tennis courts, and a fitness center offering up-to-the-minute equipment and a variety of classes. A dominant feature of the hotel is its 51,000 square-foot Ritz-Carlton Spa, whose services include body and face therapies, nutrition consultations, and even a Spa Concierge to plan your treatments. With 450 rooms and suites, six restaurants, and several large meeting spaces, the Ritz-Carlton Naples feels big, but not overwhelming. ("It really never felt crowded to us, partly because we were there midweek in May.")
Getting Around: For stays of longer than a few days, you will want to have a car to explore the area. It makes sense to rent at the airport, since rates are lower. ("There's a Hertz desk in the hotel, but it was rarely staffed—except by the little 'back at' clock on the counter.")
The big downside to bringing a car to the Ritz is the whopping $27-a-night parking fee. There is no self-parking option at this hotel, so guests are forced to pay for valet parking whether they want it or not.
We Are Family: During her midweek visit, Mansfield estimated that families made up about 40% of the clientele. ("Considering that there were two large conferences at the hotel, there were a fair number of families at the pool and beach. I saw the whole range of ages, from toddlers to teens.")
The hotel features two heated pools: a Junior Olympic-sized 25-meter lap pool and a family pool whose depth ranges from three to six feet. ("The atmosphere at the lap pool and surrounding deck area tended to be sedate, while the family pool was lively but by no means crazy.") Kids 12 and under may use the hot tub near the family pool if they are accompanied by an adult. There is no kiddie pool, but the family pool features several extra-wide steps where toddlers could play in about six inches of water, with supervision. There are no diving boards or slides at either pool, and the hotel does not provide swim noodles or other flotation devices for guests, "although plenty of people had brought their own for their kids."
One of the top reasons to choose the Ritz-Carlton Naples for a family vacation is the new Nature's Wonders eco-activity program. The hotel has partnered with the Conservancy of Southwest Florida to create a menu of eco-friendly activities, some held at the hotel and some held at nearby sites such as the Naples Zoo and the conservancy. A major theme of the program is the delicate balance between mankind and nature. Of the dozen or so activities, some are free, like the nature walk on the hotel's boardwalks with Staff Naturalist Randy Sarton—aka "Ranger Randy"— while other activities incur a fee. The most expensive option, for $499, is a three-hour guided "eco-sail" aboard a 28-foot sailboat that navigates through the back bay waters to see birds, fish, dolphin and manatees. Other family programs include nature walks, boat rides, guest speakers and field trips. Samples of rotating topics include: observing wildlife, the mangroves, sea turtle nesting, alligators, dolphins and beach combing.
Mansfield and her kids highly recommend Ranger Randy's nature walk at the hotel. ("Ranger Randy is very personable and Kate and Jack had no problem warming up to him. We learned an enormous amount about everything, from mangroves, flowers, and palms to loggerhead turtles and sea birds. Did you know there's a turtle that does not like water? And that burrows in the sand up to 20 feet deep?")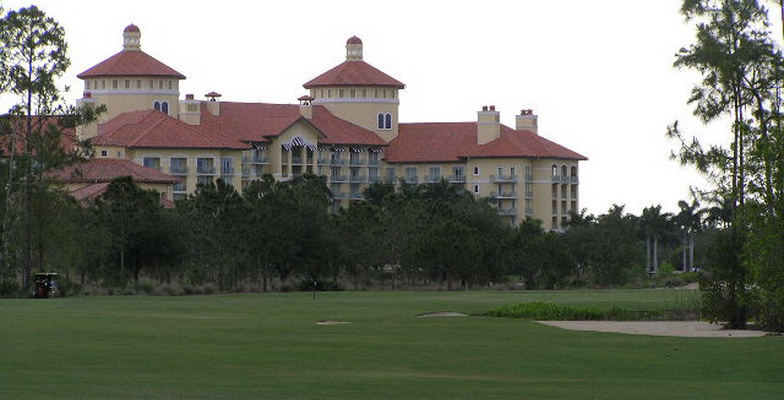 flickr:golf_pictures
Another day, Mansfield and her children took an excursion to the Conservancy's Discovery Center. ("We boarded an electric boat for a 45-minute trip along the mangrove-lined Gordon River and we saw quite a few critters. Our captain, one of dozens of volunteers who help out at the center, was very chatty and full of interesting tidbits of information. Did you know that butterflies smell with their feet? The Discovery Center is filled with fantastic hands-on exhibits, from a baby alligator to non-poisonous snakes to an explanation of why sand is different colors on different beaches, which I thought was really interesting. The staff was top-notch, answering incessant questions from Jack with a smile. Then we went outside to the wildlife rehabilitation center, an animal hospital where injured animals such as eagles, hawks, and owls are cared for before they are returned to the wild. We spent close to three hours there and I don't think there was a single minute when Kate and Jack were bored.")
The somewhat formal atmosphere in the public areas makes the Ritz-Carlton Naples better suited to families with older children, who would also get more out of the nature program. Yet Mansfield points out that the Ritz makes life pretty easy for parents of younger kids. ("The fabulous service at the hotel means the usual schlepping involved with bringing tots to the beach or pool is practically eliminated. The pool and beach staff set up chairs for you at no charge, and umbrellas and cabanas can be rented for the day, with discounted rates after 2pm.")
If you want to visit the spa or fitness room, you can arrange through the concierge for a nanny to babysit your child during the day. Unlike most hotels, the Ritz-Carlton Naples does not use an outside nanny agency. The hotel has its own staff of certified and background-checked nannies who will babysit in your room or take your children to the beach or pool ($15/hr for first child; three hour minimum; $1/hr for each additional child).
In November 2007, the old Ritz Kids area was overhauled and transformed into the Nature's Wonders sanctuary, complete with seven aquariums, including two touch tanks where guests can hold live turtles and starfish. The remaining tanks bring to life the reef and offshore ecosystems, hosting live denizens of the deep including sharks, Florida spiny lobsters, and grouper. Inquisitive minds can also discover a small lab filled with microscopes, slides and Petri dishes—all the tools to help a budding marine biologist explore a world not seen by the naked eye. The lab also serves as a hands-on workshop for plant propagation and active science experiments. The Nature Vision Theater, where nature videos are shown, is also a calm retreat where the entire family can take a break. A ten-foot tall, life-like mangrove tree greets young guests as they enter into the back of the sanctuary. There, three iMac computers are nestled amongst the "walking tree's" tangled root system, providing learning stations in a natural setting. Huge wall displays show different aspects of the local environment, such as sea turtle nesting, wading birds and the food chain.
Children 5 to 12 can attend the Nature's Wonder daycamp daily from 9am to 4pm. Kids can go for a full-day ($90/child, including lunch and snacks) or for a half-day ($60/child, including a snack; 9am-noon or 1pm-4pm), or for an hour at a time ($20/hr/child). Counselors help daycamp attendees explore the sanctuary, and the group can also choose to go to the pool or beach, play games, or do crafts.
On Friday and Saturday afternoons from 4pm to 5pm, kids 5 to 12 can attend a craft hour ($20/child) in the daycamp area. A counselor leads the children in a fun art-based project, such as finger painting, sand art, or tie-dying. Afterward, kids can take their creations home.
In addition, the Ritz offers an impressive range of recreational diversions for the whole family, including tennis, Ping-pong, fitness classes, and golf at the nearby Greg Norman-designed Tiburon course (via shuttle service). Watersports include parasailing, Safiri sailing, sea kayaking, hobie cats, and paddle boats. Next to the spa, there is a kids' game room featuring the usual array of arcade games.
Where to Eat: There are six restaurants at the Ritz-Carlton Naples:
Artisans in the Dining Room, the formal signature restaurant at this hotel, is Southwest Florida's only AAA Five-Diamond restaurant. The specialty is seafood, but guests can choose their own portion size and accompanying dishes to create a huge range of culinary experiences. (Open Nov-June, Wed-Sun, 6pm-10pm only; Dinner average entrée $34/adult, $12/child.)
The Grill, with its panelled walls and framed artworks, evokes the atmosphere of a gentlemen's club. It is primarily a steakhouse, with specialties of prime meats, chops, and fresh seafood. (Open daily 6pm-10pm; Dinner average entrée $27/adult, $10/child.)
The Terrace offers outdoor, smart casual dining for breakfast, lunch, and dinner. Dishes tend to be light Italian fare, such as bruschetta, soup, antipasta, and salads. (Open daily 7am-9:30pm; Breakfast average entrée $12/adult, $7/child; Lunch average entrée $12/adult, $7/child; Dinner average entrée $16/adult, $9/child.)
The Lobby Lounge, with its floor-to-ceiling picture windows, crystal chandeliers, and magnificent views of the center courtyard, is a formal setting for tea, light meals, and cocktails throughout the afteroon. Afternoon Tea offered daily from 2:30pm to 4:30pm. Children are offered Peter Rabbit Tea, served on Peter Rabbit china and accompanied by bunny-shaped finger sandwiches. There's live entertainment most evenings. (Open Sun-Thurs noon-11pm, Fri-Sat noon-midnight; Average entrée $18/adult, $8/child; Afternoon tea: $24-$40/adult, $12/child 12 and under.)
Gumbo Limbo, an open-air eatery next to the beach with spectacular Gulf views, was Mansfield's favorite place to eat with her kids. ("The menu featured delicious salads, wraps, sandwiches, and lots of kid-friendly offerings. A big lunch for five people, including dessert, came to about $100.") (Open daily 11am-8:30pm; Lunch average entrée $10/adult, $7/child.)
The Poolside Café is open for lunch light fare and specialty drinks. ("Our poolside lunch was delicious. The kids' meals are delicious and come in bento boxes. Kate ordered chicken tenders and opted for the fruit over the French fries. Her eyes popped out when it arrived with close to a pound of beautiful fruit. She was in heaven. I ordered a yummy tuna salad wrap.") (Open daily 11:30am-3:30pm; Average entrée $11/adult, $8/child.)
("If you ask Kate and Jack which meal was their favorite, they would say 'the time we ordered room service!' We ordered off of the kids' menu and the prices were ridiculously reasonable. We shared a huge plate of carrot and celery sticks with ranch dip for $4. The kids' menu features sandwiches, served with fruit or fries, for $5 to $7. Entrées like grilled chicken or pasta cost around $9 to $10.")
Guests who opt to stay in a Club Level room have access to a semi-private lounge where a four-times-a-day buffet of food, snacks, and drinks is served. Potentially, a family staying on Club Level could avoid the restaurants altogether, but whether it would save money overall is debatable.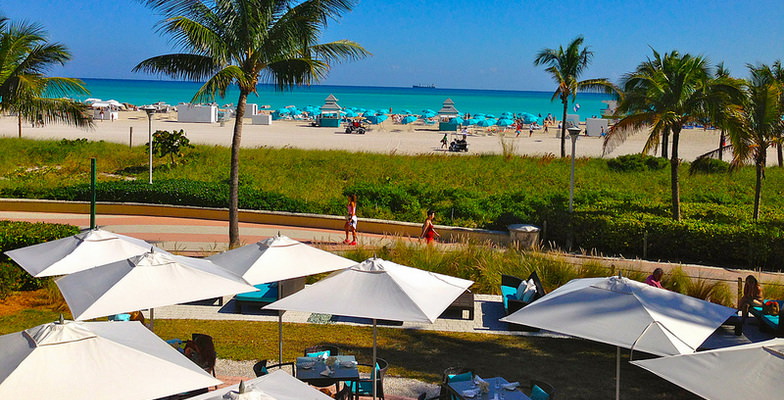 flickr:sackerman519
Nightlife: Live classical, soft pop or jazz entertainment in the lobby serves as a nice backdrop for an evening of cocktails and dining. The pool is open nightly until 10pm, but the beach closes at night during turtle nesting season.
If you'd like to get out for dinner as a couple, there are two babysitting options. There's the nanny service available through the concierge (see above, "We Are Family"). On Friday and Saturday nights, kids 5 to 12 can attend Kids' Night Out from 6pm to 9pm in the Nature's Wonder sanctuary. The price is a hefty $75 per child. A typical evening includes dinner, a movie, games, and hands-on fun with all the exhibits.
Where to Stay: There are no guestrooms on the inland side of the hotel, so technically every guest gets a view of the coast. Still, there are crane-your-neck-to-see-a-sliver-of-the-Gulf views and there are drop-dead-gorgeous, full-on ocean views. Every room overlooks the pool and garden interior courtyard. Most rooms in the North and South wings of the hotel fall into the least expensive category, the coastal view room. Each room is a spacious 406 square feet, furnished with either one king-size or two double beds, a private 24-square-foot balcony, and a flatscreen TV with cable channels that include PBS, Nick Jr., and Cartoon Network. There's a CD and DVD player in every room. You can expect twice-daily maid service and a sumptuous evening turndown service. Inside each enormous marble bathroom, there's a double vanity, a large shower and separate tub. Two plush adult-size bathrobes and pairs of slippers hang nearby. For no extra charge, you can have a crib, small refrigerator, or microwave set up in your room.
Rooms in the East wing have the straight-on view of the Gulf. These are the ocean view rooms. They are the exact same size as coastal view rooms, with the same level of luxury and furnishings. The price difference between a coastal view room and an ocean view room is only $50 in low season, but $150 in high season. Nabbing an ocean view room during the middle of the summer constitutes one of the best buys at the hotel.
Splurging for a similarly sized room on Club Level (albeit with a considerably larger balcony) entitles you to a far more personalized VIP service. Club Level rooms share a dedicated concierge and guests have access to an exclusive, semi-private lounge where there's a complimentary rotating buffet of gourmet meals, snacks, and beverages throughout the day, plus beer and cocktails in the evenings. There's also an honor fridge where you can store cold food items. Club Level guests have access to a free DVD lending library, whereas standard-level guests must pay a rental fee.
Price Tag: Room prices vary enormously according to season. During a weekend in August, the nightly rate for a standard coastal view room is $249. The rate is 180% higher—nearly triple!—during the Christmas-to-New Year holiday week, at $699 a night.
Just as standard room rates fluctuate hugely, a Club Level coastal view room goes for $389 in August and $1,049 at Christmastime. But heck, as long as you're splurging for VIP perks, you might as well shell out for an oceanview room for $50 extra in any season. For Mansfield, the complimentary food and beverage service on Club Level would not have made upgrading worth the cost. But some families might enjoy the flexibility of having buffets and snacks available all day long. Very big eaters could potentially save on restaurant bills downstairs.
We hate it when non-urban hotels charge exorbitant parking fees. Spend four nights here and you'll pay over $100 for valet service, plus tips, regardless of how often you come and go.
On a high note, Nature's Wonder is among the most impressive family programs and kid's daycamps we've seen offered by a hotel. Even so, it's not priced at a level where most families can take advantage of all there is to see and do. Consider that you'd fork out $120 to send two children to the daycamp sanctuary for just three hours. If you drop them off at Kids' Night Out, you'll part with $150. Ouch. We'd like to see the Ritz introduce a family package that includes repeat access to multiple elements of the Nature's Wonders program from check-in to check-out. At the very least, the hotel should consider a price cut for families who'd like to send more than one child to the Nature's Wonder daycamp.
Insider Tips:
1. Before you arrive in Naples, pre-book your treatments at the spa.
2. If your kids are not strong swimmers, consider bringing water wings, noodles, or other swim aids.
3. Pack a few DVDs from your local video store. If you don't stay on Club Level, you'll save on the fee charged by the hotel's video library. Even if you are on Club Level, the selection of films for kids is limited.
4. This is one of the country's best seashell-hunting coastlines. Bring along some one-gallon Ziploc bags to transport your treasures home.