Walt Disney World, Florida
By Suzanne Rowan Kelleher
Disney's Saratoga Springs Resort & Spa (Flickr: BestofWDW)
Why Go: After a day assaulting the theme parks, sometimes what a family really needs is the creature comforts of a home away from home. The Saratoga Springs Resort & Spa has a convenient location inside Disney World and yet manages to provide a blessed respite from the masses along with stylish, condo-style accommodations. (Disney prefers the term "villas.") The 65-acre property is the eighth resort in the stable of Disney Vacation Club properties, and the sixth inside Walt Disney World.
Set amid a well-groomed landscape of parkland and lakes, the resort calls to mind its namesake, the 19th-century retreat in upstate New York known for mineral spas and horse racing. Not only did Disney's designers use colorful mock Victorian architecture and equine motifs, but they borrowed actual street names and even the city's motto—"Health, History, Horses"—to capture the spirit of the original Saratoga Springs, where our correspondent, Suzanne Kelleher, and her family happen to live. ("The attention to detail is amazing. The main swimming pool is named after a real mineral spring in our hometown. At check-in, my kids noticed that the beautiful white merry-go-round horse in the middle of the reception area is a replica of those on the Victorian carrousel in Saratoga's Congress Park.") Still, this is no carbon copy of any worldly place, and Disney's creativity extends beyond mimicry to magic. Observe how the jockey silks displayed in the Turf Club lounge are embossed with Mickey's silhouette. And cast an eye to the adorable children's waiting area near the check-in desk, with its kid-size mahogany loveseats, chic wainscoting, and a portrait gallery that showcases not Kentucky Derby winners but framed sketches of horses from Disney's animated films, including Mulan's stallion, Khan.
The Saratoga Springs Resort is a super choice for parents who want to balance their kids' need for non-stop action with their own need for some down time. Though there's much to delight young children here, the resort's standout amenities appeal chiefly to adults with a taste for the good life. The property's award-winning spa—one of the two full-service spas at Walt Disney World—has been listed as one of the top five destination spas in North America and the Caribbean in a past Condé Nast Traveler magazine readers' survey. In addition to boasting the most impressive fitness center at Walt Disney World, this resort is one of two Disney properties to offer walk-on access to golf at the Lake Buena Vista Golf Course. And in the evening, Downtown Disney and its dozens of restaurants and nightclubs are a short walk or ferry ride away.
Getting Oriented: The Saratoga Springs Resort & Spa is located in the Downtown Disney area of Walt Disney World. Unlike most Disney properties, it's not a hotel. Think sprawling vacation home community. The resort is surrounded on three sides by a golf course and on the fourth side by a small lake that separates it from Downtown Disney. Just how big is this resort? Kelleher's first clue was when the check-in clerk asked if she had a car. Villas are spread out in 12 buildings, some of them a seven-minute walk to and from the reception area and main pool.
The resort's key amenities are centralized around the showcase swimming pool, called High Rock Spring Pool. The pool area is a spacious courtyard with buildings on every side. The largest is the Carriage House, where you'll find the front desk and concierge services, the restaurants, and golf registration. Other buildings house the spa and fitness center, the arcade, the recreation rental shop, the "Community Hall" activity room, and one of three large, spotless guest laundry rooms. Near the Carriage House, just outside the pool courtyard, are tennis, shuffleboard, and basketball courts. Pop down a short flight of steps, and you'll find the dock for the Downtown Disney water shuttle.
Getting Around: Guests staying at the Saratoga Springs Resort can take advantage of the free Magic Express bus service and luggage transfer to and from Orlando International Airport. (Note: Be sure to use the special luggage tags provided.) The resort's bell services, at the Carriage House, can make sure your luggage arrives at your villa.
Once at the resort, Disney buses provide an efficient way to get from the Saratoga Springs Resort to the major theme parks. When the Kellehers visited in May, ride times from the resort averaged 15 minutes to the Magic Kingdom, 18 minutes to Animal Kingdom, nine minutes to Epcot, and 14 minutes to Disney-MGM Studios. ("We never had to wait more than 10 minutes for a bus to arrive at our stop, and there were always plenty of seats.") In busier months, wait times can be longer and the buses more crowded. Downtown Disney is a 10-minute walk or a short ferry ride away. The ferry runs hourly during the day and every 30 minutes in the evening.
The resort is a paradise for walkers and joggers. Much of the property is covered with lakes and duck ponds, their banks dapper with prim lawns and flowering shrubs, ornamental fountains, countless planters and arbors, playful gazebos, and intricate birdhouses. There are miles of tidy sidewalks and even a footbridge over a lake (a favorite duck-spotting vantage for 3-year-old MacDara). These paths are lit up at night with Victorian-style streetlamps and run along the water's edge connecting the villa buildings with every area of the property.
Even if you use Disney's transportation system to visit the parks, a car will still come in handy. The Kellehers used their rental car for quick trips to a supermarket to restock their fridge. (Note: There is a small market section inside the Artist's Palette restaurant, but the food selection is limited and prices are higher than you'll find at off-property supermarkets.) Guests at Disney properties who drive to the theme parks can park for free, a savings of $8 a day.
We Are Family: Like all properties at Walt Disney World, the Saratoga Springs Resort has a clientele made up substantially of families. In addition, many couples and seniors come for the spa and the golf and have no intention of hitting the theme parks. The resort's natty landscaping and genteel park atmosphere make you feel like you're far from the madding crowds. A spiffy way to get oriented is a 25-minute horse-drawn carriage ride around the resort (two adults and up to three children, $35).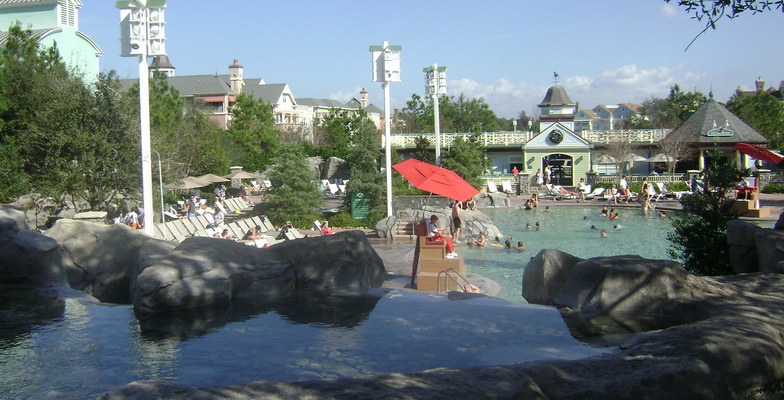 High Rock Spring Pool, one of many of Saratoga Springs' ammenities (Flickr: BestofWDW)
The focal point of the Saratoga Springs Resort is High Rock Spring Pool, one of the most impressive swimming pools at any Walt Disney World resort. It's open daily from 10am to 10pm, which may disappoint early risers who like to take a dip before heading out to the theme parks. This extraordinary freeform pool resembles a natural mineral spring, thanks to extensive landscaping and rockwork around the pool's edge and several gurgling brooks that cascade down faux boulders. There's a gentle zero-entry shallow end, which deepens gradually to about a maximum depth of over four feet in the deepest part of the pool. There are two waterslides. The first is a long, winding waterslide accessed by a stairway that climbs a mock mountain. The slide winds several times in the open air before zipping through a short tunnel and emptying into the pool where the water is 42 inches deep. The second slide is a straight three footer that empties little tykes into a depth of 39 inches. ("My kids had a blast on the slides and the atmosphere in the pool was fun but not too noisy or rowdy.") You can borrow Styrofoam noodles and life vests at no charge from Horsing Around Rentals. There are two hot tubs tucked into private corners of the pool area that adults and kids are welcome to use. For little ones, there's a delightful splash area with a half-dozen pop-up, geyser-like fountains and a toddler-size sculpture of Donald Duck. Guests can help themselves to freshly laundered towels in mixed conditions. ("Some appeared to be nearly new, while others were threadbare and holey.") You can buy a refreshing drink at the On The Rocks Pool Bar, but no food is available in the pool area. You can purchase food in the Artist's Palette and eat it poolside, but it's not a very convenient option.
There are two smaller, quieter pools and hot tubs located in The Paddock and Congress Park neighborhoods. These areas are un-themed and tend to be far less crowded than High Rock Spring Pool. Each of the quiet pools has a nearby children's playground.
If your family likes sports, check out Horsing Around Rentals. You can rent bikes ($8/hr) or surrey bikes ($20/30 minutes), and borrow shuffleboard, basketball or tennis equipment (all free when you show your resort ID card). Want to wind down with some quiet, indoor activities? Check out the Community Hall, open 9am to 10pm. You'll find craft tables and easels, plus art supplies and a nice selection of board games. Also off the High Rock Spring Pool area is the Win, Place, Or Show Arcade, a well-lit room with about 15 arcade-style games and an air hockey table.
The resort's organized kids' activities are targeted at elementary school-age kids. At check-in, guests receive the weekly listing of organized "Horsing Around" activities led by Disney' counselors, known as "cast members." Kids of all ages are welcome to participate, but those 10 and under must be accompanied by an adult. Most activities meet in the Community Hall or poolside. On any given day, there might be six to eight activities scheduled. Think scavenger hunts, Disney trivia games, Goofy bingo, pool games, pin trading, and giant versions of board games like Jenga and Memory. Arts and crafts figure very prominently, with everything from tee-shirt stamping and making ice cream to creating friendship bracelets and decorating canvas tote bags. While most activities are free, some crafts carry a fee to cover the cost of supplies, ranging from a few dollars for painting a wooden boat to up to $20 for ceramics. The mood at these activities is low-key but friendly and fun. ("The cast members were great with the kids, and the activities were very engaging for my two oldest children.")
While condo-style accommodations offer flexibility to parents with babies and toddlers, the resort is really better-suited for families with kids who are a few years older. If you have a small child, the sheer size of the Saratoga Springs Resort means that a stroller (or a strong pair of arms) is necessary. And, aside from the wonderful pool area and the universal appeal of watching ducks in the ponds, there aren't many activities for the 4-and-under set. Consider also how little there is for little ones at Downtown Disney, the only attraction within walkable proximity to the resort. (A few shopping outlets, like Pooh Corner and the LEGO Imagination Center, are notable exceptions.)
At the other end of the spectrum, this resort offers much for families with older kids and teens. There aren't any teen-specific activities on the "Horsing Around" roster, but the grown-up atmosphere at this resort will appeal to kids ready for some independence. Just having Downtown Disney at your doorstep is a huge plus for this age group. Give your teen the map and let him choose where you go and what you do for the evening.
Where to Eat: Being within walking distance to Downtown Disney really opens up the dining options for lunch and dinner. You can choose from fresh fish and seafood at Fulton's Crab House, regional Italian cuisine at the Portobello Yacht Club, gourmet sandwiches at Earl of Sandwich, California fusion at two locations of Wolfgang Puck (one with table service, the other with quick service), Cuban food at Bongos Cuban Café, extensive mixed menus at Cap'n Jacks and Planet Hollywood, and lighter fare at McDonald's and Wetzel's Pretzels. You can even hear live music at House of Blues. Afterward, try the Ghirardelli Soda Fountain for exceptionally good ice cream.
Back at the Saratoga Springs Resort, the dining options are much more limited. There is no table-service restaurant and no room service available at this resort. You can, however, order packaged groceries and sundries from the market section of the Artist's Palette and have them delivered to your villa.
The Artist's Palette is set up like an indoor neighborhood market, with a small selection of foodstuffs available in refrigerated display cases and a deli counter whose options include everything from a breakfast platter of scrambled eggs and bacon or Mickey Waffles for breakfast to salads, sandwiches, soups, and homemade flatbreads for lunch and dinner. Dishes are available for take-out or eat-in. The restaurant is an airy, colorful space done up like an artist's loft. Whimsical, colored pendants are suspended from the ceiling and table-top easels with drawing pads are scattered about for "young artists" to use. (Breakfast: Average entrée $6.09/adult, $3.99/child. Lunch and dinner: Average entrée $7.49/adult, $3.99/child.)
The Turf Club Bar & Grille, with its dark woods, pool table, and wingback armchairs, has a gentleman's club vibe. The menu is limited to very light fare such as grilled salmon BLTs, burgers, and appetizers such as crab cakes and buffalo chicken strips. The kids' menu includes chicken nuggets, hot dogs, macaroni and cheese, and PB&J sandwiches. The bar serves everything from beer and wine to cocktails and martinis. (Open 2pm-10pm. Average item $8.50/adult, $4.29/child.)
Note: If you feel like having a cookout, there are outdoor charcoal grills and picnic tables located under pavilions near the two un-themed leisure pools. You can check out barbecue utensils free of charge from Horsing Around Rentals.
Nightlife: With its villas spread out across many acres, the Saratoga Springs Resort has a quieter evening atmosphere than properties whose public areas and guestrooms are more concentrated. The Turf Club lounge serves ales and cocktails until 10pm. The main action, of course, is across the lake at Downtown Disney. Because this is such a popular evening choice for guests, the resort's ferry schedule picks up from hourly to half-hourly during the evening.
The white-hot ticket at Downtown Disney is La Nouba, the latest show from Cirque du Soleil. Shows frequently sell out, so book your tickets before you arrive, either through the resort's concierge or by phoning the box office directly at 407/939-1298. One must-see stop for older kids and teens is DisneyQuest, a five-floor indoor venue with amazing interactive games and attractions. Note: Most of the dance clubs in the Pleasure Island section of Downtown Disney have a minimum age requirement of at least 18.
Disney resorts offer in-room babysitting for children aged 6 weeks to 12 years old. The service is usually provided by a local agency called Kid's Nite Out. In-room babysitting costs $14 per hour for the first child and $2.50 per hour for each additional child.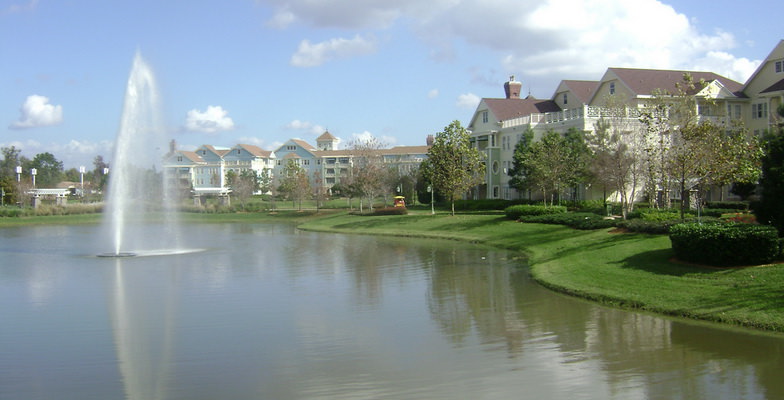 Lake and fountain at Saratoga Springs Resort (Flickr: BestofWDW)
Where to Stay: Villas in 12 buildings are clustered into three distinct neighborhoods: The Springs, Congress Park, and The Paddock. The most centrally located is The Springs, which comprises three buildings directly across from the Carriage House and High Rock Spring Pool area. Congress Park is made up of four buildings set along the large lake facing Downtown Disney. The Paddock's five buildings line the far side of a lake in the middle of the resort, and are the farthest from the resort's main hub of activity. Which neighborhood is best for you depends on your needs. If you like to be in the middle of things and prefer to do very little walking, request The Springs. If you plan on walking to Downtown Disney, or if you look forward to viewing Pleasure Island's nightly fireworks extravaganza from your balcony or patio, ask for a unit in Congress Park overlooking the lake. The buses heading to the theme parks make stops at all three neighborhood locations.
Villas come in four sizes, all with private balconies or patios, cable TV and broadband Internet access. Dark woods, period reproduction furnishings, quality fabrics, and many designer details converge to give a truly luxurious feel. This is particularly true of the one- to three-bedroom villas, which have granite countertops in the kitchens and large Jacuzzi tubs in the master bathrooms. The floorplans are identical to the units at Beach Club Villas, another Disney Vacation Club property.
The smallest units are studios, which sleep four comfortably in a 355-square-foot room. Studios feature one queen-size bed, one pullout sofa, a full bathroom, and a wet bar with a small refrigerator, microwave, and coffeemaker. Guests have access to one of the three laundry buildings located in each neighborhood.
At 714 square feet, one-bedroom villas are a significant step up in size and perks. These units have a dedicated foyer, and the master bedroom has a king-size bed and a bathroom with a separate shower and a Jacuzzi. The living room has a pullout sofa, cable TV with a DVD player, plus a full kitchen that includes a stovetop and oven, refrigerator, dishwasher, coffeemaker, microwave, plus pots and pans, dinnerware, and cutlery. A stacked washer-dryer unit is tucked neatly into a closet.
The Kellehers' two-bedroom villa, with close to 1,100 square feet, was extremely comfortable for a family of five. The additional bedroom had two queen-size beds and a second full bath with a combined shower and tub. Note: some two-bedroom villas are "lockouts," which means that they comprise a one-bedroom villa adjoined to a studio through an interconnecting door.
The largest possibility is the grand villa, a 2,113-square-foot duplex with three bedrooms and four bathrooms. Downstairs, there is the foyer and the living room with pullout sofa, cable TV with DVD player, and one powder room. The downstairs master bedroom has a king-size bed and a separate shower and Jacuzzi tub. There is also a fully-equipped kitchen, a dining room with a table with seating for 12, and a laundry closet with a stacked washer-dryer combo. Upstairs, there are two more bedrooms, each with two queen-size beds and a full bathroom.
For families with babies and young tots, there's a portable travel crib stored in a closet of every villa. If you prefer a full-size crib, the resort will set one up in your villa free of charge.
Price Tag: You don't have to be a member of the Disney Vacation Club to stay at the Saratoga Springs Resort. Non-members can book directly through Disney's reservations system (407/WDW-MAGIC) or rent vacation points directly from an existing DVC member. For more information, see our introductory article on the Disney Vacation Club.
The 2008 rack rates for this resort fluctuate with Disney's four-category pricing schedule: Value, Regular, Peak (February through April school breaks), and Holiday (the last ten days of December). A studio will cost $285 per night in mid-July or $410 per night during the week of Christmas. The nightly rate for a one-bedroom villa runs between $380 and $575, depending on travel dates. A two-bedroom villa starts at $530 and slides up to $875. Finally, a three-bedroom grand villa can be had for between $1,130 and $1,485 per night.
Disney's rack rates are high but not exorbitant, considering the level of comfort at these deluxe, condo-style digs and the meticulously maintained surroundings. Consider that a standard room at the most deluxe hotels at Walt Disney World would cost more than a studio here. Similarly, a one-bedroom suite at the most expensive hotels costs more than a two-bedroom villa here. Note: Your bill will reflect an 11.5% county resort tax on top of the quoted prices.
Insider Tips:
Save money by stocking up on provisions at a grocery store outside Walt Disney World. Just ask the concierge for directions to the nearest off-property supermarket.
Disney's "refillable mug" is available at this resort for $11.99. After buying the mug, you can refill it for free with the non-alcoholic beverages of your choice for the duration of your stay.
Looking for an inexpensive souvenir? Keep an eye peeled for vintage-style machines that press pennies into copper ovals stamped with an emblem of the resort. The cost is just 50 cents, plus the penny. Encourage your kids to look for these machines all over Walt Disney World, and start their own low-budget collections of souvenir Disney pennies.