See the 49th state as Alaskans do—by ferry.
By Erin Kirkland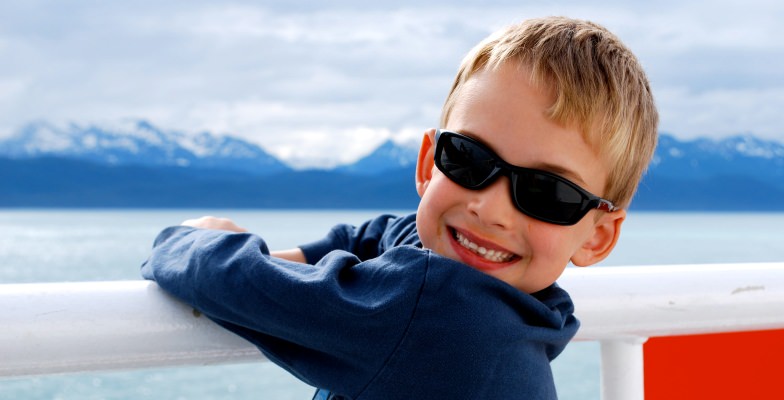 Erin Kirkland/AKontheGo.com
Over a million visitors will view Alaska's spectacular Inside Passage this year, and the vast majority will do so from a cruise ship. Yet very few of these folks will spend quality time exploring Alaska's wonderful coastal communities or get a glimpse of authentic local life.
For an alternative to an Alaskan cruise, consider exploring the 49th state as Alaskans do—by state-run ferry. Serving travelers for 50 years, the "blue canoes" of the Alaska Marine Highway System provide a vital link to rural towns, sailing along 3,500 miles of coastline between Washington State and the Aleutian Islands.
Ferries aren't as fancy as cruise ships, of course. Most of them operate a small cafeteria-style restaurant; larger vessels, like the Columbia, also offer staterooms and dining rooms serving breakfast, lunch, and dinner. Still, it's a good idea to pack extra food, drinks, games, and movies, and remember that wi-fi will be spotty at best. Yet what ferries lack in creature comforts, they more than make up for in value. After all, AMHS vessels offer multiple decks for viewing the same wildlife, glaciers, and rugged Alaska shoreline cruise passengers pay top dollar to see.
Families have plenty of options when it comes to seeing Alaska by ferry. Here are three routes with definite kid appeal: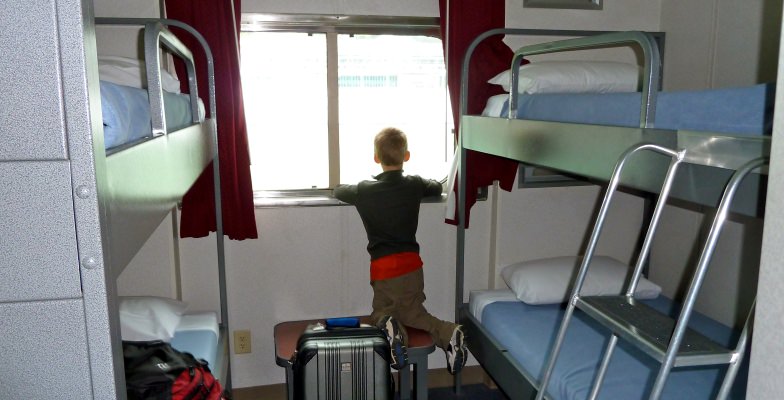 Erin Kirkland/AKontheGo.com
Bellingham to Ketchican
The three-day journey north from Bellingham, Washington, offers a spectacular view of the Pacific Northwest, following the route taken by steamships during Alaska's gold rush in the 1890s. Ketchikan is known as "Alaska's first city" for its location near the southern gateway to the Inside Passage. A family of four with two school-aged kids can expect to pay just under $2,200 round-trip, including stateroom accommodations both ways.
In Ketchican, active families can take a zip-line tour of the rainforest canopy, or a day trip aboard a vessel from the reality TV show "Deadliest Catch." In town, the Southeast Alaska Discovery Center offers a hands-on overview of the 49th state's history and industry, while the Great Alaska Lumberjack Show delivers a dose of raucous Alaskan fun, with logging antics that keep kids yelling for their favorite "Bull of the Woods."
Juneau to Skagway
With only 45 miles of paved streets, Juneau is the only U.S. capital inaccessible by road, yet it offers wonderful museums, whale-watching excursions, and the famous Mendenhall Glacier and surrounding trails that are ideal for all ages. Be sure to take the tram to the top of Mount Roberts to hike alpine trails, explore the Native Alaskan cultural center, and revel in the sweeping views of the Gastineau Channel.
Between Juneau and Skagway lie 100 nautical miles of breathtaking scenery. The six-and-a-half-hour trip traces the route used by gold-seekers on their way to the Last Frontier and offers myriad opportunities to spy humpback whales and countless fishing vessels. A family of four with two school-aged kids would pay $300 for round-trip ferry tickets in mid-July.
The northernmost Inside Passage port served by the ferry system, Skagway honors its rich past with the Klondike Gold Rush National Historical Park. Don't miss a train ride up the Chilkoot Pass via the White Pass Yukon Route railroad, a steep climb into the Alaska wilderness with breathtaking vistas of the Lynn Canal, which is not actually a canal but the longest fjord in North America.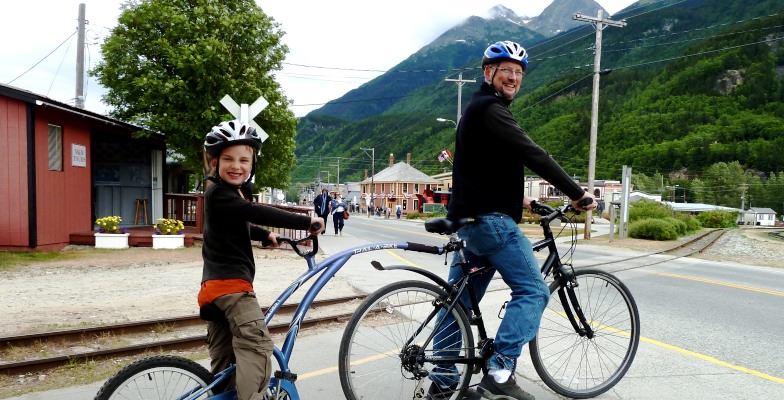 Erin Kirkland/AKontheGo.com
Juneau – Sitka – Petersburg – Juneau
Site of the official transfer of Alaska from Russia to the United States in 1867, Sitka brims with Russian and Native Alaskan influence and is a charming town to explore with children. You can hike the scenic trails at Totem National Historical Park, paddle a kayak among leaping salmon and bobbing sea otters, or visit the Sitka Sound Science Center to understand the science of the salty ocean.
This ferry loop takes in the famous Wrangell Narrows, a popular haunt for humpback whales and sea lions and a delicate navigational challenge for larger vessels. As you approach Petersburg, nicknamed "Little Norway," tell the kids to look out for Devil's Thumb, a rocky projection poking up behind the mountains. You can learn all about Alaska's whales at the Petersburg Marine Mammal Center or find excellent eagle-viewing at nearby Eagle Roost Park.
A family of four with two school-aged kids can travel this loop for as little as $470 in midsummer. If you opt for an overnight passage to or from Petersburg, you can book a four-berth stateroom for an extra $84.
Erin Kirkland of AKontheGo.com contributed this to www.MiniTime.com.