Best family-friendly ski resorts in Canada
By Linda Wilkinson
Family on the slopes at Whistler Blackcomb (Toshi Kawano Courtesy of Whistler)
In a country as vast as Canada, it's not surprising that your family has a variety of choices when it comes to ski vacations. Canada's world class ski resorts in British Columbia, Alberta and Quebec offer not only excellent ski runs and superb ski schools for all ages, but non-skiers will also enjoy a wide-variety of activities available and families will create lasting memories at the apres-ski activities.
Best Places to Go with Beginners
Whistler Blackcomb, near Vancouver, British Columbia, has been consistently rated as North America's number one ski resort. And it's a great place for beginners to learn how to ski. Starting at age 3 (or 2.5 for private lessons for tots), children have three options: private or group lessons and camps. For a week-long vacation, consider the Adventure Ski or Holiday Snowboard Camps for children ages 3 to 12. They'll quickly gain confidence with certified instructors in small classes. Hot lunches, snacks and lift line priority are part of the package. For teens and adults, there are daily ski lessons with skiers and riders of the same level.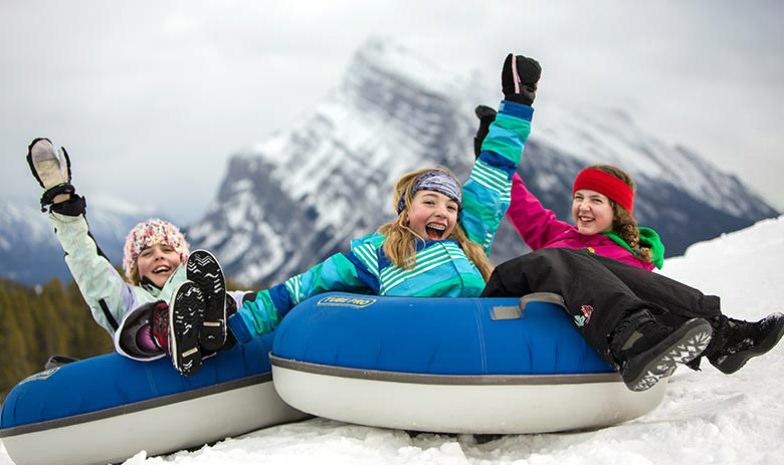 Kids snow tubing at Mount Norquay (Mount Norquay)
Mount Norquay, Sunshine Village and Lake Louise Mountain Resort, near Banff and Lake Louise, Alberta, are the "Ski Big 3" Banff resorts. Beginners can take private lessons or enroll in the Club Ski program for adults and Club Junior for kids from ages 6 to 12. For three days, groups (determined by age and ability level) will explore all three ski resorts with one instructor. Lift line priority is included for all ski lessons, and lunch will be provided for kids on Club Junior.
Le Massif de Charlevoix near Baie-Saint-Paul, Quebec is the highest point east of the Canadian Rockies and has 40-plus runs. Beginners (ages 2 and up) can learn to ski in three steps: master speed control and stopping on the beginner-green slopes; improve turns and speed control on the green-blue slope; and finally, improve turns and speed control on the blue-black slope.
Best Places to Go with Advanced Skiers
Whistler Blackcomb, British Columbia. Advanced skiers have many choices for challenging runs plus several options to improve their skills. Lessons and adventures for advanced skiers include: MAX4 groups ski lessons; THE CAMP-Dave Murray & Ski Esprit; Arc'teryx Women's Camps; Extremely Canadian Steep Ski Clinics; Extremely Canadian Backcountry Adventures; and Momentum Mogul Clinics.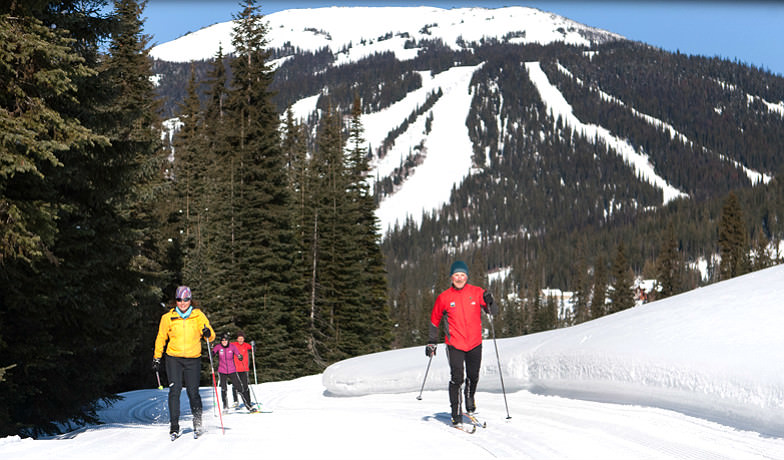 Skiers at Sun Peaks (Sun Peaks)
Sun Peaks, near Kamloops, British Columbia, is the second largest ski area in British Columbia (3,600 skiable acres) and is the third-largest in the country. The temperatures tend to be milder than other ski resorts in Canada and there are plenty steep slopes to challenge advanced skiers.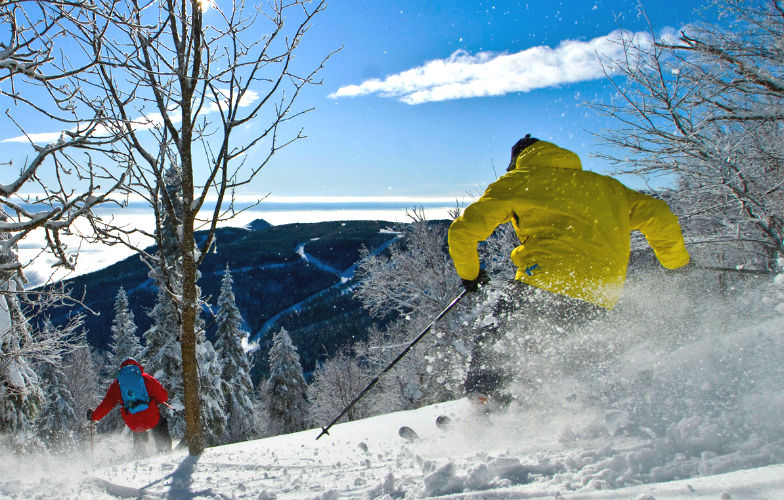 Advanced terrain and skiers at Le Massif de Charlevoix (Le Massif de Charlevoix)
Le Massif de Charlevoix boasts plenty of snow and varied terrain, advanced skiers have lots of opportunities to ski in off-piste (backcountry) areas.
Best Kids' Clubs
Whistler Blackcomb. At Whistler Kids Childcare (ages 30 months to 5 years) your kids will enjoy nature walks, sightseeing on the gondola, visits to the fire hall, arts and crafts, water activities and nap time. Note: Meals and snacks are not provided.
Mount Tremblant Ski Resort at Tremblant, Quebec is located about (130 kilometres) from Montreal in the beautiful Laurentian Mountains. Your young children will be well-cared for at Kidz Club Daycare where they'll enjoy groups games indoors and outdoors, arts and crafts, snacks and nap time. There's also Mother Nature Camp (3 to 4 years) where children will enjoy half-day of group skiing and half-day at the daycare.
Best for Non-Ski Related Activities
Whistler Blackcomb. For the non-skiing members of the family, there's a wide variety exciting activities. They can choose from snowboarding, dog sledding, outdoor skating at Olympic Plaza, tubing at the Coca-Cola Tube Park, ice fishing, ziplining, Snowcat tours, and visits to the trendy shops in Whistler Village.
Banff/Lake Louise. Kid-friendly programs and activities are offered at most lodges in Banff. The non-skiers can choose from snowshoe tours, tobogganing, bonfires, winter hiking and trivia nights as well as afternoon tea at the Fairmont Banff Springs Hotel.
Le Massif, Baie-Saint-Paul, Quebec. For a new sledding experience, try rodelling on the specially designed trail on Mont à Liguori. Those with discerning tastes will enjoy the gourmet tours of the Charlevoix area and visits to art galleries in Baie-Saint-Paul.
(MORE: Need vacation ideas? See some of the best kid-friendly places to visit in Canada.)
Best for Apres-Ski Activities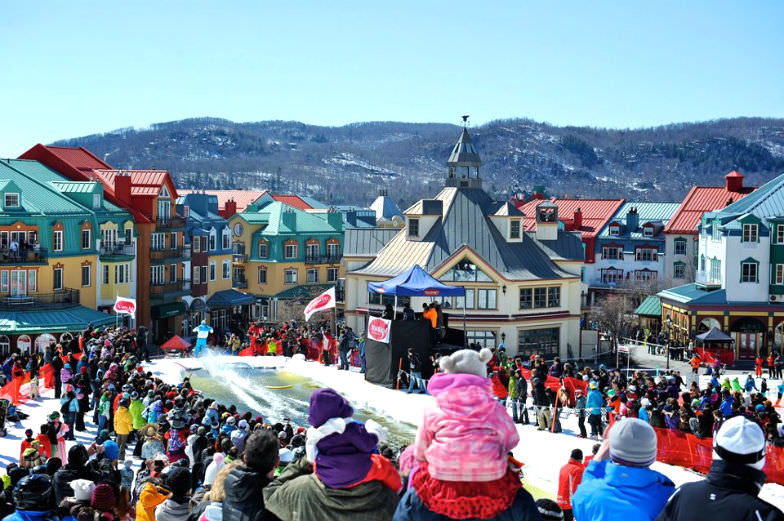 Village at Mont Tremblant (Mont Tremblant)
Mont Tremblant. If your family enjoys shopping in charming boutiques and sampling food in a variety of quaint cafes and restaurants, then you'll love the apres on in the European-styled village of Tremblant.
Whistler Blackcomb. Your family will enjoy free activities such as snowman building competitions, tobogganing, storytelling, mini hockey, snacks and hot beverages.
Banff/Lake Louise. Caving tours, horse drawn sleigh rides, guided heritage programs, Sulphur Mountain Hot Springs and sightseeing from the top of Sulphur Mountain are just a few of the activities your family can choose from.
Linda Wilkinson contributed this to MiniTime.
More family-friendly ski resorts: