Jeffersonville, Vermont
By Suzanne Rowan Kelleher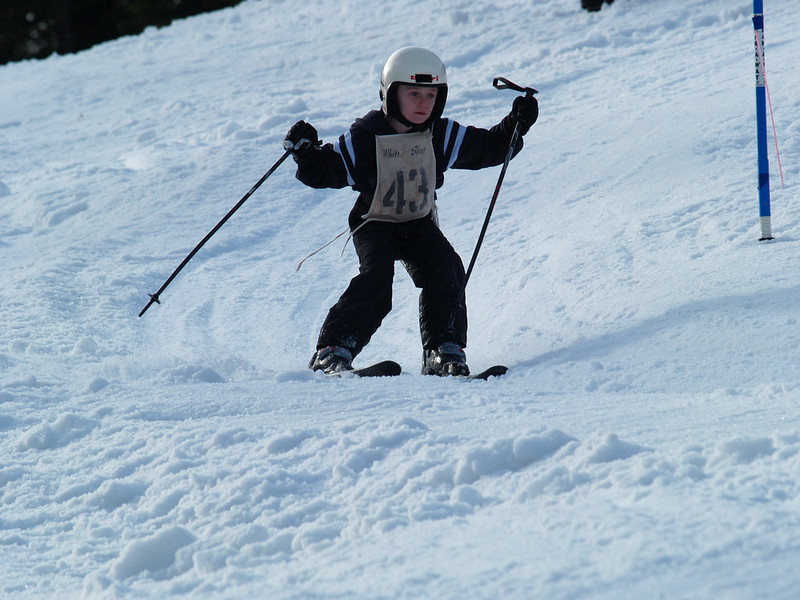 Why Go: Ask any parent who knows anything about skiing to name the best family resort, and chances are excellent that she'll say "Smugglers' Notch." You might assume it's because of the wide range of slopes and trails for beginners and experts alike (voted in the 2010 Ski magazine readers' survey as the number one resort overall). Or because it gets an annual average of 287 inches of natural snow each year. Or that, since the road from Stowe is closed in winter, "Smuggs" never gets as crowded as its neighbors. Then you bring your kids and a giant, mega-watt bulb goes on. What makes this place the gold standard for families is that elusive X-factor: Its people.
What magic ingredient do they sneak into the water here? Folks who work at Smugglers' Notch are unfailingly friendly, knowledgeable, and on-the-ball. The ski instructors are fun-spirited, patient, and absolutely wonderful with kids. The childcare nannies are baby whisperers who understand, cuddle, and encourage your little ones to have fun while you're out on the slopes. And it doesn't end there. The guys in the equipment rental shop who fit your ski boots and bindings are affable yet speedy. At lunch, your waitress is cheerful and efficient. Your shuttle bus not only arrives on time, but the driver hops out and smiles as he helps load your gear. The pizza you get delivered to your condo arrives early and piping hot. There are good reasons why a staggering 25,000 families return to Smugglers' Notch year after year. The formula is simple: Well run + kid-friendly + hassle-free = family nirvana.
Yet calling Smugglers' Notch a ski resort doesn't paint the whole picture, because this place lets you embrace winter in so many other ways. On a 2-day/2-night visit, our correspondent, Suzanne Kelleher, and her family not only went skiing, but also packed in snowshoeing and dogsledding. They only wished they'd had time to try the cross-country skiing, snowboarding, airboarding, snowmobiling, skating, and tubing. If you can't love winter here, it's time to toss out your mittens and head south.
Getting Oriented: The resort is set on three peaks outside of tiny Jeffersonville, in northwestern Vermont, about a 45-minute drive from Burlington. There's a lovely, self-contained village of restaurants and services nestled at the foot of Morse Mountain, the hub of novice and intermediate lessons. The ski program gets kids as young as 2-1/2 on skis at Sir Henry's Hill, where a "wonder carpet" surface lift carries beginners up the softest of inclines. Nearby, two chairlifts leave from the base, letting you off either mid-mountain or at the top of Morse. This compact layout lets parents give their kids some freedom but still keep an eye on them, and makes it easy for families to hook up easily after lessons and for meals. More advanced skiers and snowboarders can scoot over via interconnecting lifts and trails to Madonna Mountain and tackle some of the most radical expert terrain around (including the East's only triple black diamond, The Black Hole), or to Sterling Mountain, where there's a mix of intermediate and expert trails.
Getting Around: Once you arrive and settle into your condo, there is little reason to get back into your car until you leave the resort. Everything is within walking distance, and on-demand courtesy shuttle buses are at your disposal.
We Are Family: "America's Family Resort" is no marketing line. We don't know of any ski resort that caters to every member of the family so well, from 6-week-old babies right up to grandparents. (Neither do the readers of Ski magazine, who voted it the number one resort for family programs for 12 years running.) Kids 5 and under ski for free. Plus: The youth lift ticket covers 6- to 18-year-olds, so your teen won't pay the full adult price until his 19th birthday.
Babies and toddlers are cooed over by a team of nannies in the state-of-the-art, 5,400-square-foot Treasures childcare center. We have yet to find a facility as impressive in another hotel or resort. It's got a giant fish tank in every room, tiny toilets and small sinks, little cots and blankets, and over 4,000 square feet of outdoor playground. Kids are divided by age into three rooms (6 to 16 months; 17 months to 2-1/2 years; and 2-1/2 to 3 years), with myriad age-appropriate toys, mats, climbing equipment, and playhouses for everybody. The nannies lead their groups in interactive games, stories, circle time, and bubble-blowing fun. There's also radiant floor heating, a one-way viewing window for parents, and ski-in/ski-out convenience.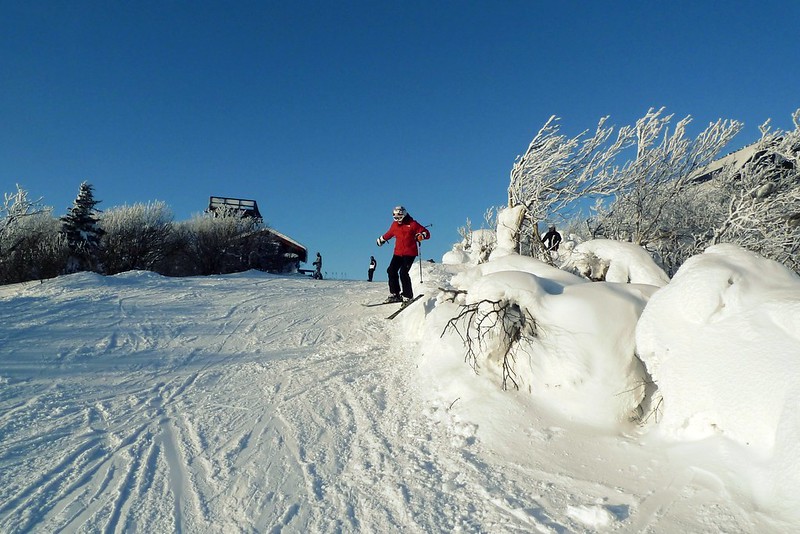 Once your kids are walking and talking, there really is a program or lesson for every age and ability. Kids can learn to ski at 2-1/2 (even if they're not yet potty trained) and snowboard at 4, but fearless teen freestylers will learn a thing or two or seven, too. The new beginner terrain park at the Morse Highlands trails is a great place to get started on your own. In the afternoons, there are winter science workshops, bonfires with hot chocolate, and movie matinees. At the end of the day, parents can hop online and retrace their child's ski route, speed, and distance and post to social media thanks to interactive GPS devices (which are given out during all-day lessons).
Teens have two indoor hangouts—one for 13- to 15-year-olds and one for 16-and-ups. New: On Monday nights, 13-and-ups can try the newest craze, airboard slalom. An airboard is an inflated rubber sled, similar in size to a water raft, with grooves on its underside that create a hovering effect when it glides down the slope. Riders attend instructional clinic before going out on their own.
The Kelleher family really put Smugglers' Notch ski program to the test. Suzanne grew up on skis, but neither her husband, Emmet, nor her three children had ever tried the sport. The family split up every morning, with each parent taking a separate lesson, and each child going into a different ski program. Kelleher's 3-year-old son, MacDara, attended Little Rascals, which offers a mix of indoor playtime in the Treasures daycare center and outdoor ski time. By day two, he was riding the magic carpet and skiing down on his own. (Note: A conveyor belt has been constructed right in front of Treasures to make skiing even more accessible for little ones.) Five-year-old Cian went into the Discovery Dynamos camp from 9am to 2:15pm.(Note: Skiing now ends at 2:30, but the camp is open until 4pm.) So besotted was the kindergartener with his class and instructors that he cried when his second day ended. And little wonder. He was chuffed with his accomplishments ("I rode the chairlift three times!") and had found a new passion ("Skiing is so AWESOME!"). Kelleher's 7-year-old daughter, Aisling, took a 90-minute lesson each morning in the Adventure Rangers program. After only two sessions, she was able to get on and off a chairlift, control her speed by turning her ski tips inward to form a wedge (in instructor-speak, "Make the pizza!"), do some nice "S" turns, and—most importantly—stop when she needed to. Not only did the kids learn to ski, but they learned that they love to ski.
Where to Eat: The village at the base of Morse Mountain has a handful of good, affordably-priced eateries in various styles to satisfy even the pickiest eaters. Green Mountain Deli is a great stop for coffee, bagels, sandwiches, and baked goods. Riga Bello's Pizza (delicious pizza, calzones, pasta dishes, meatball subs, and salads) has eat-in, take-out, and delivery options. The Morse Mountain Grille is super for burgers, steaks, or yummy mixed salads. Kids are given crayons and an activity placemat to keep them busy until the food arrives. On Wednesday nights and Friday mornings, there's a "friendly pirate" to entertain the kids, and on Tuesday nights a magician is on hand to perform table-side tricks. The Hearth & Candle is the most upscale alternative. It offers both casual dining for families or white-tablecloth dining for adults only in the Birch Room. The menu features steak, chicken, and seafood dishes and children's portions are available. Plus: There's a bar and a wine list. Kids 12 & under eat free with a paying adult. Ben & Jerry's ice cream shop. Wouldn't be Vermont without one.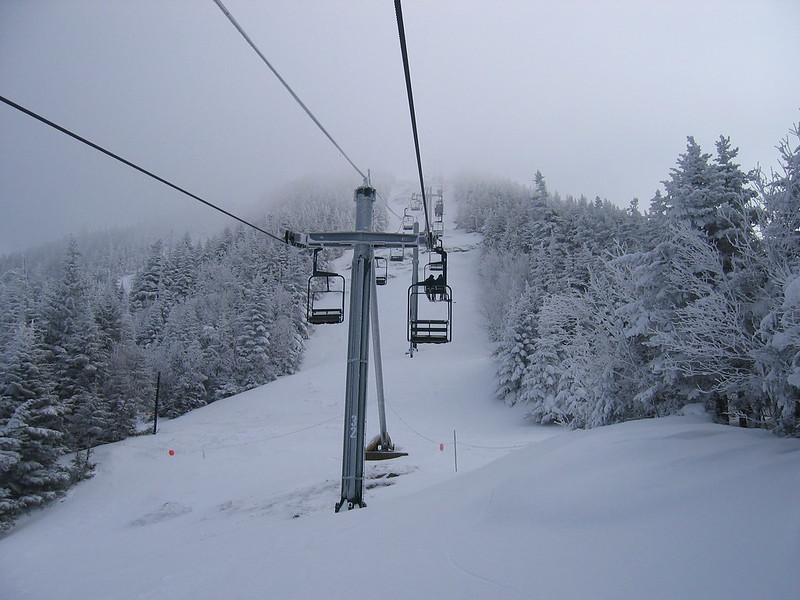 Nightlife: Unsurprisingly for such a kid-centric resort, the après-ski scene is focused on family-friendly, G-rated entertainment. family airboarding (for ages 10 and up), ski parades, and fireworks displays during some holidays. Several restaurants and two game arcades are open most nights, and there's family tubing from 5pm to 8pm on Sir Henry's Hill, which gets lighted after sundown.
Hoping for dinner out as a couple? If you've got an infant or toddler, the Treasures childcare center will help you find a private babysitter to come to your condo (from $10/hr for first child; $1/hr each additional child; plus $4 finder's fee). There's also a "Kids' Night Out" offered from 5:30pm to 9:30pm on three nights each week, where 4- to 11-year-olds get dinner and do fun, age-grouped activities while mom and dad get time alone ($30/child).
Where to Stay: The Ski magazine readers' survey voted Smuggs tops for lodging in the Eastern US from 2006 to 2010. Accommodation is condos only, ranging from studios (max 4 people) to 5-bedroom (max 12 people). Most of the five communities are scattered throughout the village at the base of Morse Mountain and up the side slopes for ski-on/ski-off convenience. Each has a fully-equipped kitchen, cable TV, telephone, Internet access, linens, and in-home or in-building access to laundry facilities. The Kellehers' 2-bedroom condo in the Sycamores on West Hill had four televisions, including one in the master bathroom (the better to watch HBO from the jumbo Jacuzzi). Daily maid service is available at a nominal fee. All the condos are convenient to Smugglers' village and the ski lifts with the exception of the North Hill Community, which is located near the FunZone and Nordic Center and is a short walk (or shuttle ride) away.
Price Tag: There are three routes you can take with the Club Smugglers Winter package, but the "Classic" version, which bundles accommodation with lift tickets and kids' lessons, is the way to go. A 3-night/3-day stay in peak season for a family of four costs from $1,608, including accommodation in a one-bedroom condo, lift tickets for the family, snow tubing, and all-day ski or snowboard camp for the kids.
Tip: Because there are so many variables (condo location and size, number of family members, choice of ski programs, etc.), it can be confusing to book your trip from the Smugglers' web site. You'll save time if you phone the reservationists directly; they'll figure out the most affordable way to bundle all the elements of your package and let you know about any special deals you may have missed.
Ski vacations are expensive by nature, and this is no exception. But Smugglers' Notch delivers value because the accommodation, instruction, activities, and services are so outstanding. Worth noting: You don't feel like you're being nickel-and-dimed every time you turn around in the village. Prices are reasonable in the grocery store, ski shop, and game rooms.
Insider Tips:
1.Beware of using Mapquest or other online navigational systems for your driving directions. The road from Stowe through Smugglers' Pass (Rte. 108) is closed all winter, so consult the Smugglers' Notch web site for the best route in.
2. Book early. You'll get next year's vacation at this year's prices if you book before the end of this season such as half off Treasures childcare, and SuperSaver value weeks.
3. Familiarize yourself with the Smugglers' Notch web site, which is loaded with useful information that will help you get oriented more quickly once you arrive. Especially helpful: The "Read Before You Pack" page and free "Perfect Winter Vacation Planning Guide," which can be downloaded or ordered online.
4. If you're renting equipment, take care of fittings when you arrive to avoid the next morning's rush. The rental shop stays open until 8pm on weekends.