This year theme parks are kicking the family fun up a notch
By Dave Parfitt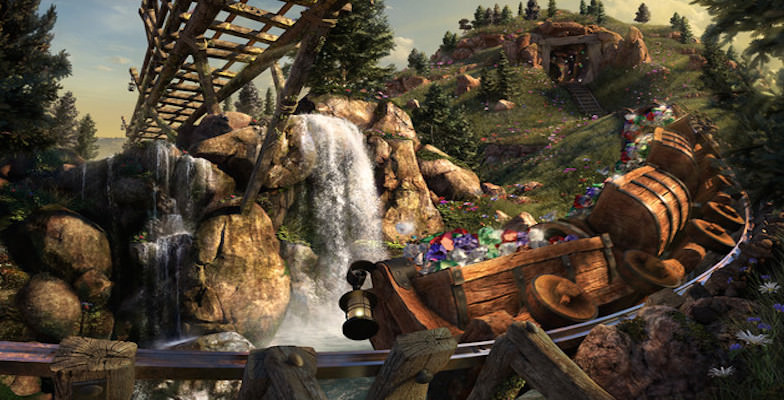 Walt Disney Parks
Tea Cups, Trains, and Kiddie Roller Coasters – they may not be the rides that grab headlines or set records, but they are the attractions that form first impressions, deep-seated memories, and the experiences that turn children into theme park fans for life. One might argue 2014 is the year of the family attraction – as amusement parks all over the country are adding family coasters, rides, and whole lands to appeal to the youngest of riders and geared towards families vacationing together. Continue reading for ten new 2014 attractions meant for the whole family.
Seven Dwarfs Mine Train, Magic Kingdom, Florida
Disney's Seven Dwarfs Mine Train is a family coaster that caps off the largest expansion in the history of Walt Disney World's Magic Kingdom. The centerpiece of the "New Fantasyland" expansion takes guests on a musical journey both inside and outside gem filled caverns via mine cars swinging back and forth throughout the ride. Along the way, riders will see the Seven Dwarfs themselves toiling away as some of the most advanced audio-animatronic figures created by Walt Disney Imagineers.
(MORE: View a family trip plan: 5 days at Walt Disney World with kids.)
Cookie's Monster Land, Sesame Place, Pennsylvania
"C is for Cookie!" and Sesame Street's cookie-obsessed Muppet has FIVE new rides to help him find sweets including: "Flying Cookie Jars" a spinner lifting riders 40 feet in the air, "Captain Cookie's High C's Adventures" track ride that rises and falls like ocean waves, "Oscar's Rotten Rusty Rockets" with trash can rocketships, "The Honker Dinger Derby" car ride, and "Monster Mix-Up" a Sesame Street version of a tea cup ride. Cookie's Monster Land also include a climbing play structure and "1-2-3 Smile with Me!" where the family can share a hug and photo with Cookie Monster, Elmo, and all their Muppet Monster friends.
Despicable Me: Minion Mayhem and Super Silly Fun Land, Universal Studios Hollywood, California
Go inside Gru's house to his laboratory where you become a Minion, whisked on an immersive 3D training mission to join Gru's army. The ride ends with a real-life dance party complete with meet-and-greet photo opportunities with the Minions themselves. Next door to Despicable Me: Minion Mayhem is Super Silly Fun Land, the "funnest" place on Earth from the movies. Super Silly Fun Land has a splashground with fountains, water dumps and splash pools for the kids to cool off, and a dry play space with a climbing structure, slides, and a classic spinner ride.
Duplo Valley Toddler Area, LEGOLAND, Florida
Big, chunky Duplo bricks are the LEGO toy line for children ages 2-5, and LEGOLAND Florida has incorporated them into a farm-themed land for kids the same age. Duplo Valley includes the "Duplo Train," splashground with farm animals, and a mini-tractor ride. Adults aren't forgotten either with a cool indoor space containing private nursing stations, rocking chairs, cell phone chargers, high chairs, Wi-Fi, and accessories needed by parents of young children.
Camp Snoopy, Knott's Berry Farm, California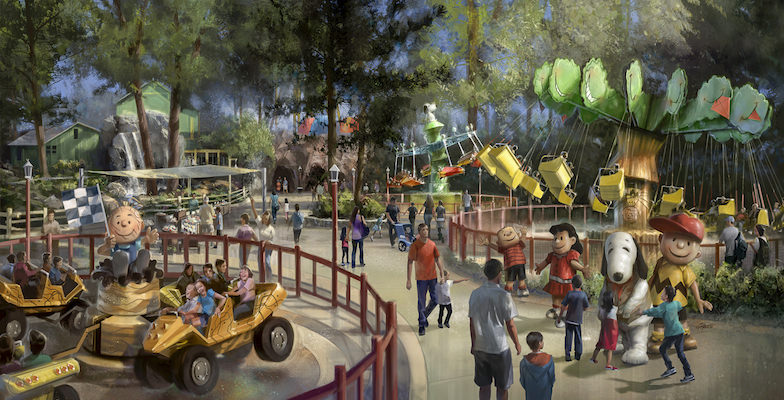 2014 Camp Snoopy artist rendering, courtesy Knott's Berry Farm
Snoopy has camped out at Knott's Berry Farm for 30 years now, and the Camp Snoopy children's zone is celebrating with the addition of THREE new attractions. Charlie Brown will watch out for the Kite Eating Tree on "Charlie Brown's Kite Flyers" swing ride spinning guests 18 feet off the ground. Don't worry about getting dirty in "Pig Pen's Mud Buggies," but you may get dizzy and bounced in his all-terrain vehicle spinner. Take a flight on Linus' favorite blanket on "Linus Launcher," and you'll soar 10 feet into the sky. In addition, passengers on Camp Snoopy's Grand Sierra Railroad will catch glimpses of the Peanuts Gang throughout the 8 minute ride narrated by Linus Van Pelt.
Cocoa Cruiser family coaster – Hersheypark, Pennsylvania
Twist and turn your way down a helix-shaped track on a roller coaster designed for families to enjoy together. The steel Cocoa Cruiser is designed specifically with the child's first roller coaster experience in mind. In addition to Cocoa Cruiser, Hersheypark is adding two more family rides for 2014 including a classic Tea Cup attraction and the Sweet Swing.
(MORE: Find a kid-friendly hotel near Hershey Park.)
Pipe Scream and Lake Erie Eagles, Cedar Point, Ohio
Cedar Point is creating a new family-friendly Gemini Midway with two new rides, Pipe Scream and Lake Erie Eagles, as well as expanding its Camp Snoopy kids' area. Pipe Scream is a combination roller coaster and flat ride – spinning riders on 300 feet of steel coaster track 40 feet above the ground (at its highest point) reaching a top speed of 43 mph. Lake Erie Eagles is a variation on the classic scooter ride that swings families 28 feet in the air. As the ride spins, the Eagles fly outwards, and a large paddle allows guests to control their direction of flight. Two kid-friendly rides already at Cedar Point will be relocated to Camp Snoopy, and the Jr. Gemini family coaster will be re-themed with a Peanuts flair.
Northern Lights and Route 76, Valleyfair, Minnesota
Cedar Point's sister park in Minnesota, Valleyfair, is receiving a similar family-friendly midway called Route 76. The centerpiece attraction of this new area will be Northern Lights, a Disk'O Coaster identical to Cedar Point's new Pipe Scream. At night, Northern Lights will illuminate the sky with dancing lights of purple, green, and blue. Route 76 will also bring back three classic family rides: Antique Autos, Tilt-A-Whirl, and Scrambler that debuted in 1976 when Valleyfair opened.
Hogwarts Express, Universal Studios, Florida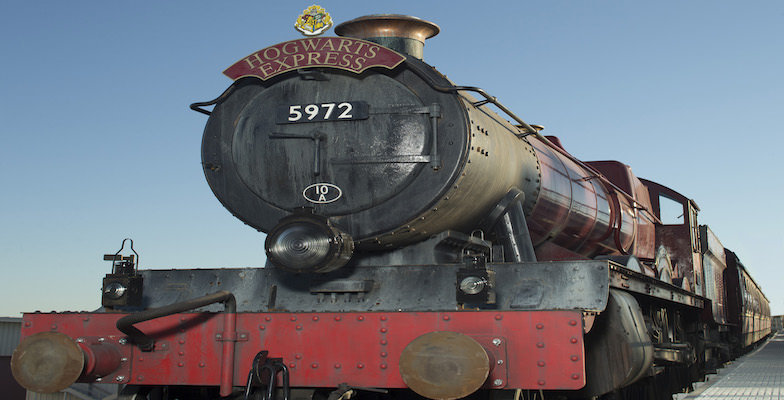 Hogwarts Express at the Wizarding World of Harry Potter – Diagon Alley, photo by Kevin Kolczynski, courtesy Universal Orlando Resort
What child doesn't love a train, especially when that train is integral to the popular Harry Potter series of fantasy books and films? Universal Studios Florida is bringing the iconic Hogwarts Express to its Wizarding World of Harry Potter – Diagon Alley. Guests will pass through the brick wall at King's Cross Station on Platform 9¾, board the Hogwarts Express, and find their private cabin to ride with family and friends. On the journey from London to Hogsmeade, streets give way to surrounding countryside as Hagrid, Buckbeak, and the Weasley twins pass outside the windows. The Hogwarts Express will connect the two Wizarding Worlds at the different Universal Orlando theme parks, and guests can exit the train to explore Hogsmeade and Hogwarts Castle. The ride back from Hogsmeade to London promises a completely different experience on board the Hogwarts Express.
FireChaser Express, Dollywood, Tennessee
The nation's first dual-launch family coaster, FireChaser Express travels forward and backward on a winding 2,427-foot track, leaving the loading station in one direction and returning in the opposite direction. The new coaster opened in March, and, perched 12 stories above the park's Wilderness Pass area, it's a terrific addition to Dollywood's coaster line-up providing junior thrill-seekers with their own coaster.
Dave Parfitt of Adventures by Daddy contributed this to www.MiniTime.com.