Re-imagined spaces and new, marvel-ous faces
By Suzanne Rowan Kelleher on Oct 30, 2013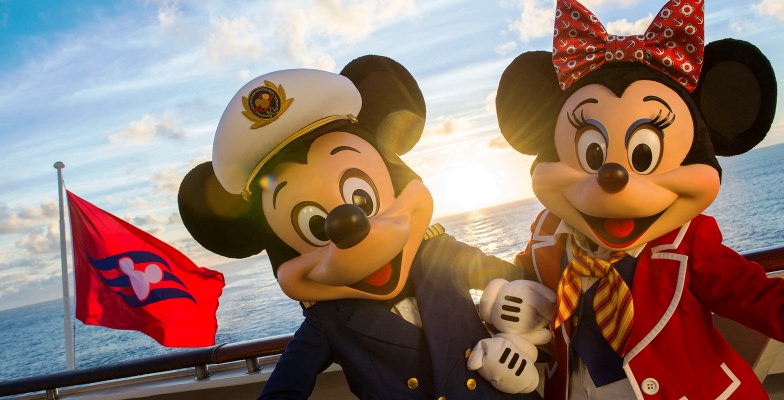 Matt Stroshane/Disney Cruise Line
The Disney Magic, the ship that launched Disney Cruise Line 15 years ago, has just emerged from a five-week, stem-to-stern makeover with more Art Deco dazzle and family appeal than before.
"We have many more years of experience now in the cruise industry," said Bruce Vaughan, Chief Creative Executive of Walt Disney Imagineering. "Having built three more ships, we understand greater how our guests want to interact on a cruise and that gave us an opportunity to expand what it means to have something for everyone."
Indeed, the revamped Magic manages to be simultaneously classic and current, blending Old World design elements with cutting-edge technology and Disney's massive arsenal of entertainment assets. "We wanted to take the new innovations we've developed for cruise ships and theme parks around the world to another level," said Vaughan.
We recently got a first-hand look at the "re-imagined" Disney Magic, which will sail out of Miami through the end of 2013, then offer sailings from Port Canaveral beginning in early 2014. While the renovation refreshed every area of the ship, here are the major highlights:
AquaDunk and Quacky Fun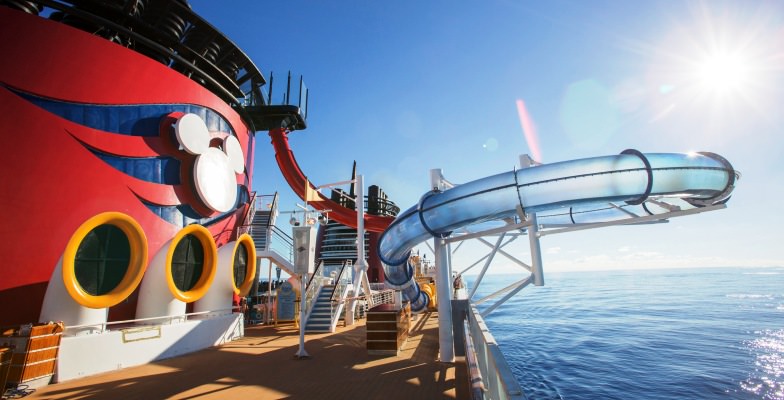 Jimmy DeFlippo/Disney Cruise Line
Perhaps the most anticipated of the ship's new features is the AquaDunk, a three-story body slide that delivers seven seconds of pure adrenaline to anyone who measures at least 48 inches tall and is brave enough to try it. It begins innocently enough—with Donald Duck's mischievous nephews calling "3! 2! 1! Action!"—before the bottom drops out of a bombardier hatch, sending you zooming 20 feet over the side of the ship through a curved transparent tube and then whipping back safely into a splash pool. Compared to the wildly popular AquaDuck water raft ride on the Disney Dream and Fantasy, the AquaDunk is much faster and more exhilarating, and it proved an immediate hit with 'tweens, teens, and adults alike.
Also on the top deck, the Magic's Mickey pool has been replaced with a more elaborate AquaLab water playzone where Huey, Dewey, and Louie delight the preschool set with water spouts, spray jets, tipping buckets, and a knee-deep kiddie pool, along with a brand new Twist & Spout waterslide that's longer, curvier, and faster than the ship's old slide.
(MORE: Find a parent-approved, kid-friendly hotel in Miami.)
Marvel-ous New Kid Spaces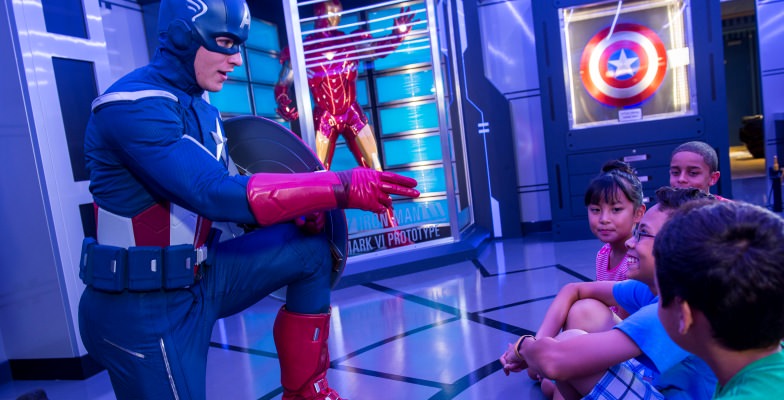 Matt Stroshane/Disney Cruise Line
For the first time, Marvel super heroes have a home on a Disney cruise ship. In the Oceaneer Club, a four-zone playspace for kids ages 3 to 12, boys and girls can attend the Avengers Academy and assume the role of Iron Man in a simulated training exercise that appears on an enormous video screen. A few steps away in Andy's Room, larger-than-life-size characters from "Toy Story"—Mr. Potato Head, Hamm, and a ridiculously charming Slinky Dog slide—make kids feel as if they've been shrunk to the size of a toy. There's also a retro-styled Mickey Mouse Club games room and a fairy-themed arts-and-crafts area called Pixie Hollow.
Along with special spaces for 'tweens and teens, the ship's Senses Spa & Salon now includes a Chill Spa on Deck 11 for teens, with offerings such as an ice cream pedicure, hot-chocolate body wrap, and an "acne attack" facial.
(MORE: Explore kid-friendly cruises.)
Animator's Palate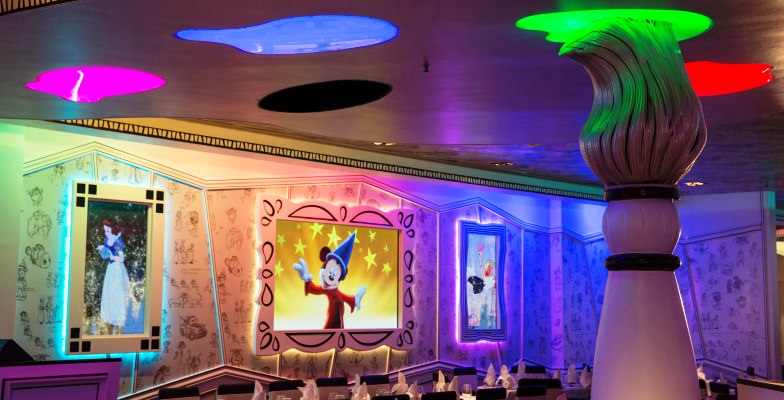 Jimmy DeFlippo/Disney Cruise Line
Of the trio of beautiful main dining rooms on the Magic, the standout experience is the Animator's Palate, which pays homage to Disney animation during a dinner show that accompanies a four-course Pacific Rim menu. The Drawn to Magic spectacle is a technological tour-de-force that conveys the complete evolution of animated characters, which begin as framed pencil sketches on the walls, are transformed into colorized ink-and-paint cells, and finally come to life as moving pictures. (Note: The restaurant's Animation Magic show, where guests create their own characters and watch them come to life through animation, will be reserved for sailings of seven nights or longer.)
Just for Adults
When renovating the Magic, Disney didn't forget about the adults. All the grown-up spaces on the ship—from the adults-only Cove Café and pool area to the after-hours space featuring several night clubs and a pub—have also been overhauled. The Senses Spa & Salon was expanded to 725 square feet and now offers a barber shop and teeth-whitening, in addition to the existing massage treatments, facials, sauna, fitness room and other services and amenities.
Suzanne Rowan Kelleher contributed this to www.MiniTime.com.