Where families can lay it all on the line
By Ellen Nordberg
How Cool is That?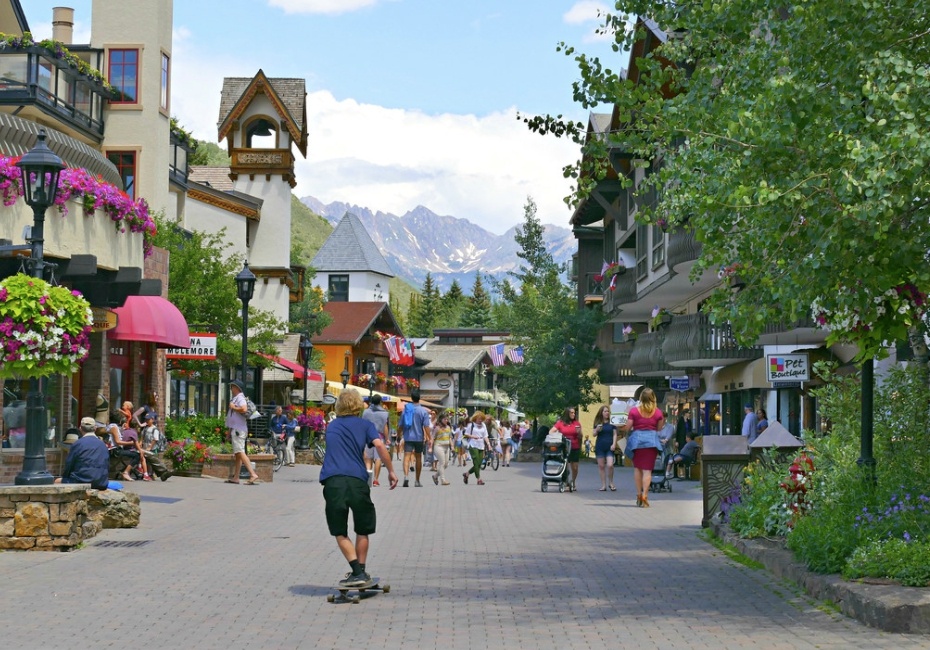 Vail Resorts (Flickr: Colorado Sands)
Have you ever seen an Atomic Butt Bounce, a Squirrel Back Flip, or a Space Shuttle? These aren't the tricks of Saturday morning cartoon characters, but maneuvers in slacklining – the latest craze to hit parks and backyards. Catapulted into the mainstream by Madonna during the 2012 Super Bowl Halftime show, these 40-foot lengths of dynamic nylon provide a balance, ab, and concentration challenge to slackers of any age.
Curious to try this addictive sport on your next getaway? Trees were once required, but these five venues installed poles to spare Mother Nature. Some provide the lines, but for the DIY locations, you can easily bring your own. Gibbon Slacklines makes a beginner "Funline" for around $80.
Nervous about high line trampoline tricks? A basic line is less than two feet off the ground, and at these five parks, you'll only topple into dirt, grass, or sand.
Vail Resort: Vail, Colorado
How about slacklining at 11,000 feet with 360 degree views of the Rockies? Take the Gondola up to the top of Vail Mountain, and try any of the three lines provided. With staff on site, you'll be executing a "drop knee" in no time. Then hit "Adventure Ridge" to bounce on bungee trampolines, navigate aerial ropes courses, or fly down the 1200-foot zipline.
2013 prices for a gondola ticket were $26 adults, and $5 children 12 and under. Hours are seasonal.
(MORE: Find a kid-friendly hotel in Vail.)
James Island County Park: Charleston, South Carolina
Ten minutes over the bridge from Charleston, this 150-acre park offers camping, stand-up paddle board rentals or bikes, plus a nine pole slackline park at the 50-foot climbing wall. Staff set up two to three slacklines on weekdays, and there are up to nine open on weekends. New to slacklining? They offer one hour intro classes on first Saturdays. Beyond balancing the lines, there's Frisbee golf, a seasonal water park, and a dock. Bring nets or a bucket and raw chicken for prime "crabbing," but watch out for the alligators!
Climbing wall/slackline park day pass, $14. Hours: Tuesday – Friday noon to sunset, Saturday and Sunday 9am – Sunset. (843) 406-2013.
Muscle Beach: Santa Monica, California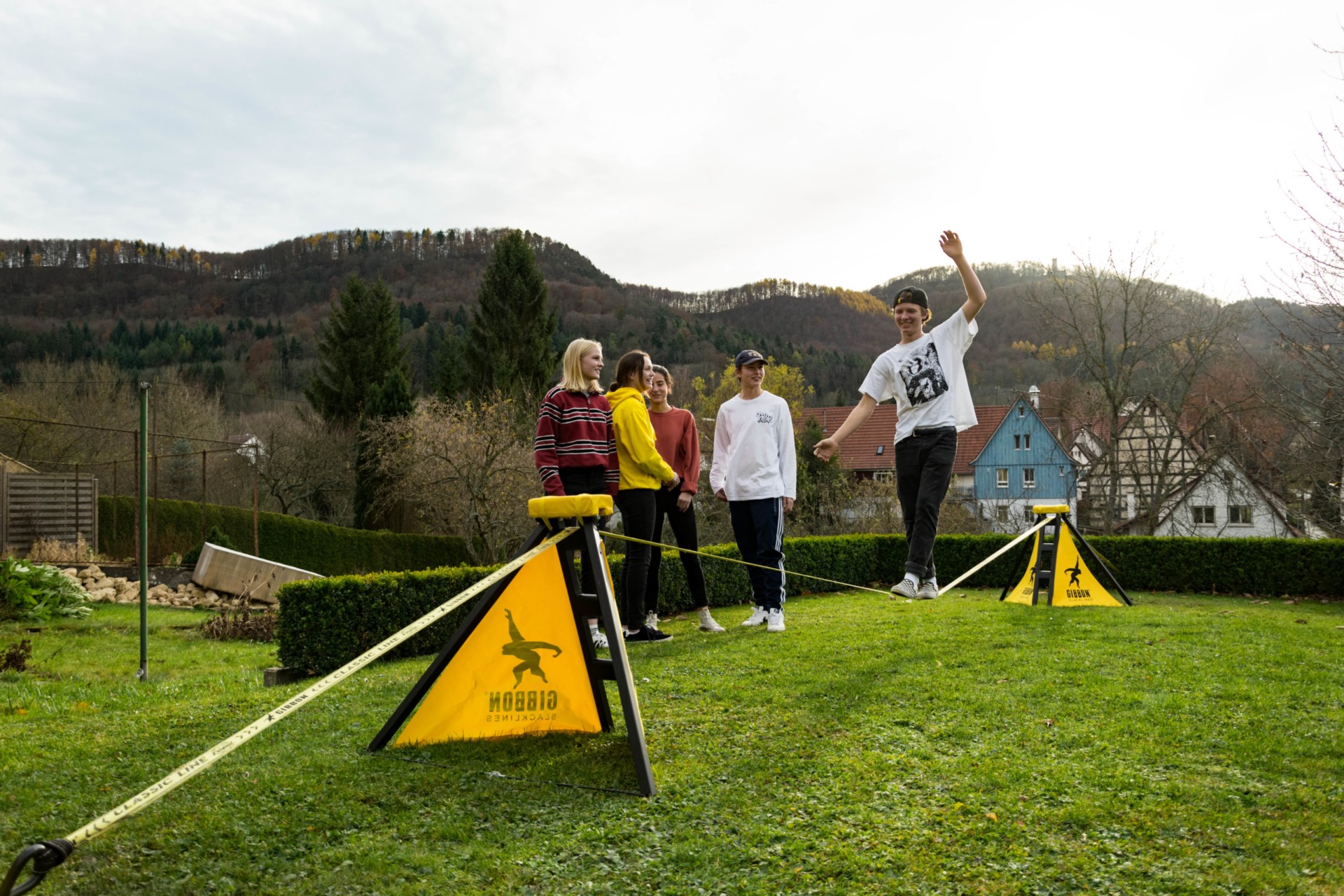 With eleven poles staked into the sand, this park sits a few blocks south of the famous pier. In typical laid back California fashion, it's "bring your own" line, but word is local slackliners are friendly if you stop by for a turn. Dozens of lines can be rigged in this large park, so there's plenty of room for all. Afterward, ride the coaster on the pier, rent bikes and rollerblades, or try your hand at the ten gymnastics rings in the "Olympic Ring" park.
Free. 1748 Ocean Front Walk, Santa Monica.
(MORE: View a family trip plan: 4 days in Los Angeles and vicinity with kids.)
Founders Park: Superior, Colorado
Ten minutes from Eldorado Canyon State Park and the rocky Flatirons, this park in the suburbs of Boulder can sport five slacklines at once. It's "bring your own line," but with Gibbon Slacklines headquartered up the road, you never know when pros will show up for an impromptu workout. Gibbon offers clinics and camps through the city for kids ages 6-17. Bring your soccer or basketball, or a picnic for grilling.
Free. 601 W. Coal Creek Drive Superior 80027.
Konahete Park: Murphy, North Carolina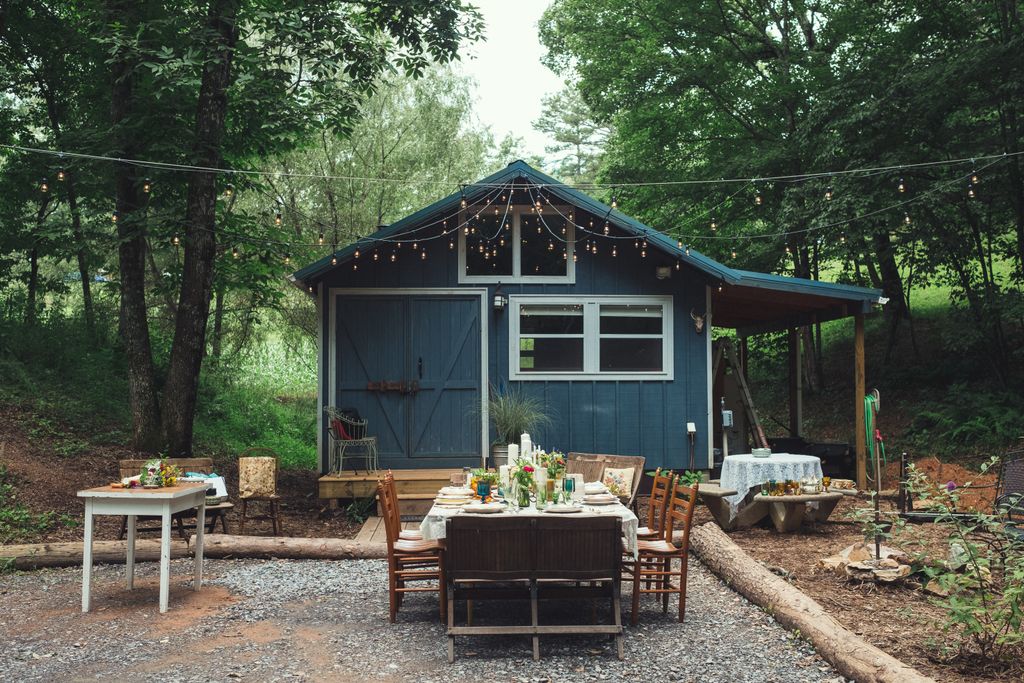 Murphy Slackers – Chad Bonawitz
One local dad slung his slacklines between trees in the park of this Appalachian Mountain town, and drew such crowds that he ultimately lobbied the city to make it official. He garnered sponsorships and donated materials, resulting in this brand new park along the banks of the Valley River. Bring your own slackline, or come out on Thursday evenings or Sunday afternoons to join the community fun. Afterward you can splash in the city pool, or stroll along the River Walk into the historic town.
Free. Located two hours from Atlanta, Chattanooga, or Great Smoky Mountain National Park. 699 Connehetta Street Murphy, NC 28906.
Ellen Nordberg, a Boulder, Colorado-based fitness instructor and blogger, contributed this to www.MiniTime.com.