Kid-friendly holiday attractions to see in New Orleans
By Jody Halsted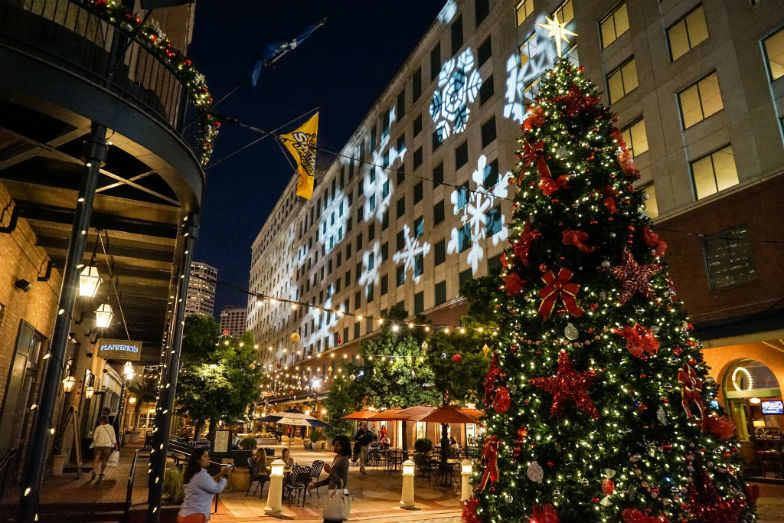 Christmas in New Orleans on Fulton Street (Visit New Orleans)
There is no doubt that New Orleans is a city that knows how to celebrate – and Christmas is no exception. From French Quarter galleries draped in garland and wreaths to the twinkling lights decorating City Park, NOLA shares her most charming self during the holidays.
Considering spending your family holiday with the kids in the Big Easy? Here are seven ways to experience a magical Christmas in this Louisiana city:
Family Christmas, New Orleans Style
Though Christmas Day is but once a year, the city of New Orleans is quick to tell you that Christmas New Orleans Style lasts all season long! Beginning with tree lighting ceremonies starting from Thanksgiving, the holiday illuminations spread across the city bit by bit, a blanket of twinkling bulbs leading you toward each grand spectacle. With dozens of events to choose from, these tips will help you get the most out of your family Christmas in New Orleans.
Where you'll find the most lights
City Park Christmas lights (New Orleans City Park)
Each winter City Park's famous oak trees are draped in hundreds of thousands of glittering lights for Celebration in the Oaks. Lighted walkways lead visitors through rows of decorated Christmas trees, past lagoons reflecting the sparkling lights, and across manicured lawns toward choreographed displays. Don't miss the Cajun Night Before Christmas presentation and Mr. Bingle, NOLA's iconic snowman.
It's the most NOLA thing to do!
New Orleans is known for its fabulous parades, and the Krewe of Jingle Parade is the official holiday parade. Filled with stunning floats, fabulous marching bands, stilt walkers and plenty of Christmas characters, this parade will delight your family.
The most fun in one place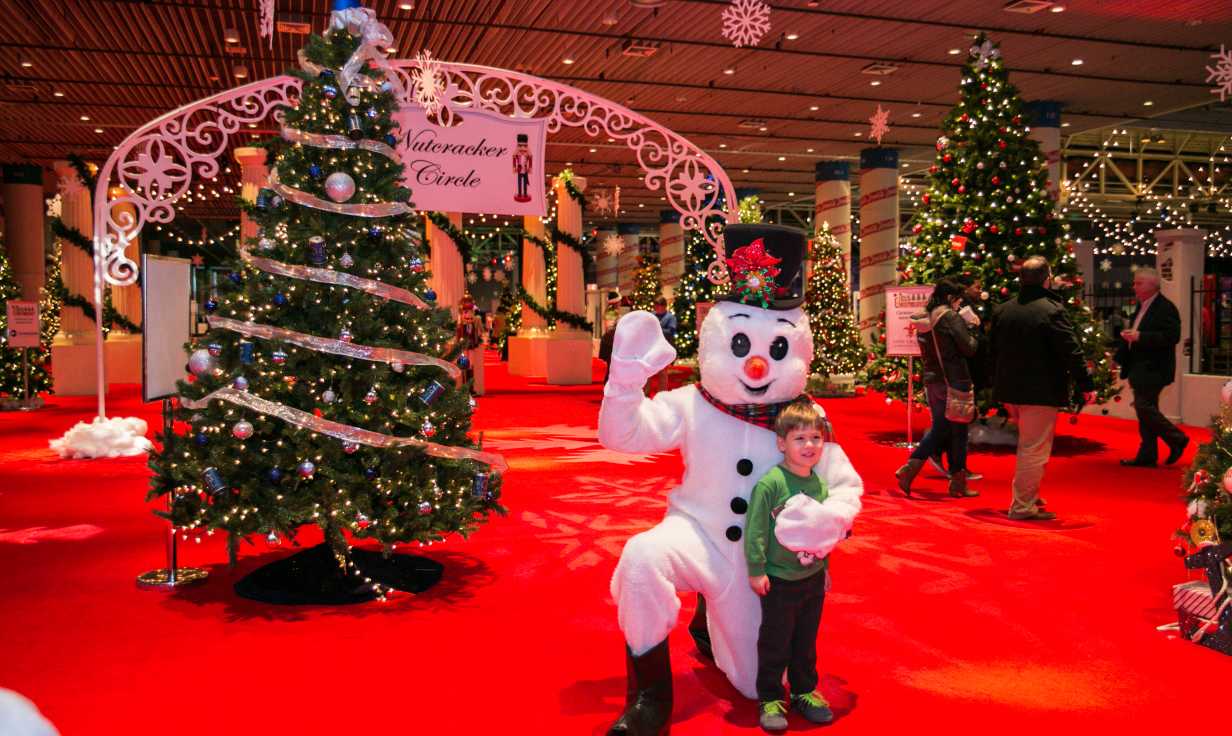 NOLA ChristmasFest at Christmas in the District (NOLA ChristmasFest)
You'll find fun for everyone at Christmas in the District! Wander slowly through the Great Hall of Trees leads you to fun photo ops with Santa and Mrs. Claus, the Ice Queen and her Ice Princesses, and other fun, costumed characters. Entertainments of all kinds take place daily – from local ballet troupe performances and puppet shows to Ice Princess parties and carolers.
Where you'll hear the most music
The St. Louis Cathedral – America's oldest Catholic cathedral in continuous use- hosts free concerts throughout the holiday season. Depending on the night you may hear Traditional Jazz, impassioned Gospel, Classical Opera, or even French and Belgian Folk music.
Events with the most refinement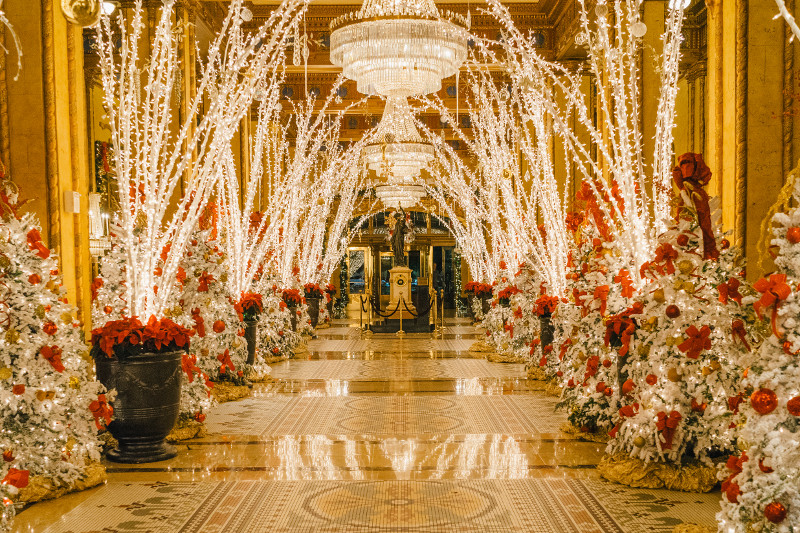 Christmas decorations at the Roosevelt (Visit New Orleans)
Sumptuous holiday teas are de-rigueur if you're celebrating Christmas New Orleans style! The French Quarter hotels are filled with stunning décor and chef-created gingerbread architecture. For kid-friendly Teddy Bear Tea make reservations at the Roosevelt Hotel or the Royal Sonesta where special kid-themed treats will delight the littles, while mom and dad are served more adult fare. With older kids, the Holiday Tea at Windsor Court is an unforgettably elegant experience. Served in courses, this Traditional English Tea is an afternoon event.
How to cover the most ground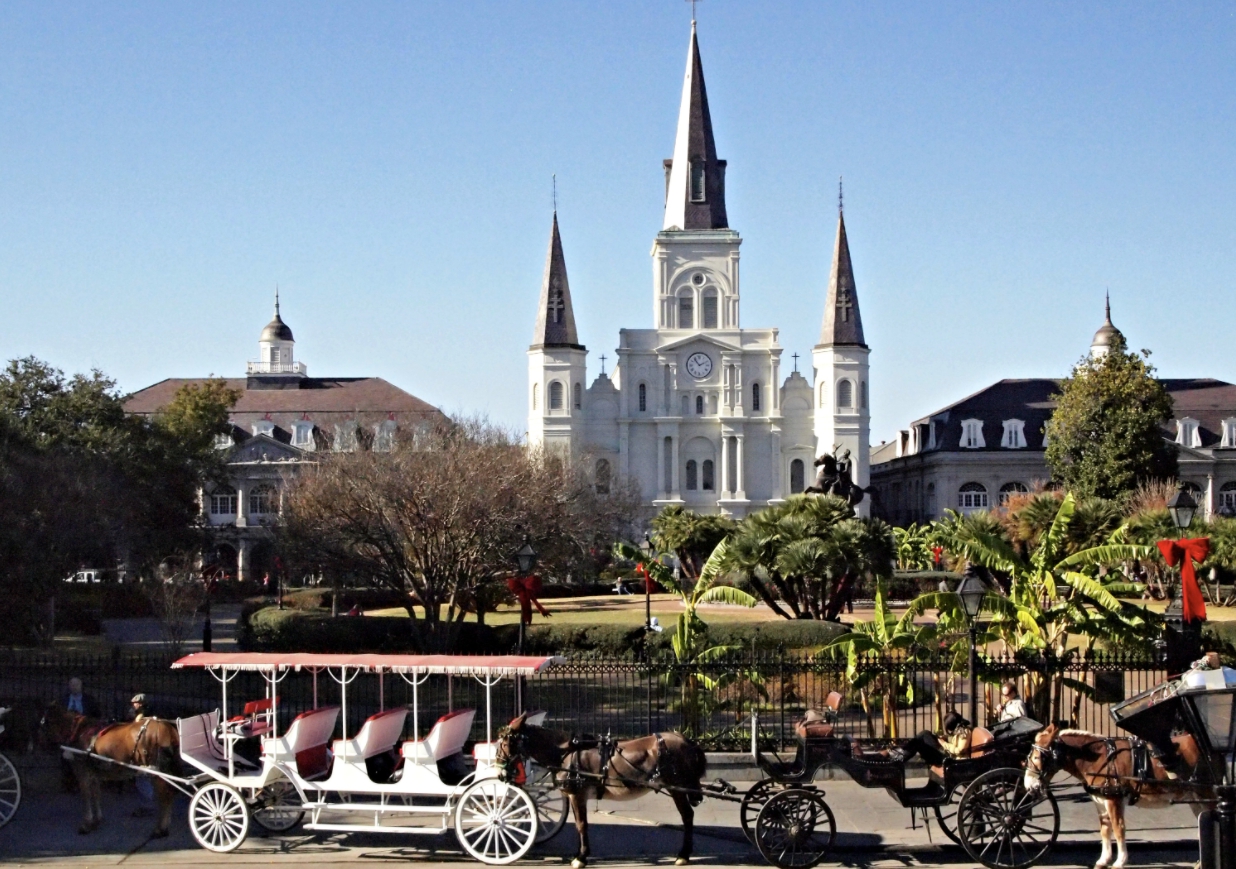 Catch a carriage at Jackson Square (Jody Halsted)
You can't visit New Orleans without riding one of the city's famous streetcars. During the holidays the ride down St. Charles Avenue takes you past grand Garden District homes splendidly decorated in garland, bows, and lights. A carriage ride in the French Quarter provides a wonderful perch for viewing the festooned balconies and galleries. Catch your carriage at Jackson Square – just across the street from Café Du Monde and their world famous beignets.
As you explore the French Quarter, watch for some of New Orleans most famous citizens strolling the cobbled sidewalks. You may just meet General Andrew Jackson or Marie Laveau as they enjoy Christmas, New Orleans style.
Jody Halsted of FamilyRambling.com contributed this to MiniTime.