Reasons to use a travel agent for your next family vacation
By Josephine Levin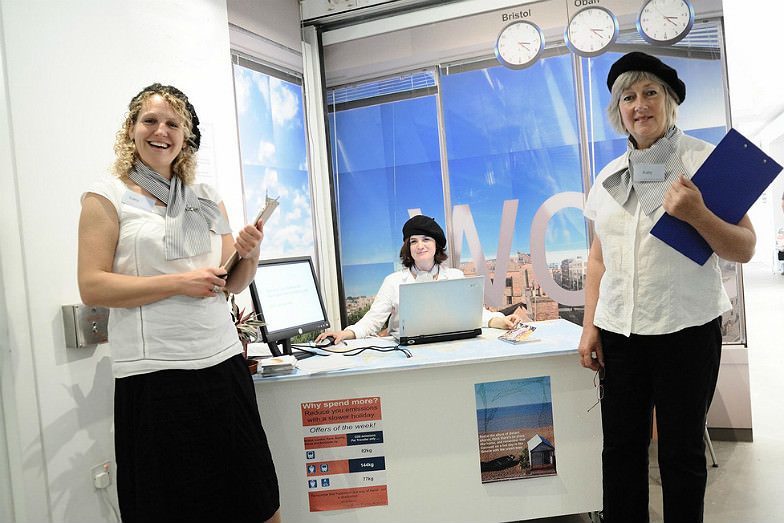 Don't shy away from enlisting the help of a travel agent. (Flickr: Platform London)
There is no question that using a certified travel agent for your family vacation saves time, saves money and saves disappointments. Most travel agents will not cost you one penny. They get paid by the airlines, hotels, restaurants and cruise lines where they book your family-friendly vacation. So leave it all to the experts! They know the ropes, have the latest information on deals and discounts, and will do their utmost to see that you and the kids have a fantastic family-friendly vacation.
Problem-Solving
Although today many hotels will give you a discount if you book with them online, how do you know exactly what you are getting? The information online is often very confusing and you do not really know what you have booked for your family until you arrive there. A fancy beautiful photo online may not show the true picture. Also, often information on the Internet is outdated. Sometimes a hotel that has gone out of business, moved or changed management is still listed online with their outdated status. One great thing about enlisting the help of a travel agent is if you come to the hotel and it does not appear to be what you wanted, you can call your travel agent and she can arrange for a different room, view or even hotel, if necessary. You are not alone!
Steering You Clear of Bad Deals
Online there are often very cheap deals that do not allow you to cancel your reservation no matter what the reason is. If you can't make it for some reason, you lose either all your money or a good part of it. A travel agent will steer you away from these kinds of deals and even towards good deals that are worth your hard-earned cash and satisfy your needs and preferences.
Knowledge and Experience
Travel agents are right in the hub of the world of travel and attend all kinds of tourist fairs and conventions, even abroad. Here they make face-to-face contacts with the managers of hotels, attractions, airline companies, restaurants, cruises and more.
They are frequent travelers and may have already spent time at the destination you are considering. You can save hours of surfing time by trusting that the travel agent you're working with will find you a better deal than what you can find by yourself online, as she will have access to deals before they are put online.
A travel agent will know if the hotel you're looking at is really family-friendly and if it has the kid-friendly amenities you're looking for. A travel agent will know of previous customer complaints and even which floor or view is best for you and your family. She will also know of certain gifts, bonuses and other perks you may be entitled to.
Also, the travel agent can book flights so that you will have the least amount of waiting time in an airport. Sure you can find a really cheap deal online by yourself and you think it's a steal, but then you arrive at an airport with a bunch of kids, an infant and maybe even a family dog and discover you have to wait for hours at the airport for a connecting flight! A travel agent can help you avoid hassles like this. And if there is a flight delay because of bad weather or any other reason, a travel agent can help find you a place to stay or even an alternative flight to get you to your destination!
(MORE: Debunking Myths About Travel Agents)
Advice on Travel Requirements
If you are planning a family-friendly vacation out of the country, the travel agent can direct you where to go if you need a tourist visa, advise you which vaccinations you and the kids will need, and steer you to the best family-friendly travel insurance package.
Personal Touch
The travel agent will give you a feeling of a personal kind of touch, and will go out of her way to see that you have everything you need and you and your family are happy and having the best time. After all, his or her personal reputation is at stake if there are disgruntled travelers.
Josephine Levin contributed this to MiniTime.