Martha's Vineyard, Massachusetts
By Michelle Zihal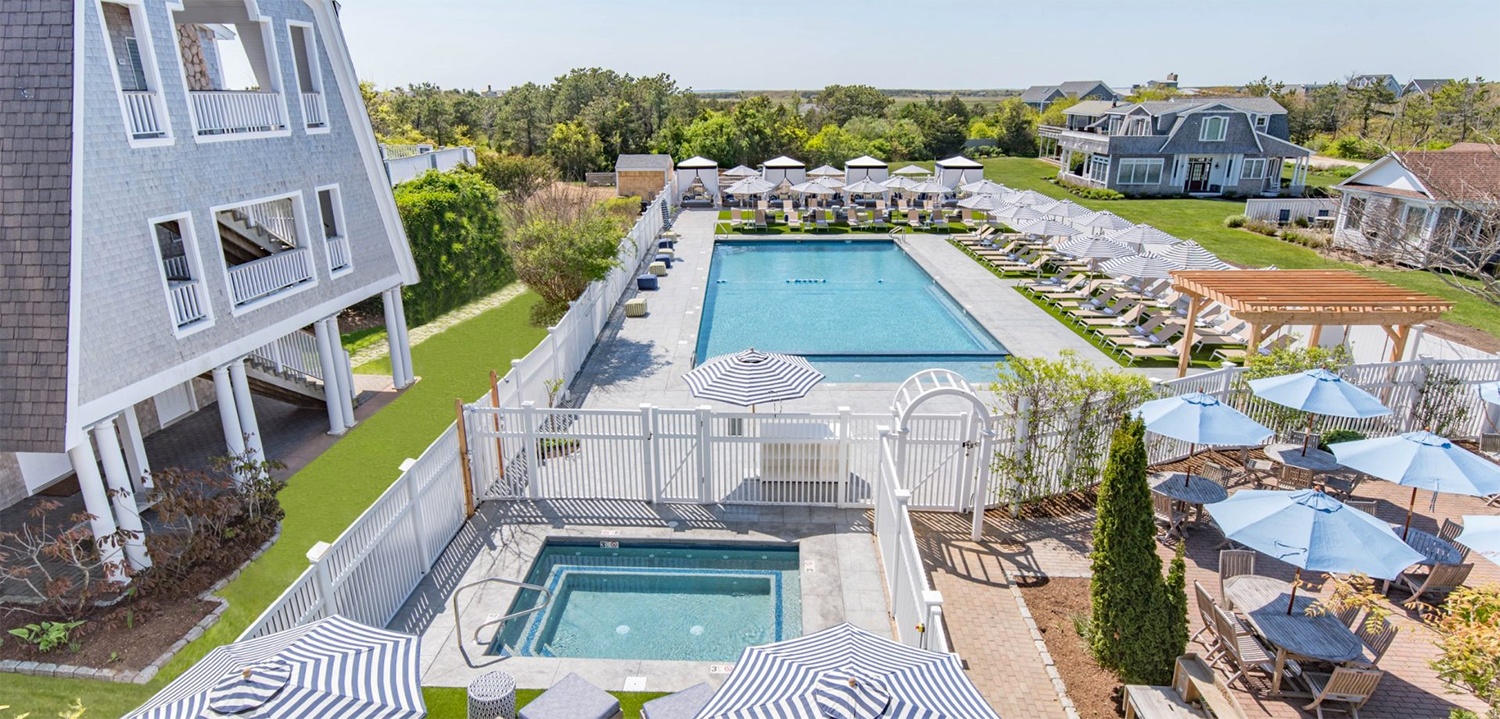 (Winnetu Oceanside Resort)
Why Go: The storied island of Martha's Vineyard is known for attracting a certain kind of crowd—more exclusive than Cape Cod, more cosmopolitan than its sister island of Nantucket, and more star-studded than either. The Vineyard has long been a favorite haunt of politicians (Kennedys and Clintons), show-biz heavyweights (David Letterman and Spike Lee), and icons from the music world (Carly Simon, Sheryl Crow, and Beverly Sills), and a quick tour of the island reveals private yachts, multi-million-dollar estates, elegant boutiques, grand whaling captain's homes, charming inns, and expensive gourmet restaurants. Stroll the narrow, cobbled streets of Edgartown, and even the salty air smells rarefied and privileged. Yet there's another, less elitist side to Martha. County fairs, farmers' markets, nature walks, pristine beaches, and an idyllic setting make this island a perfect place for a family getaway.
Named one the "10 Best Family-Friendly Resorts in the US" by Child magazine, Winnetu Oceanside Resort is indeed a little slice of heaven for parents and kids alike. To begin with, the location is divine. Set a few hundred yards from the Vineyard's famed South Beach, Winnetu draws families with accommodations that range from studios and suites to townhouses, each one blessed with at least a kitchenette. (Townhouses feature full kitchens and laundry facilities.) When it comes to creating a playful, kid-oriented atmosphere, this resort is one of the best around, with a friendly staff that makes first-time visitors feel like they've been coming for years. After a family getaway at Winnetu, our correspondent, Michelle Zihal, rated the "welcoming, relaxed, unpretentious, and child-friendly atmosphere and staff" as one of the very best reasons to choose this resort.
Winnetu is an upscale destination with a designer price tag. Yet there's a fabulous spirit of generosity here, with a raft of complimentary activities that even includes tennis clinics and a stellar kids' camp. It's the charming little touches that show this resort is truly family-oriented: ("Toyboxes filled with beach toys to borrow, a rubber duckie in our bath tub, fire engine rides, lemonade and cookies served in the lobby, and a family dining room with a kids' play area so parents can linger over a good meal.") Moreover, the place exudes an ambience that's relaxed and most definitely child-friendly. ("The resort grounds, public areas, and rooms are very well-maintained and spotless, but casual. I wasn't overly anxious that my kids would ruin or break something, as I would be at a more pretentious resort.")
With so many fun things going on for kids of all ages, you're guaranteed fabulous summer vacation memories. It's telling that so many folks return year after year, either as guests or as employees. ("Several college-age counselors and wait staff spoke of staying at the Winnetu as children and young teens. They enjoyed the experience so much they came back to work at Winnetu.")
Getting Oriented: Martha's Vineyard and Nantucket are two islands nestled off the Massachusetts coast, positioned six miles south of Cape Cod. Martha's Vineyard is the larger of the two and lies closest to the mainland.
Winnetu Oceanside Resort is located on the Vineyard's southern shore, about 10 miles southeast of Vineyard Haven and 3 miles south of Edgartown. It's a sprawling complex that includes an inn and townhouse-style accommodations scattered near the Atlantic and alongside Katama Bay, which separates the Vineyard from Chappaquiddick Island. The resort's hub is Winnetu Inn, with its 53 studios and suites ranging from one to four bedrooms. The inn serves as the check-in for all guests and features Lure Restaurant, a general store, two tennis courts, and an outdoor pool. You reach the beach via a 250-yard path made of sand and gravel. ("We did not mind walking, but a shuttle to the beach would be appreciated by families with toddlers or elderly grandparents.")
The resort encompasses Mattakesset Properties, a complex of 80 privately-owned 3- to 5-bedroom townhouses, duplexes, and single-family homes. The farthest townhouses are located about a half mile from the inn. About a quarter mile from the inn, amid a cluster of these townhouses, you'll find the resort's wellness center, where the children's and teen programs are held. There's also a fitness center with massage treatment rooms, an outdoor pool, a half basketball court and a volleyball court. ("While a shuttle is available to the wellness center, we often just walked the quarter mile. There are no sidewalks and you have to cross a busy road. A sidewalk from the inn to the wellness center would be nice.") Private and group tennis lessons are held at the Mattakesett Tennis Club, a mile and a half north of the resort, on the road to Edgartown.
Getting Around: A handful of ferry companies operate between Martha's Vineyard and various points in Massachusetts, and further afield in New York, Connecticut, and Rhode Island. Most ferries transport only passengers and but some haul vehicles, too. The easiest choice for many visitors is to sail from New Bedford, Massachusetts (just off I-195) to the Vineyard aboard New England Fast Ferry, a high-speed catamaran which brings you into Vineyard Haven, the largest town on the island, in just under an hour. (One-way fare: $29/adult, $15/kids 3-12, free for kids under 3.) The Zihals saved money by sailing with The Steamship Authority from Woods Hole, on Cape Cod, into Vineyard Haven. (One-way fare: $6.50/adult, $3.50/kids 5-12, free for kids under 5.) From the ferry dock, it was a half-hour cab ride to Winnetu, for a one-way fare of $20. ("We did not bring our car on the ferry, which was fine for a three-day stay. For a week-long visit, however, I would want a car.") Note: If you book your ferry passage through Winnetu, you're entitled to the resort's VIP complimentary transfer shuttle from the ferry dock to the resort.
Once at Winnetu, you can easily get around the locality on a free one-way shuttle bus that runs seven times a day from Winnetu Inn to Mattakasett Properties (and the wellness center) before continuing on to Edgartown. There is no return shuttle from Edgartown.
You can catch a ride back to Winnetu on a local Vineyard Transit Authority bus, which the Zihals did one night after having dinner in Edgartown. ("The VTA buses run frequently and are easy to use. Visitors can tour the entire island with ease.") To compute the fare, count $1 for the town of origin, plus an additional $1 per town traveled. The fare from Edgartown to Winnetu is just $1 per person, as Winnetu is considered part of Edgartown.
The most scenic way to get between Winnetu and Edgartown is by water taxi. The 25-minute cruise travels through sheltered Katama Bay, the body of water separating the Vineyard from Chappaquiddick Island. On the way, you get a rare glimpse of the luxurious waterfront estates hidden from the roadway. ($10/adult, $5/kids 12 and under; book through the concierge.)
Bicycling is another very popular way to get around the island. Bike rentals are available at a discount from Cutler Bicycles, a shop in Edgartown that delivers to Winnetu. Cutler provides good-quality bikes, including tandems, trailers, children's seats, training wheels, and helmets. You can order online prior to your trip.
We Are Family: It's no wonder that Winnetu attracts so many families. The roster of activities for both children and adults is impressively lengthy and winningly wholesome—and so much of it is free for resort guests. Families with school-age kids are particularly well taken care of with complimentary pee-wee tennis clinics, water volleyball tournaments, wiffleball games, bike rides, and hikes. Every Tuesday afternoon in the summer, there are remote-controlled boat races on Winnetu Pond, just like the ones in "Stuart Little". Four afternoons a week, you can ride around the neighborhood on a vintage, 1945 pumper fire truck, followed up with a cool glass of lemonade. On Saturday mornings, families can participate in the "Farmer for a Day" program, and volunteer to help in the feeding, cleaning, and harvesting on a local farm. There's a playground near the pool and a Ping-Pong table and a life-size chess board set up in the inn's outdoor courtyard, next to a small game room that features a train set, Scrabble table, foosball, and board games. You can even borrow some clubs and practice your putting on the inn's great lawn.
A tremendous boon to families with kids 3 (if toilet trained) to 12 is the complimentary morning day camp, which runs daily from 9am to noon during the summer months only. This program works well on every level, from the clean and bright facilities to the impressive staffing. ("There were 22 counselors on hand for about 100 kids. The counselors were excellent. Many were college kids with roots in the area, while others were going to school to be teachers. They all obviously enjoyed working with kids, and we were impressed with how kind and patient they were with the younger kids. They remembered everyone's name and were happy to bend down and tie shoes and wipe sand off little feet.") There's an appropriate attention to security, with sign-ins and sign-outs, name tags, and a fenced-in area for the youngest kids. The morning is structured, with supervised, fun activities appropriate to the wide range in ages. Kids are broken into four groups so that each contains a range of two or three years. Activities included ball games, treasure hunts, swimming, face painting, putting competitions, parachute games, agility ladder courses, puppet shows, beach games, sandcastle building, tie-dying tee-shirts, and arts and crafts. ("My kids loved the camp and wanted to go again the next day. My 7-year-old is rarely enthusiastic, but he loved this camp. My 4-year-old is typically reluctant to be left with strangers, but he warmed up to the counselors within five minutes and barely said good-bye to us.") The day camp is available on a drop-in basis, with no need to pre-register.
Along with the huge array of complimentary offerings, some activities carry a fee. There's a three-hour open-air beach buggy trip to the Cape Pogue Lighthouse on Chappaquiddick ($29/adult, $16/child); fishing excursions with an expert guide (from $175/2 people); catamaran trips out of Edgartown Harbor ($50/adult, $40 child); rides in an open-cockpit bi-plane ($129/person); and family clambakes and barbecues (see Where to Eat, below). You can also have a family portrait taken by noted local photographers Ron and Kathleen Howard, who specialize in capturing the spirit of Martha's Vineyard ($460/package, including sitting, proofs, and finished portraits). And don't forget the fun of simply getting from here to there. ("The water-taxi ride from Edgartown to Winnetu is also a nice family activity.")
There are two heated outdoor pools at the resort, open from 8am to 8pm during the summer. The pool at the inn is small and free-form, with no true shallow end for young children. You enter via a few steps, and the depth ranges from four feet to eight feet. ("Young children tend to sit on the steps or cling to parents.") There is poolside lunch service from 11am to 4pm. The pool at Mattakesset Properties, located near the wellness center, is a bit larger, with a shallow end of about three and a half feet. There is also a very small kiddie pool at this location. Neither pool has a lifeguard or fun features such as slides or fountains, but Styrofoam noodles are available at no charge. There are no hot tubs at either pool area, but both provide freshly laundered towels. ("At the pools, we saw almost exclusively families and plenty of splashing kids. But we had the impression that most families go to the beach."
A pedestrian path from the inn leads to what many consider to be the nicest stretch of sand on Martha's Vineyard. South Beach is a mile-long public beach known for its spectacular beauty and rather rough surf. Lifeguards are present during the summer. ("The tide is very strong at this beach. Even my 7-year-old, who loves to jump in the surf, strayed out only to his knees because the waves were forceful enough to knock him down. My 4-year-old stayed in ankle-deep water and had a ball jumping around. We got a clamming license and rented a rake and basket at the wellness center for $10 and spent an afternoon clamming. We took home half a bushel, steamed them in our kitchenette, and enjoyed a tasty appetizer before going out to dinner. My sons had a blast finding clams and searching for horseshoe and hermit crabs. This is their favorite memory of our vacation.")
No doubt about it: Winnetu is a paradise for kids 4 and up. But, considering the expense of the resort and that so many of the complimentary activities are geared to school-age children, families with smaller fries may want to wait a few years until their kids can partake fully. The resort is not particularly stroller-friendly. There's no sidewalk between the inn and the wellness center and the quarter-mile walk to the beach takes you along a sand-and-gravel path and over a small tilted wooden bridge. ("It might be manageable with one small child who was walking, but almost impossible for a couple trying to carry two or more children and beach gear—towels, a cooler, toys, and so on.") Except for the kiddie pool at Mattakesset, the pools aren't great for little ones. Most families with little tykes would also prefer a beach with a calmer surf. And finally, the resort doesn't offer any childcare or programmed activities for kids under 3 ("though you could probably find an off-duty counselor to babysit").
This summer Winnetu introduced a brand new teen program, available Monday to Saturday. Scheduled activities during a typical week include teen-circuit training, Ping-Pong, a catamaran cruise, sea kayaking, mini golf, rock climbing, biking, swimming, volleyball, and a pizza party.
Winnetu offers a nice menu of complimentary activities for grown-ups, too, including tennis clinics and classes in yoga, pilates, stretching and strength training, and aquatics. The fitness center is well-equipped, and has a particularly good endowment of free weights. A few mornings a week, the resort offers a guided power walk to Edgartown that's very popular ($10/person). Spa services include massages and facials, and start at $100 per session.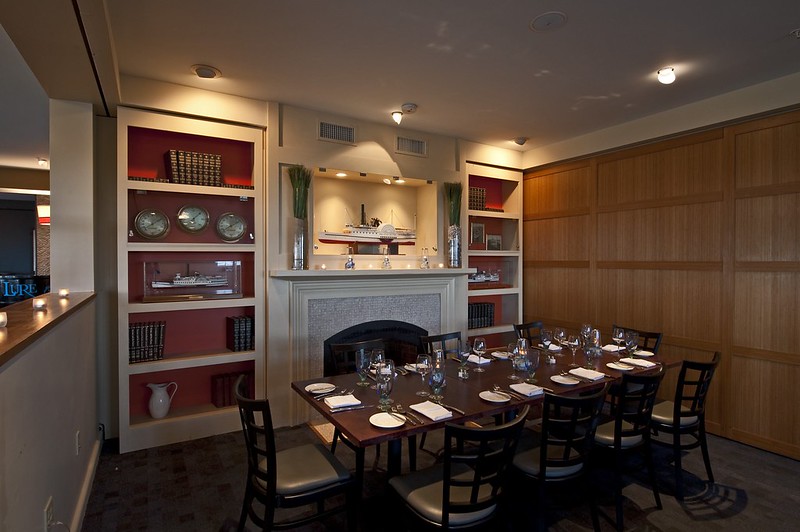 Where to Eat: There is only one real restaurant at Winnetu Oceanside Resort, but it's a doozy. Winnetu is that rare example of an upscale property that manages to deliver a fine dining experience that's truly family-friendly. Still, for longer stays, you will probably want to venture into Edgartown for more varied dining options.
Lure is a gourmet restaurant that's earned raves from Zagat and countless foodie magazines. Executive chef Ed Gannon has a mile-long resumé that includes honors from the James Beard Foundation and a stellar spell at the Four Seasons in Boston. The space is divided in two: An elegant, oceanview fine dining room and Osprey, the family dining room. The menu is the same in both rooms—heavy on seafood dishes, with limited beef and chicken options. ("The food really was delicious. At first glance, we thought the restaurant was overpriced, but after walking around Edgartown studying posted menus and dining at a nice seafood restaurant in town, we believe that Lure is competitively priced for the Vineyard market.") Children's portions of adult dishes are available, but the Zihal kids ate from a buffet (offered summer only) that included pizza, chicken fingers, hot dogs, burgers, cod, salad, and French fries. ("The wait staff was great with the kids.") The family dining room has a fantastic set-up that features a kids' play space with a TV, movies, plenty of games, books, and bean bag chairs. Kids can eat their meal while parents enjoy an appetizer. Then the children can play and watch TV while parents linger over a delicious entrée. The Zihals finished with a decadent dessert while their kids enjoyed make-your-own sundaes. (Breakfast 7am-10:30am. Dinner 5:30pm-9:30pm; average entrée $37/adult, kids' buffet $20/child 4-12, $5/child 3 and under.)
Winnetu General Store sells a limited selection of groceries, and offers a steeply-priced take-out menu featuring pizza, sandwiches, salads, and light fare like clam chowder and shrimp cocktail. There are the usual suspects of kid's items: grilled cheese, burgers, chicken fingers, and macaroni and cheese, but whether you're prepared to part with $9 for a hot dog or PB&J sandwich is another story. (Take-out 5:30pm-8pm. Items from $9-$19; Kid's items $9 each.)
The other eateries at the resort offer light fare at similarly hefty prices. You can have lunch al fresco on Winnetu's poolside terrace (11:30am-4pm), from a menu of light fare that includes sandwiches and pizza. Pinkletinks, a snack bar at the wellness center, features pre-made sandwiches and salads, smoothies, and healthy snacks.
On Wednesday evenings throughout the summer, Winnetu hosts a popular old-fashioned New England clambake on the lawn beside the pool, featuring clam chowder, steamed lobsters, mussels, clams, barbecued chicken, hot dogs, corn, summer salads, and fresh vegetables. There are lawn games and group activities, and the evening concludes with a s'more party. ($70/adult, $20/kids 3-12, free for kids 2 and under.)
Every Friday night during the summer, there's a family barbecue at the wellness center. You have the option of pre-ordering your barbecue package online and having your food delivered in advance to your suite or townhouse. Options include chicken, hamburgers, hot dogs, steak, pork loin, organic meats, salads, desserts, and more. At the barbecue, you grill your own food. The evening includes fun family games and activities hosted by Winnetu staff. Prices start at $70 for a family of four to six if you pre-order your food. If you bring your own food, the evening is free.
Nightlife: If you want to have a romantic dinner at Lure or one of the many nice restaurants in Edgartown, Winnetu can keep the kids happy until you get back. For children 4 to 12, the children's evening program is offered on Tuesday, Thursday, and Saturday nights during the summer from 5:30pm to 9:30pm. The night includes dinner, ice cream, games, and a movie on a big-screen TV with surround sound. Kids are grouped by age, with a G-rated film for smaller kids and a PG film for older kids. Zihal was impressed to see one counselor for every four or five kids. Seven-year-old Kevin played a ball game with older kids, while 4-year-old Matthew played with the younger kids on the playground. ("With our permission, Matthew was allowed to stay with his older brother for the movie.") Dinner consists of kid-friendly fare such as pizza, macaroni and cheese, make-your-own tacos, burgers, or grilled chicken. This evening program costs $20 per child. ("This is fair—about the price of hiring a babysitter for two kids. Best of all, the kids were entertained, happy, and safe.") Sign-ups are requested a day in advance.
Where to Stay: Each unit at the inn has an ocean, dune, or pool view. You also get a kitchenette with a refrigerator, 2-burner stove, sink, microwave, and coffeemaker. Every studio and suite also features cable TV, including kids' channels like Disney and Nickelodeon, and a DVD player. The inn has a DVD rental library with a good selection of films for $4 each, which is comparable what you'd pay at your hometown Blockbuster outlet.
The smallest and least expensive room option is a studio, which can sleep two adults and a small child. It features a small bedroom with a queen-size bed, a pullout sofa, a kitchenette, and a small bathroom. Quarters are tight for stays longer than a day or two.
Most families will need at least a one-bedroom suite to be comfortable. There are five different floorplans for one-bedroom suites. The least expensive, the "Wintucket Suite," shares a common balcony with other units. Every other floorplan features a private deck-style balcony or patio. ("It would be nice to be on the third floor and have distant ocean views from your balcony.") Sometimes the front door open into the bedroom with the deck off the living area. With other layouts, you enter through the living area with the deck off the bedroom. Some suites feature a door between the bedroom and the living area, while others don't offer that privacy. Some floorplans contain both a full bath and a half bath, while others offer just one bathroom. Regardless of their layouts, all the one-bedroom options are the same size, roughly 500 square feet. ("The space was fine for a short stay with two kids. For a longer stay with more kids, we would have wanted at least a second bedroom, and preferably a full kitchen with an oven.")
The Zihals stayed in a one-bedroom "West Chop Suite" on the ground floor. The front door opened into a small bedroom with a king-size bed but room for little else except two bedside tables. There was no TV in the bedroom. There was a small bathroom off the bedroom, with a single vanity and combined tub and shower. No door separated the bedroom from the rest of the suite. Directly off the bedroom, there was a passageway with the kitchenette on one side and a small powder room on the other. The living room featured a pull-out queen-size sofa bed, a pull-out twin-size armchair, two club-style chairs, a coffee table, and an armoire with the TV. There was also a round dining table and four chairs. From the living room, sliding doors led to a patio with a café-style table and two chairs and two recliners. The view was of the front lawn and pond. ("Overall, the room was comfortable, well appointed, and borderline luxurious. The furniture and accessories appeared new and clean, and the daily cleaning service was excellent.")
The two most expensive one-bedroom options, the "Brant Point Suite" and the "Owner's Edgartown Suite," deliver a step up in amenities. In both, the bedroom has a second TV plus a door for more privacy. There is also a stacked washer and dryer in a small laundry area. There are also several two-bedroom and three-bedroom floorplans available, all of which feature in-room laundry facilities.
Mattakesset Properties offer 3-bedroom duplex townhouses and larger homes with up to seven bedrooms. These homes are privately owned and vary in décor and style, but all have full kitchens, laundry facilities, and at least two bathrooms. Some have elaborate floorplans, multiple decks, and more upscale kitchens, and are priced accordingly. For most families, the least expensive 3-bedroom townhouse will provide enough space to be very comfortable. Like inn guests, families that opt for townhouses are entitled to complimentary use of children's day program, tennis club, pools, fitness center, and other resort amenities.
Price Tag: Any way you cut it, staying at the inn is very pricey given the size of the rooms. From June through September, the minimum stay for inn guests is two to four nights, depending on arrival day. As you'd expect, rates are highest during the period from mid-July through Labor Day. Add in that there are about a dozen floorplans in the inn alone, each at a different rate, and the pricing structure becomes amazingly complicated. For example, a 3-night stay (the minimum if you arrive on Monday or Tuesday) in a one-bedroom suite, given the five floorplan choices during a peak week in August, runs from $1,545 to $3,045. A 4-night stay (the minimum if you arrive Thursday or Friday) in the same week runs from $2,060 to $4,060. Either way, the nightly rate is over $500. Prices are lower in June, early July, and after Labor Day.
For a 2-bedroom suite at the inn (two floorplan choices), expect to shell out between $2,835 and $4,095 for a 3-night stay (again, arriving Monday or Tuesday) or between $3,780 and $5,460 for a 4-night stay (arriving Thursday or Friday) during the peak late-July through August period. Either way, the nightly rate is over $900. Ouch. Prices are lower earlier in the summer and after Labor Day.
The best value-for-money at Winnetu is spending a week (the minimum stay) in a more private 3-bedroom townhouse at Mattakesett Properties. Rates for the least expensive 3-bedroom townhouses during the most sought-after weeks from July through August run $3,445 to $5,215 for a Tuesday, Wednesday, or Thursday check-in. These prices still hover around $500 or more a night, but you get much more space and comfort than if you spent the same amount for a suite at the inn. Spring and autumn rates are much lower at $1,450 to $2,035 per week—fantastic value if your vacation isn't tied to the school calendar. During June, rates slide up to $1,750 to $3,850—still a much better deal than July and August.
Are your kids too young for kindergarten? Come after Labor Day and enjoy low rates and special activities geared just for preschoolers. Check the resort's web site for the "Preschool Suite Spot" special offered September 4 through September 24, for savings of 50% off regular rates.
Is Winnetu expensive? Sure. Both accommodation and dining are very pricey here. It would be nice to see one more affordable dining option at this resort, particularly for lunch. The current lunch options are expensive and it's inconvenient to leave the resort midday when activities are in full swing. On the plus side, this resort delivers a terrific spirit of hospitality that's absent from so many resorts in this high-end price range. Winnetu offers up a boatload of complimentary activities, from the marvelous free kids' day camp, fire truck rides, yoga classes, and tennis clinics (wow!) to little extras like complimentary use of beach chairs (how seldom do we encounter that?) and the 20 free minutes of computer use in the business office. You won't feel fleeced by taking advantage of the evening kids' club or by renting from the DVD library, both of which are priced in line with what you'd pay at home. These little niceties go a long way to making you feel positively about Winnetu throughout your stay, and on your day of departure when you settle your bill.
Insider Tips:
To get your money's worth from this resort, take full advantage of all the activities, classes, and clinics available. Most are included in the rate, and so you're effectively paying for them anyway.
Bring your own white tee-shirts for your kids to tie-dye at camp. They cost $10 each if you buy them at Winnetu.
For longer stays, consider taking a car and bring your own bikes, plus a cooler full of snacks and breakfast and lunch foods. (The Steamship Authority's roundtrip fare for vehicles starts at $124.)
Study and use the resort's excellent web site. Zihal was able to sign up for many activities in advance of her trip, and it's also possible to order bikes and groceries in advance. For a short stay, the grocery delivery fee of $20 may be prohibitive, but it could make sense for a longer stay and a larger grocery order.
If you're staying in a suite without a washer and dryer, take advantage of the resort's coin-operated laundry facilities. ("It was so nice to be able to wash and dry all our wet, sandy clothes.")