Fall with kids
By Mimi Slawoff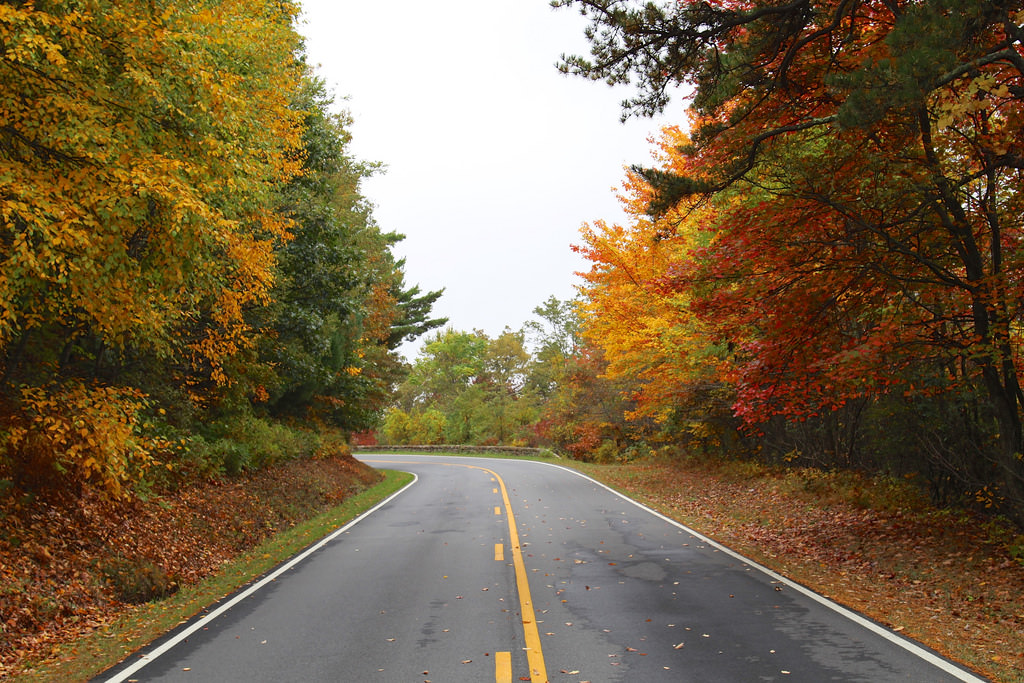 Skyline Drive in Shenandoah National Park is one of the best drives to take this fall. (Flickr: David Fulmer)
While each season is special, autumn brings crisp cool weather and a changing bouquet of vibrant colors. Deciduous trees shimmer with red, gold, magenta and purple leaves across the US. Leaf peeping is a popular family activity best enjoyed on leisurely fall drives. The peak time to see Mother Nature's splash of autumn colors varies, depending on weather, topography and geography. But in general, you can bet on seeing brilliant fall foliage from September to late October or early November.
There are many options where to go for leaf peeping on a family vacation. Scenic fall drives abound around the country. Some roads traverse through mountain ranges, others along coastlines and lakes. It's a beautiful time of year to pack up the kids and hit the road. Besides the show of colors, fall trips mean cooler weather and fewer crowds.
These are our picks for the 10 best fall drives in the US.
(MORE: 6 Fab Fall Weekend Festivals for Families)
M-22 Scenic Drive, Northwest Michigan
Considered one of America's best fall drives, the 116-mile road travels along the Lake Michigan shoreline. The road winds through the countryside of Manistee, Benzie and Leelanau. In addition to spectacular fall colors, you'll see small towns, farm markets and art galleries on your family vacation.
Adirondak Loj Road, Lake Placid, NY
Autumn comes early to the 6-million-acre Adirondack Park, offering several options for scenic fall drives. Adirondak Loj Road is great for travelers who want to stop for hikes on a family vacation. Sugar maples, American beech, and yellow birch trees are draped in a bouquet of colors.
Skyline Drive, Shenandoah National Park, Virginia
Enjoy a kaleidoscope of color on Skyline Drive, the National Scenic Byway that runs north-south through the park. Fall drives cresting the Blue Ridge Mountains' steep slopes offer expansive views from peaks to valleys. Scenic overlooks showcase red Virginia creeper vines, yellow and orange hickories, and deep purple dogwoods.
Green Mountain Byway, Vermont
The first week in October is usually peak time for the perfect road trip along the 11-mile Green Mountain Byway. But anytime in late September to mid-October is ideal for a leaf peeping family vacation. See red sugar maples, oaks, birch, elm, poplar and hickory trees pop with colorful gold, red, maroon and purple leaves.
Cherokee Foothills Scenic Highway, South Carolina
Fall drives on this scenic 118-mile route pass several waterfalls, peach orchards and quaint villages. Be sure to stop and take photos on your family vacation to this scenic area. In autumn, cascading waterfalls and colorful oak, hickory, and maple trees create a misty scene.
Enchanted Circle Scenic Byway, New Mexico
Aspens show off their purple, gold and red leaves on this truly enchanting loop drive linking Taos to surrounding communities. In addition to magnificent fall foliage, you may even see wildlife on this family vacation. Look for elk, black bear and eagles.
Mohawk Trail, Massachusetts
One of the country's first scenic auto routes, the historic road traverses through small towns and the northern Berkshire Mountains. It starts on Route 2 heading west. By early October maples, birch, beech and ash are bursting with brilliant hues of gold and scarlet.
Acadia All-American Road, Maine
Enjoy contrasting colors and picturesque views on fall drives through Acadia National Park. The 40-mile route travels along the park's rocky shoreline and forest. It's a beautiful drive with beaches and hiking trails.
West Elk Loop Scenic & Historic Byway, Colorado
Among the longer of fall drives, the entire route covers about 204 miles, so allow about six to eight hours. But it's worth seeing expansive aspen groves shimmering in gold, orange, and crimson. The route travels through valleys and mountains to the charming western town of Crested Butte.
(MORE: Go Now: 5 Spectacular Fall Drives)
June Lake Loop, California
Fall foliage is glorious in the Golden State, especially in the Sierras. Stunning fall drives include the 16-mile June Lake Loop ablaze with golden aspens and willows. The pleasant drive weaves by sparkling glacier lakes and picnic areas, perfect for a laid-back family vacation.
Mimi Slawoff of Planetfamilytravel contributed this to MiniTime. She is a Los Angeles-based journalist and a seasoned family travel expert who explores the world with her three children and writes about their journeys.