Best kid-friendly attractions in Chicago
By Josephine Levin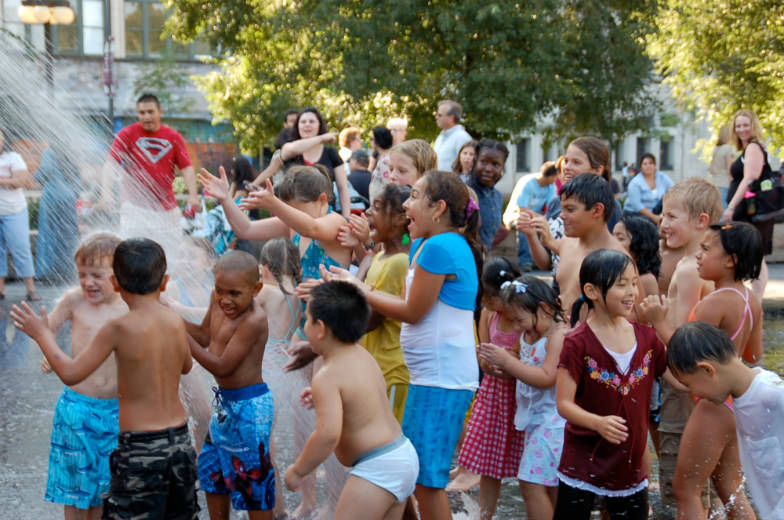 Kids at the Crown Fountain (Flickr: Lucy Gray)
Chicago, America's third largest city, has a fantastic slate of family and kid-friendly attractions. The windy city on Lake Michigan also is blessed with some very fine parks, playgrounds, beaches, museums, conservatories and zoos. In short, there is something for everyone and every member of your family. It's not a question of how many there are, it's a question of how to take in as much as possible in the amount of time you have to spend there.
The Kid-Friendly Loop
Three kid-friendly museums are conveniently located in the heart of Chicago known as the Loop. From this Museum Campus in Grant Park, you and the kids can explore the heavens, the seas and the earth with its creatures!
1. The Shedd Aquarium (1200 S Lakeshore Drive, 312-939-2438) is an occasion to view 32,000 creatures of the sea, rivers, and lakes as well as some of the animals that live near these bodies of water such as penguins, monkeys, frogs and lizards. The exhibits give you and the kids a chance to explore coral reefs, flooded rain forests of the Amazon, the Great Lakes, the craggy coastal terrain of the Pacific Northwest and more. The Polar Play Zone is especially for kids and offers a unique underwater viewing experience. If you and the kids are working up an appetite, Shedd has family-friendly cafes and eateries open from 11 am to 4 pm. The Soundings Café offers salads, wraps and sandwiches all made with organically grown products and you and the kids can sit indoors or on an outdoor terrace. The Deep Ocean Café is located right in the children's Polar Play Zone and offers hotdogs, macs, slushies and more. The Bubble Net offers pizza, burgers, burritos and also vegetarian and Healthy Fare for Kids meals. No strollers are available for rent at Shedd so bring your own or a baby back carrier. There is a small private area for nursing infants. Shedd offers three ways to buy tickets in advance rather than standing in line.
(MORE: Find kid-friendly hotels to stay in Chicago.)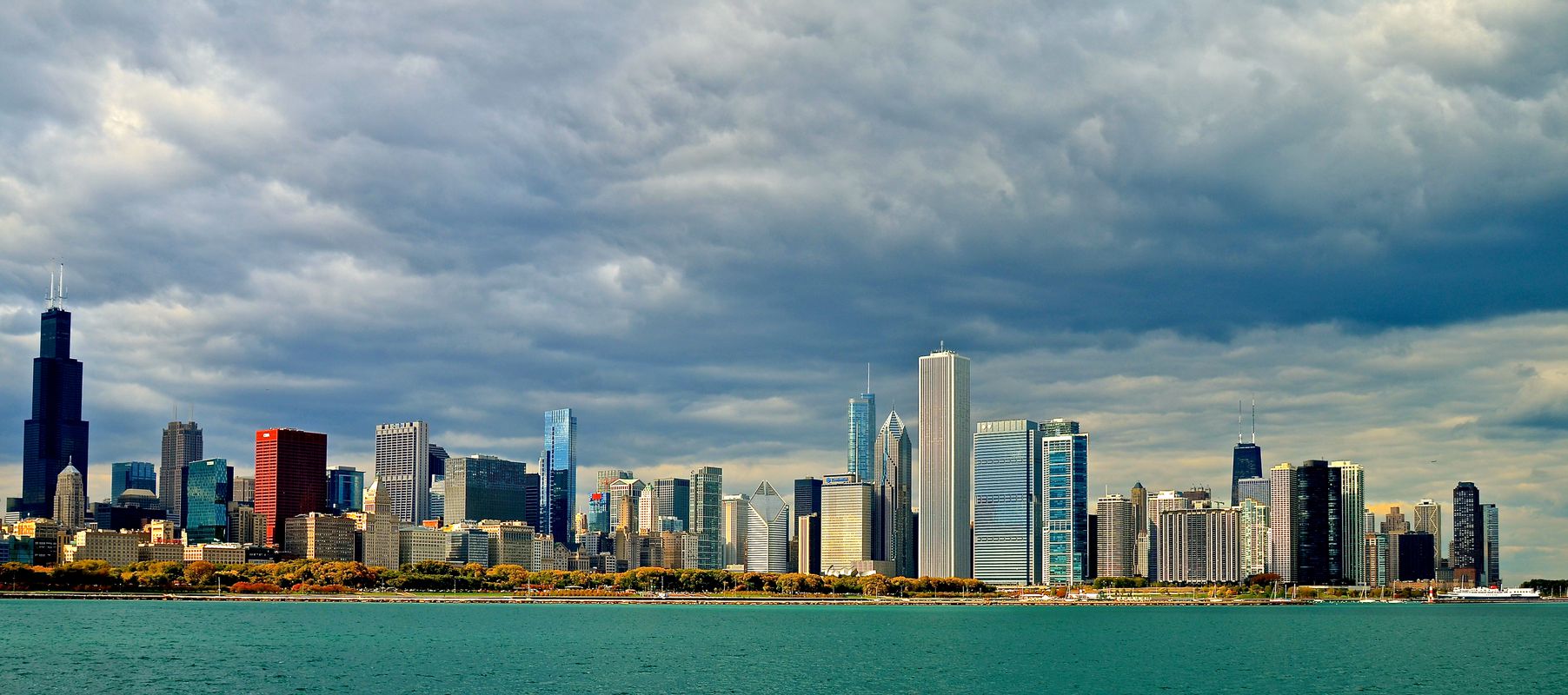 View from Adler Planetarium (Photo: Wesley)
2. The Adler Planetarium (1300 S. Lakeshore Drive, 312-922-7827), built on an artificial island on Lake Michigan is a possibility to take the kids on a tour of the heavens. Adler offers a wide variety of exhibits, shows and programs for all ages. Of special interest is a kid-friendly hands-on program for Young Explorers ages 2-6 offered Mondays from 9:30 am to 1 pm (free with general admission). Astro-overnights offer you and your kids ages 5-10 a chance to spend a hands-on activity night in the museum under the stars and enjoy a continental breakfast ($60 per person). Café Galileo with a fantastic view of Chicago's skyline is on the premises.
3. The Field Museum (1400 S Lakeshore Drive, 312-0922-9410) shows the history of life on the earth and offers special kid-friendly programs like Meet a Scientist and Dozin' with the Dinos. Admission price also includes free entrance to the Crown Family PlayLab (Thursdays through Mondays from 10 am-4pm, with the last admission at 3 pm). Be sure to download the free fun Kids Tour brochures before you go so that you can guide the kids to the most interesting exhibits. Strollers can be rented from the checkrooms on a first-come first-served basis.
4. Another Grant Park centrally-located attraction in the Loop is the Art Institute of Chicago (111 S Michigan Ave, 312-857-7161). Although children under age 14 get in for free, they do not always find it interesting to spend so much time gazing at a plethora of paintings. However, the Art Institute offers kids accompanied by an adult, hands-on activities, games, self-guides, puzzles and books in the Vitale Family Room. You and the kids can also participate in family-friendly-art-making activities and workshops. If there are two adults visiting the Art Institute with the kids, one can stay with them in the Family room while the other one tours the art galleries! You and the kids can also have a great time at the drop-in Artist's Studio at the Ryan Education Center working together on a family art project that can be taken home. While admission is free to the Vitale Family room and Ryan Education Center, advance registration is required for some of the workshops.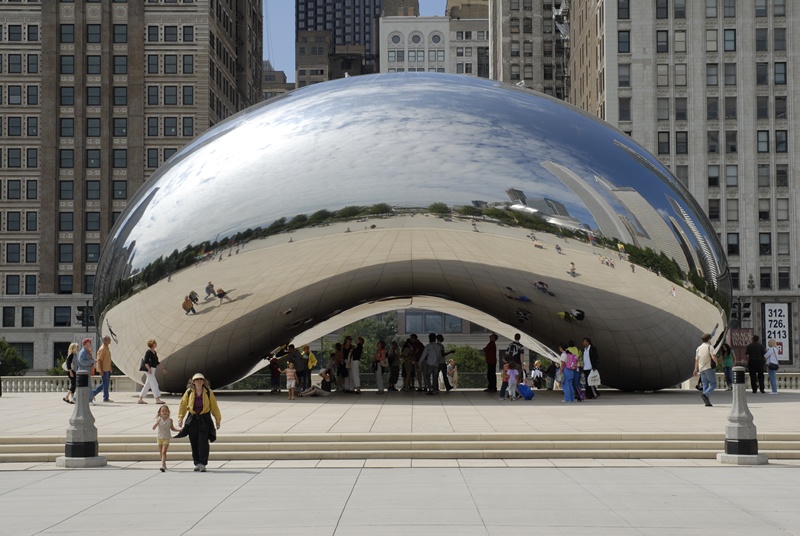 Cloud Gate at Millenium Park (Flickr: Alberto Alerigi)
5. Millennium Park (201 E Randolph St, 312-742-1168) is part of Grant Park and is just to the north of the Art Institute of Chicago. Here you can find art and architecture at its best, exhibitions, concerts, special events and more. The Cloud Gate sculpture also known as The Bean is made of polished steel and is especially popular.
6. The Crown Fountain (201 E Randolph St between Michigan Ave and Columbus Ave) in Millennium Park is loved by kids who play and splash in this interactive fountain. Don't forget to bring a swim suit and towel with you.
7. The five-acre Lurie Garden (201 E Randolph Street between Michigan Ave and Columbus Ave) at the southeastern end of Millennium Park is an amazing landscape design and urban oasis that is actually considered the world's largest rooftop garden. There is a large 15 foot shoulder hedge on two sides of the garden that represents "the city of big shoulders" penned by Carl Sandburg. Throughout the year Lurie Gardens offer a slate of free family-friendly programs including a toddler series based on combining a love of nature with music.
8. The Willis Tower Sky Deck (233 S Wacker Drive, 312/875-9447) is a chance to step out on top of the tallest building in the Western Hemisphere. Here you can see all across Lake Michigan to Wisconsin. The building is kid-friendly with family bathrooms and ramps for strollers. The Willis Tower Sky Deck Kids Club offers free downloads to print out for the kids before coming such as interactive games, coloring pages, quizzes and scavenger hunts. This is not for people afraid of heights especially as you can feel the building sway on a windy day!
North of the Loop for Kids
9. If you think the kids have had enough of the indoor museums, just a little to the north of the Loop is Navy Pier (600 E. Grand Ave., 312-595-7437) that has a wealth of kid-friendly outdoor attractions such as a waterfront playground with a giant Ferris wheel, carousel, mini golf, jet skis, bicycles for rent, boat rides and cruises. Twice a week and on certain festive occasions the Pier offers spectacular fireworks displays with music. Besides fine restaurants (some seasonal and outdoors), fast and snack foods of varying cuisines are found in the Food Court. Especially popular with kids is the Garrett Popcorn Shop and Ryba's Fudge Shop.
10. The Tall Ship Windy (600 E. Grand Ave, 312-451-2700), the official flag ship of the city of Chicago, is a sailboat schooner at Navy Pier that tours Lake Michigan and has programs especially popular with kids like the Fireworks Cruise and Sea Shanties and Real Pirates of the Inland Seas. Check schedule for ticket prices.
11. Seadog Speedboat Cruises (600 E. Grand Ave., 888-636-7737) are an exhilarating way to tour Lake Michigan. Seadog offers several options including an Extreme Thrill ride for people over 48 inches tall. Children under age 12 must be accompanied by an adult on all Seadog tours. Speedboat tours are not recommended for pregnant women or people with heart conditions or orthopedic back and neck problems. See schedule for prices of cruises.
12. The Chicago Children's Museum (700 Grand Ave., 312/527-1000) is also at Navy Pier and besides its many educational exhibits are special summer 2014 events like the Circus Zirkus and Laugh Shack. If you've got a wee one in tow you will be happy to know that here you can find the baby and toddler-friendly Pritzker Play Space, Kids Town, children's pond, Big Backyard and more. There is free entrance for children under age one.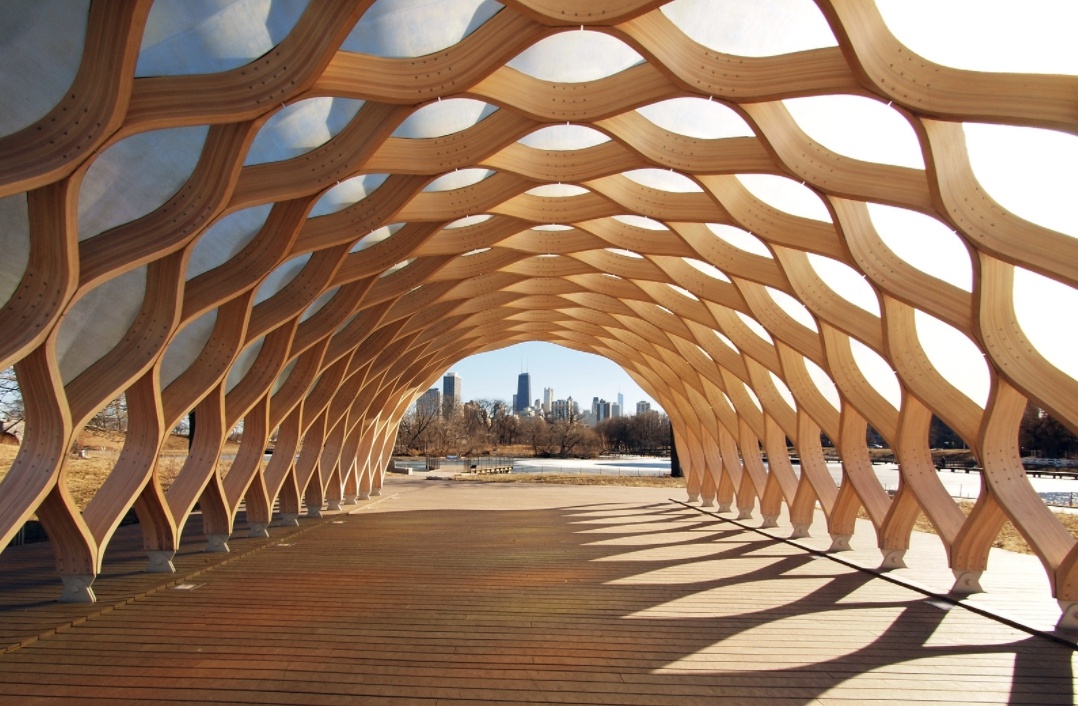 Pavilion at Lincoln Park Zoo (Flickr: John Picken Photography)
13. Just north of Navy Pier is the free family-friendly Lincoln Park Zoo (2001 N Clark St. just off Lakeshore Drive at the Fullerton Parkway exit, 312-742-2000) that is popular with kids of all ages as well as the young at heart. Here you can hear the roar of a lion, or feel like you are on a farm with domestic animals and yet you are in the heart of Chicago surrounded by skyscrapers!
14. After you leave the zoo take a free walk through the four greenhouse rooms of the Lincoln Park Conservatory (2391 N. Stockton Ave., 312-742-7736), Here you can take in the exotic orchids, palms and ferns as well as seasonal exhibitions.
15. Just a short way north of the Lincoln Park Conservatory is the Peggy Notebaert Nature Museum (2430 N. Cannon Drive, 773-755-5100). This kid-friendly attraction is the most hands-on museum for learning about science in Chicago and your kids will love the live butterfly haven. Kid-friendly and family programs like live animal feedings and butterfly releases are geared for all ages. There is a gift shop and café on the premises and if you brought your own snacks you can also take a seat with a view of the beautiful ravine and North Pond.
16. If you and kids are hungry don't miss the Lincoln Park branch of Lou Malnati's Pizzeria (958 W. Wrightwood, 773-832-4030). Lou Malnati's deep-dish pizza was voted on Eater as the best deep-dish pizza restaurant followed by Unos Pizzeria. World-famous Chicago deep-dish pizza was invented in Chicago in 1943 by Unos Pizzeria and quickly spread in popularity. Here is a most delicious pizza with a thick crust, lots of cheese and other toppings that you eat with a knife and fork. It is really filling and nutritious and not just a fast snack food. Lou also has a gluten-free thin-crust pizza and other gluten-free options. You might also want to try Lou's stuffed spinach bread and of course the classic Italian garlic bread not to mention all the salads, pasta, fish and chicken dishes. Lou also has dishes for kids under age 12.
17. If you and the kids are looking for a sweet old-fashioned desert then stop by Sweet Mandy B's Bakery (1208 W. Webster Ave., 773-244-1174) in the heart of Lincoln Park for all kinds of cakes, cupcakes, s'mores, pies, banana pudding with nilla wafers and more. If you are there on a Monday or Wednesday you can enroll your kids in a one hour decorating class for $20.
Family-Friendly South of the Loop
18. Chicago boasts America's third largest Chinatown (Wentworth Avenue and Cermak Rd). Here is your chance to explore Chinese culture, shops, Chinese herbs, tea shops, bakeries, cafes and best of all, kid-friendly restaurants where you can taste all the culinary cuisines of China from Cantonese to hot and spicy Szechwan. Believe it or not there is even a Japanese restaurant in Chinatown.
19, Best of all for the kids is the 12 acre Ping Tom Memorial Park (1700 S Wentworth, 312-225-3121) with a fun playground right at the north side of Chinatown Square. There is also a field house at Ping Tom Park with a first class swimming pool, fitness room and gym.
20. In the summer at the Ping Tom boathouse you can rent a kayak from Urban Kayaks (corner Wentworth and 19th St, 312-965-0035) and take the kids for an hour of fun on the Chicago River. Bring with you water and snacks. In order to paddle a single kayak as an unguided rental you must be 18 years of age or older. Teens 15-17 may paddle single kayaks in guided or supervised situations with parental consent and a signed liability waiver. Children under 15 must be accompanied by a parent or guardian in a tandem for two kayak. Children less than 50 lbs must ride in a toddler seat between two adults.
21. For a really fun family experience you can travel between Chinatown and downtown on a Chicago Water Taxi (405 N. Wabash, Suite P2E, 312-337-1446) which is a Wendella boat that sails down the Chicago River. Not only does one avoid getting stuck in traffic jams especially during rush hour, but this is a real fun way to view downtown Chicago on the way to Chinatown. One gets on or off at a dock! This kind of taxi ride is something kids will remember!
22. Wendella (Wendella Dock, 400 N. Michigan Ave, 312-337-1446) also offers water boat cruises to experience Chicago. Kids will really love the kid-friendly Fireworks Cruise that sails from the main dock at the Wrigley Building to Navy Pier.
23. The Museum of Science and Industry (5700 S Lakeshore Drive, 773-684-1414) is a kid-friendly attraction that has stood the test of time. Parents who loved going there when they were kids now bring their own children and of course so do grandma and grandpa! The kids will just love all the hands-on activity and exhibits such as the coal mine, Colleen Moore's Fairy Castle, German Submarine and more.
(MORE: Find more kid-friendly attractions to see in Chicago.)
West of the Loop for Kids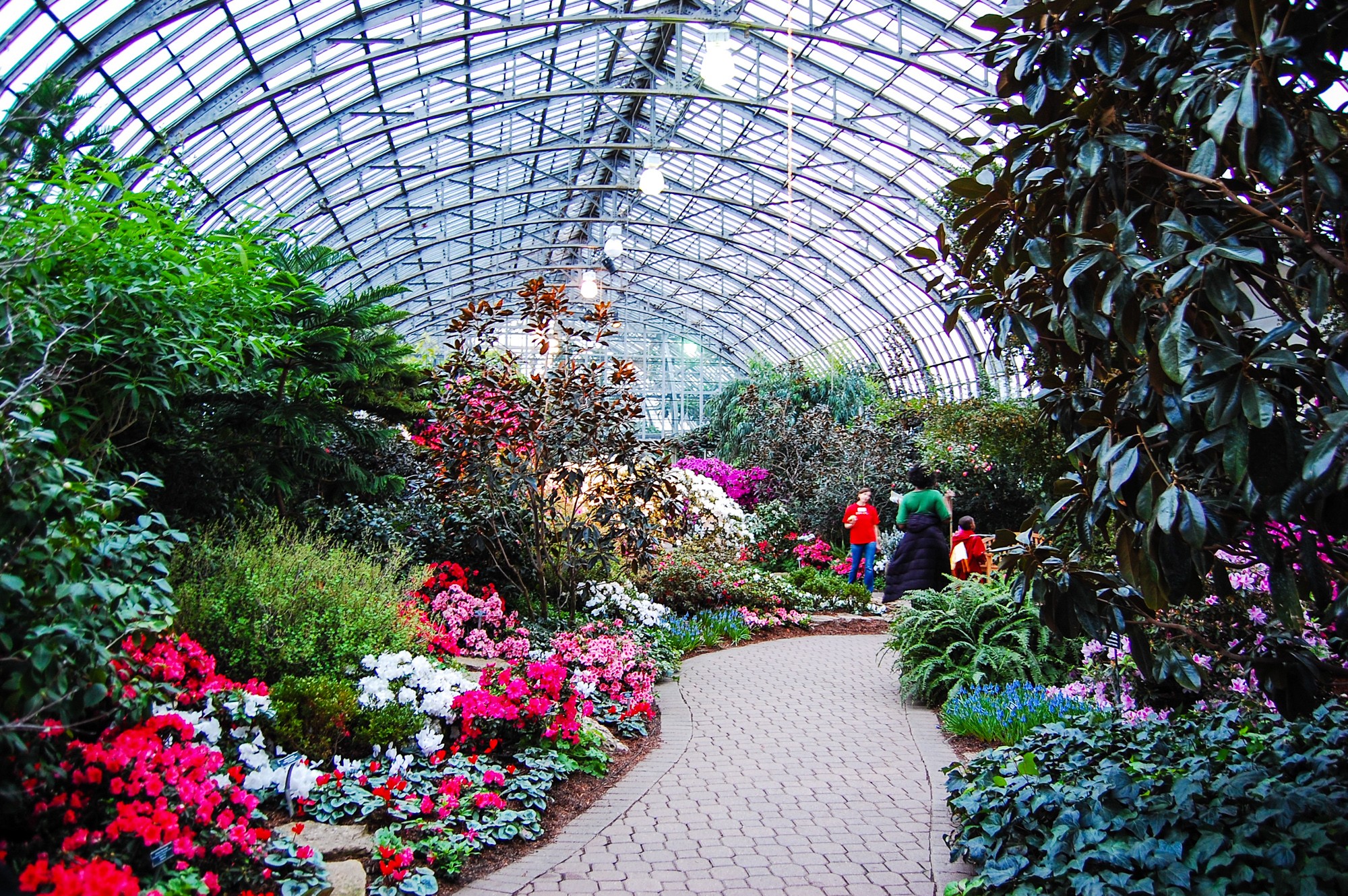 Garfield Park Conservatory (Flickr: Max Wolfe)
24. The Garfield Park Conservatory (300 N Central Park Ave, 312-746-5100) with six state-of-the-art greenhouses and two great exhibition halls is a fantastic family-friendly place to take the kids to learn all about plants. The kids will have a wonderful time with the interactive displays at the Elizabeth Morse Genius Children's Garden in the southwest wing of the Conservatory. Here kids climb up on a seven foot tall seed, help a large bee to pollinate a large flower and slide down a slide in the shape of a large green stem. A special permanent crawling area is available to babies and toddlers with its own miniature green slide and special learning blocks.
25. What kid doesn't love a zoo? The Brookfield Zoo (First Ave between Ogden Ave and 31st St, 708-688-8000) is located 14 miles west of downtown Chicago. Managed by the Chicago Zoological Society, great emphasis is on conservation, animal care and compassion. In fact, the zoo even has professional animal nutritionists on its staff. Kids will especially enjoy viewing bottlenose dolphins from an underwater viewing room. However, the biggest treat for infants and kids up to age 10 is the two acre Hamill Family Play Zoo that opens daily at 10 am. In the Hamill Family Play Zoo children get to touch wild animals.
Josephine Levin contributed this to MiniTime.