Disney cruise with kids
By Michelle Rae Uy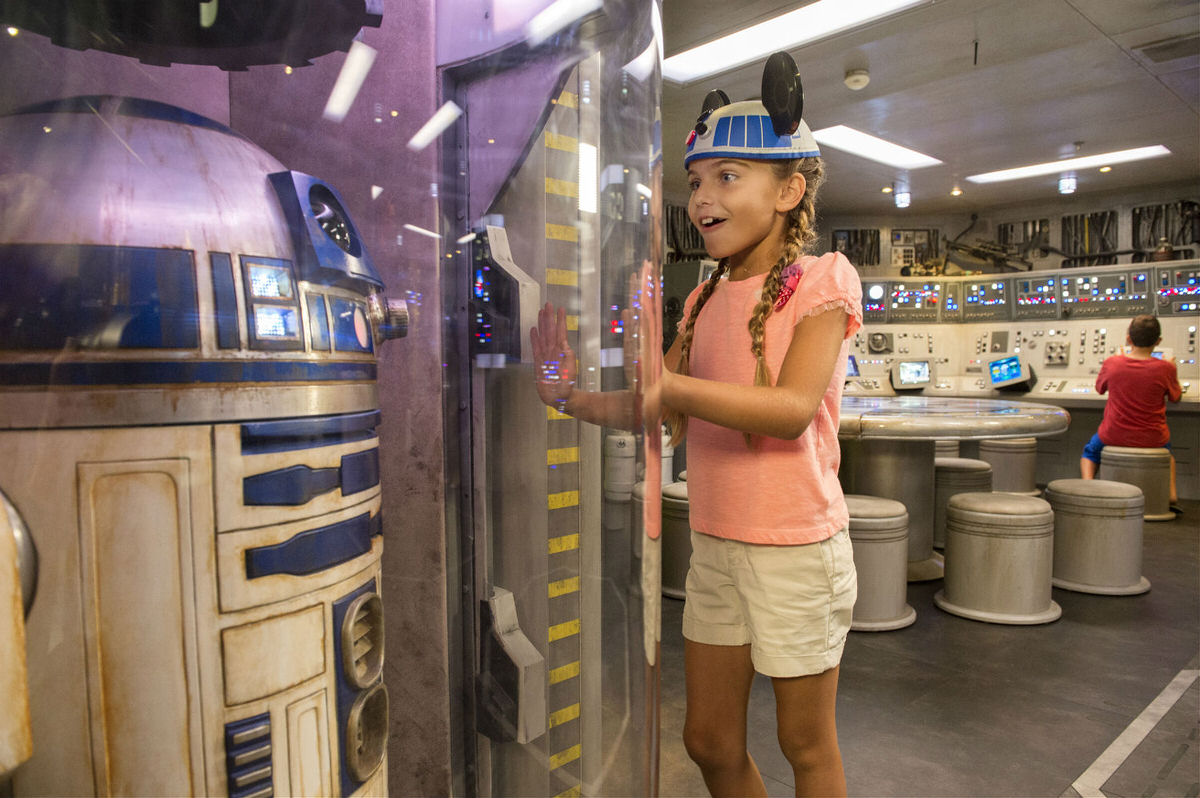 Padawan and R2-D2 in Star Wars: Millennium Falcon (Courtesy Disney Cruise Line)
It's hard to imagine how Disney cruises could possibly be more wonderful than their land-based counterparts. You just have to be there to see it. Exotic ports of call, delicious food and warm service paired with kid-friendly spaces, Disney character events, incredible nightly shows and other whimsical details make a Disney cruise one of the best ways for families to spend a magical vacation together.
Aboard the beautiful, 14-deck Disney Dream, which takes families to the sunny Bahamas, are all the trimmings of your best and most memorable vacation yet; even your teens won't want your voyage to end. Here are ten things kids and parents adore about DCL's third ship.
(MORE: 5 Fabulous Disney Cruises for Families)
Using the Force in Star Wars: Millennium Falcon. Young Padawans (ages 3 through 12) will master the force within them in Star Wars: Millennium Falcon, the new, interactive space at Disney Dream's Oceaneer Club on Deck 5. It includes a fantastic replica of the common room where Obi Wan trained Luke, an engine room, and a cockpit where kids can travel in hyperspace to a galaxy far, far away. It's one of the most complex spaces on the ship, and feature a number of Easter eggs that kids and Star Wars fans will love discovering. Keep an eye out for Luke's training remote and Chewbacca's bowcaster.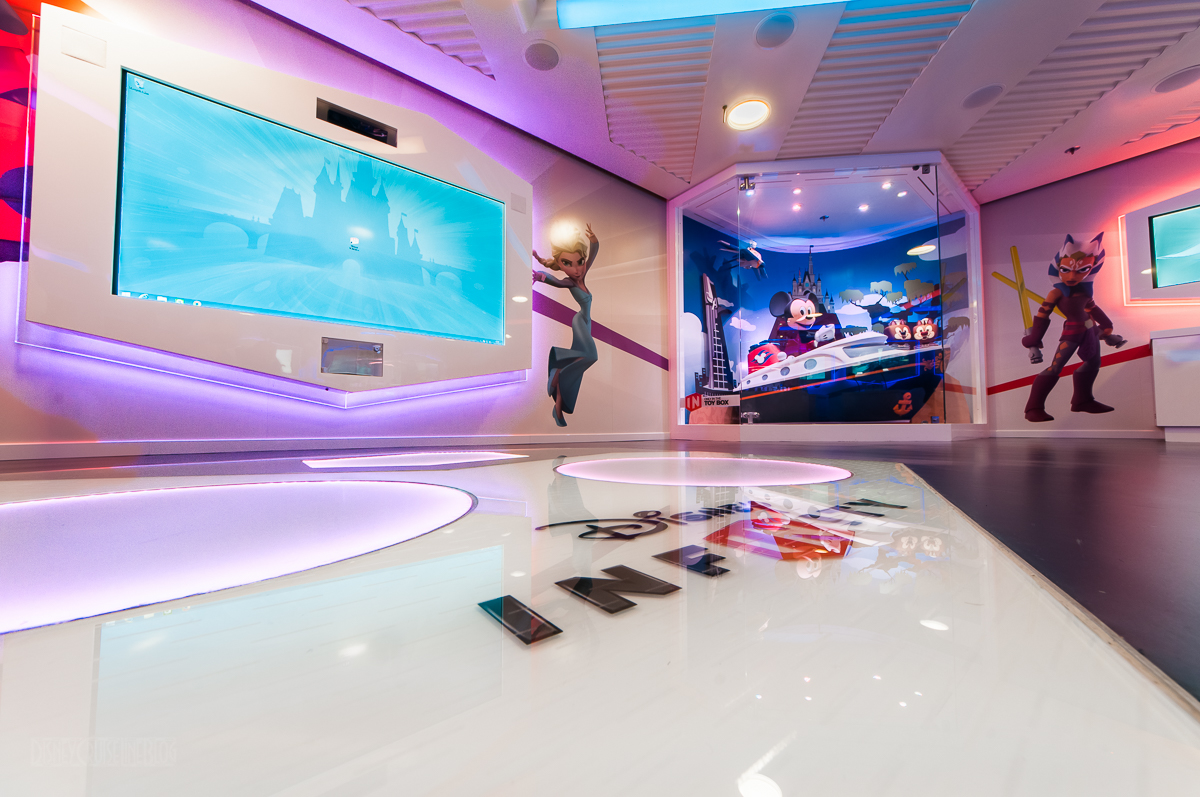 Disney Infinity (Courtesy Disney Cruise Line)
Becoming a Disney Infinity Character. Disney Infinity comes to life in the Disney Infinity gaming room, another new space aboard the Disney Dream. Kids (and parents, during open house) will get a chance to become their favorite Disney characters and play a DI game on a massive, futuristic game platform, a feature exclusive only to the ship. It's perfect for a family game night or for kids to meet and bond with other kids on the ship.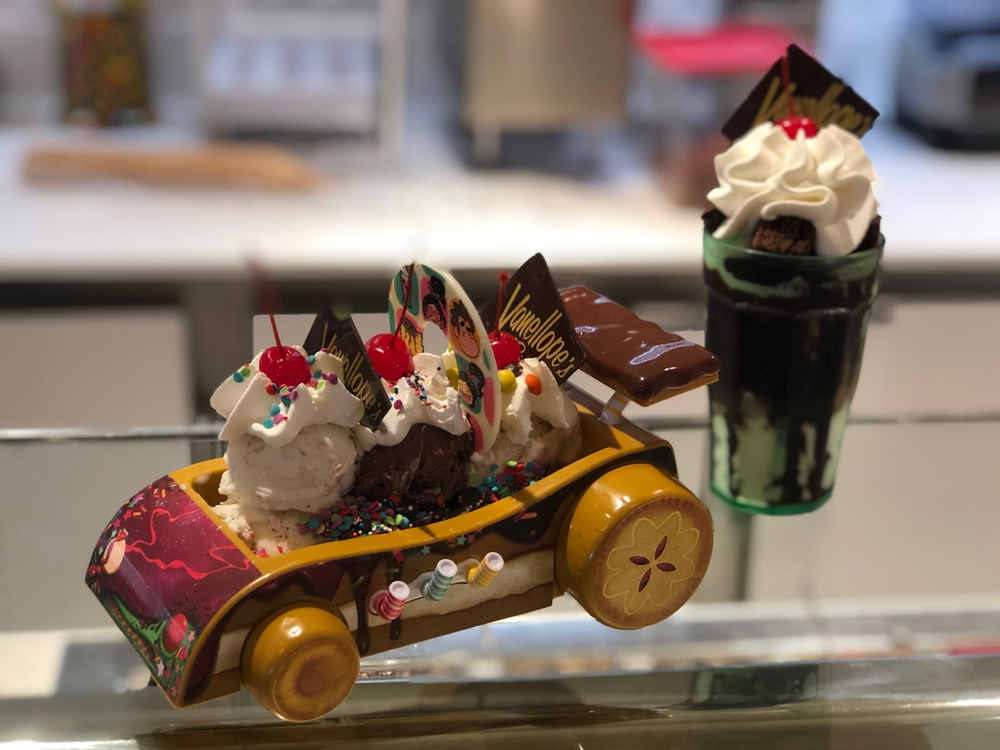 Race Car Sundae at Vanellope's Sweets & Treats (Courtesy Disney Cruise Line)
Satisfying Sweet Cravings at Vanellope's Sweets & Treats. Tasty flavors of ice cream and gelato are not the only treats families will find at Vanellope's, Disney Dream's new sweet shop. The fun and colorful store, which blends retro aesthetics with a Wreck it Ralph theme, also sells a vibrant assortment of candy, cakes and Mickey Mouse-shaped pastries. A heaping order of the shop's signature Race Car Sundae to share might just be what the doctor ordered to keep those midday blues at arm's length so the fun never stops.
Getting a Cinderella Makeover at the Bibbidi Bobbidi Boutique. Also brand new to Disney Dream is the Bibbidi Bobbidi Boutique, the very popular transformation shop you usually find at the Disney theme parks. In this magical boutique where fairy godmothers await to give each child his or her very own fairy tale makeover, kids can be whoever they want – a princess, prince charming or even a pirate. Packages start at $15.95, which includes hair and make-up only for girls, while a complete transformation that includes a chosen outfit is at $194.95 (shoes are an additional $29.95), when you're ready to splurge.
Late-Night Partying at Vibe. Gone are the days when you have to constantly worry about your teen getting exceedingly bored during your vacation. Disney knows it takes a lot to please teenagers, so its Imagineers have designed the perfect spaces for them: Vibe and Edge. At hip vibe, there's more to just kickin' it with other teens. There are also dance parties, pop culture contests, karaoke and a teen-only pool (a terrific feature, since teens are not so fond of getting constantly splashed by the younger kids at the all ages pool), as well as private pods and a hip hangout space if they just feel like chillin'. A plus: parents won't have to worry about them staying out late; thanks to Vibe's awesome cast members, they're in good hands. Teens are also welcome at Senses Spa & Salon's teen section, where they can get spa treatments as well as mani and pedi.
Having Dinner at Palo. It's hard to get traditional Italian cuisine right, but adults-only restaurant Palo mastered it to absolute perfection, from their antipasti platter (the bresaola and parma prosciutto are an absolute delight) to their entrées (the beef tenderloin with gorgonzola sauce is wonderful) to their addictive deserts (definitely try the chocolate soufflé). It's an absolute must, especially for parents looking for some quality time away from the kids. In the daytime, the new, adults-only Satelite Sundeck and Falls is a great spot for sunning and refreshing dips.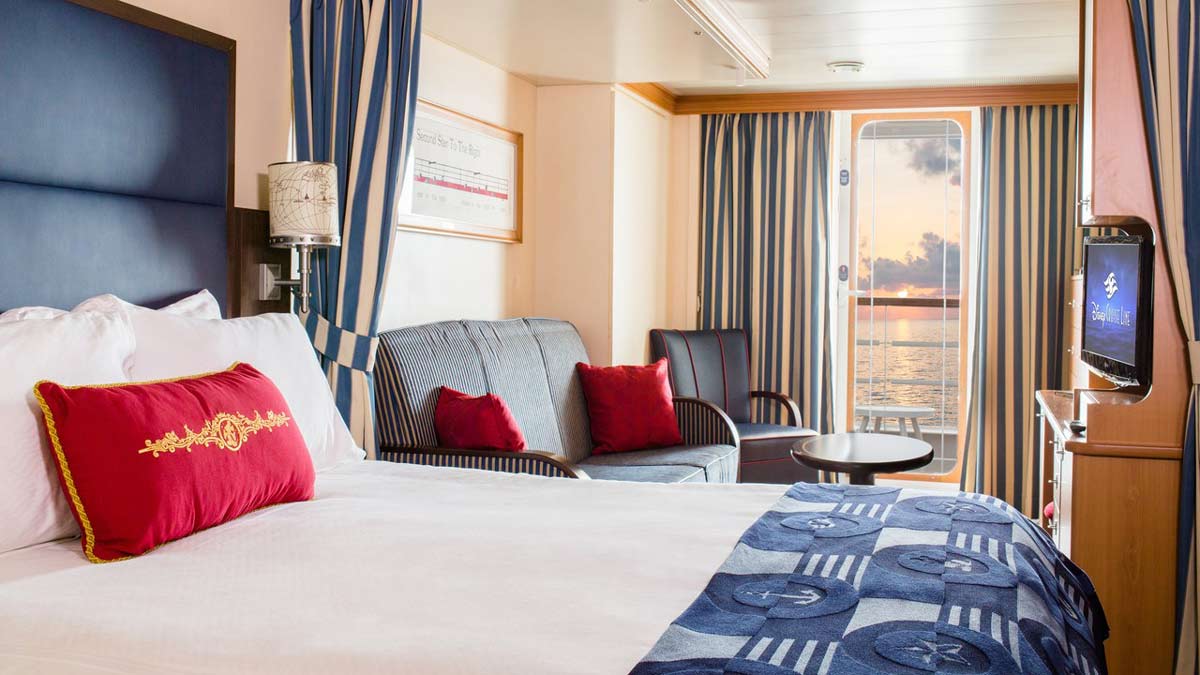 Verandah Stateroom (Courtesy Disney Cruise Line)
Watching the Perfect Sunset (or Sunrise) on Your Very Own Verandah. Portholes, magical or regular, are cool; but it's hard to deny the perks (and charm) of having a private verandah attached to your stateroom. Disney Dream's Verandah Staterooms not only offer relaxing views of sunsets and sunrises over the Caribbean Sea, they also provide a perfect spot for parents to have their early morning coffee or simply spend some quiet time in.
Breakfast. Whether you're starting your day at the casual Cabanas or at the charming Enchanting Garden, breakfast aboard Disney Dream is a delectable affair, thanks in large part to the heaping servings of delicious breakfast options, a rare treat considering breakfast buffets at many resorts and hotels are unremarkable and expensive. Kids will enjoy the Mickey Mouse waffles, crispy bacon and corned beef, to name a few.
Watching the Darling Live Shows. Disney has mastered the art of making adults feel like children again, and this doesn't stop at the activities and events aboard Disney Dream. The original live shows they show every night during sailings not only entertain the kids, they also bring forth everyone's inner child. Enjoy a good laugh at the Golden Mickeys, where Snow White, Tarzan, Mulan, Rapunzel and Flynn, Belle, and more make appearances; celebrate your favorite Disney villains with Villains Tonight!, and believe in magic again while watching Disney's Believe. You'll come out of the theater inspired and maybe tearing up a little.
(MORE: Christmas at Sea: Family-Friendly Cruises for the Holidays)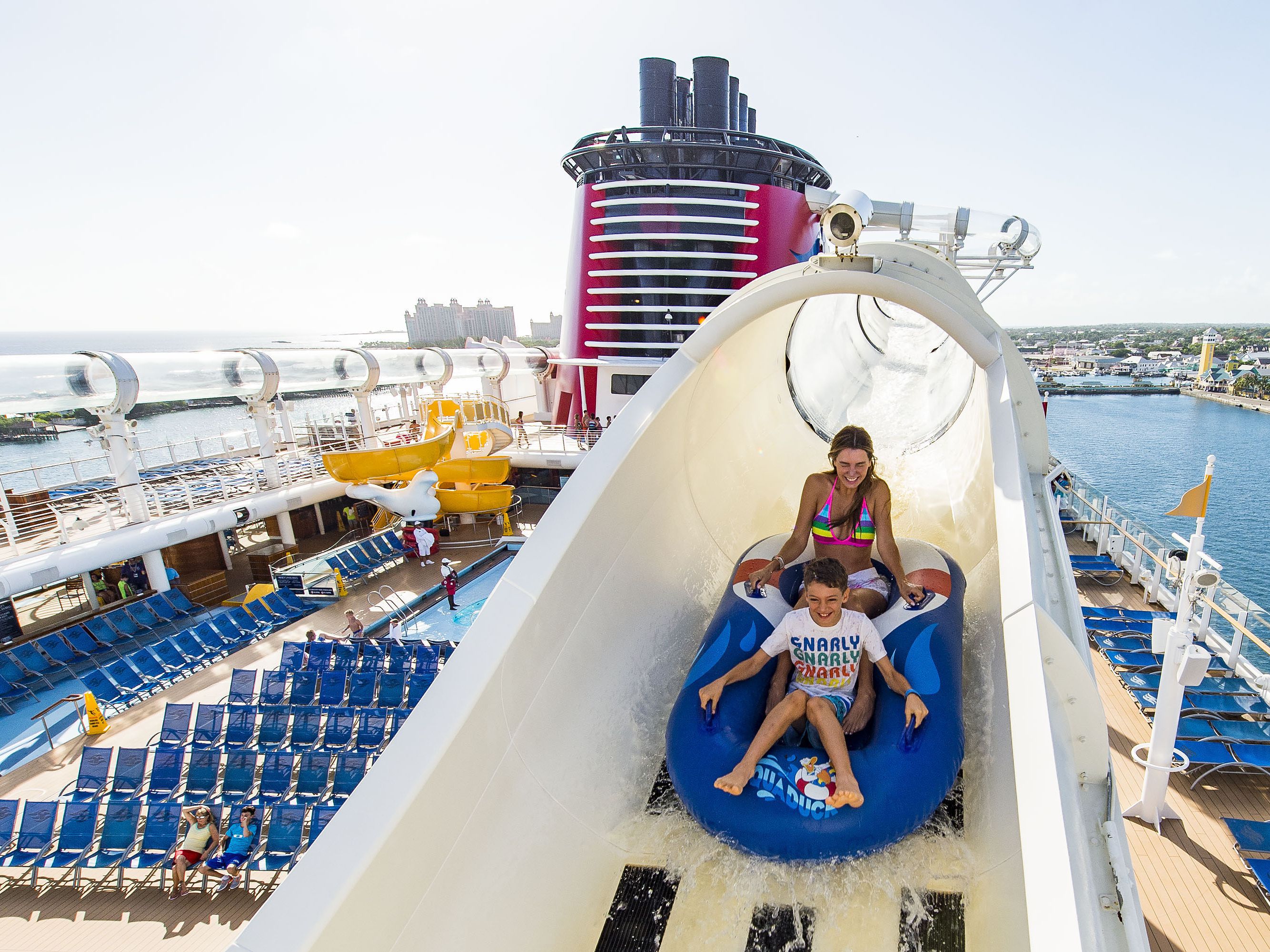 AquaDuck (Courtesy Disney Cruise Line)
Riding the AquaDuck. It's a splashing good time, careening on tubes through a see-through tunnel that wraps around over the ship's main deck. Not only are you in for an exciting and refreshing water ride, you'll also catch glimpses of the Caribbean Sea from high above as the ship sails to the next port. Kids absolutely love it, but adults enjoy it just as much. Plus, it's the most fun way to cool down.
Michelle Rae Uy contributed this to MiniTime. She is a travel writer based in Los Angeles and MiniTime's Head of Content, who spends her free time on adventures and film photography.