Dominican Republic must see attractions for families with kids
By Sonia Esther Soltani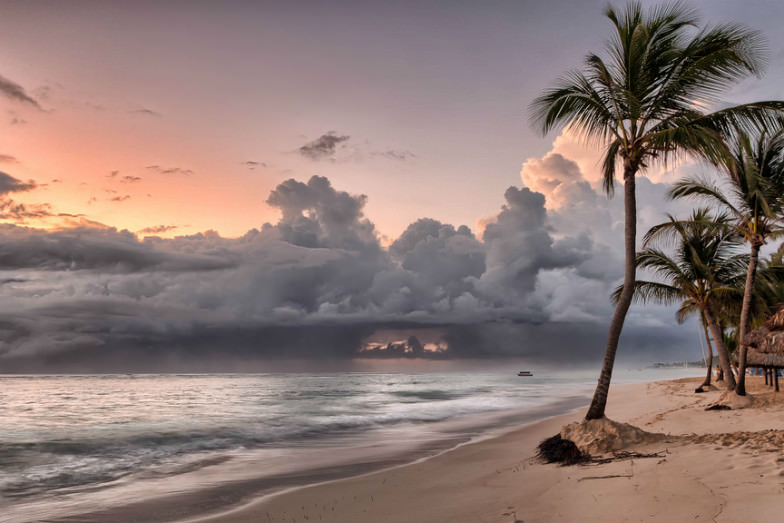 Dominican Republic sunset (Flickr: Joe deSousa)
Two hours south of Miami, the Dominican Republic has earned its reputation as a fabulous kid-friendly destination thanks to its lush tropical landscapes, beautiful beaches and great accommodations for families from budget to luxury. Whether it's a relaxing Caribbean getaway, an active vacation or one geared towards ecotourism that your family is looking for, the Dom Rep with its vast offering of all-inclusive resorts, water sports, and cultural outings has it all.
1- Budget accommodation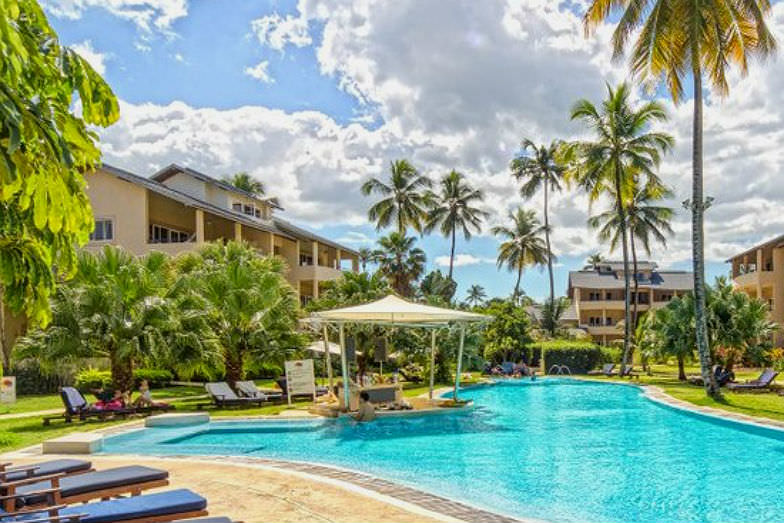 Alisei Hotel La Terrenas (Courtesy Alisei Hotel)
If you want to stay in spacious family-friendly accommodations and do your own cooking, opt for a resort offering self-catering flats such as the lovely Alisei Hotel La Terrenas that has beachfront accommodations, a swimming pool and spa. The Albachiara Hotel is another option as its apartments come with fully equipped kitchens too, and there's a pool and easy access to the beach. Both are located in Las Terrenas, a popular area for families.
2- Luxurious resorts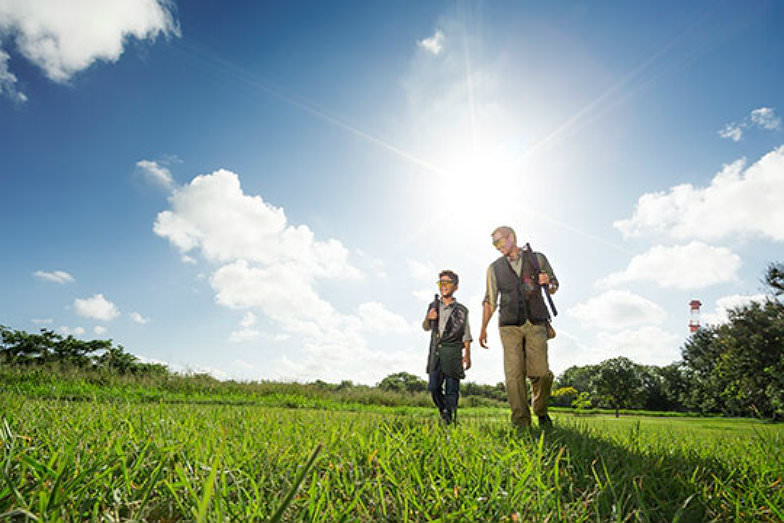 Casa de Campo (Courtesy Casa de Campo)
For an upscale Caribbean vacation with the kids, the Dominican Republic offers many superb resorts to choose from. Family-friendly Casa de Campo features 7,000 acres of pure bliss with gorgeous accommodations ranging from elegant rooms to private villas, many gourmet restaurants, an equestrian center, and a spa as well as a famous golf course and water sports. Casa de Campo also runs exciting kids' programs from toddlers to teens. Meanwhile, luxury all-inclusive Paradisus Punta Cana Resort is home to wonderful gardens, international eateries, five swimming pools and a spa, and keeps kids busy with daily activities and evening shows.
3 – Adventure and ecotourism
The Dominican Republic's mountainous terrain displays challenging and exciting hiking opportunities for active families. It's also a fascinating destination for environmentally-minded kids with a quarter of the land designated as national parks and scientific reserves. Your family will be mesmerized by the indigenous lakes, mountains, and varied fauna and flora.
4 – Natural wonders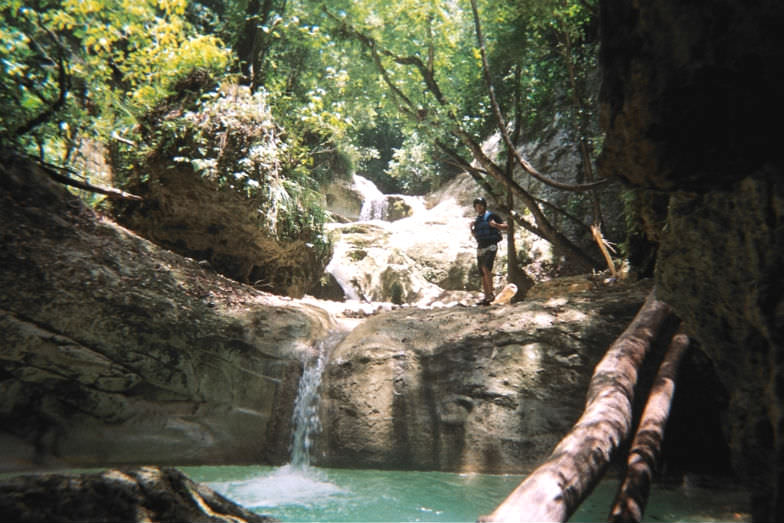 Damajaqua Cascades (Flickr: Brent)
Jungles teeming with monkeys, impressively shaped mountains and powerful waterfalls are just some of the many natural wonders that await your family during your vacation in the Dominican Republic. Don't miss the Damajaqua Cascades in Puerta Plata with 27 waterfalls and pools where you can swim, jump, and slide. Note: only children ages 8 and over can access all the ponds.
5 – Diving
Intriguing shipwrecks, stunning fishy reefs and other underwater marvels are to be encountered by divers. It's possible to dive year round in the Dominican Republic with each coast offering distinct features and scenery. There are many local companies, such as Turtle Dive Center, providing diving tuitions for kids as well as diving packages for more experienced families.
6 – Adrenaline-junkies
There's a time to lounge and sunbathe on the pristine beaches and there's a time to enjoy more thrill-seeking activities. Take your kids to Fun City in Puerto Plata that is home to three go-kart tracks and be ready for some breathtaking driving. Fun City is suitable for the whole family with a massive playground for the younger kids (ages 2-8) and bumper cars for olders ones — and parents too!
7 – Horse riding
If your family rides horses or wants to learn, the Dominican Republic is a great place to do it with many resorts and private companies offering tuitions and tours. Horse riding is usually combined with cultural tours exploring local plantations and villages as well as the Caribbean destination's beautifully preserved colonial architecture. The kid-friendly Rancho Lorilar, for instance, offers half-day and full-day rides.
8 – Water sports
The Dominican Republic features 1,000 miles of white sandy coastline and ideal climatic conditions with year-round sunshine and good winds for water sports such as surfing, windsurfing, boogie boarding, and kiteboarding. Cabarete's Kite Beach is a favorite with families that can rent equipment and take lessons for surfing and other water sports from Gokite Cabarete Kiteboarding School.
9 – Swimming with dolphins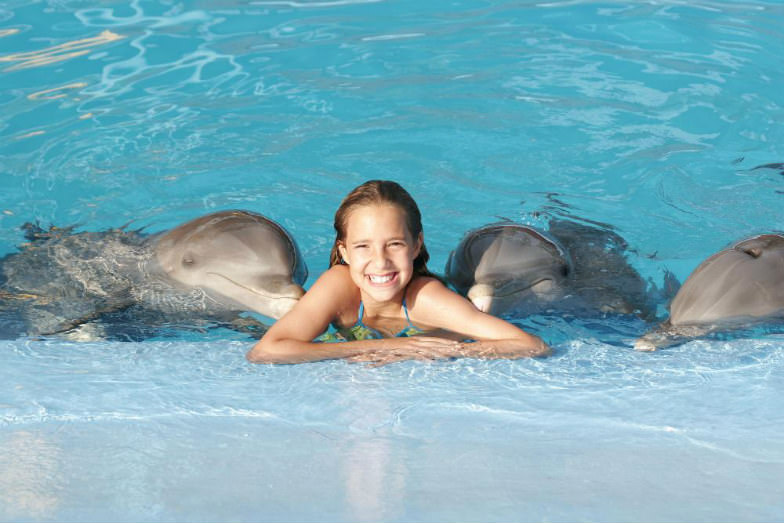 Swim with dolphins at Dolphin Island Park (Courtesy Dolphin Island)
Kids will have a memorable experience during their Dominican Republic vacation if you take them swimming with dolphins. Among the family-friendly attractions where kids can get close to the wonderful sea animals are Dolphin Island Park off Bavaro beach, Dolphin Explorer in Punta Cana, and Ocean World Adventure Park in Puerto Plata.
(MORE: Best Family-Friendly Hotels in the Dominican Republic)
10 – History and culture
Kid-friendly museums, colorful festivals and educational tours are all available to families that look for an alternative to sports and the beach. Museo Taino in Samana showcases the history and culture of the Taino Indians offering kids an insight into the pre-Conquistadors era. In Samana City the delightful Avenida de la Marina displays houses replicating 19th century buildings while Santo Domingo Altos de Chavon hosts a 17th-century village.
Sonia Esther Soltani contributed this to MiniTime. She's traveled to over 30 countries and specializes in food, wellbeing and culture.