Themed hotel rooms for kids
By Jordan Estrada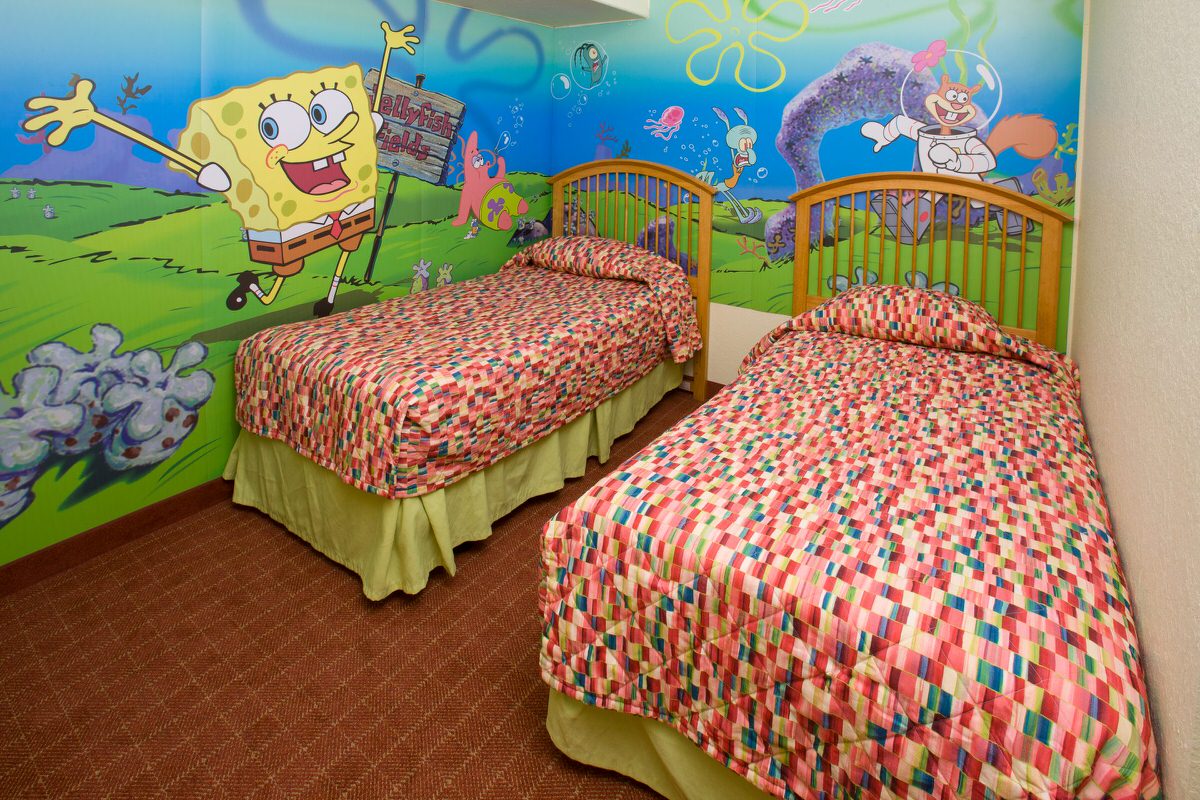 Spongebob Squarepants Suite at Nickelodeon Suites Resort (Courtesy Nickelodeon Suites Resort )
What better way to give youngsters a cool experience than by staying in a family-friendly hotel room with a fun, kid-friendly theme? Whether your child wants to pretend they are on a pirate adventure, do indoor camping, sleep in a tree house or find themselves surrounded by characters from their favorite films and TV shows, they're in for a treat when you take them to stay in an awesome themed suite during your family vacation.
Here are a few of the best, kid-recommended themed suites in the US.
Spongebob Squarepants Suite at Nickelodeon Suites Resort, Orlando, Florida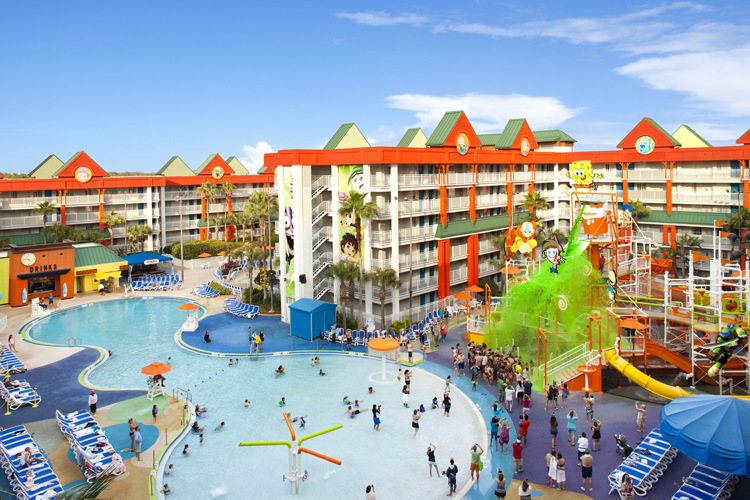 The Nickelodeon Suites Resort is fun for kids as well as adults who grew up watching the classic cartoon channel. Great themed rooms like the Spongebob Squarepants Suite offer an experience like no other for kids, who can sleep in bedrooms decorated from floor to ceiling with images of Spongebob and his friends (the kid-approved hotel also has opportunities for guests to get slimed, the ultimate honor for any true Nickelodeon fan).
The Treehouse Suite at Adventure Suites, North Conway, New Hampshire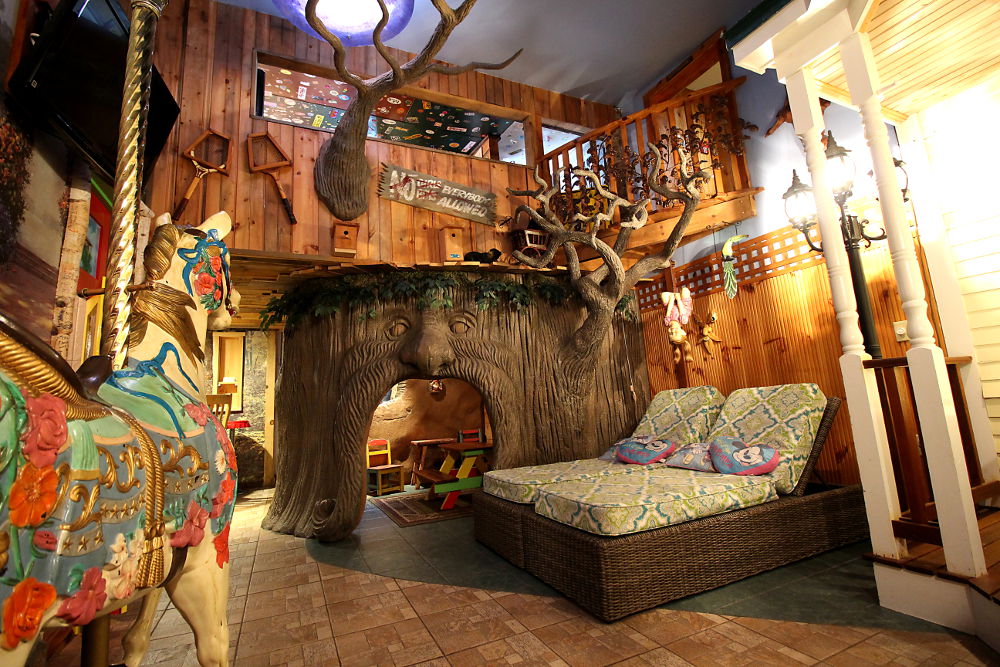 Treehouse Suite at Adventure Suites (Courtesy Adventure Suites)
The Adventure Suites is known as "The Theme Hotel," and it lives up to its title with impressive rooms like the Treehouse Suite, which is designed to give guests the illusion of being in a sunny suburban backyard with its own treehouse. Kids will have a blast as they play inside of 'Mr. Tree Trunk' or take turns sitting on the carousel horse located at one end of the suite (and the two lounge chairs near the porch are a wonderful addition for parents).
Mickey Mouse Penthouse at Disneyland Hotel, Anaheim, California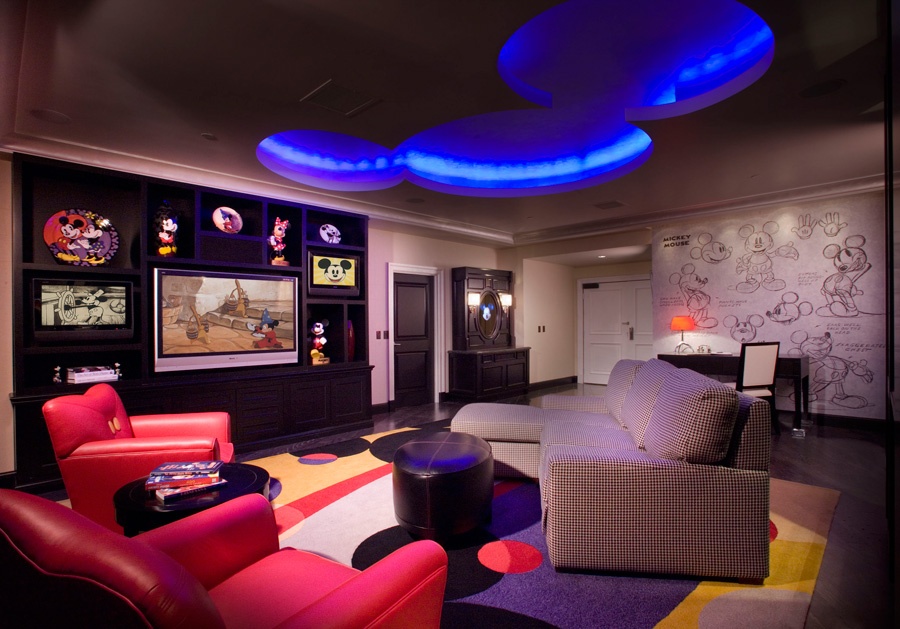 Mickey Mouse Penthouse at Disneyland Hotel (Courtesy Disney)
The Mickey Mouse Penthouse at the Disneyland Hotel is a dream-come-true for any die-hard Mickey fans who will love its ritzy but very family-friendly accommodations and red, black and yellow color scheme that matches the colors of the beloved mouse. Built to resemble an urban penthouse, it features contemporary designs in its living room and kitchen and also has a kids bedroom/playroom with a more lighthearted feel to it (not to mention plenty of Mickey Mouse memorabilia).
Pirate-Themed Room at Legoland Hotel, Carlsbad, California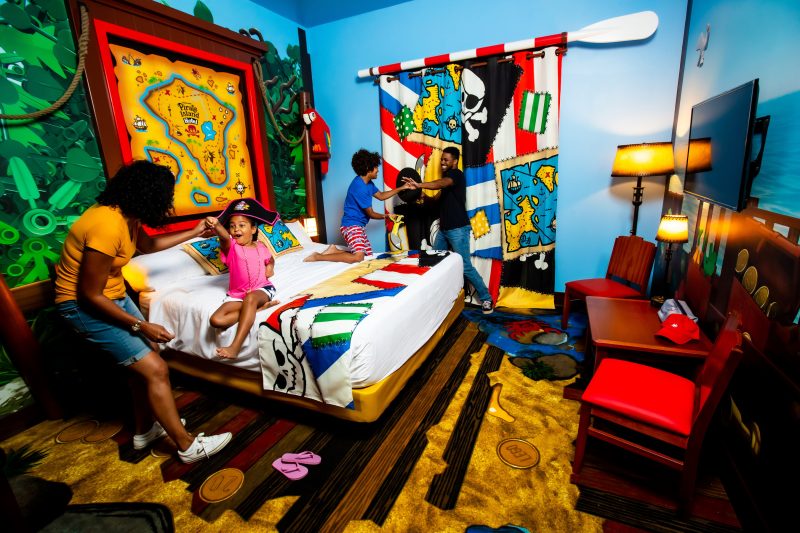 Pirate-Themed Room at Legoland Hotel (Courtesy Legoland)
The Pirate-Themed Room at the Legoland Hotel in Carlsbad features a detailed design complete with treasure map rugs, mock-wooden floors to resemble the deck of a ship, and plenty of red-and-white stripes and skull-and-crossbones symbols. Kids will love sleeping in bunk beds near a parrot built from legos that sits perched in the corner of the room, and even mom and dad can relive their youth as they doze off in their own pirate-inspired bedroom.
KidKamp Suite at Great Wolf Lodge, Grapevine, Texas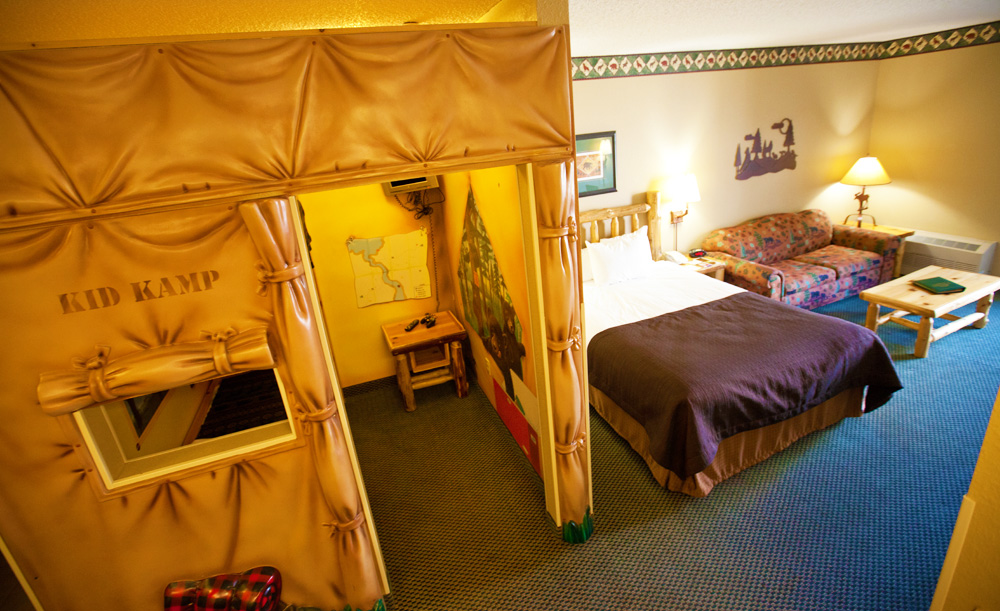 The KidKamp Suite at the Great Wolf Lodge in Grapevine, Texas turns what is already an elegant family hotel suite into a fun and imaginative environment for kids. Little ones will love sleeping on bunk beds inside of a special tent-like sleeping area that separates them from mom and dad. Tents feature fun camping-inspired decor and have personal TVs so children can watch movies before going to bed… if they are not too busy telling ghost stories!
(MORE: Kids Will Love These Affordable Orlando Hotels)
Minion Suites at Loews Portofino Bay Hotel, Orlando, FL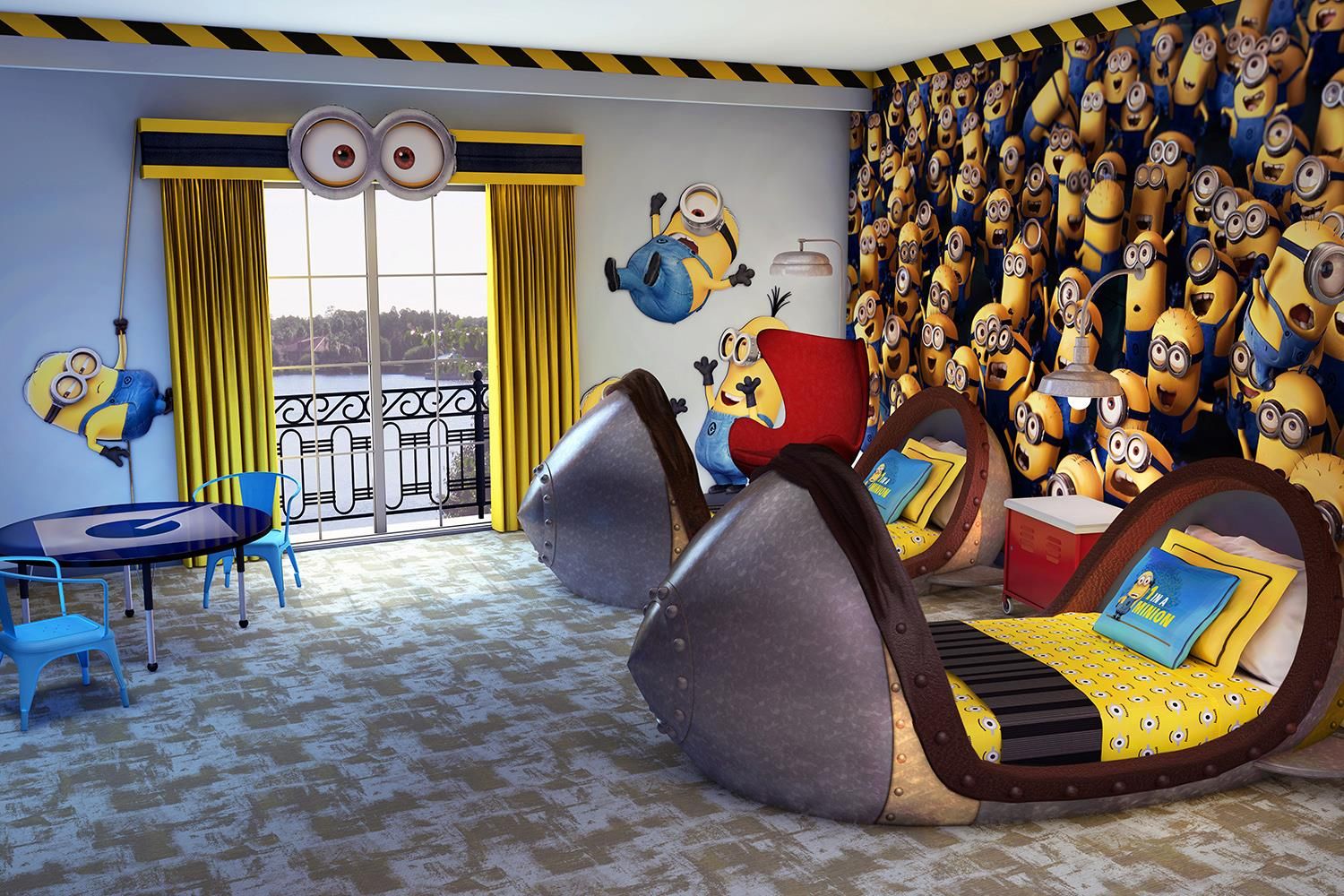 Minion Suites at Loews Portofino Bay Hotel (Courtesy Loews)
Young fans of Despicable Me will be amazed by the Minion Suites at the Loews Portofino Bay Hotel in family-favorite Orlando. Separate children's rooms are built to look like Gru's laboratory and even feature missile beds like the ones the siblings sleep on in the movie sleep on. The multitude of happy minions that adorn the room are sure to keep kids smiling as they make-believe that they are part of their favorite film.
Jordan Estrada contributed this to MiniTime. He is a freelance travel writer from Southern California who spends him time gardening, studying music and performing with his band.