Top Kauai attractions you wouldn't want to miss.
By Mimi Slawoff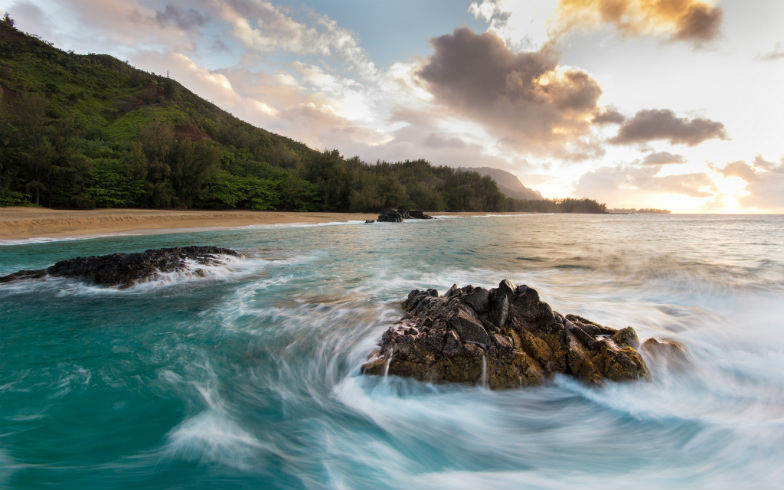 Beach on Hanalei Bay in Hanalei, Hawaii (Flickr: Alex Schwab)
Although Kauai (Hawaii's oldest and northernmost island) is about 562-square miles, it's less than five percent commercially developed, leaving plenty of pristine land to explore. The five major family-friendly destinations are the North Shore (Princeville), East Side (Coconut Coast), Lihue (capital city), South Shore (Poipu), and the West Side (Waimea). Along the way are charming coastal towns.
Whether you prefer low-key sightseeing or soft adventure activities, there are numerous ways to explore the Garden Isle's tropical rainforests, forking rivers, cascading waterfalls, jagged cliffs, and green valleys. Some parts of Kauai are only accessible by boat or helicopter. Keep your swimsuit suit and walking shoes close at hand (better yet, just wear them). Ready for amazing adventures? Learn why Kauai is also called the Island of Discovery with these exciting family-friendly attractions.
Tip: A waterproof camera will come in handy!
(MORE: Find amazing kid-friendly hotels in Kauai.)
Scenic Outings
Jurassic Falls Helicopter Adventure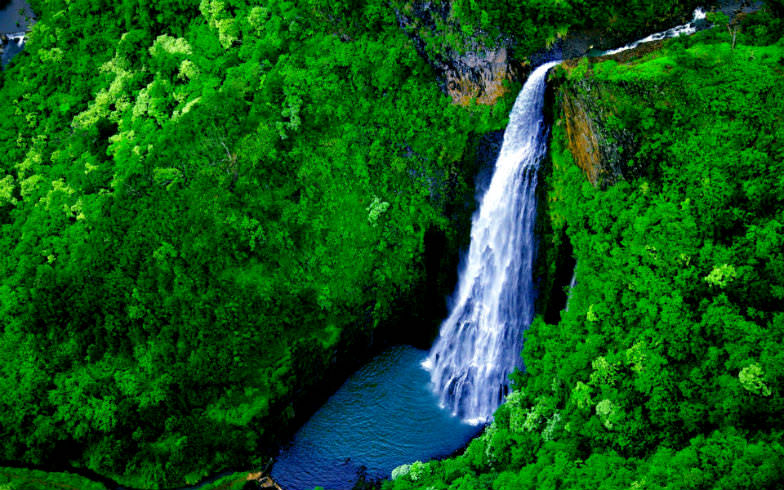 Manawaiopuna Falls, one of the many amazing attractions in Kauai. (Desktop Nexus)
Swoop between valley walls and soar over the stunning Napali Coast and Waimea Canyon on approximately 90-minute, narrated tours (with perfectly synchronized music) with Island Helicopters. Best of all, land in a remote, tropical valley at the base of the 400-foot Manawaiopuna Falls, dubbed Jurassic Falls for the movie filmed there. Walk along a jungle path adjacent to a stream to the spectacular falls only accessible by helicopter.
Good to know: Wear dark clothes to avoid reflection in the helicopter's windows.
Na Aina Kai Botanical Gardens
Feed Koi in the lagoon, walk through a hedge maze, and play in the Children's Garden featuring a treehouse, tropical jungle, a gecko maze, teak wood log cabins, and more.
Fern Grotto Wailua Riverboat Tour, Kapa'a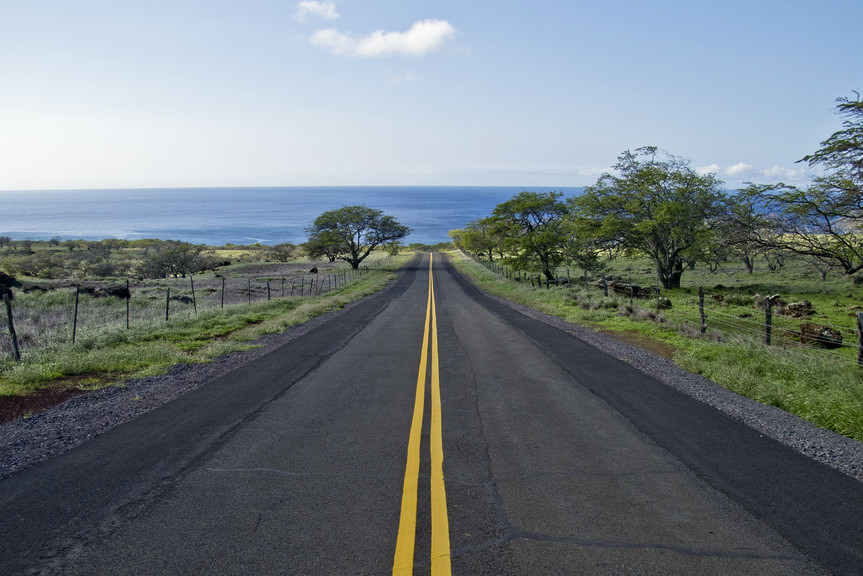 Scenic Road in Kapaa, Hawaii (Flickr: Andrew K. Smith)
Although touristy, this Kapaa attraction is a fun and super kid-friendly boat ride to the famous Fern Grotto, a natural amphitheater in a tropical jungle. From the boat, it's a short walk to the lush grotto. Boat operators share legends and entertain with Hawaiian songs and hula.
Good to know: Bring a light jacket and insect repellent.
Kauai Plantation Railway, Lihue
How long does it take one pineapple to grow? Two years! Learn fun facts on a tour through fields of sugar, pineapple, papaya, tropical flowers, and more. First hop aboard the King Kalakaua-style wooden cars for a fun ride, then hike through tropical gardens. Picnic lunch provided.
Good to know: Bring walking shoes and insect repellent.
Active Excursions
Napali Snorkel Adventure, Capt. Andy's Sailing Adventures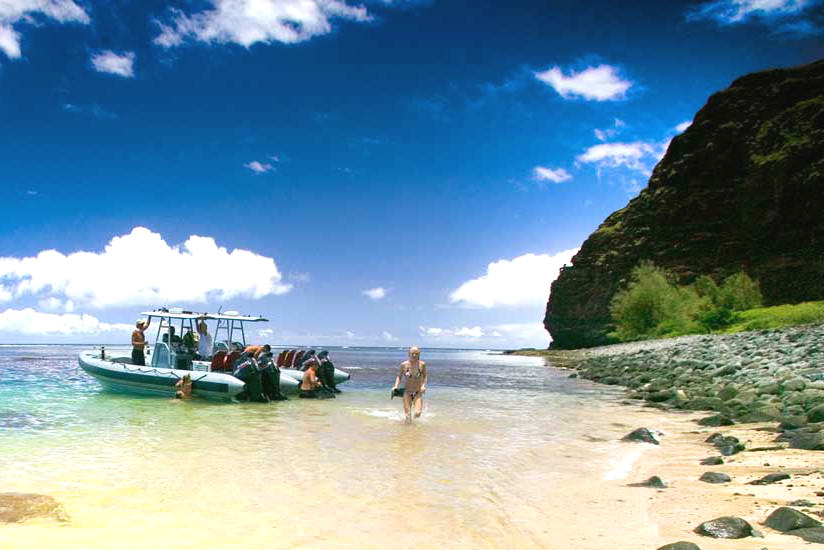 Go on a snorkeling adventure in the Napali Coast in Kauai. (Napali Snorkel Adventure)
Soak up history, legends, and marine ecology while sailing along the stunning Napali Coast, composed of sea caves, waterfalls, and secluded white sandy beaches at the base of the 3,000-foot cliffs. Look for dolphins and sea turtles. Jump into the aquamarine water to swim and snorkel. Dry off in the warm sun and enjoy a deli picnic.
Good to know: Bring a towel. The return trip can be windy so pack loose items.
Kalihiwai Falls Hike, Princeville Ranch Adventures
Among the many ranch activities is this Princeville guided trek through a lowland rainforest leading to five tiers of waterfalls. Learn about Kauai's flora and fauna, rappel a 10-foot rock wall, and jump into a natural pool with an 80-foot cascading waterfall. Take in the lush, quiet surroundings over a picnic. Climbing harness and rugged shoes are provided.
Good to know: Wear a bathing suit, shorts, shirt, and sunscreen.
Mountain Tubing, Kauai Backcountry Adventures, Hanamaulu
This exciting excursion for ages 5 and older begins with a bouncy jeep ride through the scenic, inland property of the former Lihue Sugar Plantation. Don a headlamp and get ready for tubing down twisting waterways consisting of open ditches, tunnels, and flumes (some in darkness), which were engineered and hand-dug in 1870. Afterwards, enjoy a picnic (provided) by a natural swimming hole.
Good to know: Bring water shoes, swimsuit, T-shirt, towel, sunscreen and insect repellent.
Kayaking/Stand up Paddling, Outfitters Kauai, Koloa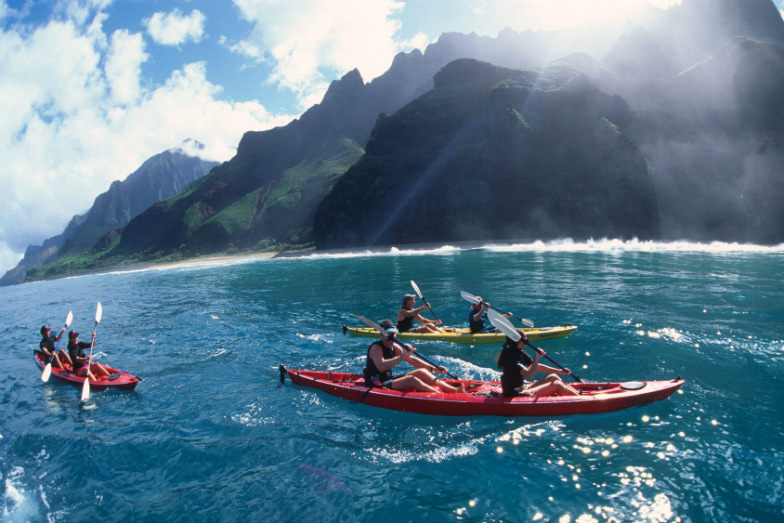 Kayak or stand up paddle in Koloa. (Outfitters Kauai)
Paddle from a kayak or a stand up paddleboard along a jungle river ringed by the Hau'pu Mountains, then hike through a rainforest. Cool off in a stream, enjoy a picnic, and ride a canoe back.
Good to know: Bring water shoes, swimsuits and insect repellent. While in the area, check out Spouting Horn, created by an opening in lava rocks.
(MORE: Stay a while. Find beautiful family-friendly hotels in Koloa.)
On Your Own
Hanalei Town/Bay
Located on the North Shore, Hanalei Bay is a crescent-shaped sandy beach carved into the base of a sheer cliff on one side and narrowing into a rocky point on the other. Swim and surf in the gentle surf (Pavilion Beach has lifeguards and restrooms), and walk along historic Hanalei Pier (built in 1892 and featured in the classic film, South Pacific). In town, browse galleries and boutiques.
Good to know: The Hanalei Juice & Taro Company food truck serves delicious sandwiches and juices.
Waimea Canyon
Stretching 14 miles long and more than 3,600 feet deep, Waimea Canyon offers a change of island scenery. Drive along Waimea Canyon Drive to a lookout point.
Good to know: In Waimea Town, enjoy shave ice at Jo-Jo's Anuenue (the original) on 5 Pokole Road.
Hanapepe, Koloa
Pull over when you see the sign, "Kauai's Biggest Little Town." Peruse shops and art galleries. Best of all, visit Taro Ko Chips (housed in a green shack at 3940 Hanapepe Road) for homemade taro chips. Limited supply made daily.
Mimi Slawoff, a Los Angeles-based journalist, contributed this to www.MiniTime.com.