Great things to do with kids in the big island
By Mimi Slawoff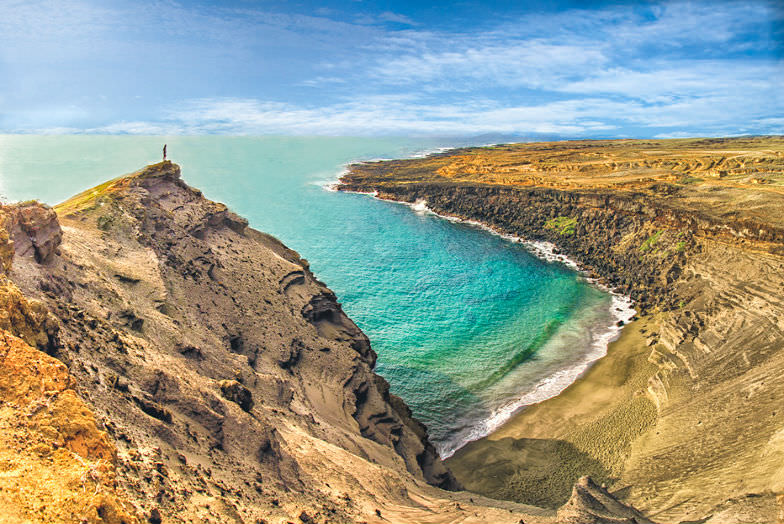 Beautiful panorama in the Island of Hawaii (Flickr: Tiffany Mueller)
Hawaii Island (best known as the Big Island) is the youngest and largest of the Hawaiian Islands and is still growing as lava continues to pour from the Kilauea Volcano. In fact, the Big Island is twice the combined size of the other islands and has 11 of the world's 13 climate zones.
Believed to be the first Hawaiian Island settled by Polynesians, the Big Island is also the birthplace of King Kamehameha I. Family-friendly attractions that combine history, culture, and fun abound on the Big Island. Here's a sampling of fun things to do on the Big Island with kids.
Kona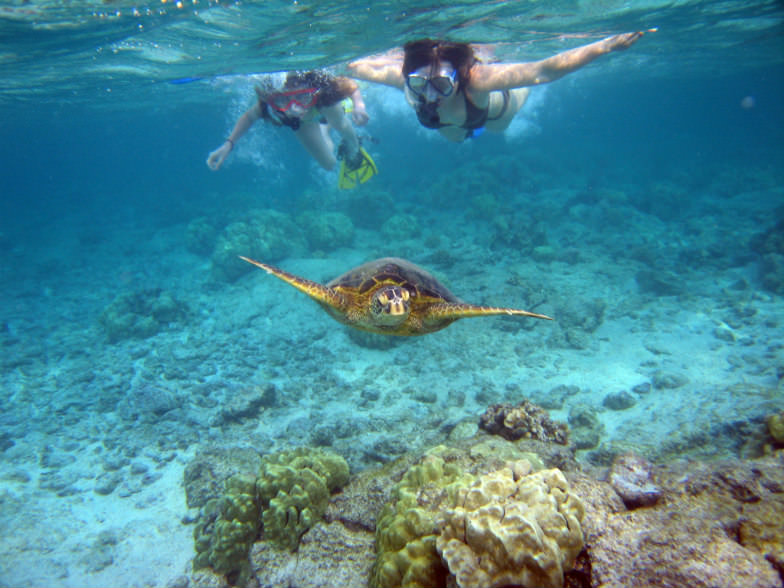 Snorkeling in Kailua-Kona (Flickr: Vlad Butsky )
Situated on Kona's sunny coast with white sand beaches, Kailua-Village is home to outdoor cafes, restaurants (try Huggos on the Rocks), shops, art galleries, a Farmers Market, and the 1820 Mokuakaua Church (the state's first Christian church).
More fun: Buy a shave ice to enjoy under the shade of a Banyan Tree.
(MORE: Find some wonderful kid-friendly hotels in the Big Island of Hawaii.)
1. Atlantis Adventures
Kids (and parents) will be wowed by this fun, narrated tour in a submarine with large portals for viewing a 25-acre coral reef garden and two sunken ships. The variety of fish and other forms of marine life increase as the battery-powered sub descends 100 feet.
More fun: Whale watching excursions are available Dec– April.
2. Kona Boys Beach Shack
The shack is the hub for water sports rentals and lessons. Get the hang of stand up paddling and kayaking in Kamakahonu Bay, then paddle out in the ocean where you may see dolphins!
More fun: Rent snorkel gear.
3. Paradise Helicopters Tours
Feel a gust of heat as you fly 500 feet above churning lava. During the family-friendly narrated tours, pilots circle the island, swooping low over lava fields streaked with fiery orange trails and soaring up to 9,000-feet while crossing the rift zone of Mauna Loa. Land in the lush Honokanenui Valley and walk along a stream.
4. Pu 'uhonua Honaunau National Historical Park
Take a self-guided tour on black lava flats through majestic royal grounds and the pu 'ihonoa, where defeated warriors and Hawaiians who broke a kapu (law) once fled to avoid punishment.
More fun: Look for honu (turtles) bobbing in the water.
5. Fair Wind Big Island Ocean Guides
Cruise on a catamaran (with water slides) to beautiful Kealakekua Bay, a prime snorkeling spot. Also, see the Capt. Cook Monument on a tiny plot of land given to the British consul in his memory. Kid-friendly amenities: flotation devices with viewfinders and onboard collapsible playpen. Breakfast and BBQ lunch included.
More fun: On the Manta Night Snorkel & Dive, swim with these graceful creatures (don't worry, no stingers!).
6. Hawaii Forest & Trail, Mauna Kea Summit and Stars Adventure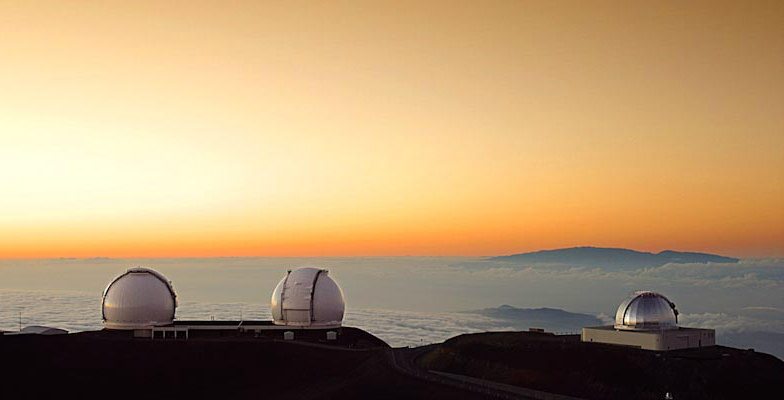 Hawaii Observatory in Pahoa (Hawaii Forest & Trail)
Families with kids ages 16 and older won't want to miss this exciting excursion to the world's tallest mountain, which rises over 32,000 feet from the ocean floor to the summit at 13,796 feet. The guided tour includes a picnic dinner before driving to the summit for a spectacular sunset, followed by star gazing and hot chocolate.
More fun: See Saturn's rings and the Milky Way!
Hilo
This non-tourist, historic town is home to friendly long-time residents who go back generations to sugar plantation workers. Chat them up for best family beaches and fun places to explore with kids. These include Richardson Beach Park, a black sand beach with calm surf, and Rainbow Falls (visit before 10 am when colors are most vibrant).
(MORE: Find more kid-friendly attractions in the Big Island of Hawaii.)
1. Hilo Farmers Market
Over 200 local farmers and crafters sell their produce, crafts, gift items and tropical flowers year-round in this farmers market.
More fun: Many vendors offer free samples.
2. Hawaii Volcanoes National Park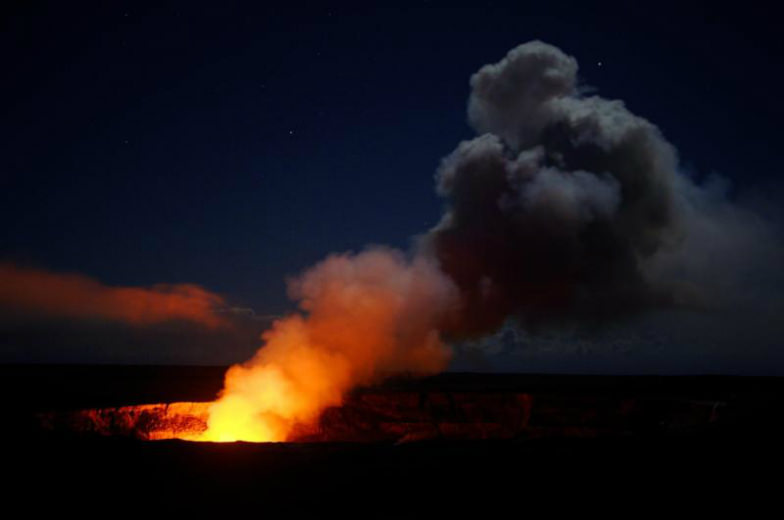 Halema'uma'u at night in the Hawaii Volcanoes National Park (National Park Service)
At the park's Visitor Center, watch a short video and inquire about free, daily informative ranger-led hikes. Walk through the Thurston Lava Tube and hike the trail to the bottom of the Halemamau Crater.
More fun: Go to the Jagger Museum at sunset and watch the flume's red glow emanating from boiling lava inside the Halemamau Crater.
3. Imiloa Astronomy Center
Explore more than 100 exhibits that combine astronomy and Hawaiian culture. Check out the room-sized Science on a Sphere (SOS) exhibit.
More fun: Catch a planetarium show.
Kohala Coast
The sunny Kohala Coast is home to luxury resorts, golf courses, and one of the island's largest white sand beaches (Hapuna Beach State Park).
1. Ocean Sports Black Sand Picnic Snorkel
Sail along the Kohala Coast to a remote destination with Ocean Sports Snorkel Adventure. While snorkeling, a marine naturalist points out marine life. Follow up with a deli lunch.
More fun: Passengers are welcome to take the helm for a while!
(MORE: Going to the islands in the summer? Find amazing things to do with kids in Hawaii.)
More family fun
1. Akaka Falls State Park, Honomu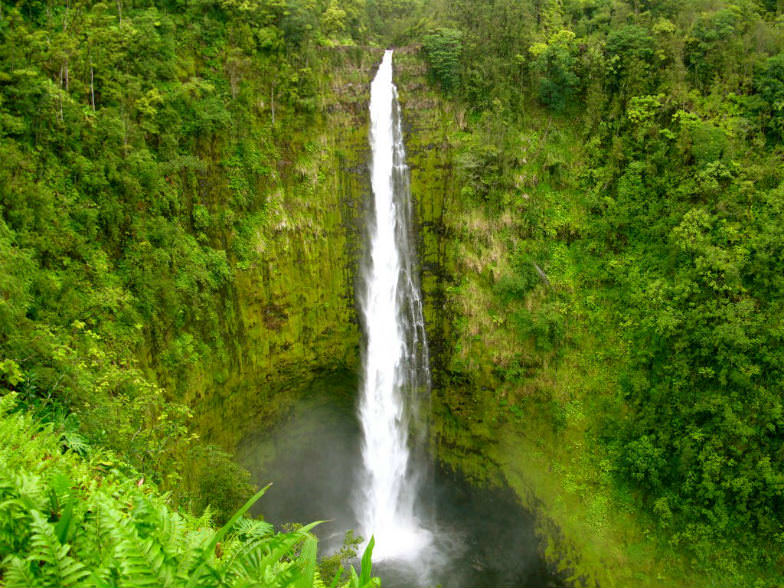 Akaka Falls (Flickr: Erica Schoonmaker )
Walk along a paved, loop trail through a misty rainforest to the 100-foot Kahuna Falls and the 442-foot Akaka Falls, Hawaii's longest sheer drop waterfall.
2. Tex Drive-In, Honoka'a
For a local snack, try Tex Drive-In's malasadas (deep fried dough), available plain or stuffed with flavored creams. Watch them being made onsite.
3. Lava Lava Beach Club, Waikoloa
Enjoy a sunset dinner at this casual, oceanfront restaurant in the Waikoloa Resort.
Mimi Slawoff, a Los Angeles-based journalist, contributed this to www.MiniTime.com.