New York City, New York
By Yolanda Edwards, Wendy Perrin and Jessica Shyba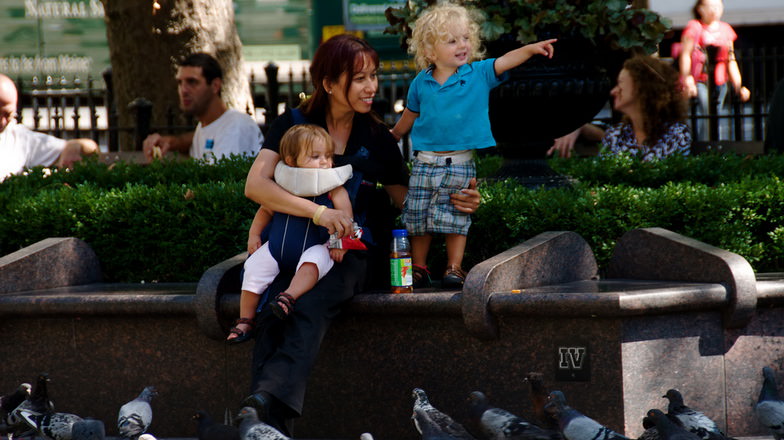 Do some things free with kids in NYC. (Flickr: yourdon)
There's no denying it: New York City is one of the best vacation destinations for families in the country. Families with kids from all over flock to this bustling metropolitan to see its beautiful sights and experience its amazing culture.
Here to share their favorite free things to do in New York City are: Wendy Perrin, the consumer news editor at Conde Nast Traveler; Yolanda Edwards, a family lifestyle writer; and Jessica Shyba, of the popular blog MommasGoneCity.com.
RESORT DEAL: Offer_Stay for Breakfast in New York City! *CODE: S4B (Valid through 03/31/17, SEE LANDING PAGE FOR TERMS & CONDITIONS)
Downtown (below 14th St.)
Staten Island Ferry: Kids love the free boat ride across New York Harbor and back, with views of the Statue of Liberty, Ellis Island, and the skyscrapers and bridges of lower Manhattan.
Battery Park City: Rockefeller Park at the north end of Battery Park City contains a huge, state-of-the-art playground, a sweeping lawn complete with giant outdoor bouncy toys to occupy the kids while the grownups enjoy the majestic river views, a sculpture park filled with whimsical bronze creatures, a parkhouse that loans board games and sports equipment (balls, jump ropes, ping pong paddles); and a yacht marina just a three-minute walk south.
Scholastic Store: (557 Broadway, between Prince & Spring Sts) We especially like to visit this amazing SoHo bookstore on rainy days because it's a big, bright and colorful place to be, and the books are always wonderful. Many areas of the store are geared for toddlers and preschoolers, including Clifford's Dog House and the Creative Corner and Klutz Activity Center. Every Saturday afternoon, the store hosts a completely free and fabulous event that is different every week, from book readings to character visits to pirate ship adventures. There's always something happening to pique a child's interest.
Midtown (14th St. to 59th St.)
Union Square Greenmarket and Playground: A favorite thing to do is go to farmer's markets. The Union Square Greenmarket is the best I have ever seen, with so many local farmers offering up a variety of wonderful foods. It is open year-round on Mondays, Wednesdays and Saturdays. There is plenty of room to walk around, and it's right across the street from Barnes & Noble (great if it's chilly, or the kids need a bathroom break), and Whole Foods (good place to grab lunch). After we explore the food and flower stalls, we like to visit the great playground. It is beautiful and modern, and has separate sections for different ages of kids. The toddler area has nice mats and a water-and-sand area (better in the summer), and a nice-sized climbing area for little ones. Even in the winter, it's nice to get outside and play a little!
Chelsea Market: Everyone in my family loves to explore this market (75 9th Avenue, between 15th and 16th Sts). Posman Books is a fabulous book store with an adorable kid's section. There is a little table where children can read and color, and all of the shelves are low enough for the little ones to find their favorite books. We just love visiting all of the different bakeries (Eleni's and Fat Witch Bakery) and food markets. There's a beautiful little water fountain in the middle of the market that my kids find fascinating, and I love the cobblestone walkway and old feel of the building. Oh, and Fat Witch Bakery will even give out free brownie samples!
Books of Wonder: This is a favorite kids' bookstore (18 W. 18th St., between 5th and 6th Aves), and there are plenty of cozy places to sit and read, as long as your kids are respectful of the books. It isn't as chaotic and generous as Barnes & Nobles can be (I am used to seeing kids just tear through books at Barnes & Noble—and no staff ever reprimands them), but the folks at Books of Wonder are super sweet, and they have THE best selection. They also have a great bathroom, and a Cupcake Café, and it's across the street from City Bakery, one of our favorite places to get a coffee or a hot chocolate.
Enid A. Haupt Glass Garden: Originally created as a soothing retreat for patients at NYU's Rusk Institute (400 E 34th St.), the Enid A. Haupt Glass Garden is also open to the public 365 days a year and is a fantastic place for visitors to enjoy as well. For us, the garden offers a reprieve from the streets and business of the city. My kids love the calm, quiet environment and looking at the beautiful plants, most of all in the winter when it is too cold to enjoy the outdoors. When the weather is warmer, we often prefer to spend time in the 5,500-square-foot children's PlayGarden, which is full of trees and shrubs and offers kids many ways to learn about horticulture.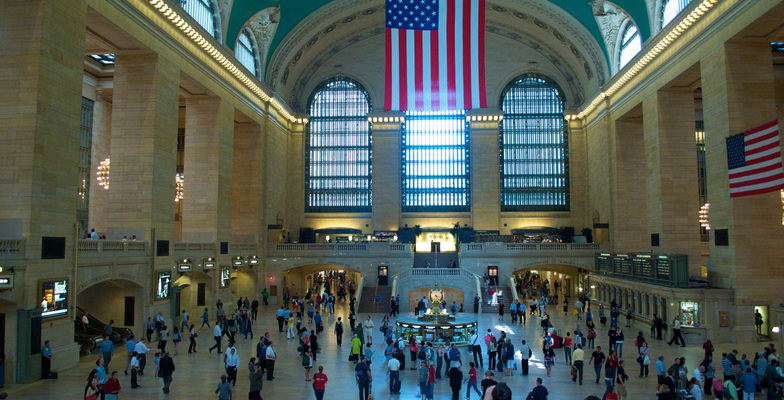 Visit the beautiful Grand Central Station. (Flickr: yourdon)
Grand Central Station: Grand Central is a treat in itself—watching the trains come and go, looking at the amazing ceiling, seeing all the hustle bustle, and it also has a huge food court if anyone gets hungry. Located right outside The Oyster Bar (great place to get a bowl of chowder, completely caught in time), one of the most magical things is the Whispering Wall. Here's how it works: You go to a corner of the wall, and someone goes to the opposite corner…and, each of you facing your respective corners, you whisper—and you can hear each other. Note: This historic train station is especially festive and kid-friendly during the holiday season. There's a musical laser light show that lights up the main concourse's vast starry ceiling, and just off the concourse the New York Transit Museum stages a holiday train show: model trains run through a winter wonderland cityscape complete with a miniature Grand Central and other city landmarks.
F.A.O. Schwartz: (767 5th Ave. at 58th St.) Yes, it's a temple to consumerism, but you can still have a lot of fun there for free. (Of course, you must warn your child before entering that you won't be buying anything.) Kids can dance on the giant piano keyboard that lights up in different colors (the keyboard Tom Hanks famously jumped on in the movie "Big"), watch all sorts of cool toy demonstrations, and cuddle with a menagerie of giant stuffed animals.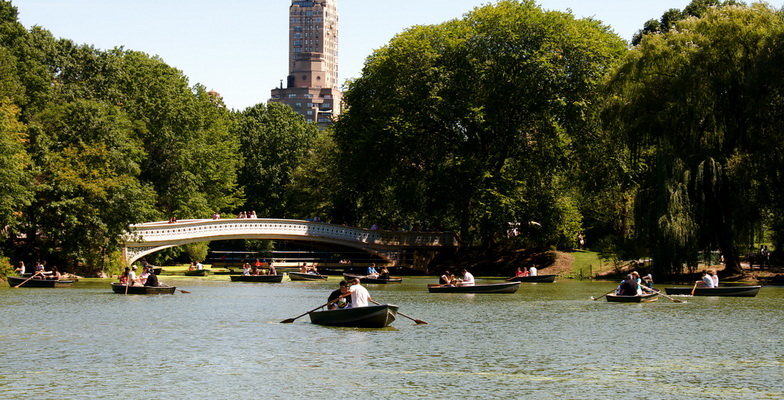 Watch the activity at the Boat Pond in Central Park. (Flickr: yourdon)
The Plaza Hotel: For the Eloise lovers, it's an exciting indoor activity just to walk into The Plaza (5th Ave. and Central Park S.), look for her portrait (it's right by The Palm Court Restaurant), and then check out the extraordinary Baccarat chandeliers before going outside to look at all the horses and carriages lined up across the street along Central Park.
(MORE: Look for affordable kid-friendly hotels to stay in New York City.)
Uptown (above 59th St.)
Heckscher Playground in Central Park: This playground (West side, near 61st and 63rd Sts) has recently been redone, and it is fantastic. It's huge—three whole acres!—and has so much for kids of all ages. It is perhaps the best playground in the city.
Boat Pond in Central Park: Kids love watching all the remote-controlled miniature sailboats criss-cross the Boat Pond, one of Central Park's most charming spots (its official name is Conservatory Water, but nobody calls it that). School-age kids can climb the landmark Alice in Wonderland and Hans Christian Anderson statues. You can exercise preschoolers and toddlers more safely about a ten-minute walk south in my family's favorite corner of the Park, Billy Johnson Playground (at 67th St. off 5th Ave). It's so beautifully landscaped that it feels like a rustic garden, with equipment made of white cedar, a spiral granite slide, a stone bridge, and a fountain in summertime.
Children's Museum of Manhattan: (212 W 83rd St.) On the first Friday of every month, admission is free from 5pm to 8pm. Still, with four stories, each geared to a different age level, this museum offers an adventure that could last all day long if you want it. We will typically spend an hour on the fourth floor, which is for babies and toddlers, and another hour on the Dora the Explorer floor that is targeted to 2 to 4 year olds. There are arts and crafts, puzzles, games and all sorts of activities that keep the kids happy and interested for long periods of time. For my kids, the highlight is "driving" the bus and fire truck. We see a lot of those since moving to NYC, so it is a big treat for them.
More New York City with Kids: