Great tips for a stress-free Disney vacation
By Mark Newsome of About Southern Girl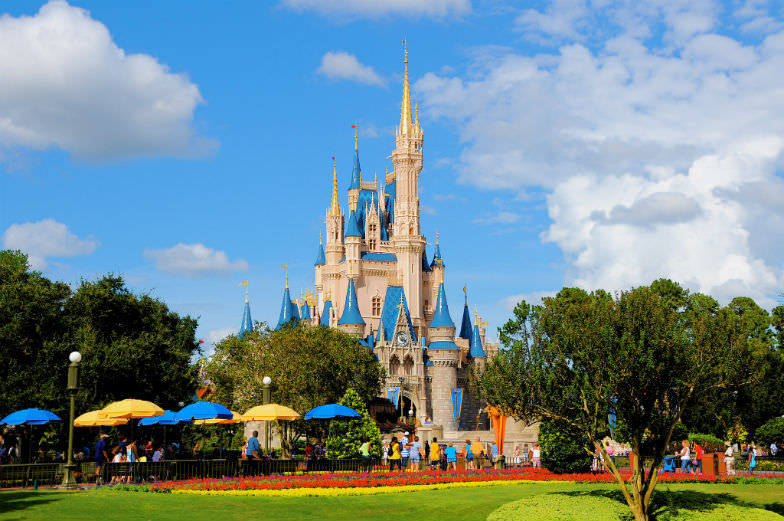 Walk Disney World (Flickr: Atiq Nazri)
A trip to Walt Disney World in Orlando, Florida, is the ultimate family vacation. From the Magic Kingdom to Epcot, from Animal Kingdom to Hollywood Studios, the parks are all wonderful. The rides and shows are stellar and the atmosphere is infectious. Plus, Walt Disney World accommodations are perfect, Disney's customer service is impeccable, the choices for food and drink are amazing, and the facility is beyond compare. It's all in one place, connected by boat, monorail, and bus.
A visit to Disney really can be the next best thing to a trip around the world. With so many things to see, and so many experiences to have at Walt Disney World, a family can come home in need of another week off to recover. But it doesn't have to be that way.
How do you ensure that your Disney World family vacation includes the best it has to offer while living it all at a relaxing, leisure-filled, humane pace? It's simple! And it starts before you ever leave home.
1. Plan, Plan, Plan! Planning ahead and doing your research are the most important things you can do to ensure a relaxing time at Disney World. Why? A LOT of people visit Disney and they often visit at the same time, so the crowds can be significant. Depending on how you feel about crowds you may want to schedule your trip around certain events. Many of Walt Disney World's popular shows and events fill up very, very early. Planning ahead will give you the best chance to experience your preferred shows and events as some even allow for reservations 180 days in advance.
2. Relax, this won't be the only time you visit Disney, you don't have to see everything. The sheer scope of Walt Disney World can be overwhelming. Many visitors get almost obsessed with seeing it all. Riding that latest ride or seeing the latest exhibit becomes more important than slowing down and enjoying yourself. Realize that Walt Disney World is huge. There's absolutely no way to see it all in one trip. Consider several trips to Disney as the kids grow up. If it turns out that you really love Disney World, plan a trip every other year (or every year if your time and funding allow). Know that you can always go back anytime you want!
3. Stay on property. Walt Disney World has on-property resorts in three categories:
Deluxe Resorts Hotels & Villas
Moderate Resort Hotels
Value Resort Hotels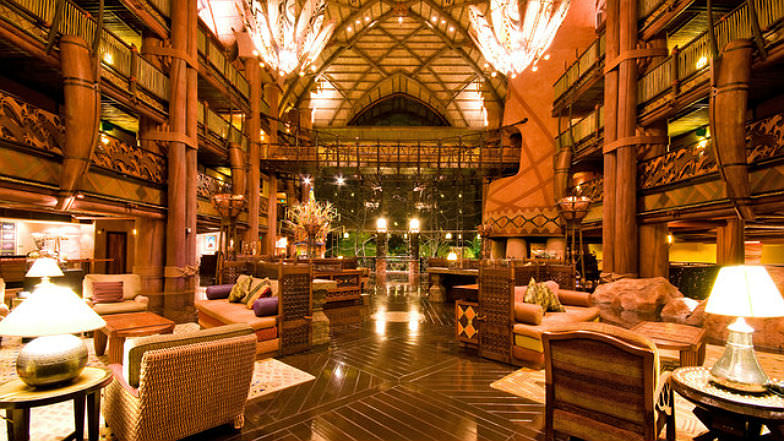 Animal Kingdom Lodge (Disney)
These include famous Deluxe properties like the Contemporary and Polynesian Village Resorts near Magic Kingdom, the Yacht and Beach Club Resorts near Epcot and Hollywood Studios, and the Animal Kingdom Lodge near Animal Kingdom.
Moderate resorts include family favorites like Port Orleans and Caribbean Beach while Value resorts include Art of Animation and Pop Century.
Staying at any of these resorts on-property bring particular perks that make any Walt Disney World vacation more relaxing and less stressful. Each Disney resort is close to the parks, and Disney provides its own transportation to the parks and back, so you won't have to worry about where you left the car or whose turn it is to drive. Each resort is staffed with Disney's own employees, known as cast members, who are trained in Disney's high customer service standards. Resort guests get preferential treatment in several areas such as park access during busy times when Walt Disney World parks may reach capacity.
4. Consider the Deluxe Resorts. While this relaxing advantage comes with a bit of a price tag, the Deluxe Resorts come with the best leisurely perk at Disney – close proximity to the parks, some of them even within easy walking distance. If it fits your budget, Deluxe accommodations will ease the trip between parks and resorts and will help you relax.
5. Consider flying into Orlando. Yes, flying is likely to be more expensive in actual dollars, but when you calculate your time, the wear and tear on your body, and the potential conflicts that arise when a family is traveling long distances in a single vehicle, flying may actually be the better deal. It will make your vacation to Disney more relaxing to ditch the drive. With Disney's Magical Express service, your transportation to and from Disney resort will be included, along with your baggage handling. So, your luggage may even beat you to your room!
6. Ditch the car and don't even think of leaving the Walt Disney World. If you are flying in, don't even think about renting a car and leaving the park for any reason. There's no need. If you would like to see the sights around Orlando, schedule another trip. Make your Disney trips just about Disney and you will come away much, much more relaxed. If you are driving into Disney, drive to your resort and park. Do not even think about going back to your car. Being without a car brings a sense of freedom and it gives you one less thing to worry about. There are a few exceptions to this rule, like if you're trying to make a dining reservation at a certain time, but as a general rule, let Disney worry about the transportation.
7. Utilize Technology. Disney has made strides in recent years getting all elements of planning for your Walt Disney World vacation online. The My Disney Experience app will ease your planning from beginning to end and help manage your stay. You can check ride wait times, keep track of your fast passes, make dining reservations, and more. Utilize technology; it will help the trip run more smoothly and help you and your family relax.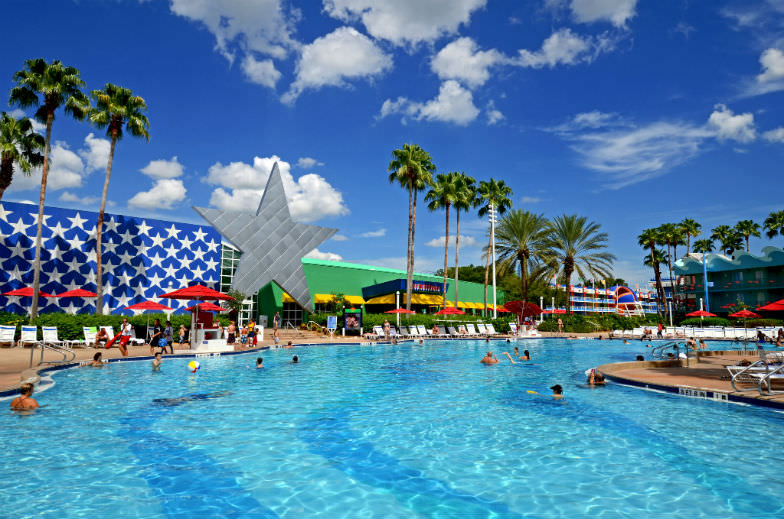 Relax by the pool at one of Disney's resorts during your visit. (Flickr: Atiq Nazri)
8. Build unscheduled time into your trip. Even if you and your family are only visiting Disney World for a day or two, build in some down time to relax. If you're visiting for more than 3 days, build in whole afternoons, if not whole days, into your rest time. Disney World vacations include a ton of walking and you'll need to give your body time to recover. Consider mornings in the parks (including extended hours for resort guests, often at 8:00am) and afternoons by the pool, just relaxing with a drink and a book while the kids enjoy the planned activities in the resorts. Then, schedule supper or a show in the parks. This free time also allows you to be spontaneous and add new things into your trip that you might discover along the way. Stroll around the grounds of your hotel, or maybe just ride the monorail around to see the sights. You are on vacation to have fun, to get back in touch with leisure, and with each other. To do that right, you have to be well rested. That free time will allow you to thrive. Don't worry about what you might be missing. It will still be there tomorrow, or next year, or several years down the line.
9. Think about how you and your family eat. Food is an important part of the Disney experience. It can also be an expensive and a stressful part of the experience. Dining reservations need to be made well before your trip. Crowds can be heavy, restaurants can be packed, and you could be limited to spots you would prefer to bypass. Consider how your family eats. Do you need to sit down to three full meals a day? Will your kids fall apart if they don't eat at certain times and have certain staples available? If so, a Disney has special dining plans that might work well for you. Are you more of a grazer, catching a hearty breakfast and a few snacks throughout the day with a big meal several times during a trip? Then you even benefit from a Club Level room in one of the Deluxe Resorts, which includes access to a lounge with breakfast, snacks, and drinks (including beer and wine) throughout the day. Whatever your dining style, think about it and include those parameters in your planning.
10. Have a date night and utilize the babysitting. If traveling with kids 12 and under, consider taking advantage of Children's Activity Centers. These are clubs at several of the Deluxe Resorts and will show the kids a good time while the parents enjoy a little time on their own. The Animal Kingdom Lodge has Simba's Clubhouse. The Beach Club and Yacht Club Resorts have the Sandcastle Club. The Wilderness Lodge has the Cub's Den, and there are others. The kids will love the experience and the adults will love the free time they can take advantage of.
(MORE: Find more kid-friendly hotels to stay in during your Walt Disney World visit.)
11. Don't worry about the money. You must be thinking, "easy for you to say, but we're on a budget!" In no way should you blow a year's salary on a single trip to Disney. You should, however, set a budget and then don't let yourself worry about every nickel spent. Things are expensive at Disney, but if you've planned ahead you'll know within a reasonable margin of error what you're going to spend on the trip. Once you have that down, build in a little cushion and then don't worry, relax, and have that extra drink or dessert.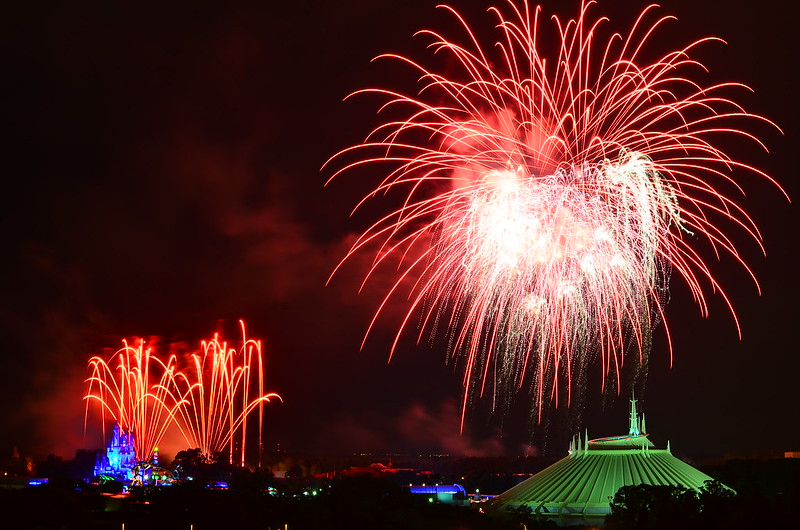 Fireworks at Magic Kingdom (Flickr: Ralph)
12. Decide what you really want to see and do most. With all the rides, shows, shops, activities, experiences, and sites to see at Walt Disney World, you could easily spend a month on site and not see it all. Do that research before you go, and talk to your family about what's important to them and what's not. Prioritize those things that are important and save those things that are not for a future trip. Don't worry about those things that you'll miss and concentrate about enjoying those things that you'll see and experience this time around.
13. Understand the FastPass system. FastPasses, which you can get online or from cast members at certain spot around the park, are Disney's way of ensuring that ride lines and wait times are managed as effectively as possible. These passes will allow you to utilize shorter and faster moving lines for certain rides and attractions. It's a system that is evolving and changing on a regular basis – so make sure and check current practices before any visit. Dive in and figure out the FastPass system long before you visit.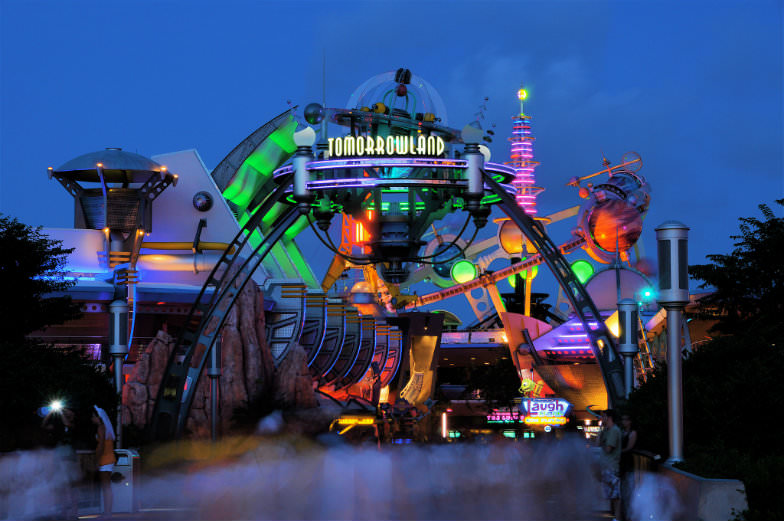 Tomorrowland (Flickr: Atiq Nazri)
14. Relax with the less-popular attractions. Walt Disney World's popular rides are wonderful and you should make every effort to catch your favorites, but each park has some lesser known attractions that present an opportunity to slow down, relax, and see a side of the park that others might miss. In the Magic Kingdom, consider Tomorrowland Transit Authority PeopleMover, which will give you a leisurely 10-minute tour of Tomorrowland along and a short respite from the Florida sun. In Epcot, Living with the Land almost never has more than a few minutes' wait and is a nice alternative to the long lines for Soaring. Be sure to slip into the Tune-In Lounge at Hollywood Studios in the 11 am hour to miss the crowds and enjoy a quick drink and a little of that 1950s atmosphere.
You CAN have a relaxing Walt Disney World vacation with your family and come home relaxed and rejuvenated. Just keep these tips in minds!
Mark Newsome of Southern Girl Travel contributed this to MiniTime.