Best coastal towns outside San Francisco to visit with family.
By Mimi Slawoff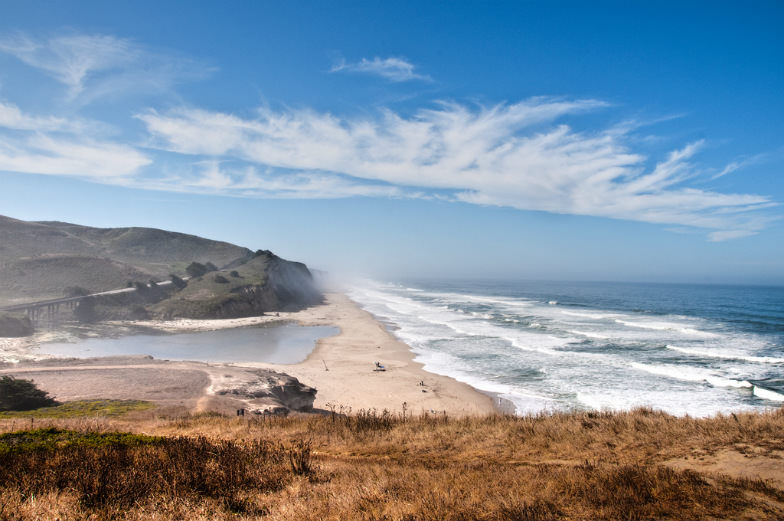 The Pacific Coast ouside San Francisco (Flickr: Nosha)
People typically think of San Francisco when referring to the Bay Area but there are several scenic coastal towns south of the big city that offer value and Northern California charm. Sure, it's a lot of fun to stay in the city but you pay for it with pricey hotels and daily parking fees. Staying in nearby beach towns is the key to oceanfront rooms and dining options at a fraction of the cost. And they're a short, breezy commute to San Francisco. And you might just find that these three beach towns are worthy destinations in themselves.
(MORE: Find kid-friendly attractions in the Bay Area.)
Pacifica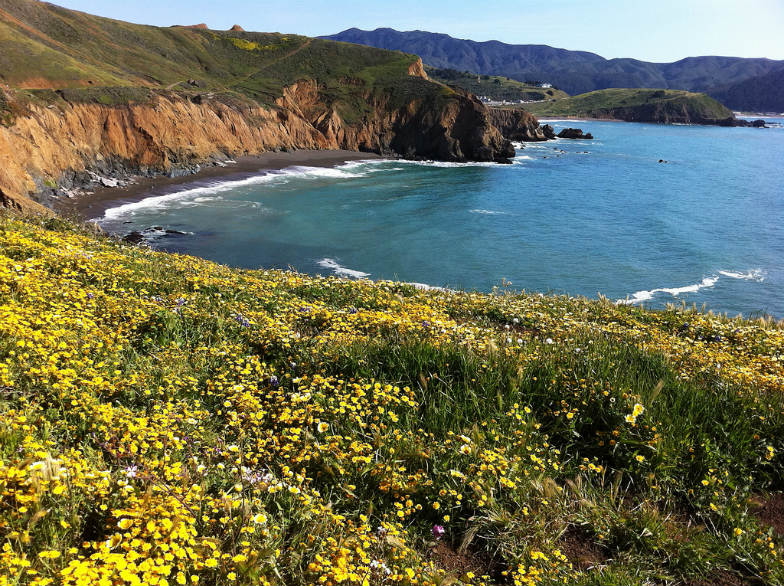 Beautiful Pacifica (Flickr: Anita Hart)
Why go: Situated about 15 minutes south of San Francisco, Pacifica features coastal hiking trails, fishing and crabbing. Hiking trails abound for all fitness levels, from the leisurely Mori Point coastal walk to the more advanced terrain of Sweeney Ridge. Pacifica Pier is the only place in the Bay Area where the public can crab for free. During the winter, Dungeness crab – which are not available elsewhere in the Bay Area — are abundant off the pier. In spring, catch perch at Linda Mar Bay and in fall, go rock fishing off Pedro Point. Or just hang out at the beach. Rockaway Beach, Sharp Park Beach and Mussel Rock Beach are family favorites. According to the National Marine Sanctuaries of the West Coast, Pacifica is the fourth richest area in the world for marine mammal life. So keep your eyes open for dolphins, whales and other wildlife.
Dining: For a small town Pacifica sure has a lot of dining options. And you don't have to fork over big bucks for oceanfront dining. Find cheap eats at a large, oceanfront Taco Bell restaurant or pick up tasty dishes at the Gorilla Barbeque food truck and have a picnic at the beach. Want something more upscale? Try Moonraker on Rockaway Beach.
Where to stay: Located on the beach, the family-friendly Holiday Inn Express & Suites features complimentary breakfast, laundry facilities and free covered parking. The Pacifica Beach Hotel, on the other hand, offers ocean views, complimentary breakfast and free parking. Cross the street to access the beach.
Half Moon Bay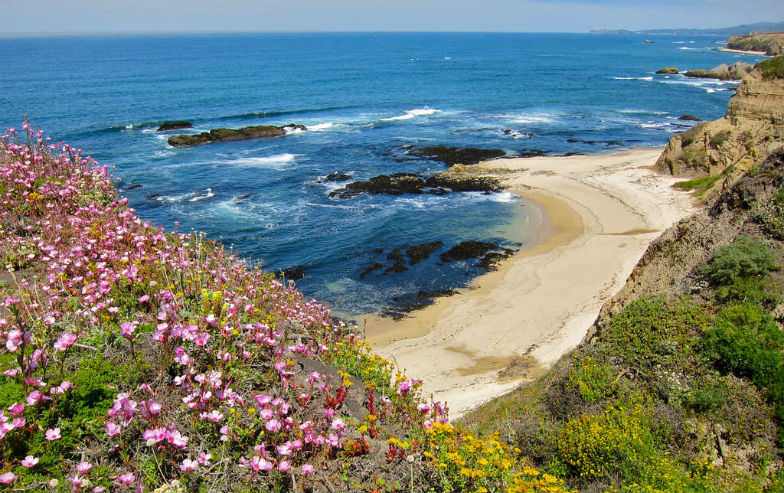 Half Moon Bay (Flickr: Steve Jurvetson)
Why go: Horseback riding on the beach, hiking trails, tide pools and a charming downtown are so inviting you won't want to leave Half Moon Bay. At Sea Horse Ranch, riders of all abilities (even first-timers) are well-matched with horses to ensure a fun outing on trails and the beach. Save money and book a two-hour, 8 am ride for $50. More fun things to do with kids include exploring tide pools at the 32-acre Fitzgerald Marine Reserve at Moss Beach. Time your visit for low tide when you'll see urchins, crabs, sponges and fish. The reserve is also home to harbor seals. Take pictures but don't cross the orange cones placed there by rangers to keep visitors 300 feet away from the seals. Nearby is the recently opened Devil's Slide Trail, a 1.3-mile, paved path along cliffs overlooking the Pacific Ocean. Benches and observation scopes offer places to rest and look for marine life or just enjoy the views. Interpretive panels along the way detail area history, geology and plants. At some point, be sure to take a stroll or drive through the cozy downtown Main Street, lined with unique boutiques, art galleries and antique shops.
Dining: Treat your taste buds to Sam's Chowder House, located on the main highway overlooking the beach. Open for lunch and dinner, the popular restaurant is known for lobster rolls, New England Chowder and extensive seafood menu. More tasty options include steaks (try the tender ribeye served with black truffle butter), chicken and pasta. There's also a kid's menu.
Where to stay: You'll feel right at home at the Beach House Hotel Half Moon Bay, where junior suites overlook the ocean, bay and pretty marina. Families can spread out in spacious quarters with a step-down living area and outdoor patio. Keep your eyes open for playful dolphins in the nearby waters. Tip: Room 114 is centrally located to the lobby where complimentary breakfast is served. There's also an outdoor swimming pool, Jacuzzi and coastal walking trail. Free parking.
(MORE: Find other kid-friendly hotels in Half Moon Bay.)
Santa Cruz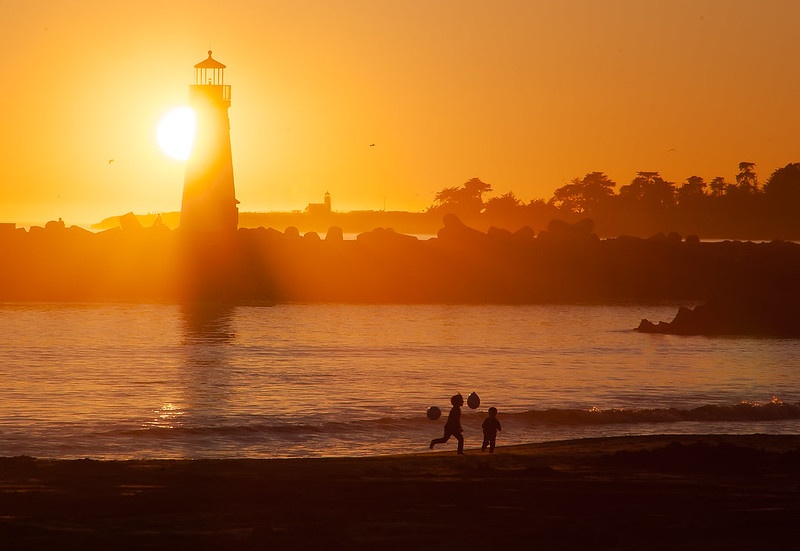 Sunset in Santa Cruz (Flickr: Anita Ritenour)
Why go: There's more to Santa Cruz than famous surf spots Pleasure Point and Steamer Lane. Family fun abounds in this quirky beach town. Ride bikes along West Cliff Drive, a paved coastal path that goes to Seal Rock (look for seals and sea lions) and the Santa Cruz Surfing Museum. A popular tourist attraction is the classic Santa Cruz Beach Boardwalk, featuring rides, games, an arcade, a Ferris wheel and the 1911 Looff Carousel, a National Historic Landmark. From there, hop aboard a steamer train operated by Roaring Camp Railroad. The roundtrip ride traverses a redwood grove, an 1875 tunnel and 1909 steel truss bridge.
Dining: Kelly's French Bakery, which specializes in homemade breads, serves breakfast, lunch and dinner. Eat in or buy gourmet sandwiches for a picnic (try the ham and gruyere grilled cheese or roasted eggplant sandwich).
Where to stay: Located on Cowell's Beach, the Dream Inn is near the wharf and boardwalk and features a beachfront swimming pool and Jacuzzi round out family fun.
Mimi Slawoff, a Los Angeles-based journalist, contributed this to www.MiniTime.com.