Spring break with kids
By Jody Halsted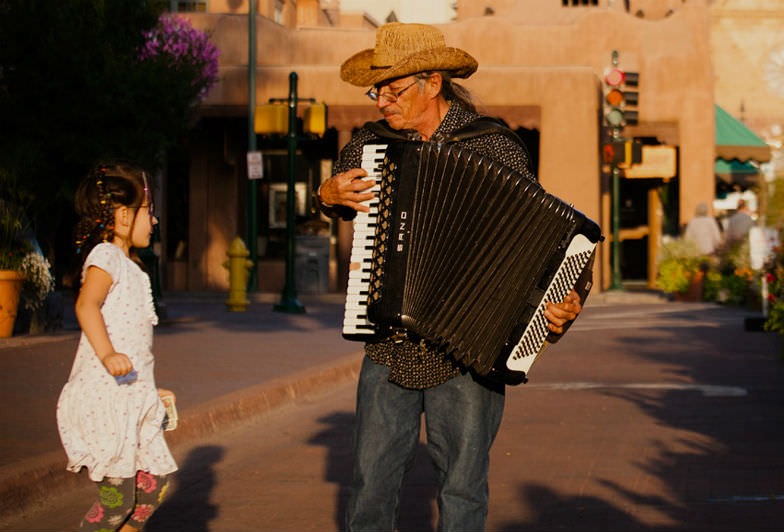 Consider Santa Fe as a great alternative spring break destination to visit with kids this year. (Courtesy: SantaFe.org)
The approach of spring break brings a sense of excitement and renewal. Cold, grey days of winter are beginning to turn warmer and brighter. The first colors of spring, be it early yellow daffodils or green sprigs of grass sparkling with dew, brighten a dreary landscape. For families, spring break is a welcome escape from cabin fever that has been building since mid-January. It's a break from day-to-day life and a chance for excitement and adventure.
Refuse to follow the crowds to the typical spring break getaways. Instead, let these five alternative spring break destinations entice you with their family-friendly activities, offbeat attractions, and exciting experiences.
(MORE: Best Places in California to See Wildflowers with Kids This Spring)
Alternative Spring Break Destinations in the Southwest
Santa Fe tops the list of alternative spring break destinations. It welcomes families throughout March until mid-April for Kids FreeFest Spring Break, a city-wide celebration of family-friendly activities and explorations. Enjoy offbeat experiences offered by 'The City Different'; try a family Flamenco class or treasure hunt, spend a day at Skateboard School or on the ski slopes, or let your littles follow their passion with art or cooking classes.
Where to stay: The Drury Plaza Hotel is ideally located for explorations and offers free hot breakfast each morning as well as the free 5:30 Kickback (which makes a great dinner!). Book the Junior Artist or Kids Quest Package to save 10% on your stay.
Your family is sure to 'have a ball' in Tempe, Arizona, where you can catch the Los Angeles Angels playing against other Cactus League teams at Diablo Stadium as they prepare for the 2107 baseball season. Other spring activities range from the offbeat Arizona Dragon Boat Festival on Tempe Town Lake to the Spring Butterfly Exhibit at Desert Botanical Garden. Music festivals, kid-friendly productions at Tempe Center for the Arts, and year-round family-friendly attractions including the Phoenix Zoo and ASU Gallery of Scientific Exploration make this an alternative spring break destination worth considering.
Where to stay: Perfectly placed, the Residence Inn Tempe Downtown/ University is within walking distance to downtown Tempe, Arizona State University, and the Valley Metro Rail Station. One and two-bedroom suites have separate living and sleeping areas as well as a fully equipped kitchen. Enjoy the daily hot breakfast, and wind down after a busy day with the complimentary evening social.
Alternative Spring Break Destinations in the Southeast
You might say "the sky's the limit" when planning family-friendly fun along Florida's Space Coast. Airshows and surfing festivals lead the offbeat activities your family can enjoy during spring break. If your timing is just right you may even be able to witness a rocket launch! Explore Earth and space with visits to the Enchanted Forest Sanctuary, Merritt Island National Wildlife Refuge, and the Kennedy Space Center. Port Canaveral is nearby so tack on this alternative spring break destination before your cruise!
Where to stay: Hampton Inn Cocoa Beach/Cape Canaveral is just steps from the beach and most rooms have balconies and all are equipped with mini-fridge and microwave- perfect for in-room snacking. Daily hot breakfast will fuel you for the day ahead.
Family-friendly outdoor activities make Blairsville- Union County Georgia a top choice for alternative spring break destinations. From the fanciful Sleepy Hollow, an enchanted park filled with fairies and hobbits, to an alpaca farm visit, your experiences will be anything but typical! Spend a day getting 'hands on' along the North Georgia Farm Trail for an agri-tourism adventure that includes a working grist mill, ranch tours, and historic sites or try to locate one of the hundreds of geocaches hidden throughout the area.
Where to stay: Continue the outdoor theme with a cabin rental at Paradise Hills Resort. Private cabins are equipped with full kitchens, beautiful surroundings are included at no charge.
(MORE: What's New at Universal Orlando in 2017)
Alternative Spring Break Destination in the Midwest
For winter-loving families the appeal of Traverse City, Michigan's "True North", can't be beat. Pack your snow gear and take advantage of discounted lift tickets, as well as tubing and snowshoeing. The spring thaw brings offbeat events like the Slush Cup, where skiers and snowboarders try to fly across a pond of icy water, the Cardboard Classic race where participants use sleds made of cardboard, and the Schuss Mountain Snow Challenge, an off-road truck race up the side of a snowy mountain.
Where to stay: After a chilly day outside nothing feels better than a warm pool! Experience the True Escape of Great Wolf Lodge (use promo code TCCVB) for room savings and discounts.
Jody Halsted of JodyHalsted.com contributed this to MiniTime.