Caribbean with kids
By Rowena Carr-Allinson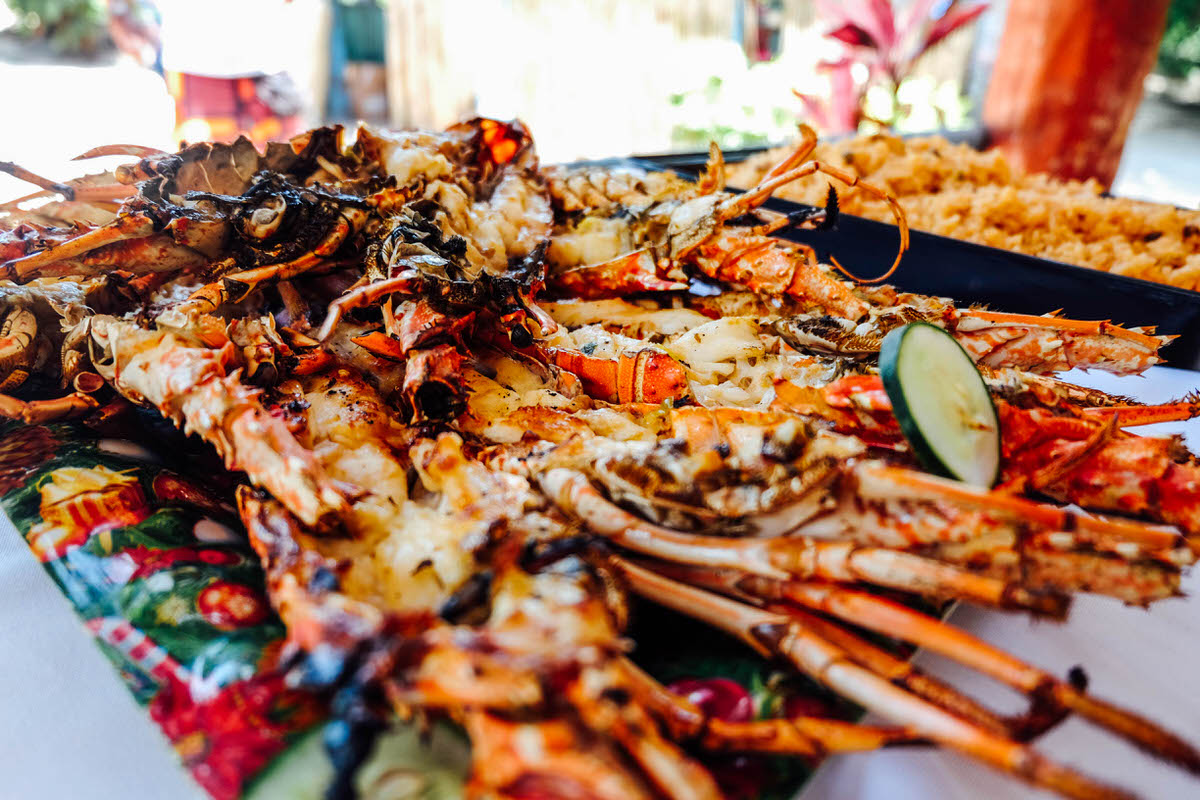 Dominican Republic's cuisine is one of the best in the Caribbean. (Photo: Michelle Rae Uy )
When making your choice of which family-friendly Caribbean island to escape to, it's worth knowing where you'll be finding the best Caribbean food for your kids. Take your pick from the Dominican Republic, Jamaica or Trinidad for the most adventurous, or head to Puerto Rico for its beautiful beaches and diverse menus. Another option to try something different is Martinique. With its ties to France, there is something special about the cuisine there too!
Whether you love fresh fruit, seafood or the spicy curry dishes the region is famous for, here's our look at five of the finest foodie islands.
(MORE: Five Traditional Puerto Rican Dishes at the El Conquistador Resort)
Dominican Republic
The Dominican Republic serves up some of the best Caribbean food. Known for its amazing coffee (usually a heavily sweetened Café Santo Domingo) and hot chocolate, it's no surprise breakfast is a treat. Add in eggs with fried salami, plantain mash (mangú) and queso frito, and it makes for the perfect start to the day! Other great kid-friendly meals include La Bandera that consists of Arroz Blanco (white rice) with stewed beans (Habichuelas) and a meat stew. It's also worth trying the famous braised chicken dish of Pollo Guisado, the Tostones (twice fried plantains), and the fresh seafood. For dessert, you will love the creamy Habichuelas con Dulce or Sweet Cream of Beans (also cooked with sweet potato, coconut and sugar), or a fresh cup of passion fruit juice – usually served as a 'Jugo de Chinola".
Puerto Rico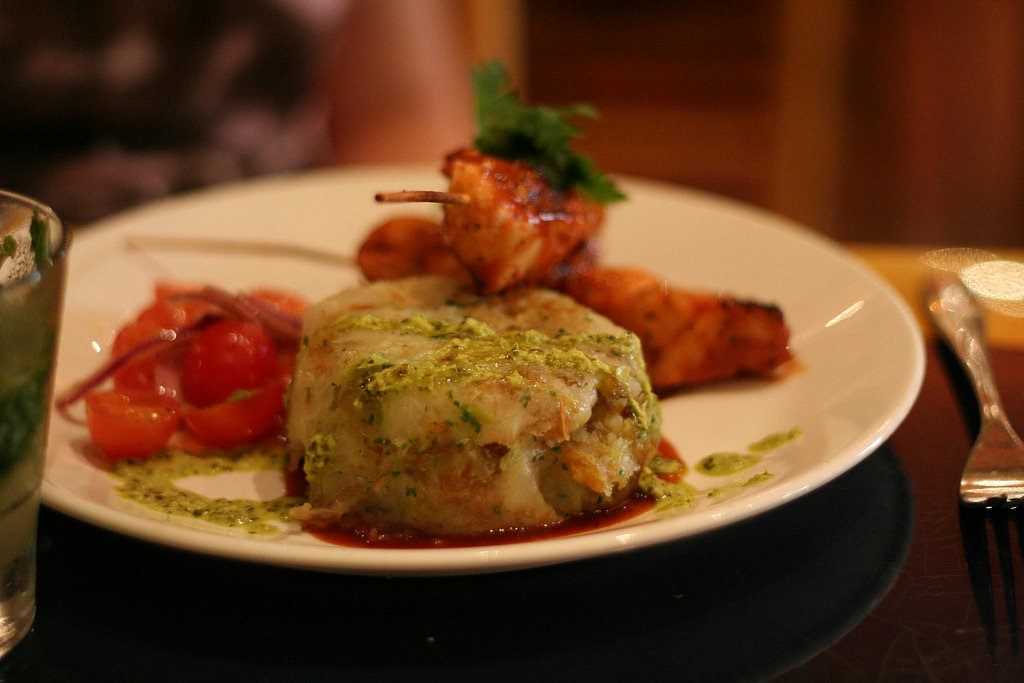 Mofongo is a must-try dish when visiting Puerto Rico. (Flickr: Jing )
Heavily influenced by Spain but also by Asia, Puerto Rico's cocina criolla cuisine is a must try. The slow cooked pig dish Lechon is a delight. Best tasted straight from the roadside truck, this slow cooked pork delicacy melts in the mouth! Mofongo is another favorite, a hearty starchy stew that includes beef, chicken, pork, or seafood mashed in with plantains smothered in garlic. Rice fans should try the very aromatic Arroz con gandules (rice with beans and spices). Still have space? Try the Pasteles, similar to pork tamales wrapped in a banana leaf. It's not exactly light, but it's good, hearty family-friendly food.
Jamaica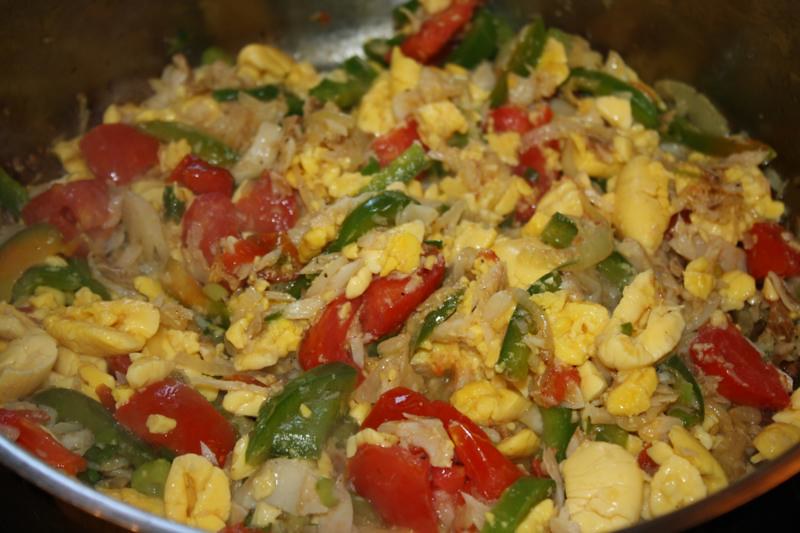 Jamaica's ackee and saltfish dish is one of the island's best fares. (Flickr: Chris De La Rosa)
Those traveling to Jamaica should get ready for an explosion on their taste buds. Whether you sample the fragrant curried goat or the Ackee and saltfish (cod), the island's national dish, you'll be in for a great adventure. Those who dare should also try the spicy jerk chicken. Alongside fried dumplings, fried plantain, cabbage, and rice and peas, it's one of the island's staple dishes and a real local favorite. Thanks to its African, Indian, British, French, Spanish, and Chinese influences, this Caribbean cuisine is some of the most exotic on offer. Beyond the kid-friendly menus, adults might also want to try the fantastic local Blue Mountain Coffee in the morning and a local rum punch after the kids have gone to bed!
Trinidad
Trinidad is a spice lover's dream come true, with some of the best Caribbean food on offer. There's the hot fresh fruit Chow, which usually combines mango or pineapple with spicy peppers, salt, lime and onions for a sweet and sour style mix. And there's a choice of hot curries and the salt-fish sandwich, whose name literally means 'burn mouth'! You'll also find mild dishes like Chokha, an eggplant mash, corn chowder and doughnut style split pea deep-fried balls, as well as Macaroni pie. Fruit lovers will be delighted to find mango, papaya, grapefruit, passion fruit, cashew, guava, pineapple, and of course coconuts aplenty. Other must-try kid-friendly dishes include the Aloo Pie, a samosa style packed with potato, onions, garlic, masala and spices, and the fish taco version of 'Bake and Shark' whose name says it all. Don't forget the Callaloo too, a long roll of vegetable (similar to spinach) covered in batter and deep-fried. Yum!
(MORE: 12 Must Sample Local Dishes in the Caribbean)
Martinique
With strong ties to France and Africa, the menu in Martinique is something different. Seafood fans should try the Chatrou, a small octopus used in a number of local dishes like the Fricassée de Chatrou, with tomatoes, onions, lemons and other spices. The Ragoû de Chatrou, with red beans, lentils, white rice and chopped yams, is also a must. Another sea creature on the menu is the Lambis, a large sea snail. Like the local Dorade fish, it can be served grilled, fried, in a stew, or even in a pancake! It usually comes with tomatoes, lime and chilli sauce. Also try the Matoutou de Crabe, stuffed with rice, onions, tomatoes, chives, spices and served with spicy sauce; the traditional Accra (fritter often made with salt fish/cod); or the Boudin, a local pork blood sausage. As for the Fierce Avocado, it's served with lime juice, chillies and salt fish. For dessert, try the very kid-friendly Blanc Manger au Coco, which is essentially coconut milk and vanilla cream usually dished up with red fruit and almonds.
Rowena Carr-Allinson contributed this to MiniTime. Since the arrival of her son in 2011, she has taken him everywhere from Bangkok to NYC, writing family-friendly articles en route.