Best family-friendly hotels in Rome
By Rowena Carr-Allinson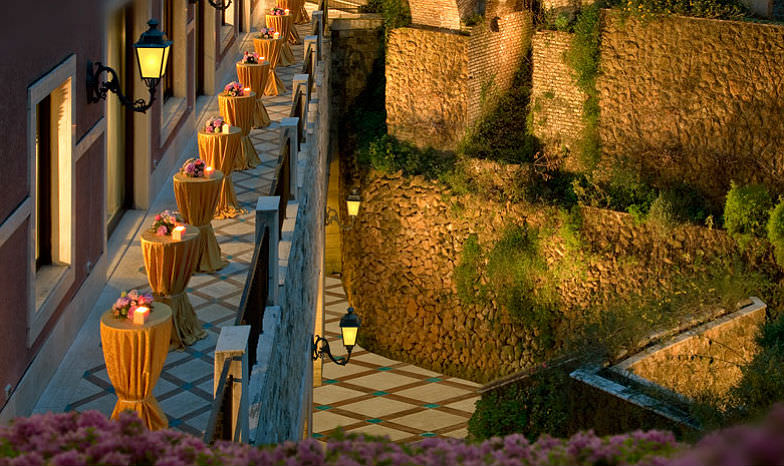 Parco dei Principi Grand Hotel & Spa (Courtesy Parco dei Principi)
When it comes to travelling with the kids, especially in another country, their comfort is always priority. And these five luxurious hotels in the Italian capital know that, offering top notch kid-friendly amenities and goodies that make the kids feel – after a busy day of exploring – like they're coming home, while parents can relax and unwind without worries or having to cook dinner. These home-away-from-homes will give parents and kids a Rome vacation of a lifetime.
Parco dei Principi Grand Hotel & Spa
Beautifully located, this 179-room luxurious hotel has stunning views over the Villa Borghese park and a free 3-minute shuttle into town. Aside from its 24 newly renovated suites featuring everything from internet access to LCD TVs and Italian marble bathrooms, the hotel also has plenty of connecting rooms for visiting families. To keep the kids happy, there's also a 25-metre heated outdoor pool (open from the 1st May until the 30th September), while parents might be more interested in the spa. The gourmet restaurant "Pauline Borghese" is perfect for a family Sunday Brunch, especially as kids up to 6 eat free!
Hotel de Russie, Rocco Forte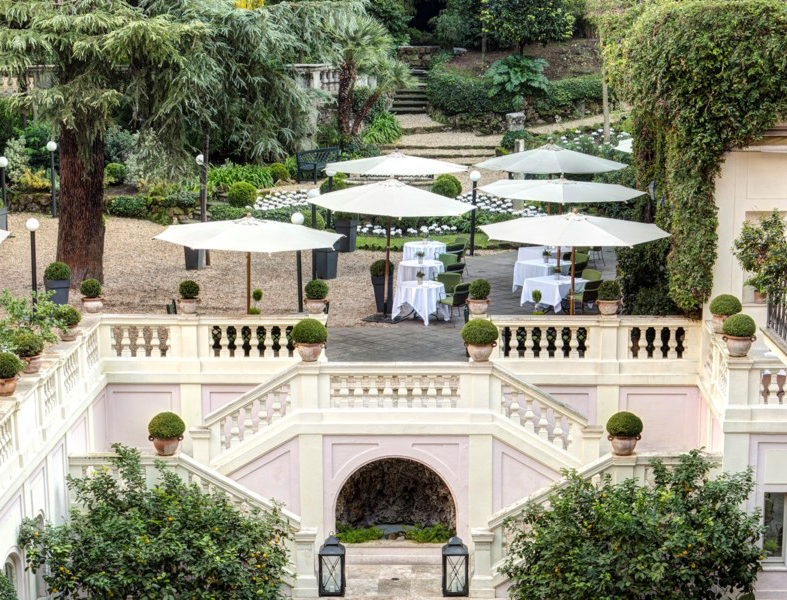 Guestroom at Hotel de Russie (Courtesy Rocco Forte)
The Hotel de Russie, on the amusingly named Via del Babuino, is reputed as one of the finest in town. Not only is it ultra luxurious, beautifully designed and located right in the heart of the city, there's a chance of bumping into George Clooney who likes to stay there. Kids will make the most of the Children's VIP card and gift given on arrival. Little ones will get all the necessary bath time goodies, as well as turndown cookies, milk and a teddy! Bigger children can enjoy movies or books on loan, while teens might like the video games and free WIFI! Oh, and the indoor pool is rather lovely too.
Radisson Blu ES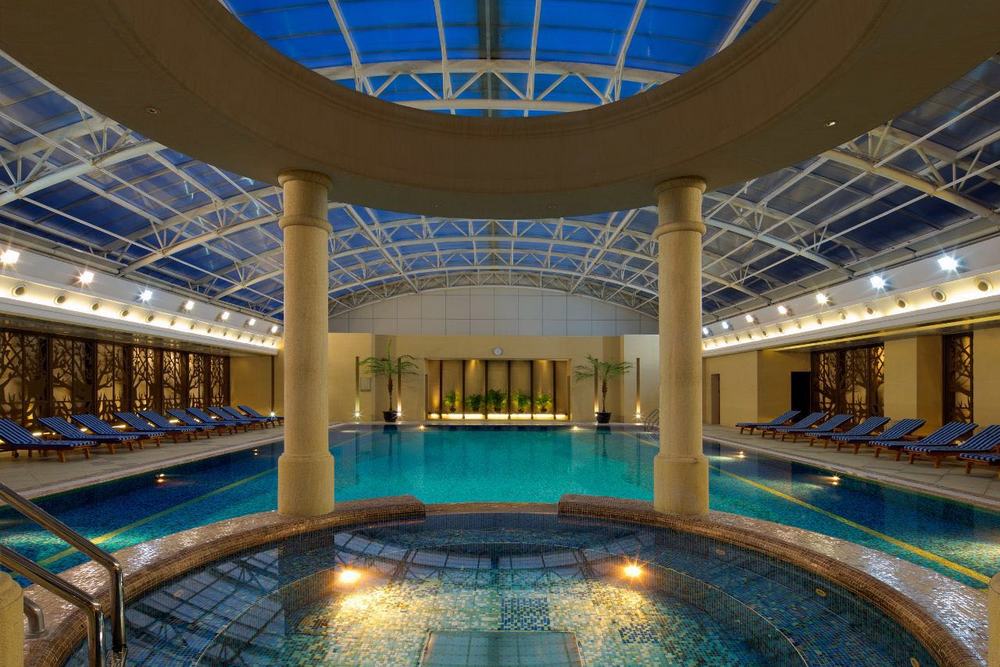 Rooftop pool at Radisson Blu ES (Courtesy Radisson Blu)
Set on Esquiline Hill, the 232-room Radisson Blu ES hotel is very central and within easy walking distance of the Roman Forum and the Colosseum. Perfect for little gladiators! With an on-site spa, fitness centre, jacuzzi and sauna, there is plenty for weary parents to do, while the rooftop pool should appeal to younger guests too, especially since it has a dedicated children's area. The rooftop also features two restaurants with amazing city views in addition to the snack lounge and library. Useful extras include 3-hour express laundry, 24-hour room service and WIFI throughout, as well as "grab'n'go" breakfasts for those in a rush!
Rome Cavalieri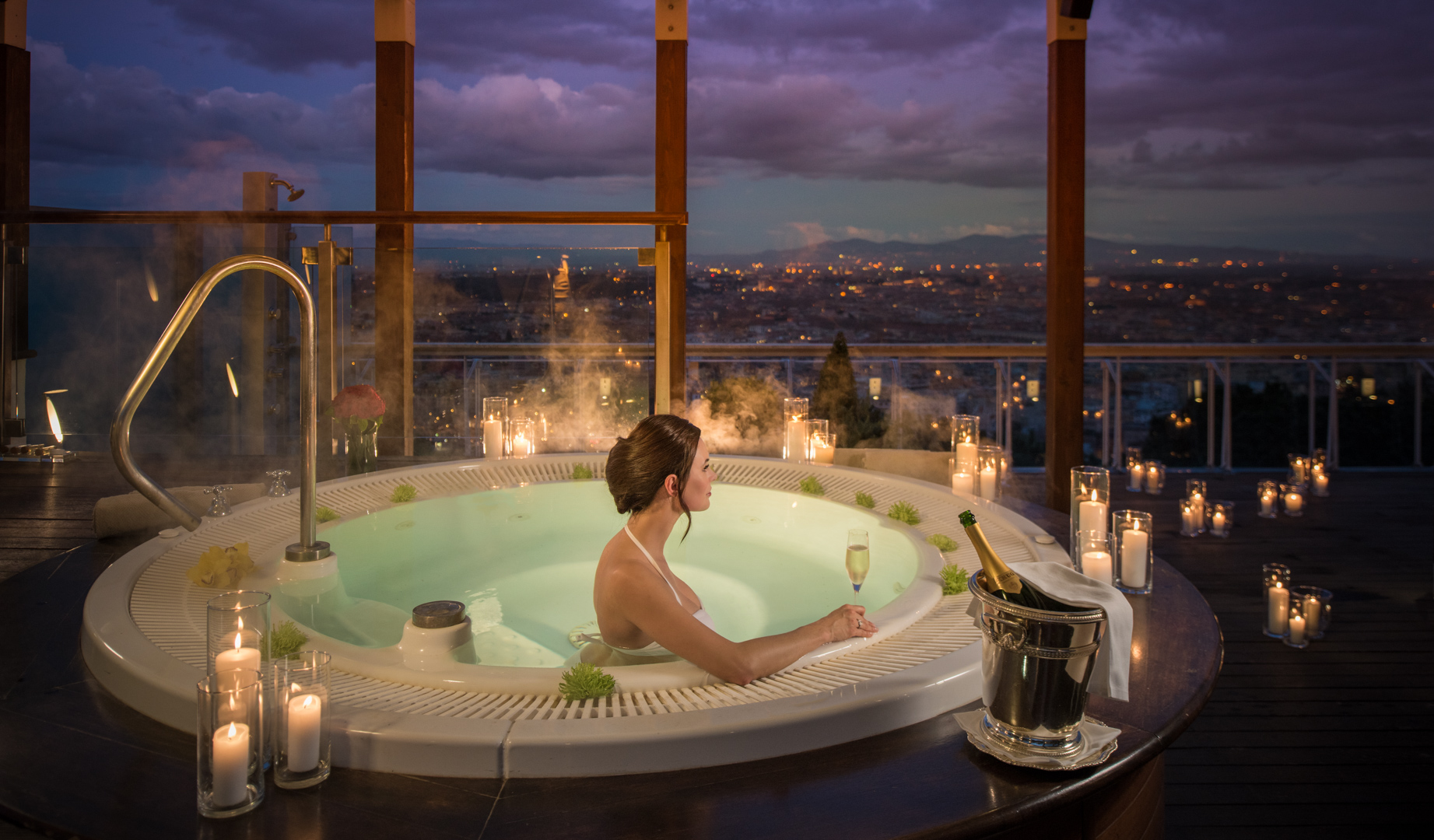 Jacuzzi at Rome Cavalieri (Courtesy Waldorf Astoria)
The Cavalieri Hotel overlooks Rome's skyline and is just a few minutes walk to its great monuments. With fifteen acres of lush Mediterranean gardens, it's an oasis within the bustling city and has plenty of space for the kids to roam. What's more, the hotel comes with indoor and outdoor pools, a grand spa, several restaurants and an impressive art collection. Kids will be more impressed though with their 'knight or princess' status, and all the activities the concierge is on hand to set up. In practical terms, children-sized bathrobes, hangers, cribs, videos, night-lights, humidifier, high chairs, bottle warmers, strollers and even diapers are available on request!
(MORE: Find more kid-friendly hotels to stay in Rome.)
Gran Melia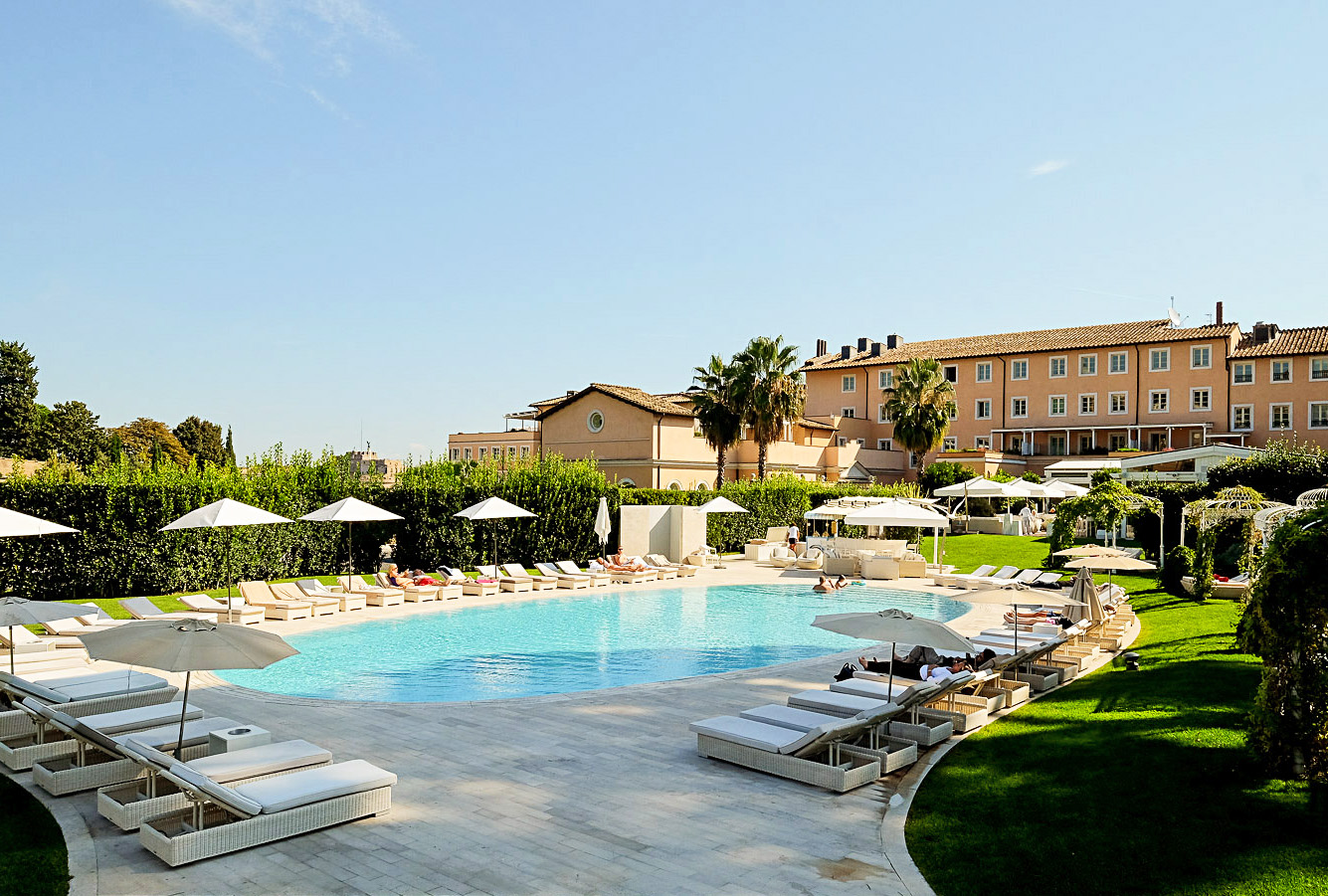 Lounge at Gran Meliá Rome (Courtesy Gran Melia)
An urban resort located in the historical district of Gianicolo, on the banks of the Tiber River, the Gran Melia is within easy reach of Trastevere, St. Peter's Basilica and Vatican City. Children will appreciate the outdoor pool and exploring the city's first botanical garden, the tranquil and beautiful Orti Domiziani Gardens, which spreads over almost 100,000 square feet! Parents might like the YHI Wellness area, as well as the fine dining restaurant. In room bonuses include free WIFI Internet, Clarins® luxury amenities, Nespresso coffeemaker and Ipod Docking Station for teens with music withdrawal symptoms!
Rowena Carr-Allinson contributed this to MiniTime.